The following are just a few of the most commonly asked questions sent to the scruffy dog studio via email, the blog, facebook and other sources. Please understand that although I believe in paying it forward and helping others, the busy schedule of the SDP studio does not allow me to respond to all of these inquiries any more. If you are a photographer, serious about advancing your pet photography career, please visit the mentoring page.

what camera/lens is the best for shooting dogs?
It's impossible to count how often I am asked this, sometimes several times a week, by email via facebook, the blog, or the website. So often, in fact, that I wrote this blog entry in an attempt to answer this question once and for all. The bottom line, there is no one answer … a lot goes into choosing lenses and camera bodies and this blog entry has helped a lot of new and established photographers rethink their approach and choices.  Currently I am shooting both Canon and Nikon.  Canon 1DX and Nikon 4S and 3S.  Follow the previously mentioned blog entry link to read more.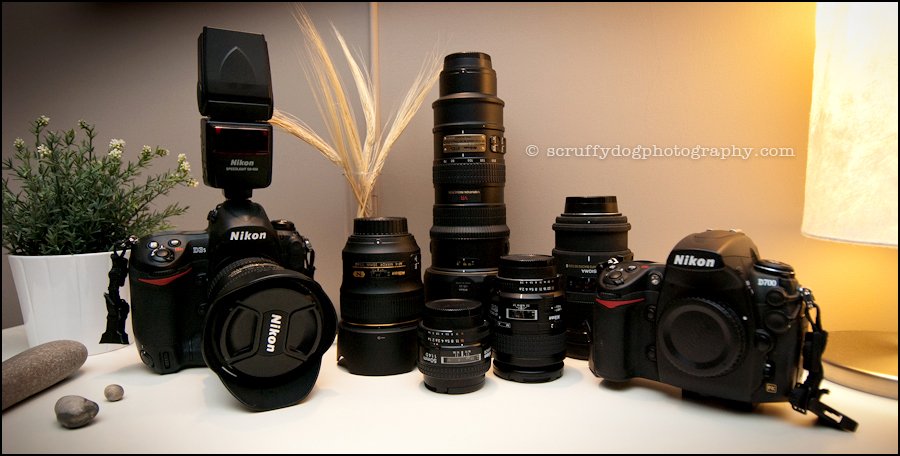 i'm an aspiring pet photographer. could i come and shadow you on a couple of photo sessions?
I am asked this several times a month without fail. Unfortunately, having an assistant or a protege on location is not possible with the kind of shooting I do. Because of the time it can take for some dogs (and cats) to acclimate to the concept of a photo session and working with the cameras, and because it can take some pets a while to settle down with each new person on a location, I work hard to keep every session as calm as possible. This includes minimizing the number attendees at each session — namely: the owner, the subjects, me and the equipment. By bringing in another new person, it can take the dog much longer to settle. Essentially, with my own energy I can control the dog's energy, but with another person on board, perhaps not as dog-savvy and experienced, the dog may never settle into the session. Even if that other person is dog savvy, it's still another potential distraction. Working with pets isn't like working with toddlers or kids or grownups. It's all about energy.
Also, when it comes to a scruffy dog photo session, I always strive to deliver the very best to each and every client. If I am mentoring someone or if the dog is focused on a person whom I've allowed to observe the session, then I will not be delivering the high-level of excellence and individual attention that I promise each scruffy dog client.
what kind of lighting do you use?
In 90% of my portfolio I have used natural and available light. Shooting pets in their natural environment means working with that environment and not drastically altering it, allowing the animal to feel at home and at ease. In rare cases, when a client's home doesn't provide enough light, I will sometimes add a little flash, but otherwise, everything is available light.
what post-processing software do you use?
Currently I am using Adobe Lightroom5 and CS5 for all of my workflow and editing.
where do you get your printing done?
We are proud to say that all of scruffy dog's prints and products are produced in Canada at a professional lab in Toronto. We have a long and strong relationship with our lab, and have developed most of the products in our lineup with our lab specifically for our scruffy dog clients. A lot of research and testing, sampling and relationship-building goes into finding that perfect lab or labs, and then maintaining that perfect working relationship and harmony. Also vital to your business is finding the products that work for your business and your clients.
what's your best advice to someone getting started in pet photography?
I'm obviously a big advocate of specializing in a niche market, focusing on what makes you happy, what you're good at, and being the best you can be at it. Shooting pets is very different than anything else … I've actually been hired by some top photographers to shoot their dogs because they admit that they can't do what scruffy dog does … nor can I do what they do!  Shooting animals … or should I say: shooting animals well … in my opinion, requires first and foremost a deep knowledge of animal behavior, timing, and language. Without that, it's just pet portraits.
Of course, I would hope you're choosing pet photography because you are passionate about animals — training, rehabilitation, behavior, rescue, etc. — not just because you see others being successful at it and you think it could be a quick way to make a buck. Trust me, it's not! You need to know dogs to truly excel in this industry. Understanding their body language, their drives, their individual energies and being able to read them on the spot is essential in this business.
Most of all, be original. Over the past couple of years there has been a glut of copying in the pet photography industry – everything from outright plagiarism of website copy, trademark infringements, ideas copying, and image and style replication. It's disheartening that in a field that is supposedly "creative" there is sometimes an utter lack of it in some photographers' business practices and portfolios. If you truly want to stand out and make a name for yourself as a photographer, step away from the computer … stop studying everyone else's photos, just get out there and shoot … see dogs through your own eyes, not others … explore and expand your own creativity and approach … be yourself. Be unique. Be original.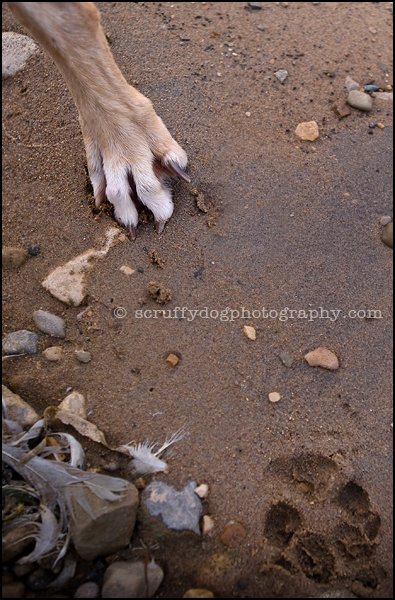 how can i find and work at my own style as a pet photographer?
When it comes to style, a big issue I'm finding with the surge of new photographers breaking into the market is copying … and a lot of it. We're not talking just plagiarism (although this is rampant as well), but actually copying more established photographers' styles and set-ups, sometimes to a T. The most frustrating part of this is the fact that this is supposed to be creative field … yet I see an ever-increasing lack of creativity as new (and some seasoned) photographers spend so much of their energy trying to copy and mimic the established photographers.
Copying is a one-way street to nowhere; it will not take you in any kind of direction as far as finding and defining your own style. During the first few years of SDP I was so busy with all the aspects of a start-up business and truly learning the technical side of things that there honestly was no time to visit other photographer's blogs and sites. At the time I worried about this, feeling as though I really should know what else was going on. But today — still too busy with clients to have much opportunity to visit others' blogs — I realize that it was a good thing that I've never had time to stalk other pet photographers. Even though I work hard to always be original and creative, I feel assured that I was never unduly or unintentionally influenced by someone else's work. The result, I think, is a more defined and recognizable scruffy dog style.
I've heard others encourage those seeking their own style to 'copy' or mimic images from non-pet photographers … children, portrait or wedding photographers. But I argue again, why copy at all? Why not just get out there and shoot how you see the light? how you see your subject? Isn't copying copying? even if they're not a fellow pet photographer?
If you truly want to stand out from the crowd, be creative, be unique … do your own thing and just keep doing it. The way I see it, style is not something that should have be "worked" on or searched for or analyzed. It's something that should be an extension of you … a natural extension of your work, your feeling and thinking, and your expression. As long as you are out there shooting, your own style will emerge! Why would you want to muddy it up by copying others' styles? Just be you!
Do not aspire to be someone else … aspire to be you.  Bring your own unique vision, sensitivities and views to this industry.
i have someone copying my work and infringing on my copyright. what do you advise in cases like this?
Unfortunately, it seems that the harder you work at your business (photography or otherwise), the harder you're going to have to work at protecting it against copyright and trademark infringements, as well as the rampant copying of others who are either just starting out and using your business as their 'model' or simply don't respect the intellectual property of others.
In some cases you simply have to walk away and realize that no one will be you, no matter how hard they try.  But there are a number of steps you can take to protect yourself … and the sooner these are in place, the better.  In dealing with my share of these copyright and trademark infringements, plagiarism, and image theft, and hearing so many other photographers and small business owners going through the same thing, I wrote what I hope is an informative article about the steps you can take to protect your hard-earned reputation and business.
your shots have such a shallow depth of field, how do you achieve that? what is your favorite aperture setting?
I'm often asked questions like this … "which lens is your favorite?" "which aperture was this photo taken with?" "what shutter speed is best suited for shooting dogs?" … and there is only one answer to all of these question: "whatever gets the job done." Technical elements are absolutely dependent on what you're shooting, the type of dog you're shooting, the size of dog, his energy, the available light, action vs. still, one dog vs. two dogs or three dogs … each shooting situation and model calls for different parameters, and every turn on the trail offers more lighting challenges. But the more you specialize and the more you shoot, the faster those settings are going to become second nature as you move from one shot to the next in any given session. Of course, I'm speaking natural light, outdoors, in the elements, where the light and the actions of the dog are constantly changing.
in your entire camera bag, what is the single one piece of equipment that you absolutely cannot live without?
Hmm … you mean besides two camera bodies and a half dozen lenses, cleaning fluid and cloth, filters, batteries, squeakies, treats, tissues, poop bags, extra leashes and long lines? I'd say it's my knee pad!! If you're a pet photographer and don't already have one, trust me, you'll thank me.
are there any photography books you recommend for reading?
Yes, there are a couple — in my opinion — that are must-haves.  The first is Scott Kelby's book on Lightroom (for whatever version you're running).  Think of it as a classroom in a book … go through it thoroughly, apply everything he suggests, and then decide what will or won't work for your workflow.   His books on Photoshop as well are good, and although I do have them on my shelves for reference, I'll admit that I haven't really cracked the spine on them much.
The other must-read is Vision Mongers by David DuChemin.  For me, this book is a bible into which I can dip again and again for true nuggets of wisdom … a fabulous, in-depth read as to the art and business of photography.
Amazon's description: "For those who want to make the transition into the world of vocational photography—staying true to your craft and vision, while fusing that craft with commerce VisionMongers is a great place to begin your journey. With a voice equally realistic and encouraging, photographer David duChemin discusses the experiences he's had, the lessons he's learned, and the practices he's adopted in his own winding journey to becoming a successful working photographer."


All written content and photos copyright to Illona Haus, scruffy dog photography.
DO NOT COPY or use the content of this website in any way.
Any form of copying or plagiarism will be thoroughly pursued by our attorneys.