Matlin's story began in the midst of losing my beloved Matea and Merrick in August of 2016.  I had not planned on adding a third dog while dealing with Matea and Merrick's health issues … but perfect dogs often come at the most imperfect times … and I am so grateful that Merrick and Matea were able to touch Matlin's life even just for those two months they were all together.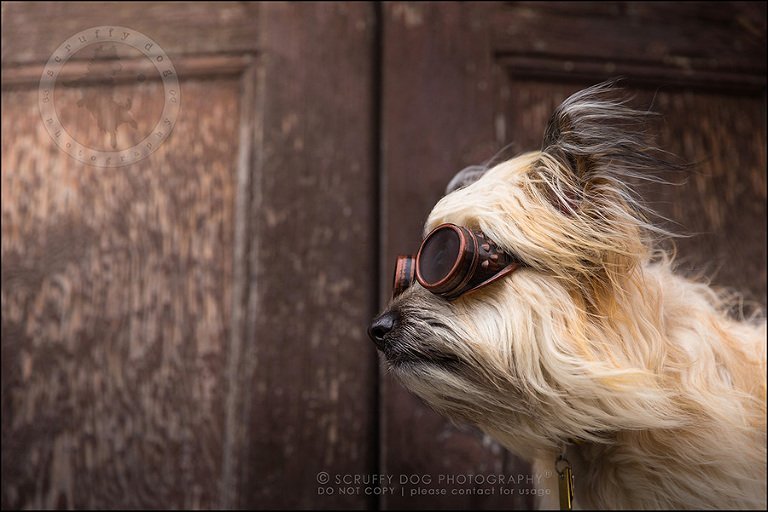 Matlin's journey started in Texas, where she had been surrendered at 3 1/2 mos of age for being "too much puppy." She was pulled from that kill shelter and was raised by the incredible Devvie at Dogs Etc. of Texas. Finding her on Petfinder, I hardly thought I stood a chance at adopting her as she was in Texas, but Devvie was adamant that I was the person Matlin had been waiting for all those months. And so, in late August, a friend and I made the very long drive past Dallas and back to bring this girl home.
Matin was 11 months old when I brought her home. She was a skittish and fearful dog, having had very little exposure to the real world, but this girl has come a long way.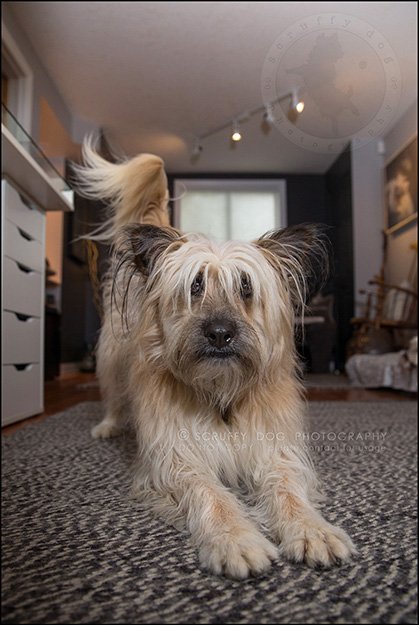 If you'd like to read more about the journey Matlin made to become part of the scruffy world and see her early photos, you can read her blog entry here.
Now, at only two years of age, Matlin has already become a consummate model.  She is so quick to learn, and very treat motivated.
I am always asked about Matlin's breeding, but there is no way of knowing.  Even four DNA tests with completely different companies did not garner any believable results … not even remotely!  Chow-Chihuahua-Pug … seriously?  This lean, 40-lb girl is a low-shedder whose coat doesn't need any grooming.  She clearly has some herding in her as she loves to herd waves, and one day I hope to introduce her to sheep.  I don't see much in the way of a hunt-drive or a true working breed.  But if there was a breed that had 'joy' as the primary trait, then that's the breed this girl is.
Matlin is all sunshine and joy.  And once she gets to know you and overcomes her shyness, she is the biggest dose of joy you will ever receive.
She loves her cat Mirabelle … and the two of them can often be found chasing each other around the house, grooming each other, or just having a love-fest.
They always say you get the dog you need … and Matlin was definitely the dose of joy and sunshine I needed after losing my pack in the span of a week.  I could not have asked for a better distraction, a better partner … and while no dog can ever replace Merrick and Matea, Matlin continues to learn how to be my right-hand and best friend.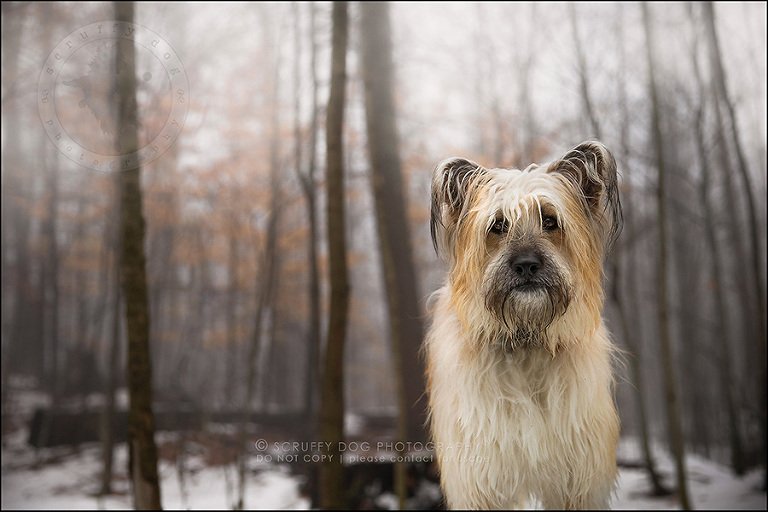 All written content and photos copyright to Illona Haus, scruffy dog photography.
DO NOT COPY or use the content of this website in any way.
Any form of copying or plagiarism will be thoroughly pursued by our attorneys.