What can I say about Morley? He was his own man. Morley was adopted in 2003 from the Perth County Branch of the OSPCA at 9-10 years of age. As a senior, he was the easiest adoption ever, fitting into the pack within minutes.
This sweet man was the most easy-going dog I have ever known and shared my life with. There wasn't a dog or human he didn't greet with a fast and wide tail wag and a calm, happy-go-lucky approach … the perfect greeter in any situation, even with aggressive dogs.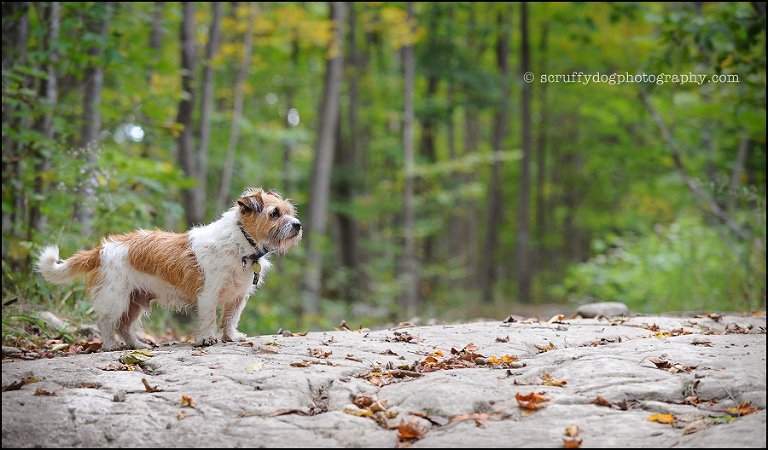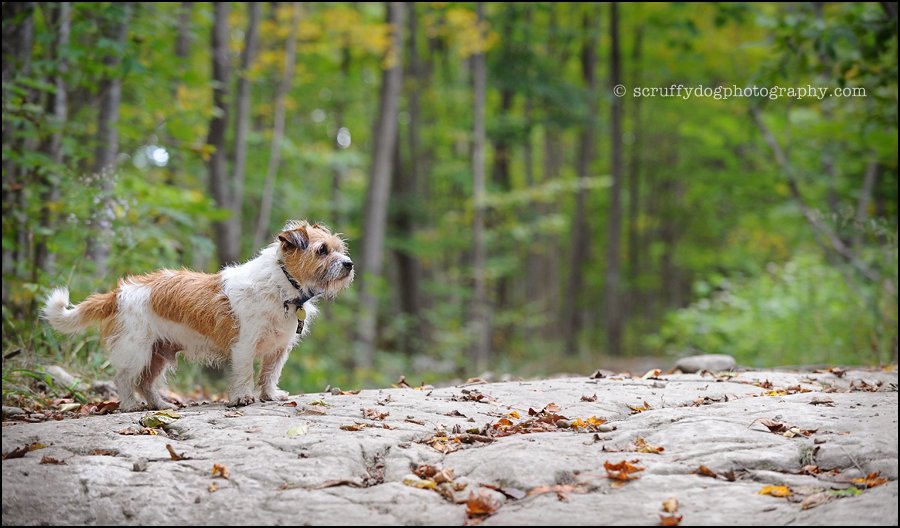 Over seven years with us, on a well-balanced raw diet and lots of off-leash exercise and hikes completely turned this little man's health around. He went from complete vaccinosis and seasonal allergies (losing most of his hair after adoption) and barely keeping up with the humans on the trails, to an absolute fire-cracker. In spite of those 3-inch legs, he was soon able to keep up with his crazy pointer counterparts for long hikes and would still come home wanting to play with his ball. This old man even taught himself how to swim in his senior years.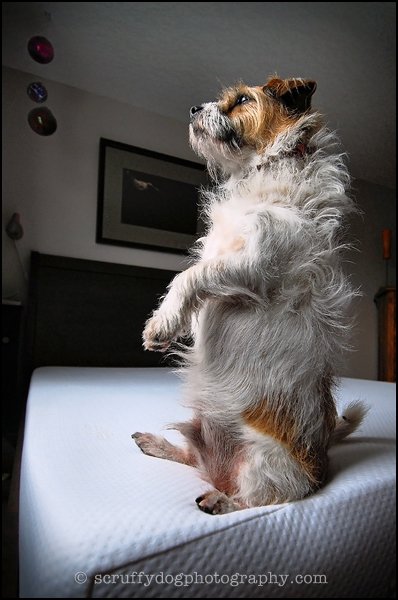 When he first joined our pack he wouldn't set foot in a puddle, wouldn't even sniff a rabbit hole … after a few months he became a consummate hunter and happily wallowed in the swamp with his mucky pointer sisters on those hot days, doing his Jack Russell heritage proud. An outgoing, exuberant, brave little man … I learned from Mister Morley daily and was greatly blessed to have found him. My only regret was that I didn't have the pleasure of knowing him when he was younger. Then again, given the energy he had through his senior years, I'm not sure I'd want to have known him!
Morley survived a record-breaking sized splenic tumor, removed by the fabulous people at the Mississauga-Oakville Veterinary Emergency Hospital, and it wasn't until 2010 — seven years after his adoption — that we finally had to say goodbye to our amazing scruffnut. On 29 March 2010 Morley was released from his confusion and discomfort caused by a brain tumor.
His tribute can be seen here. He is deeply missed by all of us here at scruffy dog, but also by his many fans around the world.
Morley was terrified of thunderstorms. Part of it was due to his thyroid condition which was most likely a result of over-vaccination prior to adoption. Hypothyroidism isn't difficult to treat, and certainly not expensive, and it's surprising how many dogs suffer from it.
Thyroid disease is only one of many issues that can arise from over-vaccinating our dogs. I lost Murph – the original scruffy dog – to vaccines at only four years of age. I highly suggest you research as much as you can before blindly taking your vet's word on what your dog does and doesn't need. There are many good sources in book form as well as on line, including from vet sources. I have a number of them listed on the Vaccine Page on this blog. Please do your research, and at the very least, demand to go to a three-year protocol for vaccines vs. the one-year.
Also please, please, please consider adopting an older pet. Just because they're older doesn't mean they come with problems. More often than not, they are perfectly adjusted pets with a ton of love and gratitude to lavish on you.


All written content and photos copyright to Illona Haus, scruffy dog photography.
DO NOT COPY or use the content of this website in any way.
Any form of copying or plagiarism will be thoroughly pursued by our attorneys.