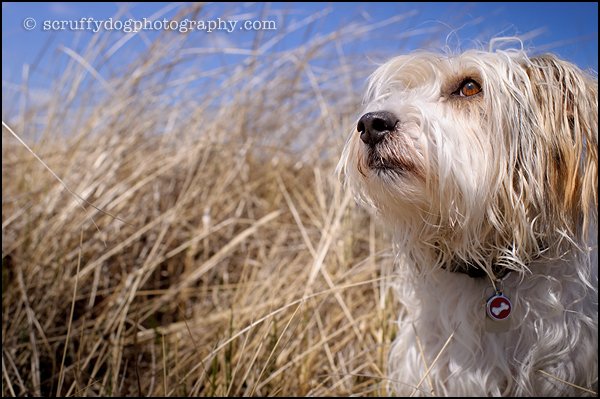 Unlike Matea and Morley who were shelter dogs, Merrick is a true "rescue" dog, like the original scruffy Murph was a rescue (saved by Homicide detectives from a drug house in Baltimore after being locked inside without food and water for 17 days … but that's another story). Merrick's full story can be found here … it's worth the read.
The short version of Merrick's story is: at the age of 6 years, he'd outgrown his usefulness as a breeding dog for a small Mennonite puppymill/breeding outfit. Based on his behavior, this boy had seen some severe neglect and significant abuse. He suffered malnutrition growing up, resulting in growth plate malformation, but it never stopped him from living life to its fullest.  Also, based on the condition of his paws as attested by a vet, it's quite likely that Merrick spent some time in cages, although his love for the hose and water seem to counter this theory since most true, caged puppymill dogs are terrified of hoses as their cages are routinely hosed out while they are still in them. Regardless, it's certain this boy had been on a few farms. I can only imagine his story, what he suffered and experienced in his first six years.
I'll admit that in spite of years of experience with dogs and working with literally hundreds of clients dogs, many of whom come with their own issues, I honestly worried that I was out of my depth with this little guy as I drove home with him and he vomited worms all over the back of the car. Could I really rehabilitate a dog this shut down?
Well, it took some doing, some learning on the fly, some adaptation and lots of truly reading this boy's energy, but Merrick became a completely different creature than the smelly little beast I brought home that miserable early spring afternoon.
I had actually gotten Merrick for Morley. My old man had been diagnosed with a brain tumor, and although his physical health was managed, he just didn't seem as plugged into life as he used to be. Knowing how much Morley loved other dogs and knowing that this little goober really needed rescuing, I figured it was a sign. But even though Merrick was intended as Morley's dog, and Morley spent his last three weeks completely and utterly enamored, Merrick's true love has only ever been his girl Matea. I've never seen a dog more in love with another. Matea is his goddess, his guide, his sun, his moon … and although I am his pack leader, if he needs to be shown the way, Matea is always there to guide him. She has even saved his life recently, taking on a coyote head-on. These two are completely and utterly devoted to one another.
I was often asked Merrick's breed, and frankly, there's no knowing.  Based on his general conformation, his fat hunting-dog paw-pads, his amazing ability to track and use his nose, and his drive, he could very well be a Petite Basset Griffon Vandeen.  I've even had numerous people who have owned PGBVs stop me in the street and ask if he's a PBGV … but … based on his origin, he could be a beagle/poodle too!  Who knows?  More importantly, who cares!
I lost Merrick after a long battle with liver disease in October of 2016 … one week before his beloved sister, Matea.  Merrick's was far from my first loss … not my first 'heart-dog' gone … and I should clarify: all of my dogs have been 'heart-dogs' … ALL have touched me deeply, affected me, steered my life in new directions, and completely controlled my heart.
Merrick, however, was a little different.
Merrick and I – I am convinced, as were several others who met us – knew each other before. Don't get me wrong … I'm not one of those who embrace wild notions of reincarnation or even the afterlife (although I'd love to) … in fact, I struggle to even believe in any form of a higher being, especially at this point in my life.
But of one thing in this life I feel relatively certain: Merrick and I were connected in a very different and profound way. Before we ever met, his soul already knew me. Before I ever set foot on that filthy farm where he spent the first half of his life living in a cage, relentlessly breeding and routinely beaten, his soul knew mine.
Our connection was immediate, from the instant he saw me. He recognized it long before I ever did. When they'd dragged him out of the barn he must have brushed against a burr bush because as I stood in the drive a good 250′ away talking to the Mennonite farmer, the wife and daughter hunkered over this cowering little dog in the muddy slush, ripping burrs from his coat. Even at that distance, in spite of fearing this huge woman and horrible, horrible child (whom he was most afraid of) tearing at his coat, Merrick's eyes had locked on me and never left.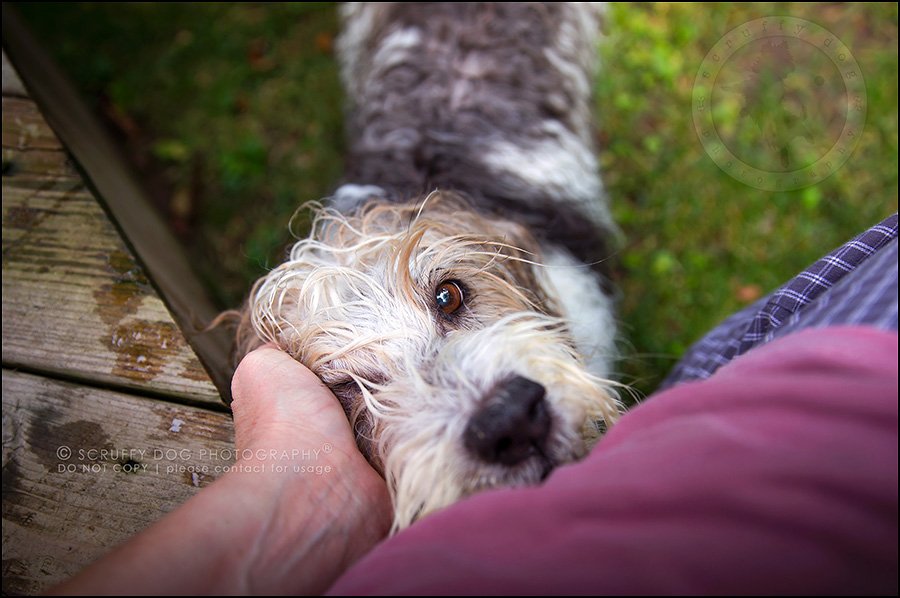 … and for the rest of his life, his eyes and his heart were always on me. It's as though from that first moment Merrick realized he had finally found me … like he knew before I did. For me, the recognition took a while longer … about 65 minutes, in fact … before I felt him move so deeply in my heart like he'd been there before, like he'd been there all along.
And now that he is gone … the very best part of me is gone. The brightest light in my life, my joy, my spark, my reason for breathing, my angel, my heartbeat, my soulmate … gone. I feel jilted that after finally finding each other again, our time was so short. I also feel panic in the dark fear that we may never find one another again. The battle was miserable and wearing, filled with anger and hate, resentment, hopelessness and fear … peace is not something I foresee for a long time. Not for me anyway.
He was taken far too soon. The good years of his life barely outnumbering the bad. And if any dog deserved a full and long life, this amazing, sensitive, generous, joyful, loving, big-hearted, brave little dog did.
He is missed every single day.


All written content and photos copyright to Illona Haus, scruffy dog photography.
DO NOT COPY or use the content of this website in any way.
Any form of copying or plagiarism will be thoroughly pursued by our attorneys.