With a decade of experience photographing exclusively animals, shooting 100-150 private clients each year and a wide variety of commercial clients, scruffy dog photography  has the experience to answer all of your photographic needs when it comes to natural light/lifestyle photography … producing the highest-caliber animal photography customized to market and represent your pet-related product, brand, packaging, or business.
Besides having worked with 1000+ animals in photo-sessions over the years, Illona of SDP also has a lifetime of working with, training, and rehabilitating dogs, as well as training horses.  As such, she is adept at bringing out the best in almost every animal.  Coupled with an Honors Degree in Fine arts, working with SDP means you are not only working with animal-exclusive experience, but also with a photographer who knows how to think and work creatively with commercial clients, answer clients' varying needs, and deliver the high-end, professional images they are after.  Top quality images with professionalism, depth of experience and creativity … because your pet-related products and business deserve to be presented in the best possible light.
Fee structures for commercial shooting and image usage is geared toward your distinct needs, taking into consideration your individual project and budget.  And like any other business, we reward our frequent scruffy clients with even deeper discounts when it comes to stock and/or commercial requirements.  Inquire today to find out how scruffy dog can help you with your commercial needs.
Just a few of our commercial, editorial and stock clients:
Blue Buffalo                                                              Dogs Magazine, Germany
PetSmart                                                                   Yumega Dog Supplements
Purina – Australia                                                     Castor & Pollux
Novartis / Sentinel                                                    Tails Co. Dog Food, UK
Cesar's Way magazine                                           Canada Pooch / Open Farm
HarperCollins Publishers Inc.                                   Country Paws Boarding
British Telecommunications PLC                             Eco Pet Solutions
Ogilvy
scruffy dog is also experienced in editorial work and can either provide stock or shoot specifically for your editorial requirements.  Contact Illona today to find out how scruffy dog can help with your editorial needs.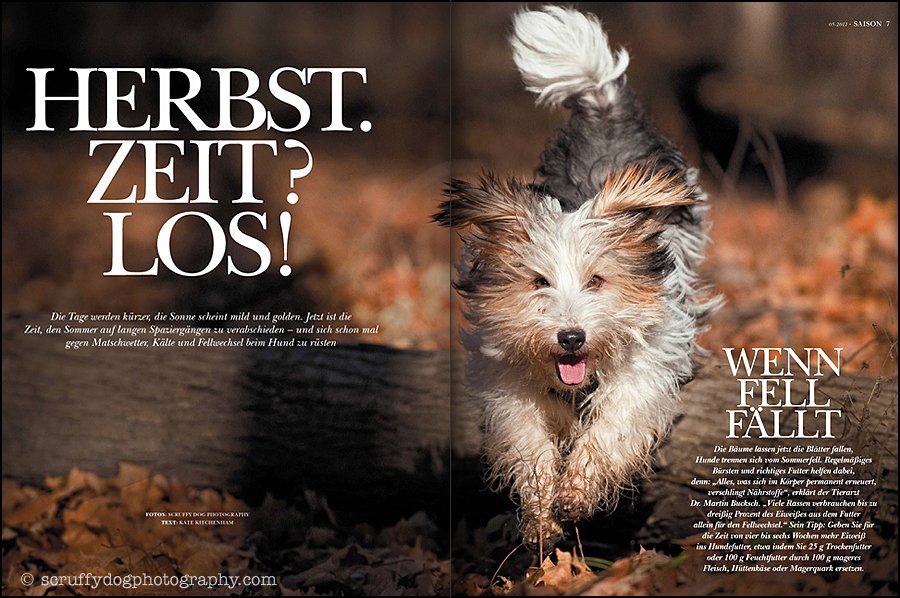 In Development … the scruffy dog model database!
scruffy dog has always relied upon its vast and incredibly diverse pool of past clients when it comes to sourcing models for specific commercial projects.  However, with an ever-increasing demand for reliable and proven models, we are currently developing a rich database of both dog and cat models to answer the lack of such an agency or service elsewhere.
Models will be available in a searchable database, complete with descriptions of each animal – dogs and cats – and even classified into categories based on the individual model's abilities, experience, history of modeling and proven track record.  So not only can SDP answer your photographic needs commercially and editorially, we can source your models as well.
Stay tuned for this exciting development in late 2014!
And if you think you've got a superstar in the making, please check out our commercial model application page for more information!

We look forward to hearing from you and to the many exciting possibilities!


All written content and photos copyright to Illona Haus, scruffy dog photography.
DO NOT COPY or use the content of this website in any way.
Any form of copying or plagiarism will be thoroughly pursued by our attorneys.