well, another Woofstock has come and gone, and what an amazing crop of faces we met this year at the scruffy dog booth!  i only wish i was able to take photos of every scruffy that came into our booth. what follows is only a very small sampling …
NOTE: if you find your dog amongst these amazing faces, please understand and respect copyright laws. images are NOT to be copied, screen-captured, lifted or used in anyway. All content and images on this blog are strictly copyrighted.  If you would like to share your scruffy's photo on facebook, here is the Woofstock 2013 album on the scruffy dog FB page.  You will find your scruffnut there and are more than free (in fact, encouraged!) to "Share" your pup's image.
If you would like your own copy of the image, just drop me a line!!  illona@scruffydogphotography.com … the studio is very busy, but I will absolutely do what I can to answer your requests!
of course, it would not be Woofstock without Chance.  this bruiser comes to every Woofstock … and he's never misses the opportunity to visit the scruffy dog booth.  it's always a pleasure to stick my cameras into Chance's gorgeous mug.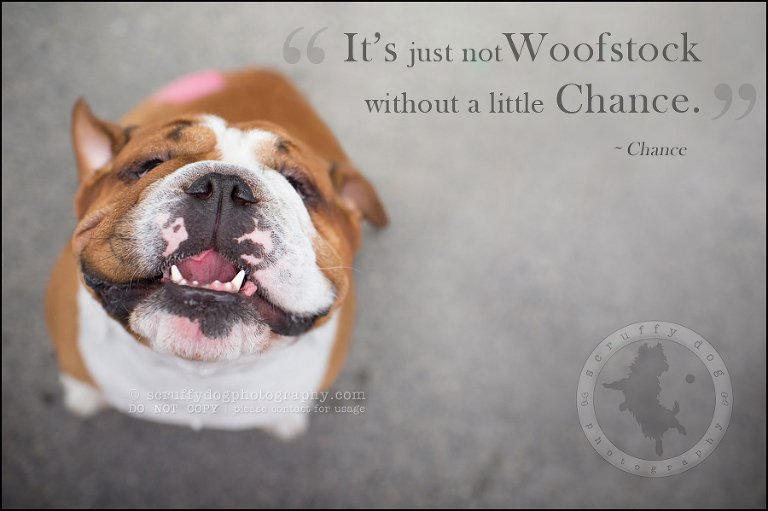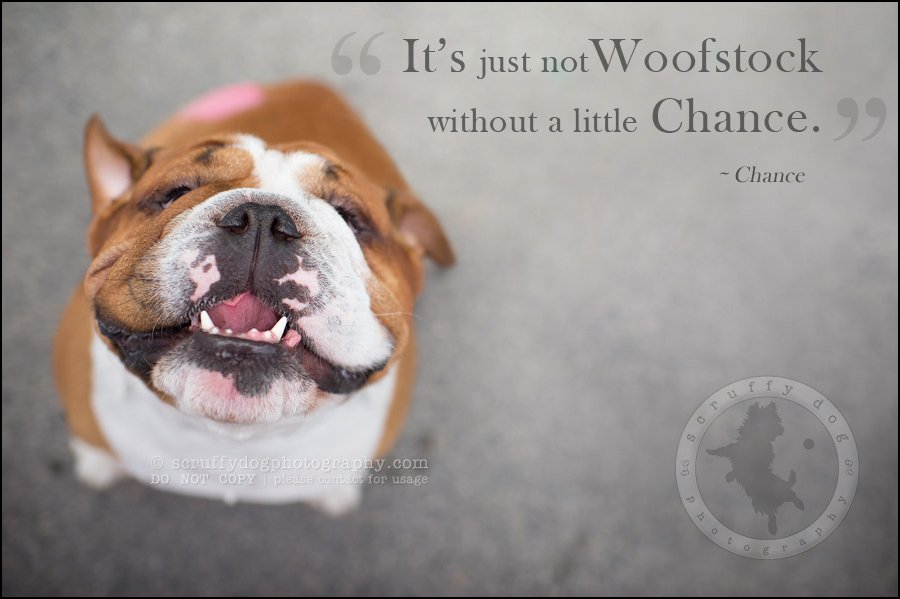 of course, Woofstock is always rife with bulldogs … and tutus … so when you combine the two, well, of course i have to pull out a camera!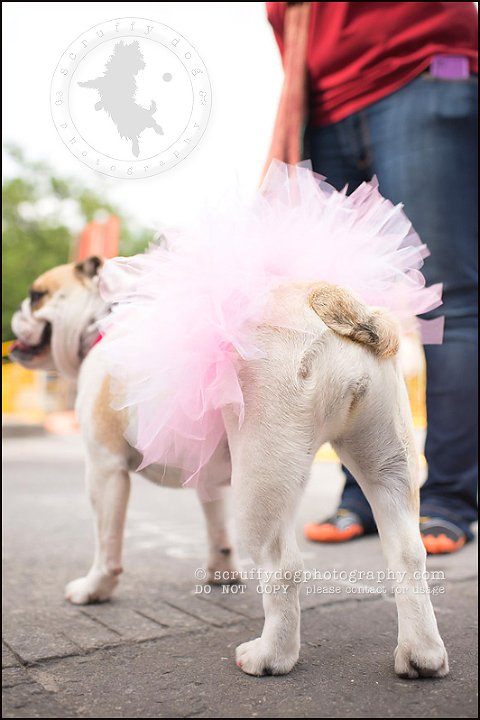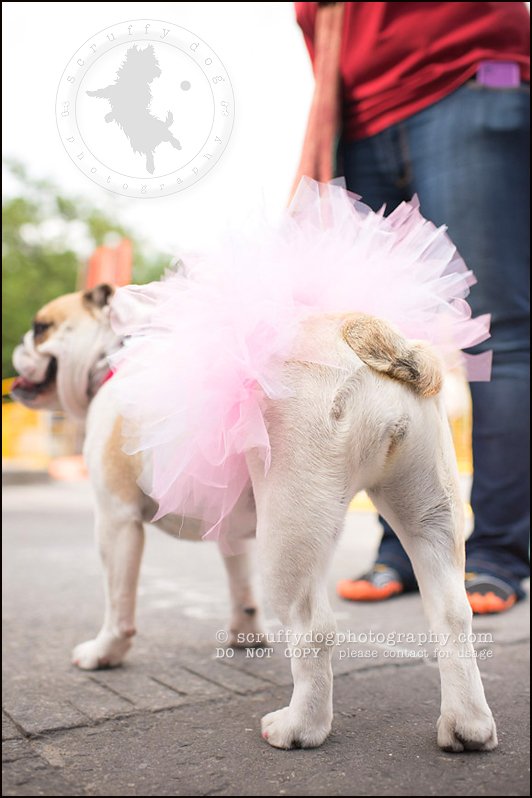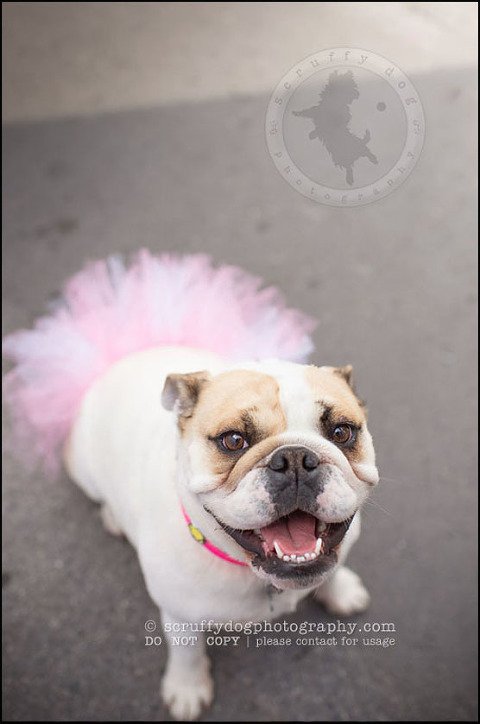 i was thrilled to see this little girl prance into the booth, all the way from Connecticut — a husky-terrier cross — with her lovely parents.  how amazing is that face? and how much would i love to have a session with her?  her parents did express great interest in coming back for a scruffy dog session, so i can only hope to meet this scruffy face again one day.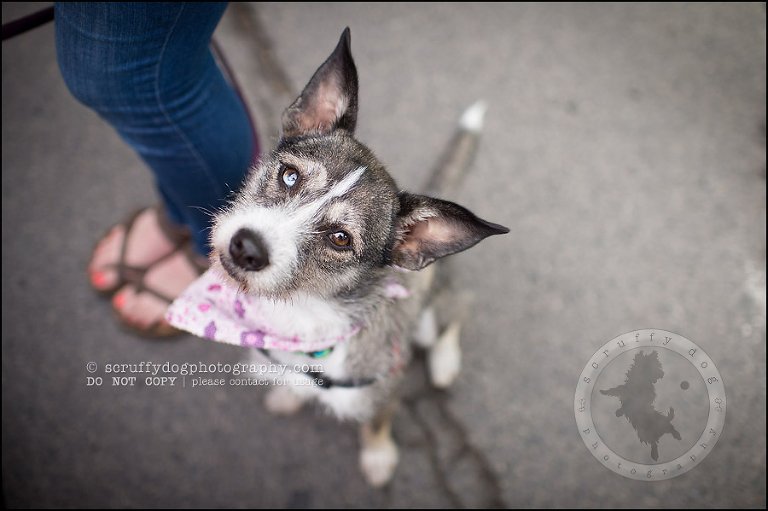 the best-smile award of the weekend — paws down — absolutely goes to Daphne!  just look at this face!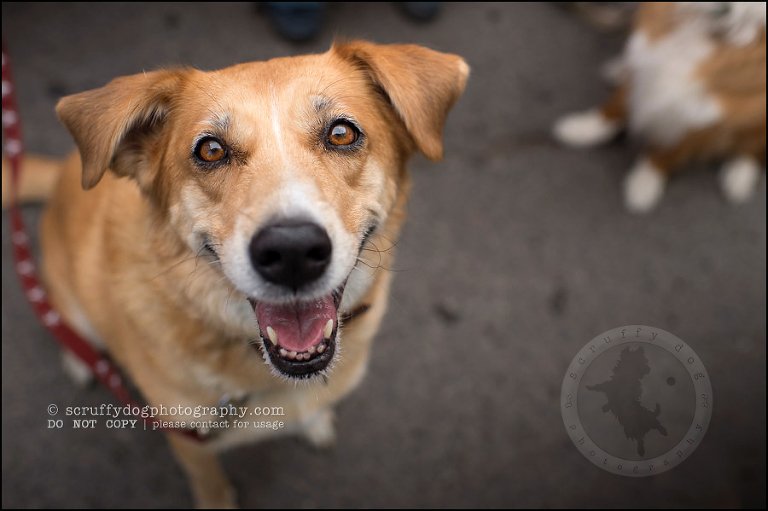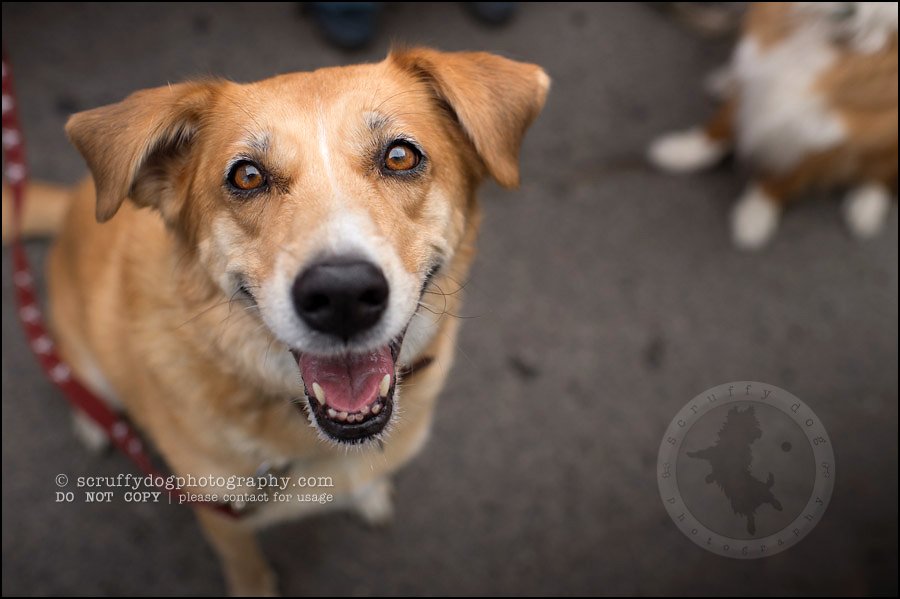 on top of which, Daphne clearly worked hard on her eye-liner before coming out to Woofstock for the weekend.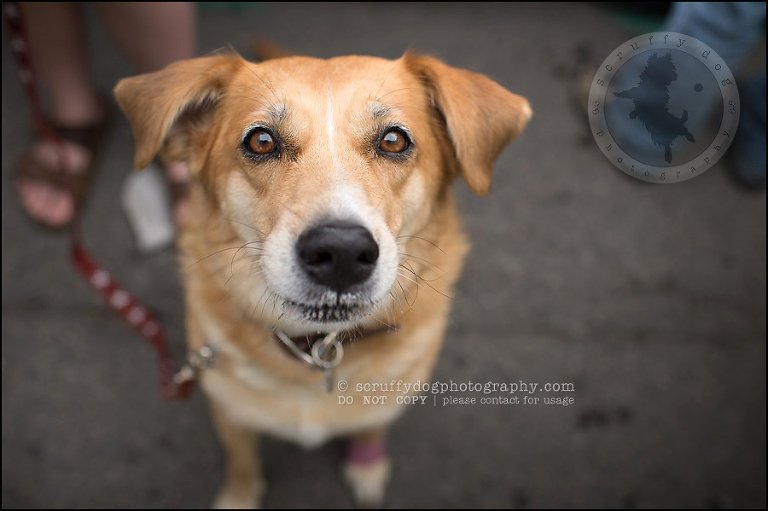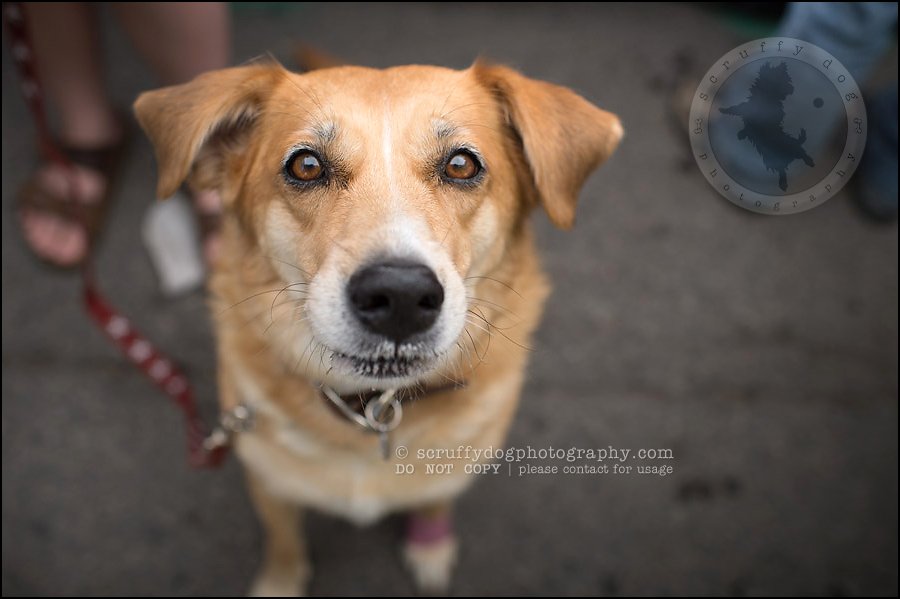 this big boy was actually one of the first ones into the SDP booth for the weekend.  and this face is relatively typical of the faces i get when i ask: "can he have a treat?"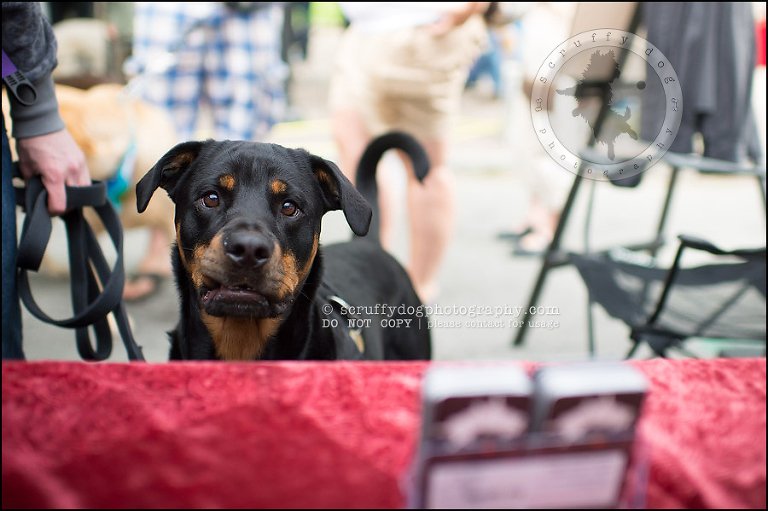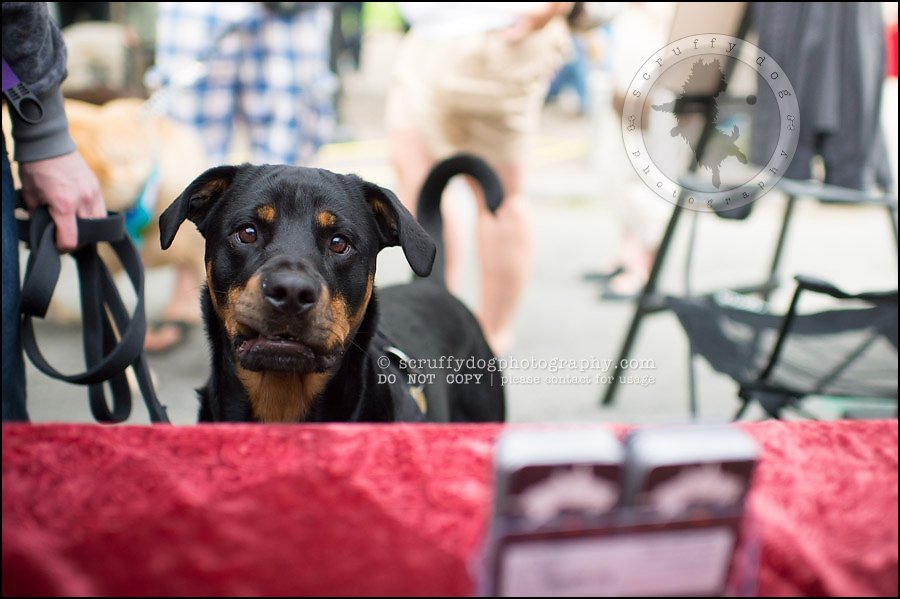 of course, if i don't deliver said-treat in prompt fashion, this is generally the resulting table dive.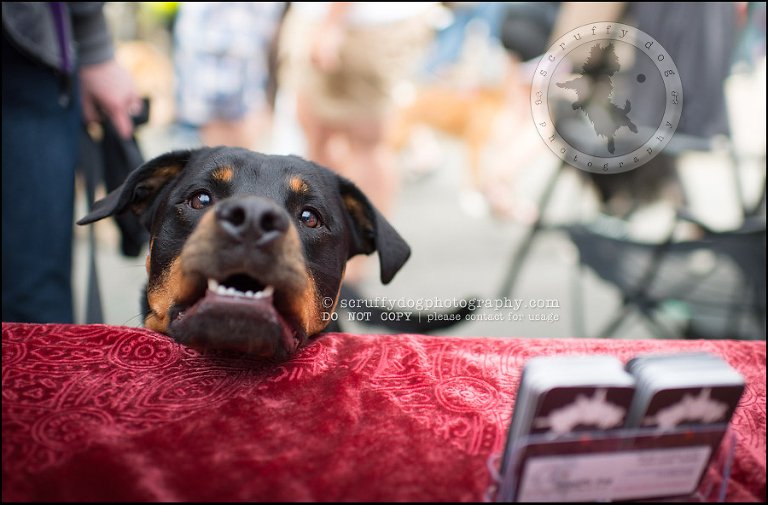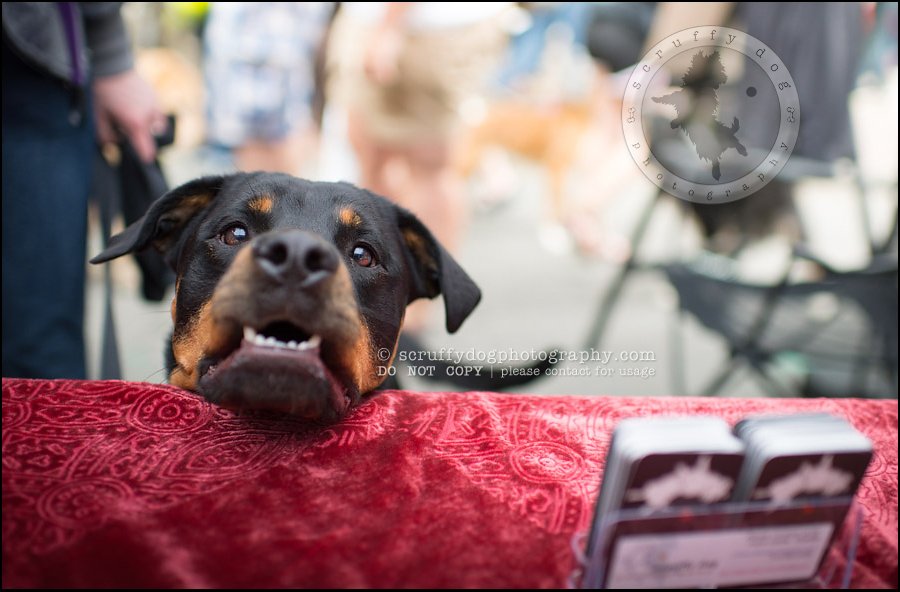 there were loads of scruffnuts who showed up at the booth as well … i sure do love me those scruffnuts, especially this little red faced darling.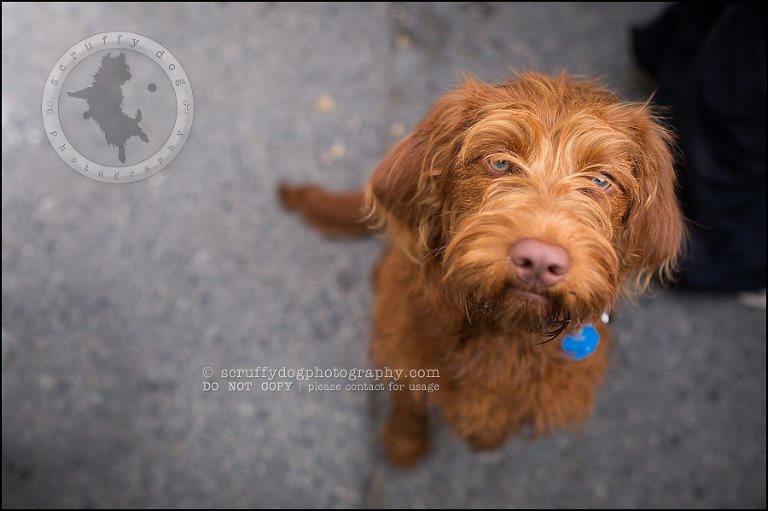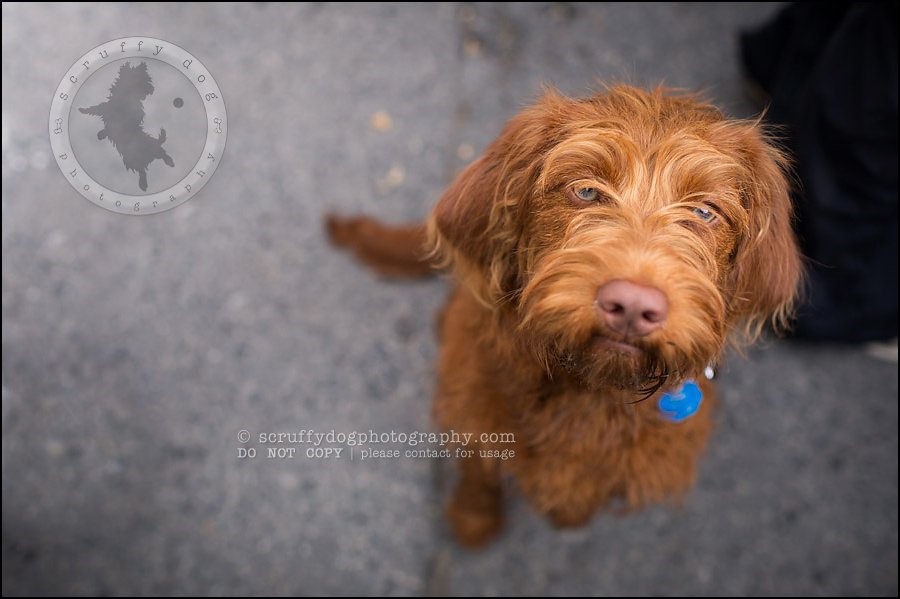 or this amazing little girl, Lucy!  who doesn't love Lucy!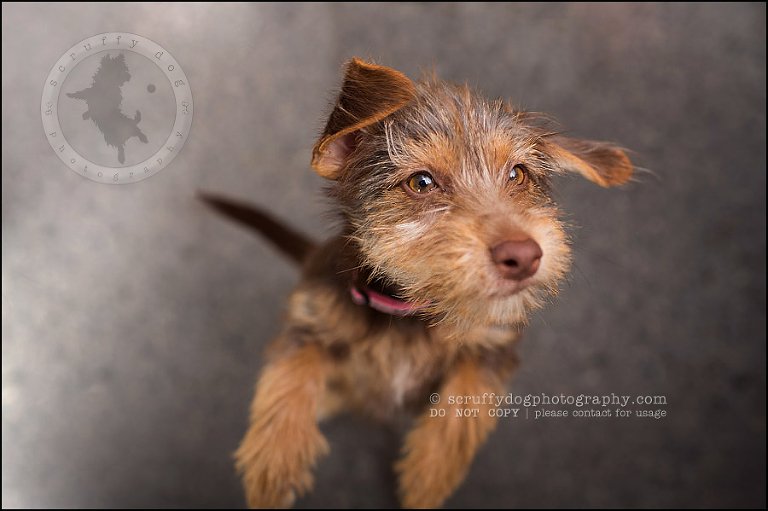 i didn't catch this scruffnut's name, but yes, he/she did get a treat.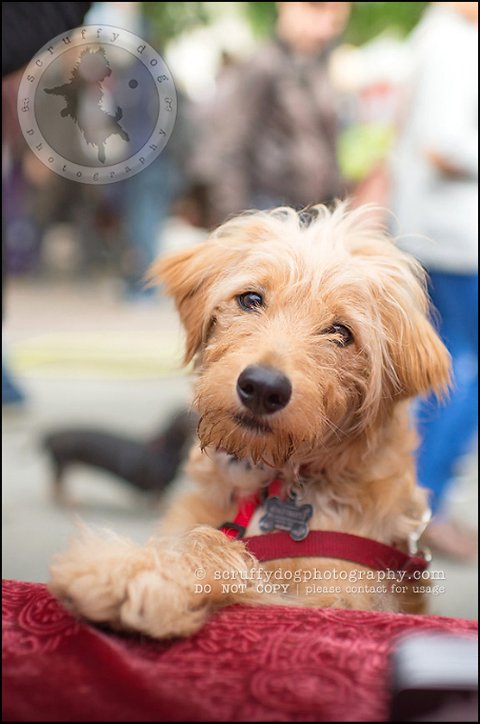 …as did this absolute lovely.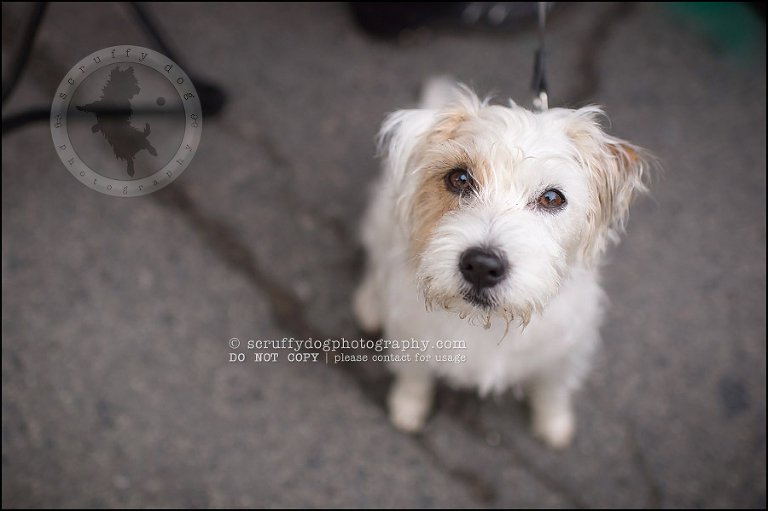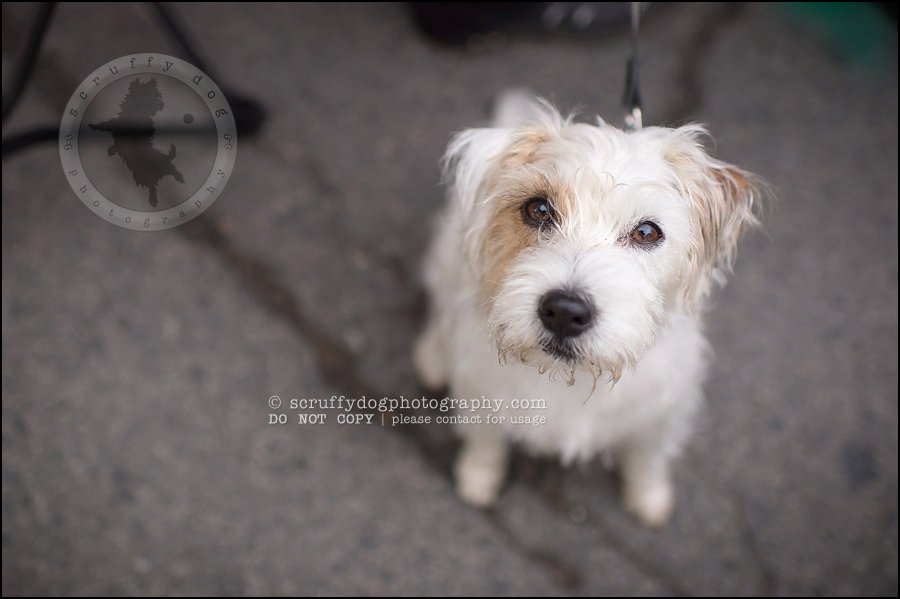 and this girl was definitely one of my favorite faces of the weekend.  i wish i could remember her name, but i do remember her energy: shy but incredibly sweet, and so wanting to trust.  she reminded me a lot of merrick when he first came to me.  i offered some of my experiences with merrick as far as rehabilitation, and in that time, this girl certainly came around quickly to the idea that i wasn't half bad.  gosh i was so in love with her.  and what an incredible athlete.  at one point, she launched herself fully onto the SDP table without so much as fluttering a card or brochure.  her lovely mom and girl seemed quite keen on a session, and i can't tell you how much i hope i meet them in the future.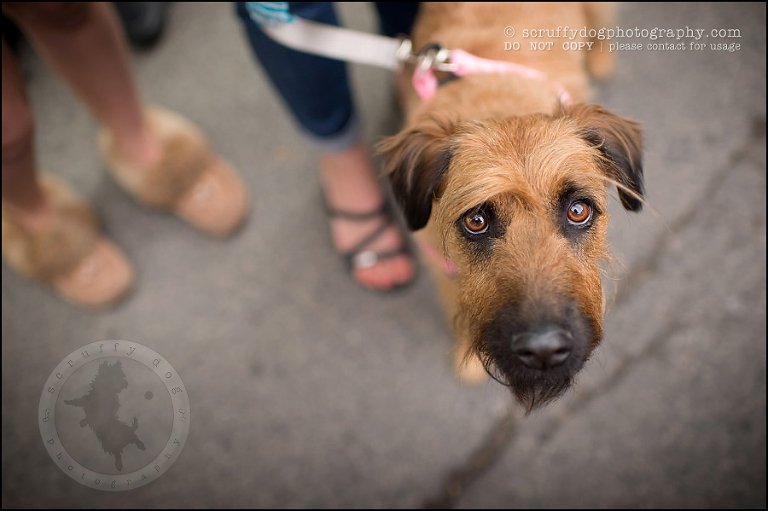 and i believe this is Sawyer … and this is not his first visit to the SDP booth.  what a fun face!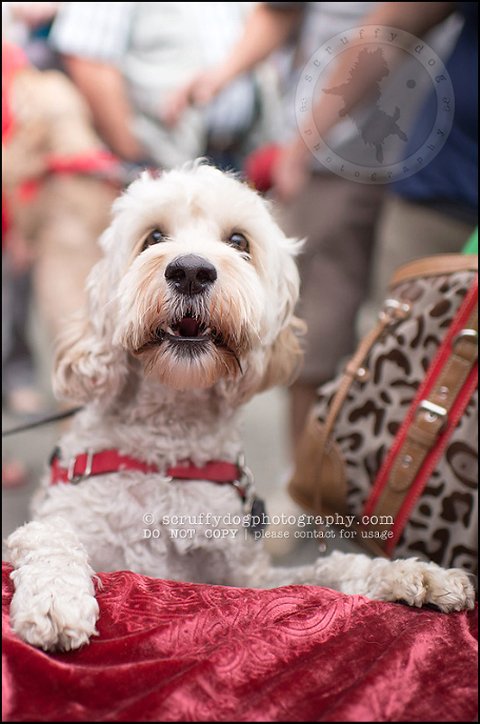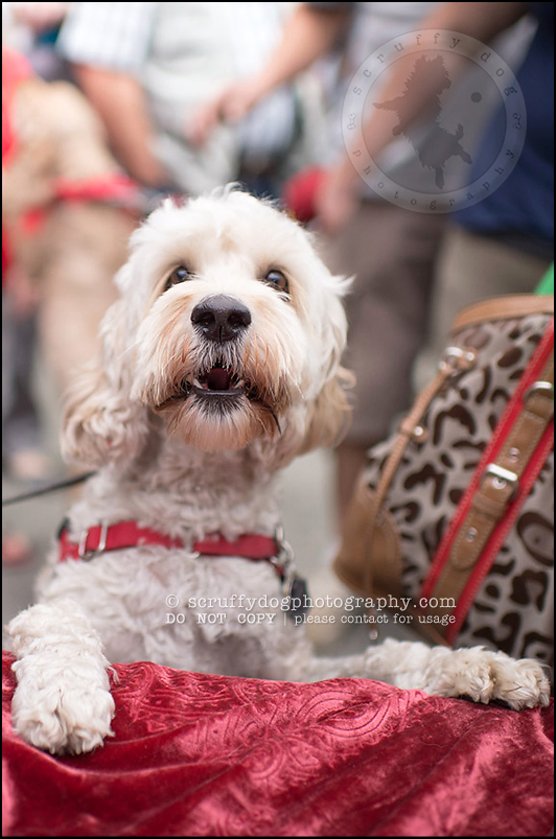 how about this big gorgeous face?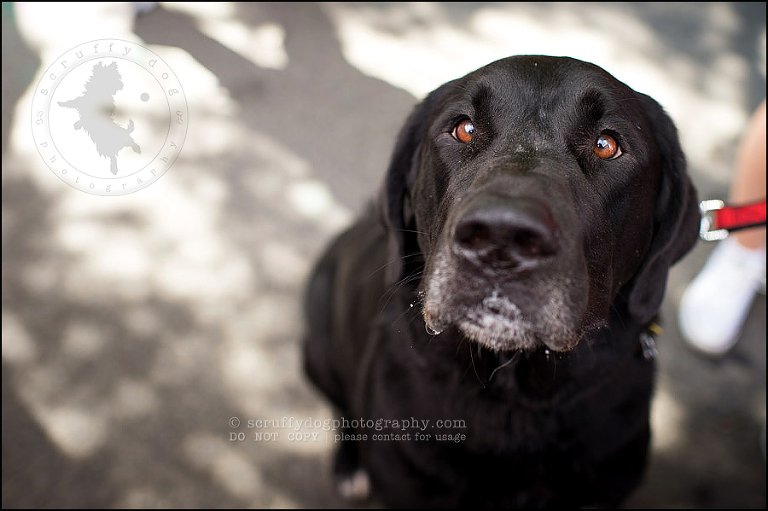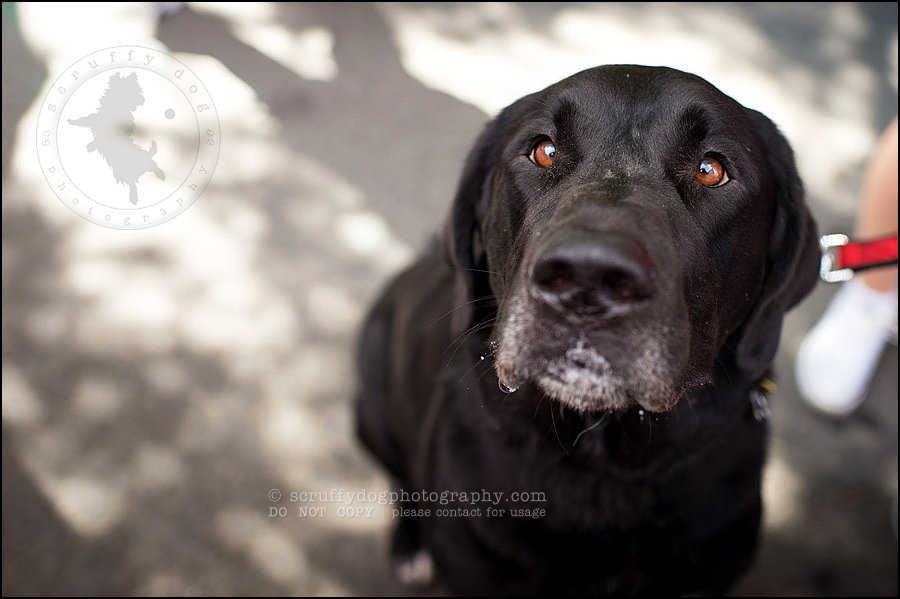 sometimes the scruffies come into the booth with their best mind-melding tricks, hoping to score a treat…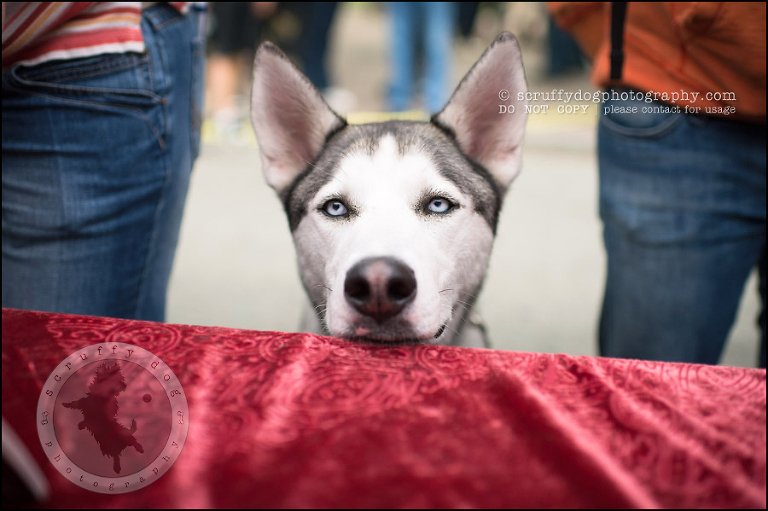 …and if i'm not fast enough, they'll  help themselves!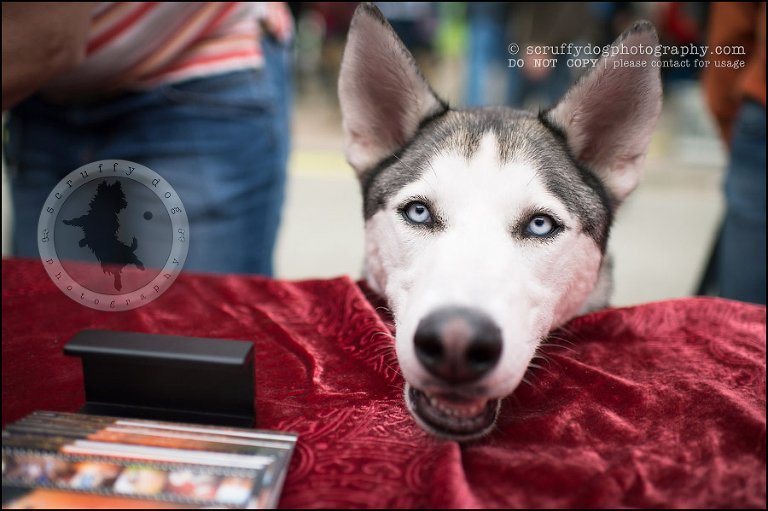 because the scruffy dog booth is always so busy, i almost never get out from behind the table.  but on my one brief walk-about for the weekend, i ran into this crusty little face … i believe this is a Chongqing dog.  what a face!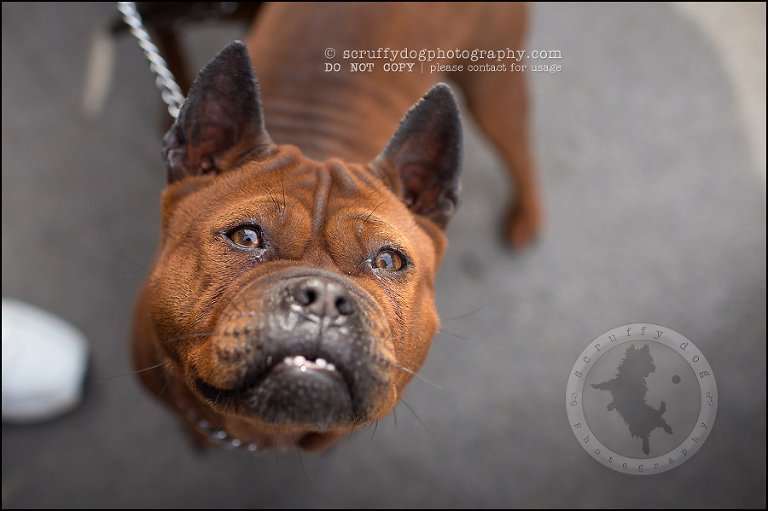 and i learned that this is Nellie.  i think she's a solid runner-up for best Woofstock smile.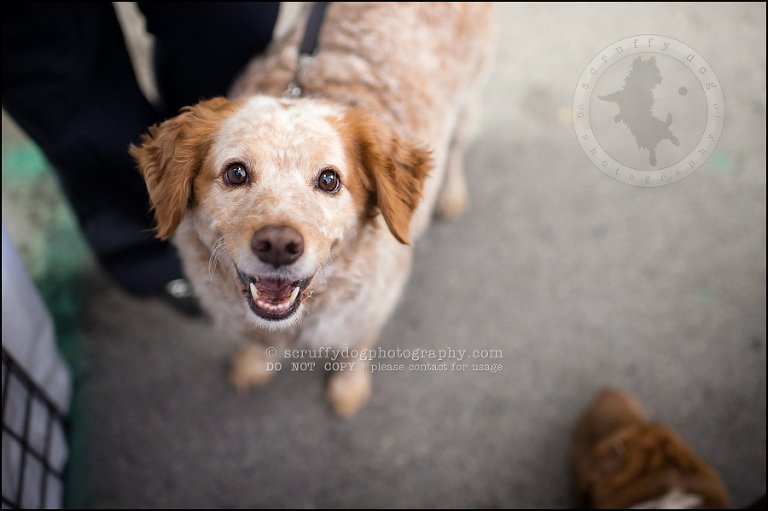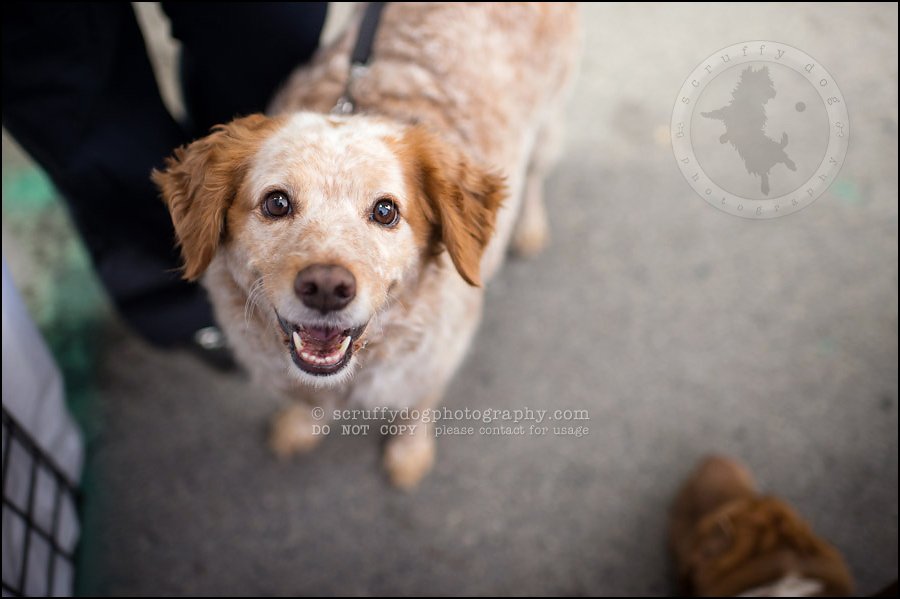 and this is Laika … it was so lovely to meet this scruffy girl as she has a session on the books in a couple of weeks!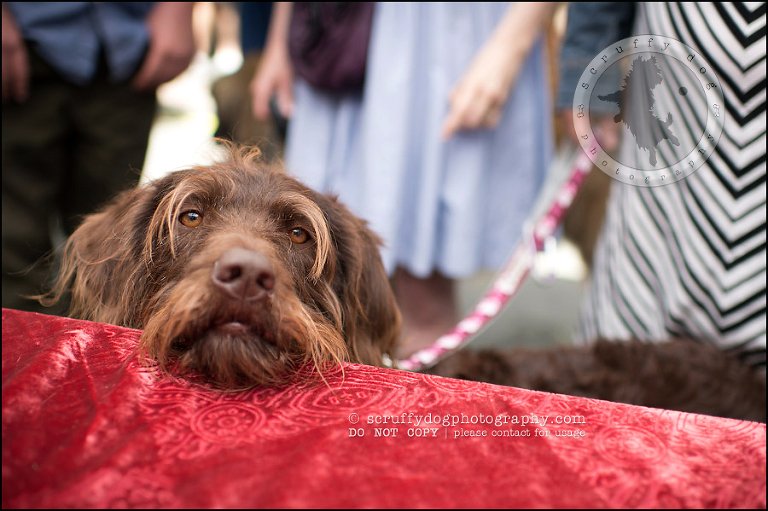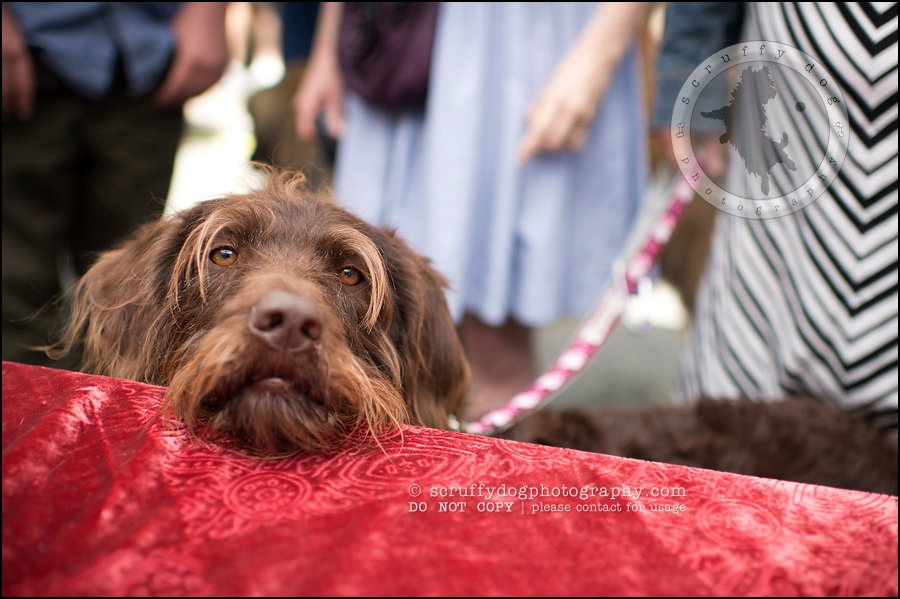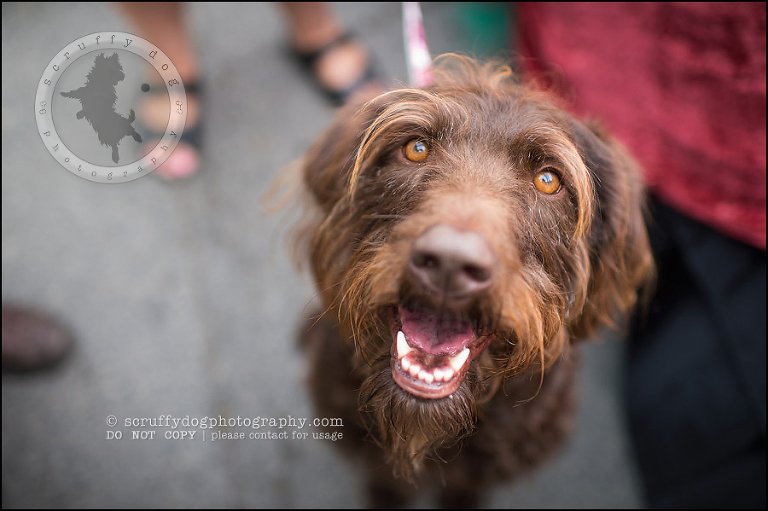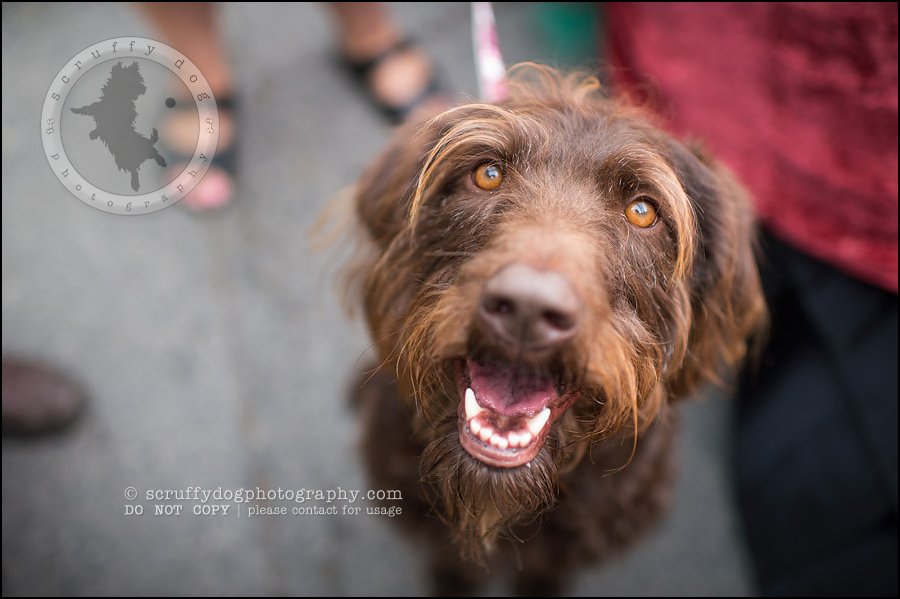 and this is her best friend Sam who is also on the books for a session.  i'm so looking forward to shooting these two.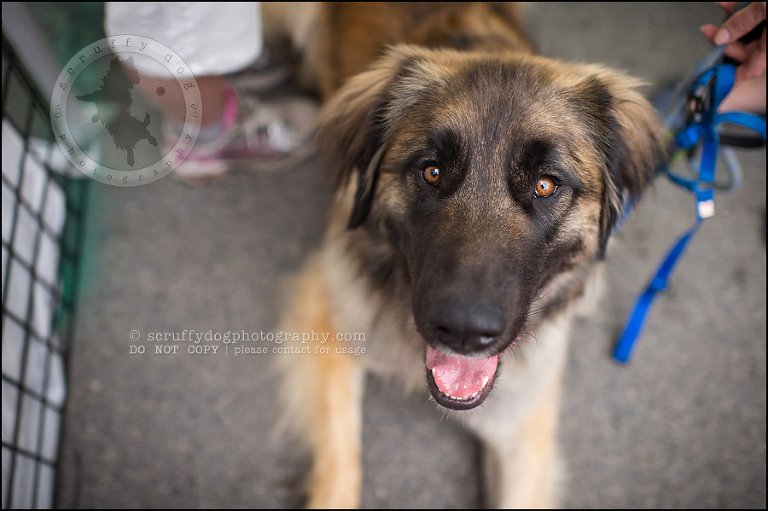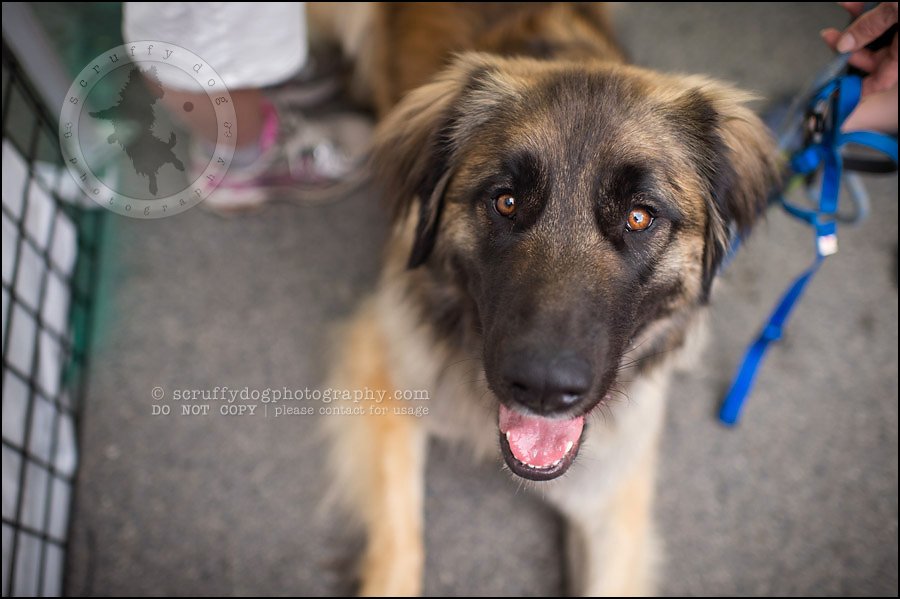 this T-shirt-wearing mini bull terrier was my first mini ever!  i don't think i've even met one in person before … although with so many dogs in my life, i'm often caught saying: "oh, i'd love to shoot a ____"  only to realize that i've already photographed two of them in the past.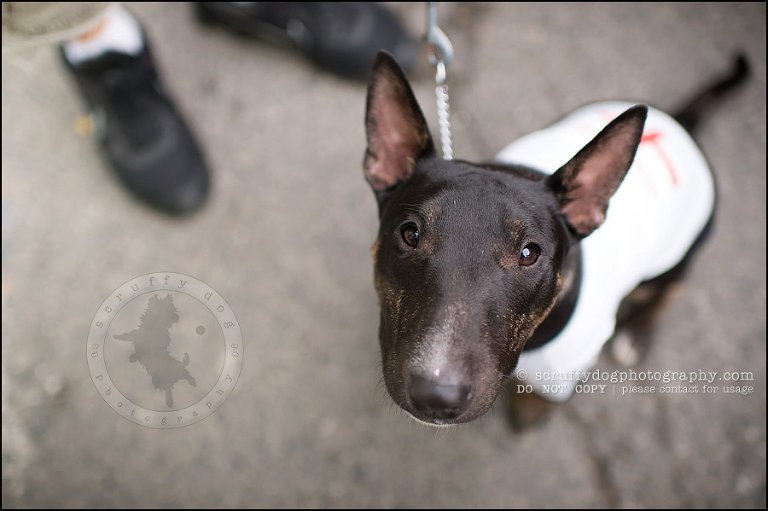 and how adorable is this bat-earred little darling?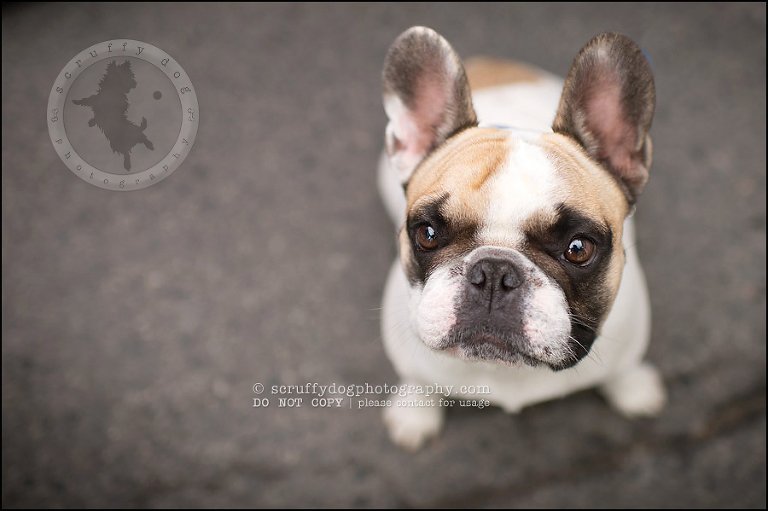 of course, Woofstock would not be Woofstock without a healthy crop of Yorkies … and this dashing little guy definitely stood out in the crowd.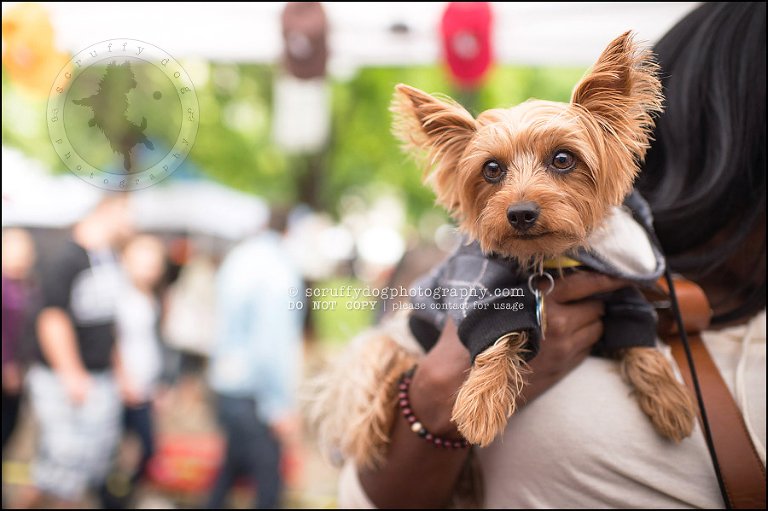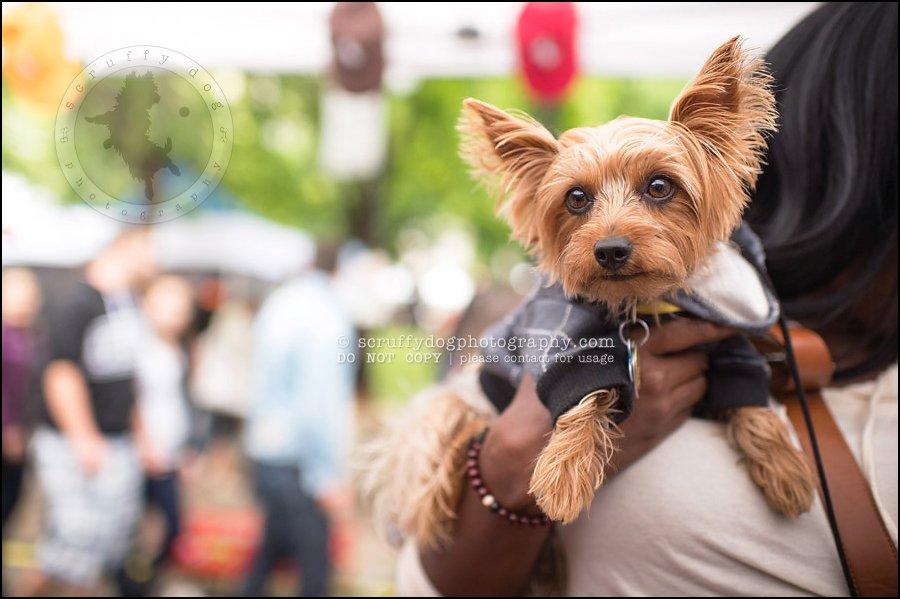 ah … pugs … last year's bulldogs.  the first two years i did Woofstock, bulldogs were definitely the #1 breed … year three saw an incredible influx of pugs. this year the breed of choice seemed to be the Boston Terrier.
this particularly pushy little pug was actually parked at my feet begging while i was photographing another scruffnut.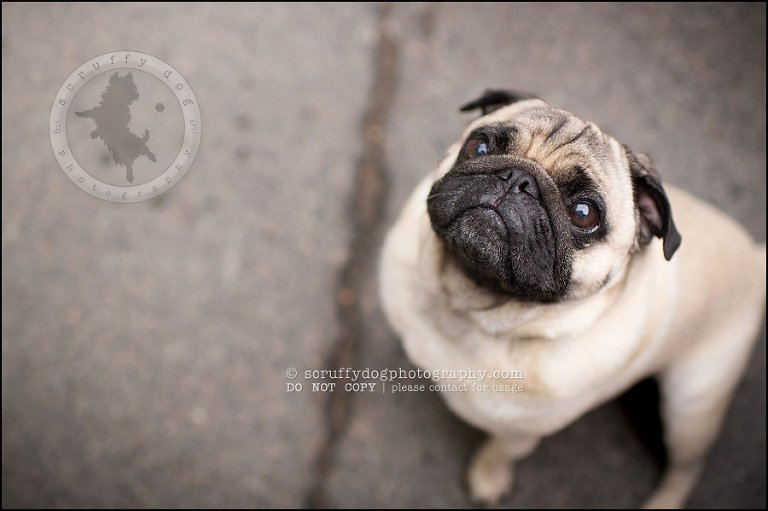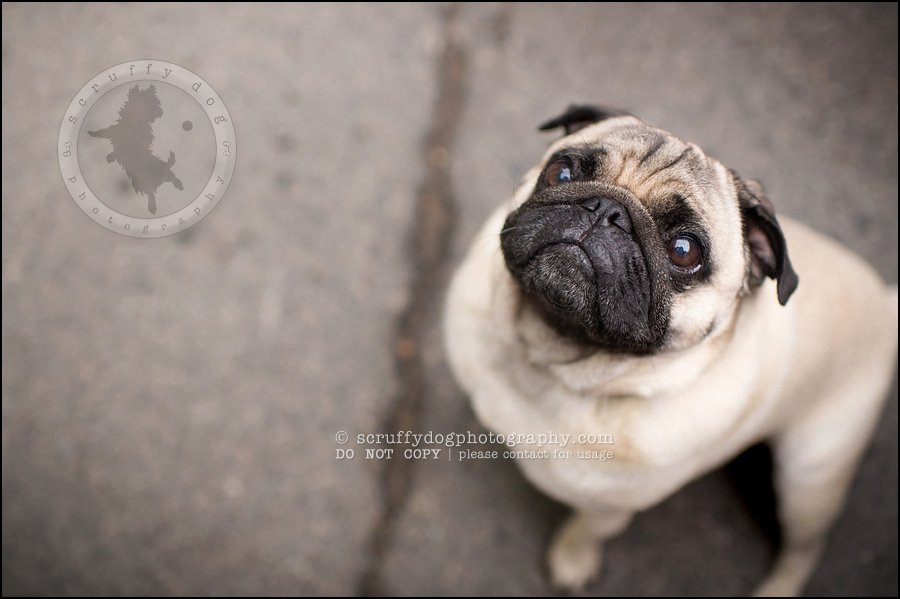 this darling, one-eyed lovely belongs to Donna — an avid follower of scruffy dog on facebook.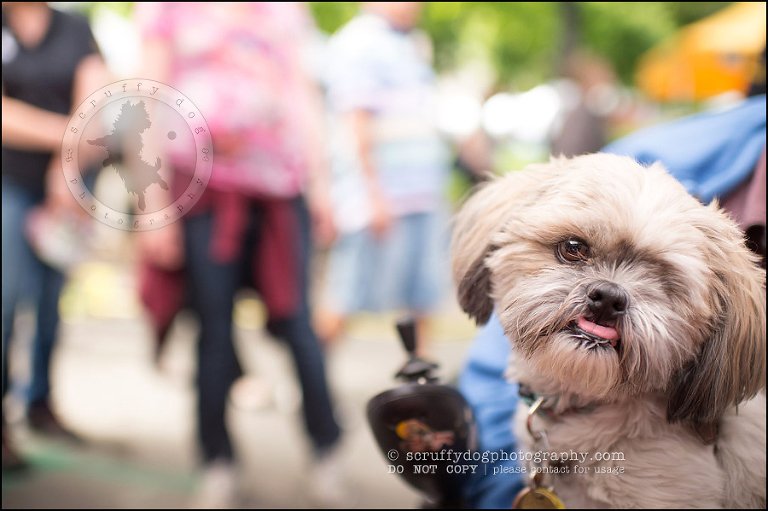 another handsome galoot …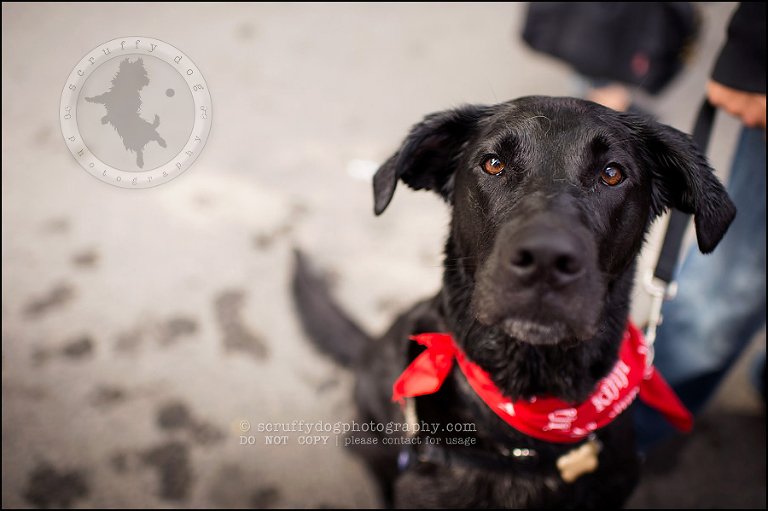 love me a Boston Terror!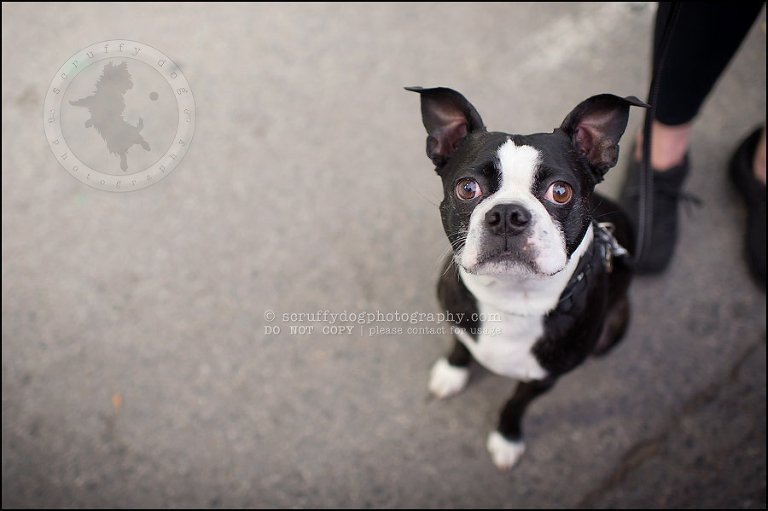 like i said before … so many dogs, so little time!  just look at this sweet face.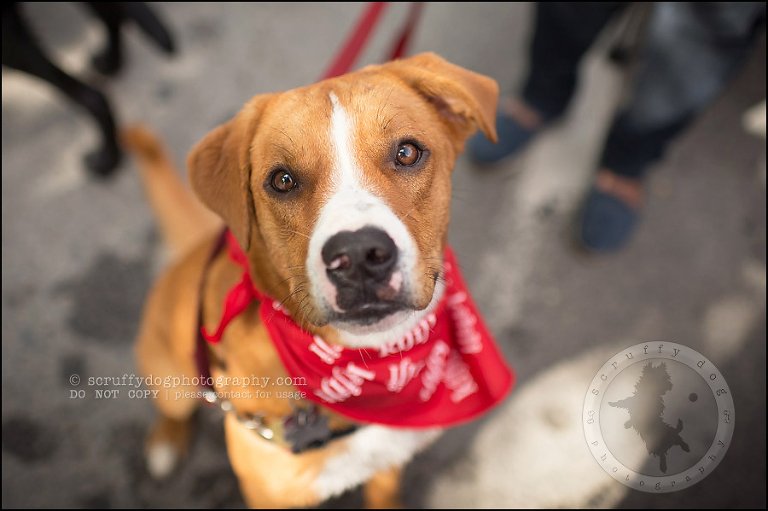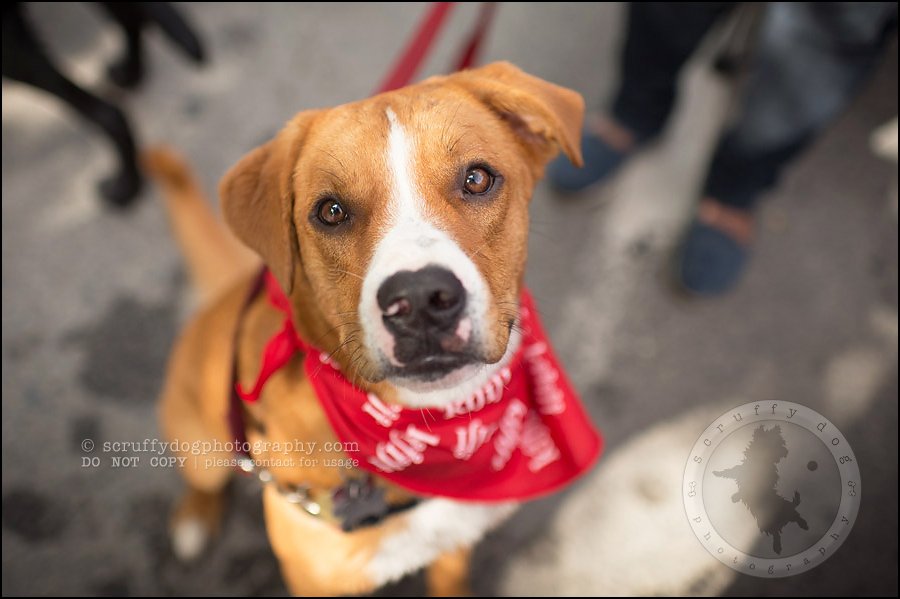 …and this one.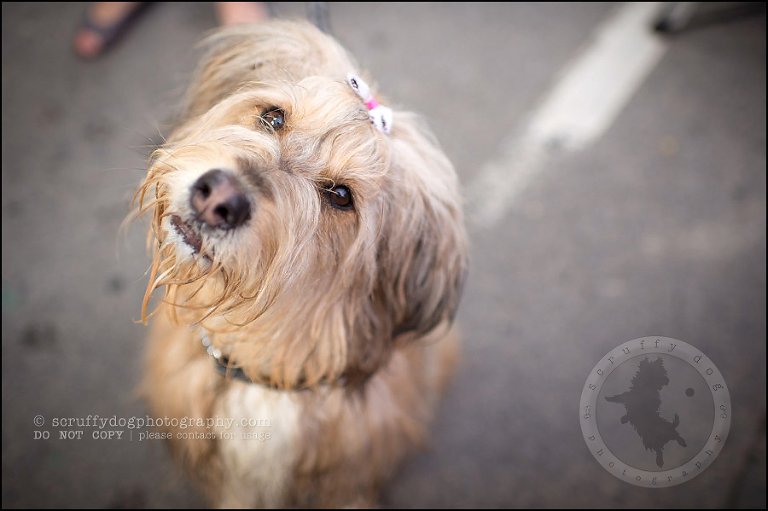 of course, here i believe i was receiving another mind-meld attempt for treats … little do they know that after years of working with dogs, i am absolutely immune to all canine mind-meld techniques.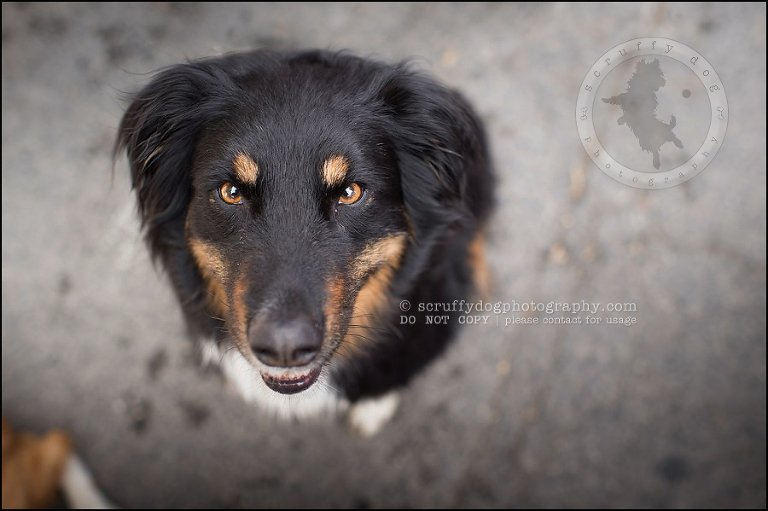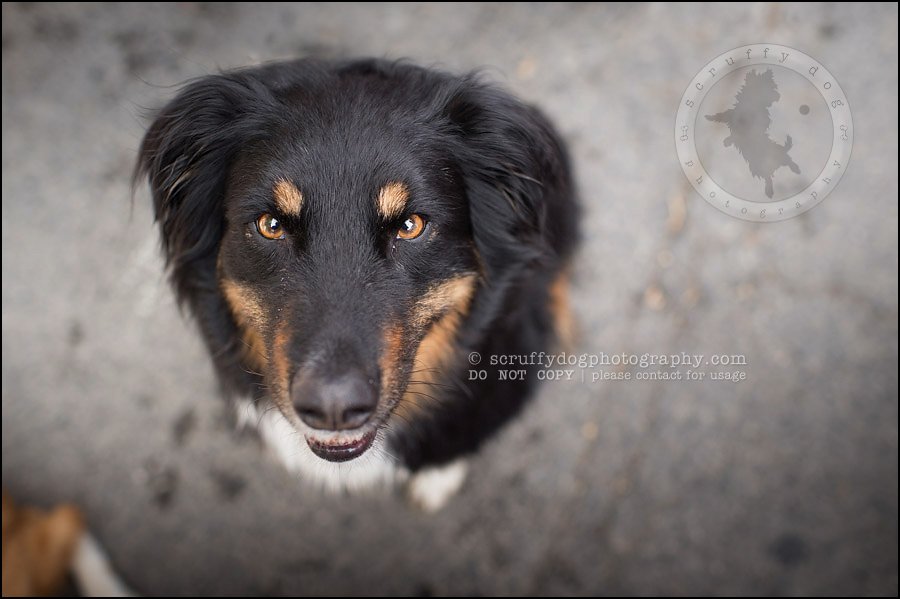 and i close out this Woofstock entry with another fabulous face i fell in love with.   ah … so little time.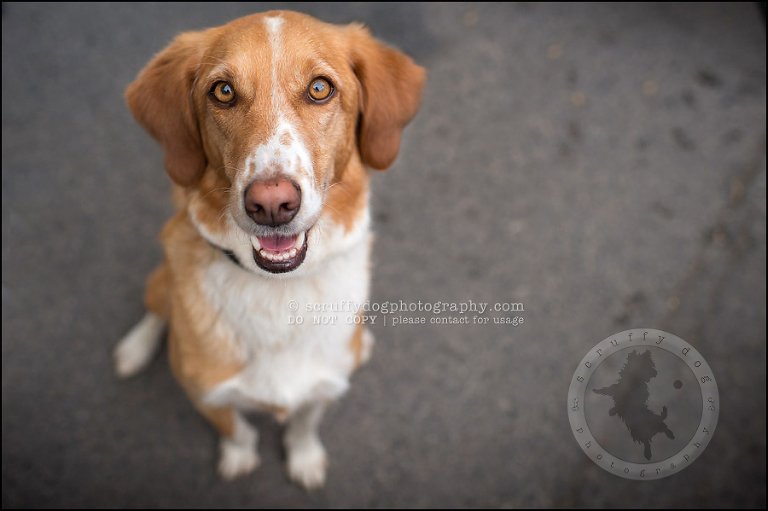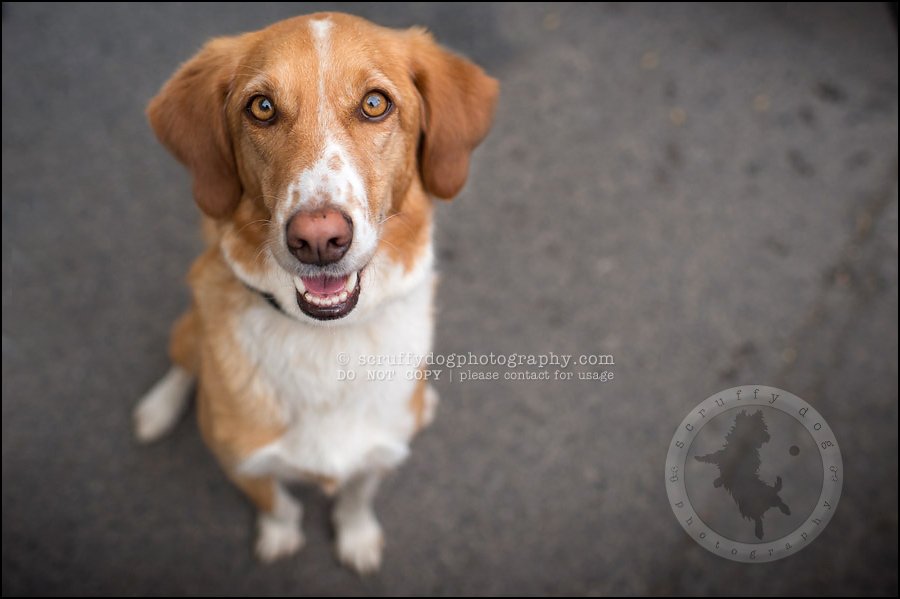 i hope you enjoyed this "small" selection of Woofstock faces.  and if you'd like to see the results of the draw for the complimentary scruffy dog session, made by merrick himself, you can find it here!