last fall i was contacted by an agency to see if i had any leads on some trained dog models … in particular a smooth-coated, solid-coloured hunting breed like a ridgeback or a weimaraner … for a photoshoot for Toronto Tourism magazine.  apparently there is a lack of agencies handling skilled dog models in this province … but always anxious to help in this area, i immediately put a call out on the scruffy dog facebook page for models.  although this job had nothing to do with SDP and was not a scruffy dog photo session, i knew there had to be at least a few avid followers who should fit the bill.
in our initial phone conversation, prior to my posting the model call, Gord from the agency had asked about my own dogs.  i knew that the goober would be a wash for the kind of job Gord had in mind — walking with a model, away from me, in downtown Toronto, with a location crew and lights, etc. — but matea could potentially be a pretty good fit.  still, she's not a solid colour, and we were in the midst of our extremely busy fall season.  i told Gord, though, that if he was in an absolute bind, i would do what i could to make her available.
the response from the facebook model call was, as expected, superb … however, everyone at the agency apparently wanted matea, and it had been decided.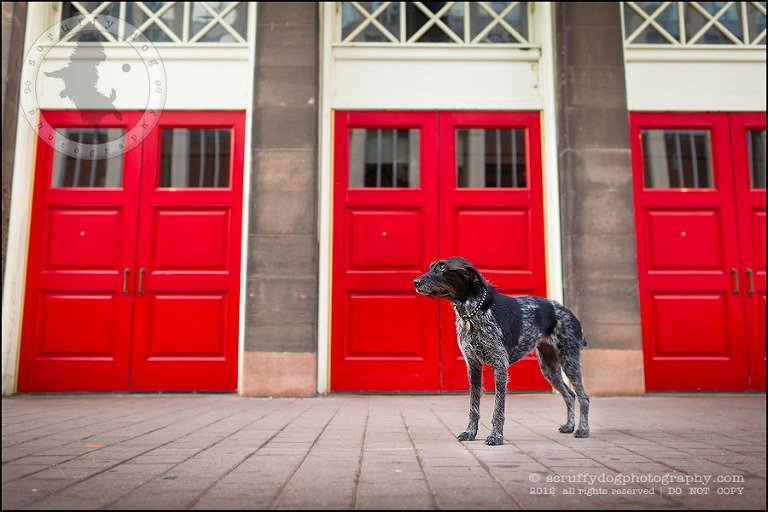 so early that Saturday morning, my girl and i headed into Toronto.  matea was so warmly welcomed by everyone involved with the shoot, and is always something of a hit wherever she goes anyway … but being the only dog on the set meant she could prance around from person to person offleash and feel like a queen.  of course, this girl is the quintessential model … i'm able to walk her up to any spot or mark, unleash her, and ask for a 'wait' … walk away, and — with my back turned — get out my gear, change lenses, and when i turn back to start working, she is always standing stock still in the same position i left her … head swinging from side to side catching the sights, or nose lifted to the breeze carrying the scent of a rabbit or fox, or in the case of Toronto, perhaps breakfast from the diner around the corner.  whether pedestrian or vehicular, traffic can flow around her and she won't move.  i gotta say, it's taken years of working with this girl to get to this point, but i definitely give her a lot of the credit.  she just knows what it is i need from her …
i wish i'd taken more shots in front of Massey Hall's fabulous doors.  i have to admit, i felt a little self conscious horning in on another photographer's set, even though Christopher Dew was still setting up, when i introduced myself and explained that i was taking a few photos only to warm matea up.  i needed her to know she was here to work, and that the area in front of Massey Hall's three doors was her 'stage'.  so a few quick shots to set the tone …like i said, i really wish i'd taken more time…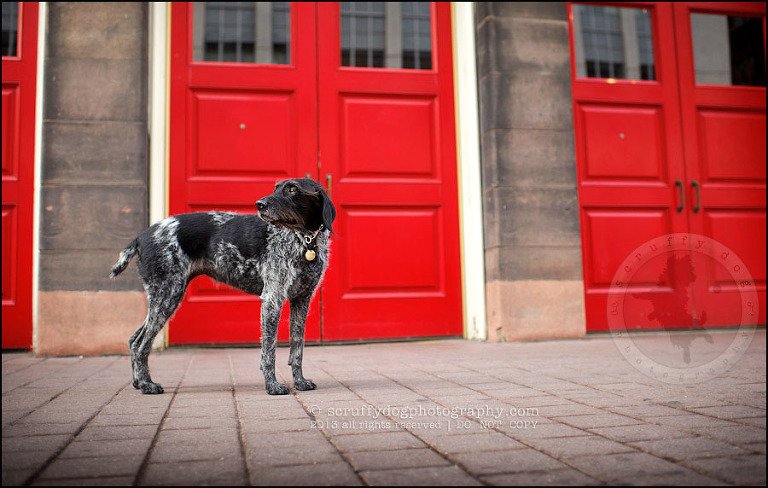 of course, the hardest part of the 'job' for matea was walking away from me.  this girl wants to work … and work for me.  she also has always needed a firm hand, and this lovely model adored matea and was so sweet and soft with her.  it took a few passes before matea was finally walking with her and not always turning her head to see where i was.
and here is the 2013 cover for Toronto's tourism magazine…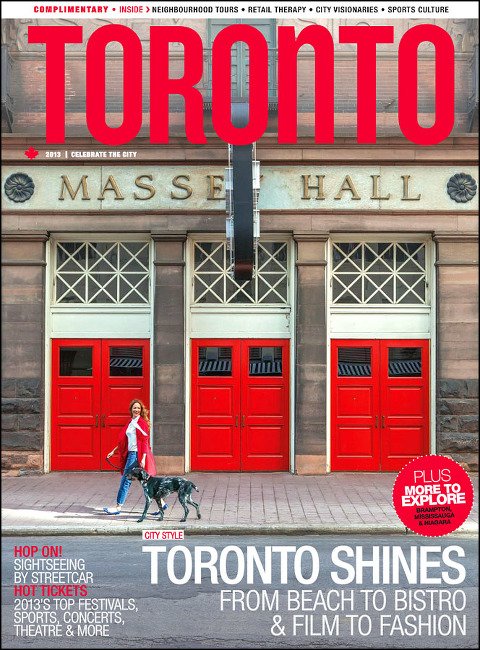 you can see more of the 2013 edition here.