welcome to the first annual scruffy dog Holiday Tribute gift.  if you missed the original post describing what this new giving-back feature of scruffy dog's is, you can read all the details here.  i shouldn't have been surprised that we received over 50 nominations for our first offering of this gift of a session with SDP, and it was not an easy decision!  many times i teared up while reading through the submissions, and to be completely honest, i would love to offer everyone nominated a session.
but sadly, the SDP schedule won't allow this.  still, instead of one recipient of the SDP Holiday Tribute Gift, i ended up having to choose two! … AND please be sure to read through to the bottom of this blog entry, because there are another five whom i would like to offer something to.  again, please understand that this was not an easy decision.
i highly encourage those whom i can't offer a session to to send the amazing words from your submission to the person you so graciously and passionately nominated this holiday season.  i know they will cherish it.
the first recipient of the Holiday Tribute Gift is Terry Creighton and his dog Mickey.  This duo was nominated by Terry's daughter, Nancy, and here is their story…
after being diagnosed with necrotizing pancreatitis, Terry was given a 25% chance of survival from the rare and severe form of the disease. for 6 months Terry lived in the ICU on life support after receiving multiple abdominal surgeries, and the full extent of his hospital stay was over 2 years.  i don't know about you, but i can't be away from my scruffnuts for more than a day, much less 6 months or 2 years!  and i'll admit, in the back of mind, i'm grateful that my Merrick is certified as a therapy dog; i've always told my partner that if i'm ever in the hospital, Merrick has to be brought to me.
well, it was the same for the Creighton's Mickey. with somewhat unofficial permission, they were able to sneak Mickey in to see Terry who, at that point, was out of his coma but still on life-support and understandably despondent.
in Nancy's words:
"My previously, understandably depressed dad, immediately came to life again upon the sight of his best friend. He was unable to talk because of the breathing tube, but weakly cuddled Mickey as he calmly lay beside him in bed. Mickey was able to illuminate a dark situation just from his presence. From then on, Mickey was a regular, not-so-secret, visitor to my dad's room. When my dad transferred from our local hospital to a large teaching hospital, as his disease progressed, we received special permission to bring him in for visits from the hospital administration. Mickey became well known to the patients and staff at the hospital. Not only was he able to cheer up my dad, he was also available for other patients to pet should they ask. Mickey took everything in stride throughout and provided a lot of comfort to many people. If it were not for my dog, my dad's stay in the hospital would have been a lot more difficult, maybe unbearable. Modern medicine is an amazing thing, but there's nothing like the healing power of having your beloved pet at your side as you fight for your life."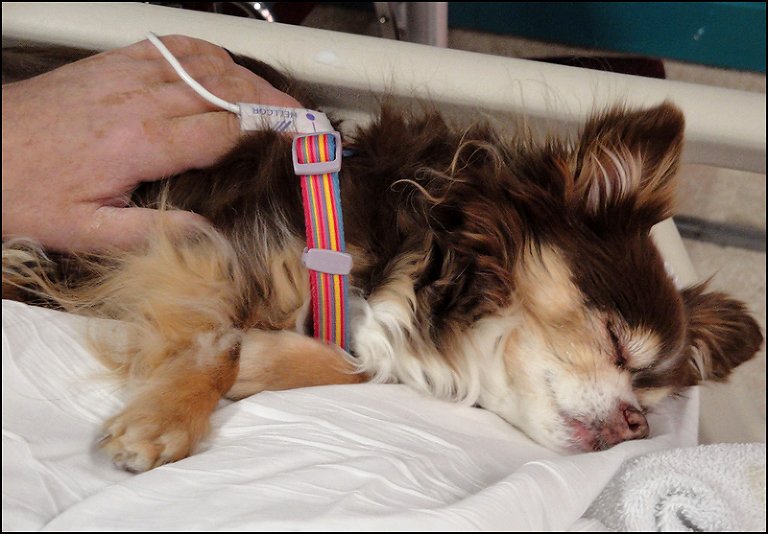 Terry's medical ordeal has left its scars, but according to his daughter, he is finally on the mend and reclaiming his life.  Mickey is nearing 18 years of age. and since Terry's family has been on his disability pay since he entered the hospital, any kind of photo session to celebrate the amazing dog who brought Terry through the worst, is not something the family could possibly entertain.  as such, it would be my absolute pleasure and complete honor to capture photographic memories of the little dog that clearly means so much to this family.

for our second SDP Holiday Tribute Gift, i would like to share the story of Trevor Strassburger and his big boy Kevin.  Trevor is the owner of Pet Planet in Williamsburg and he received two nominations.  his first nomination comes from Sabine Stapells:
"Not too long ago Trevor opened up a pet food/service store called Pet Planet on Williamsburg. As a small business owner he is struggling and putting everything he has into making his store succeed. He's super knowledgeable and the nicest guy you could ever meet. He recently fostered a rottweiler with behavioural issues and has managed to turn him into a wonderful pet. He couldn't part with him and decided to adopt Beta himself. His other dog is a monsterous great dane named Kevin. Now I get to the reason why he might be considered for your session. Kevin is a big, beautiful creature that is only about 3 years old and just recently he had been diagnosed with stomach cancer. It has cost Trevor thousands of dollars already in vet bills and hundreds monthly for food/supplements/pain meds. What he has for Kevin is the truest and most incredible love. He'll do anything to keep him around. In the event that Kevin is unable to fight any longer I believe having a memory of him on his wall of your creation would be wonderful. I know you would be able to capture the essence of Kevin. Please consider Trevor. Thanks!!!"
Trevor and Kevin's second nominator is Becky Carr.  in her words:
"This man is well known in the dog community. He owns a pet planet store. He will offer information and advice to anyone who needs it. He offers to trim nails and help customers in many ways when they go to his store. He has his two dogs at the store as well. A dane and a rottie. When I was in desperate need to find a forever home for my foster dog, Kevin posted a poster in his store for me. He was also very supportive of finding the pup a home. A few people found the foster by seeing the poster in the store as well! Other people have told me Kevin is a warmhearted person who gave them much useful advice on helping their dog with a problem. He also gives to rescues and other dog loving causes when he can. At this time he is hurting as his dane Kevin is very sick with a mass that is growing in him. Kevin was given up by is first owner and Trevor agreed to give him a loving home. He is only three years old and Trevor is afraid for his life. He is spending a large sum of money trying to help keep Kevin comfortable and try to solve the problem. He has started a chip in as it is so expensive. It would be lovely if he could get some great photos of his beloved dog while he is still here. This man of course knows of SDP and could never afford it if he wanted too. He is the kind of guy who walks outside and will lay on the ground with his sick dane. A very special kind of guy."
i should also mention that a SDP client also mentioned Trevor as a possible candidate for receiving the SDP Holiday Tribute Gift … so really, that's three nominations.  i don't know Trevor, but i know his heart is breaking over Kevin's health … as someone who lost their own scruffy at only 4 yrs of age to lymphoma, this story, along with Trevor's obvious dedication to the companion animal community hit home, and it was a no-brainer for me.  i would love to capture the kinds of images of Kevin that i never had of my Murph before i lost him.  that's what scruffy dog is all about … and i look forward to meeting both Kevin and his incredible human.  thank you Sabine and Becky, for sharing Trevor and Kevin's story.

but there are others!  these five nomination stories also touched my heart (well, they all did, but i simply had to narrow the field).  to these following five nominees and their nominated dog, i would like to offer a 20% discount off of a scruffy dog session, purchased by you, by your nominator, or anyone else.
first up, we have Kathy and Jonathan Pearl and their dog Molly, nominated by Beth Adams.  Beth wrote to me about how Kathy and Jonathan, both teachers, have not just helped raise others' children, but have also adopted several Native Canadian children themselves. and last year they adopted Molly, a senior cairn terrier Beth was fostering through Col. Potter Cairn Rescue Network.
in Beth's words:
"Kathy and Jonathan didn't care that she was 11 yrs old, not the classic-looking cairn (yes, she's scruffy, but she's kind of funny looking), and truth be told, who knows what is in there.  But love Molly they do.  They worked out how she could live with their resident cat (also a rescue of course), and now they're best buds. They worked past her quirks and slow pace…
 When one of their children (now all adult) commented about Molly not being a pure cairn, Kathy replied that no one in their family has a purebred lineage and that they are all loved despite that.  
 I know Kathy and Jonathan would spent the money for a portrait session on the needs of others rather than spend it on themselves… and that is the simple reason I have to nominate them. The beauty of their hearts and the love of funny (and very scruffy) little Molly is evident to anyone who meets them."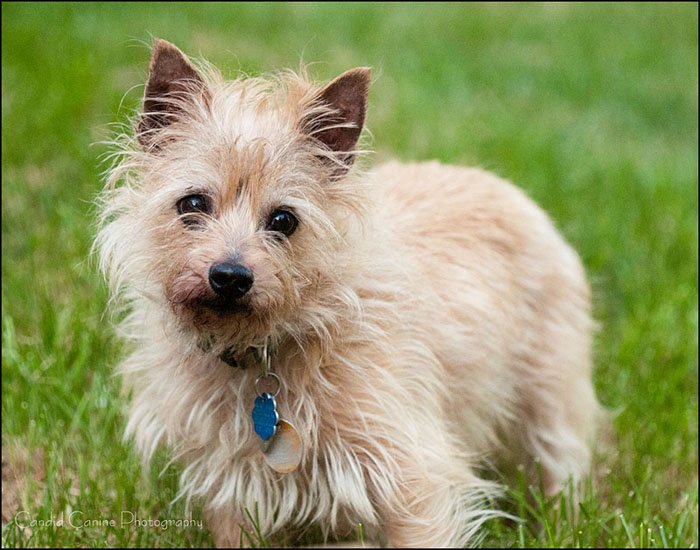 next up, there is Ann-Marie Patkus-Cook and her senior girl Pepper.  Ann-Marie is nominated by Theresa Swain, a wonderful pet photographer in Calgary whom i am looking forward to meeting this summer during her mentoring with SDP.  in Theresa's words:
Ann-Marie has been involved in animal rescue for many years.  I met her when she moved to Calgary and started volunteering at the same organization as me.  It wasn't long before I realized she was a force to be reckoned with.  She wound up on the board, she took in countless rescue dogs, puppies, moms with litters and even a few cats and kittens in the few years she was here.  Her garage never housed a car, the heater went on, and pups would be brought in until fosters could be arranged.   She never worried about getting her hands dirty or giving up rooms in her home to house special cases.  We went together on a few excursions to rescue dogs, and her tenacity always impressed me.  The more I got to know her, the more I learned about her love of animals… she's even fostered racoons!   Now that she's moved back to Ontario, she's right back into volunteering and doing amazing work with ARF Ontario.  She recently converted her living room to house a feral mom and pups.

All through it, she's had a lovely dog by her side, Pepper who was adopted from the SPCA.  Pepper is a senior girl, getting along in years and it would mean so much to have new photos of her.  Pepper has travelled from Ontario, to Calgary, to LA and back to Ontario.  She is such a wonderful part of Ann-Marie's family and shares space with Tiger the cat and Bacon the rabbit.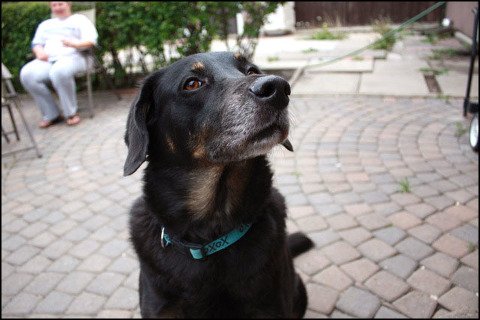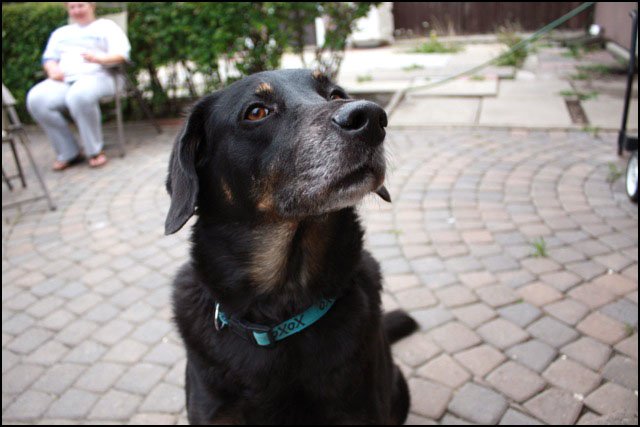 then we have Jan Hannah and her pack nominated by Deb McMillan.  Jan is the manager of the Northern Dogs Project for IFAW (International Fund for Animal Welfare) traveling several times a year to Northern Quebec to bring humane population control and animal care education to remote First Nations Communities.
in Deb's words:
"By every other waking moment in her life Jan is Dog Rescuer Extraordinaire! She works tirelessly to find forever, loving homes for many of the animals she's been able to rescue from terrible situations in these remote communities. There have also been rescues from difficult circumstances wherever else the opportunity arose, in locations both near and far, including China and Bosnia!. Jan gives so much of herself (and her money… even dogs pay airfare) to help these dogs it's truly inspiring! I honestly can't remember the last time she didn't have a rescue (or several) at her house waiting for a place in foster or for their forever home. As I write this there are 4 itty bitty bottle-feeding puppies at her house. 
 Jan herself has an awesome pack of dogs (4): Toby is a handsome big galoot (mastiff x) who was orphaned as a very young pup during hurricane Katrina. Bosum was abandoned as a puppy in a remote northern community alongside his sister. He was too cute to be rehomed and his little sister stayed in the family too with Jan's sister and brother-in-law! Next came PeaPoddy, a husky x corgi (really!). Cute as a button and ears so big you could camp in them! PeaPoddy was actually taken to a group for foster but only for a day as Jan realized they belonged together. Rounding out the pack is Gracie. Gracie loves everybody – every dog and every person in the whole wide world. Quite something for a dog found half starved and with a broken leg. To me she always looks as if her head doesn't belong to her body. They look like two different breeds.
 You can imagine the sometimes bedlam in the house with her own pack of 4 and at times another 3 or 4 or more rescues. Jan's energy, committment, patience and passion for all dogs NEVER ceases to amaze me and I have to add that all of this is done with greatest sense of humor!  I could go on and on and on but I know you're a busy woman. So just to recap … Jan is the best! And if she wasn't spending so much of her own money saving dogs she may well have booked her own Scruffy Dog shoot by now. And if it matters, she would qualify equally if there were a Scruffy Cat shoot."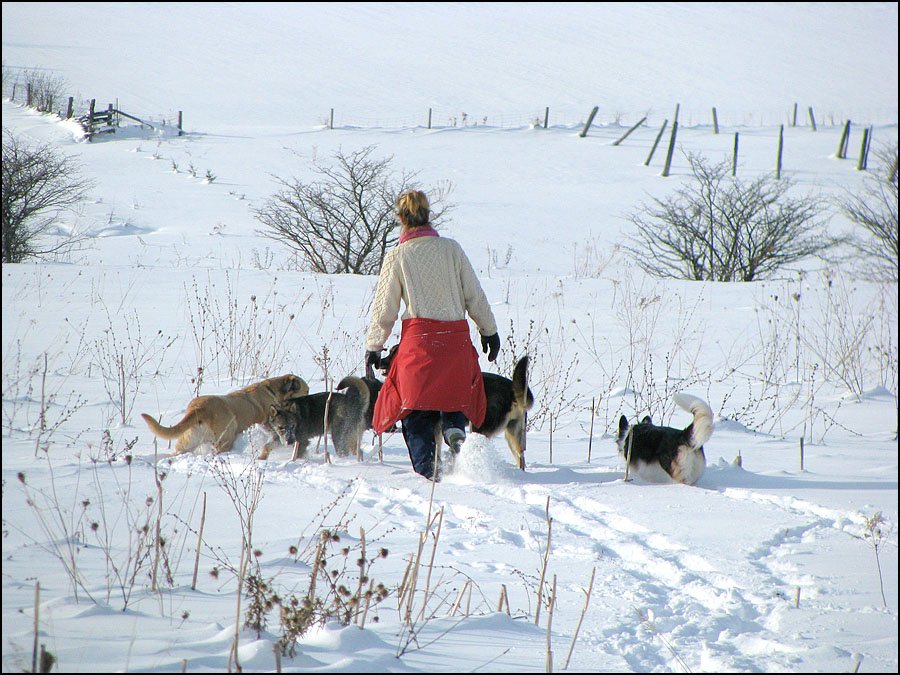 all i can say is, i would love to meet this amazing individual and work with her pack.
next up we have Linda Collier and her wieners!  i know of Linda through her tireless work with Tiny Paws Rescue and Helping Homeless Pets as well as being the founder and coordinator of Wienerfest.  Linda is nominated by Tina Coutts who adopted her little wiener-man four years ago and, through him, got to know about Linda and the amazing work she does.
Tina writes:
"Linda is the founder and coordinator of Wienerfest.  She volunteers her time to this marvelous event that supports the work of Tiny Paws Rescue and Helping Lost Pets, both organizations Linda works with.  Linda is also a "Lion" working with her local Lion's club, and includes seeing eye dog demonstrations at Wienerfest; once again working to educate folks.  Subscribing to all of these organizations, as well as Linda on Facebook, I suddenly found myself flooded with all the doxie information I could possibly want, and really began to learn about this marvelous little man of mine.  Every day there's something new about doxies, health information, rescue information, Wienerfest information.  Linda is a constant feed, is reliable and will bend over backwards if you ask for her help.  She has contacts across North America and does not hesitate to reach out to help out anyone who asks.  And, in her "spare time" she is working on the committee to organize a dog park in Thamesford.
 In the fall of this year Linda lost her Mom, and a very few weeks afterwards, unexpectedly, she lost her beloved Gizmo; the dachshund dog who led her to rescue work.  In her grief Linda wondered aloud on Facebook if it was time to give up rescue work and that is when the extent of her work really came to light.  With so many people coming forward to remind her of the joy she had brought into their lives by connecting them with their rescue dog and the voices in the rescue community coming to support her, her dedication and commitment clearly evident.  It is what Linda doesn't know about that speaks volumes about her.  It is the work she doesn't see, the support she gives to people like me who just wanted to rescue and love a beautiful little dog without really knowing what they are getting into.  Linda is right there.  Whether its questions about food, or health issues, behavioral concerns, or just doggy quirks, Linda answers the questions as best she can.  Her Facebook page(s) are filled with rescue information as she connects with as many as she can.  All the while building Wienerfest into a better event each year, next year dedicated to Gizmo's memory.  Linda has nine doxies of her own (yes I did say nine) so clearly loving the eccentricities of this marvelous breed.  Personally I feel it speaks volumes to the dedication of this lady that when I saw your contest I knew immediately that I wanted to nominate Linda, even though I haven't had the pleasure of a face to face meeting.  She truly has helped me help my Dylan so very much.  I am sure that someone who knows her better could tell you a thousand more things about what Linda does to help so very many dogs; but here it is my gratitude that must do."
 here is a photo snagged off of facebook which, i suspect, captures only part of Linda's pack.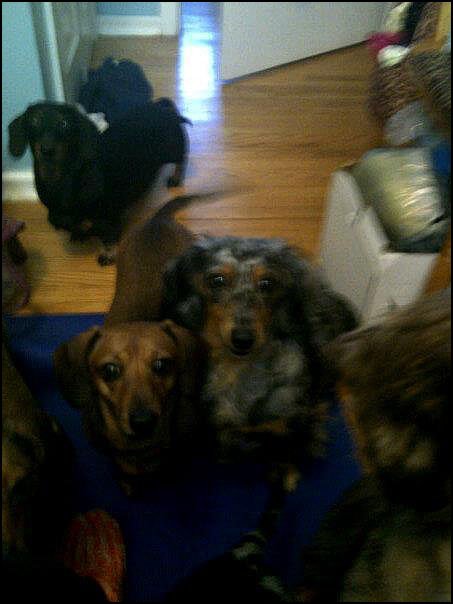 and finally we have Hannah Pepin from Kentucky and her little boy Simon . Hannah has gone from volunteering at her local humane society to working for the shelter, assisting with some large scale disaster relief efforts, and several large puppymill busts and hoarding situations. always figuring herself as a big dog person, her rescue of Simon — the 3.5 lb matted, toothless poodle from a puppymill raid — was a surprise … a life-changing one.  Simon has lost most of his lower jaw due to infection; he has seizures and is blind in one eye.  i guess this SDP gift is as much about Simon as it is Hannah.
here's the boy: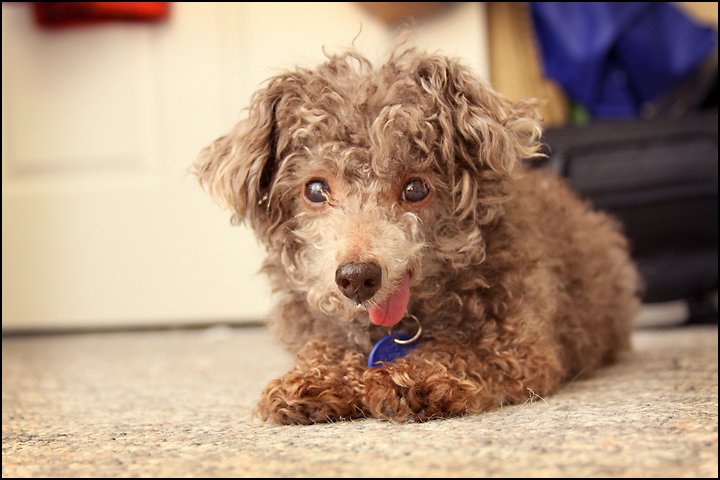 i hope these stories have touched you as much as they did me.   i am very much looking forward to meeting Trevor and Kevin, and Terry, his family, and Mickey.  and for the others, my hope is that you're able to arrange an SDP session so that i can meet you all as well.
again, this was no easy decision.  happy holidays to all those who took the time to write their incredible and passionate nominations … and to those where nominated, giving selflessly to their companion animals, the pet community, rescue, and every other aspect.  thank you, ALL!