this morning i'm bringing you the last of the scruffy faces that graced the scruffy dog booth this year at Woofstock.
i'm tempted to say this year's Woofstock was busier than past years'.  it's difficult to tell.  but if i were to use the rawness of my throat at the end of each day as a gauge, i'd say we were busier.
first let me give a HUGE shout-out and thank you to my truly amazing staff: Karen and Kim — with me for their second year each — and Michelle, new to the scruffy dog team.  you women are absolutely irreplaceable.  you know full well that i could not do this without you.  so, THANK YOU!
every year it amazes me how many people stop by the SDP booth proclaiming to be long-time fans and followers of SDP on facebook.  i absolutely love that i can finally show them the images they've enjoyed on-line in big-print format … 24×36 floatmounts at minimum and 52″ framed canvases at maximum.  this is one of the reasons i put my staff through the ordeal of summer Woofstock each year, packing and unpacking the artwork — to show people the reality of scruffy dog images; after all, just about any image — regardless of quality — can be made to look good when posted on-line at 72dpi.  the true test is in the printing, and in printing large format for clients.
for those of you who missed us this year, here's a peek at this year's booth … (snapped quickly Sunday morning with the iPad)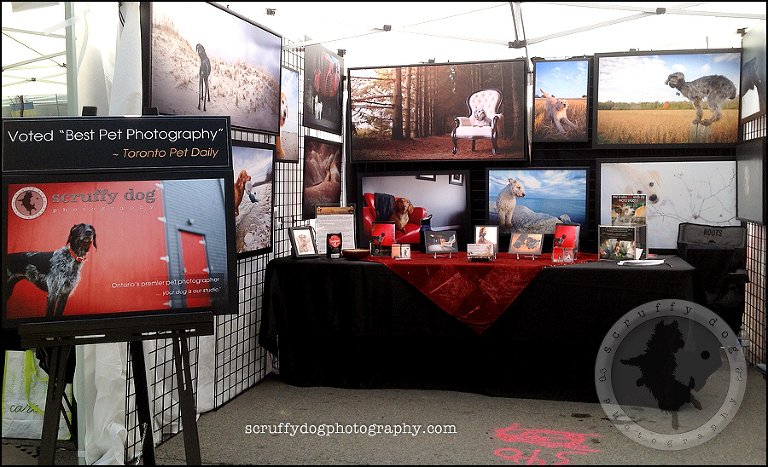 for those of you who did make it out — in spite of the very brief and blessed showers Saturday morning, in spite of the blistering heat on Sunday — thank you for your continued support, thank you for your enthusiasm, most of all, thank you for loving your scruffies.
so i'll shut-up now and bring you the last installment of scruffy faces from this past weekend.  enjoy!
(*PLEASE NOTE: due to copyrights, please do not copy these images.  if your dog appears in this blog entry, drop us a line!  we will be happy to send you a copy of their photo to share on your facebook page!)
first up, big boy Chance … Woofstock wouldn't be Woofstock without a bulldog … just sayin' … and Chance is one of the handsomest bulldogs i've ever seen.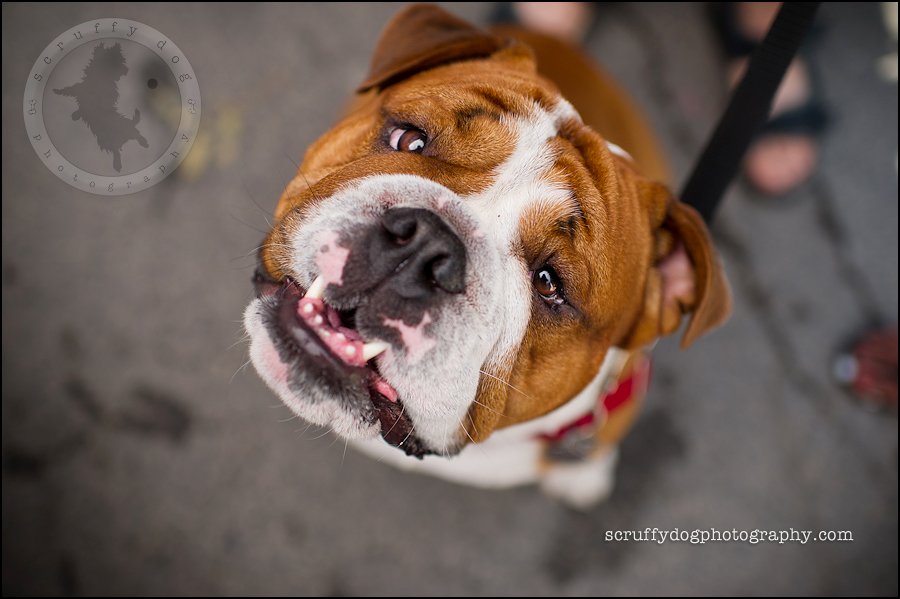 … not to mention that Chance is one of those uber-talented, higher-learning bulldogs as well, carrying on his very own facebook page. i mean, merrick is pretty advanced but he's still not got the complexities of the mouse figured out.
here's Chance cooling his … um … well, cooling …
melon-head …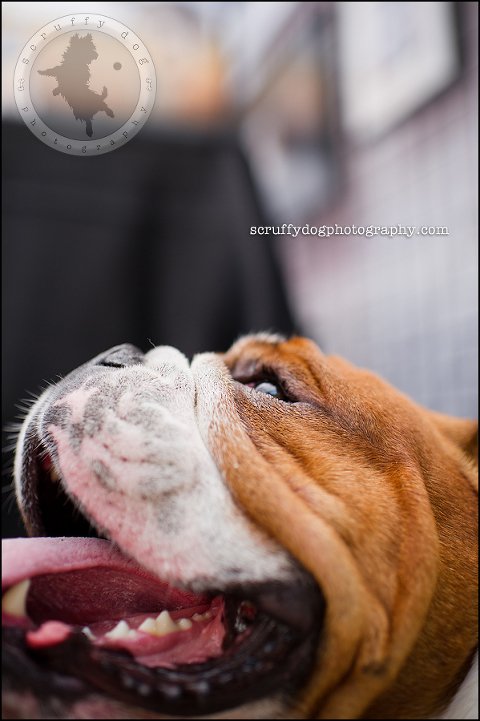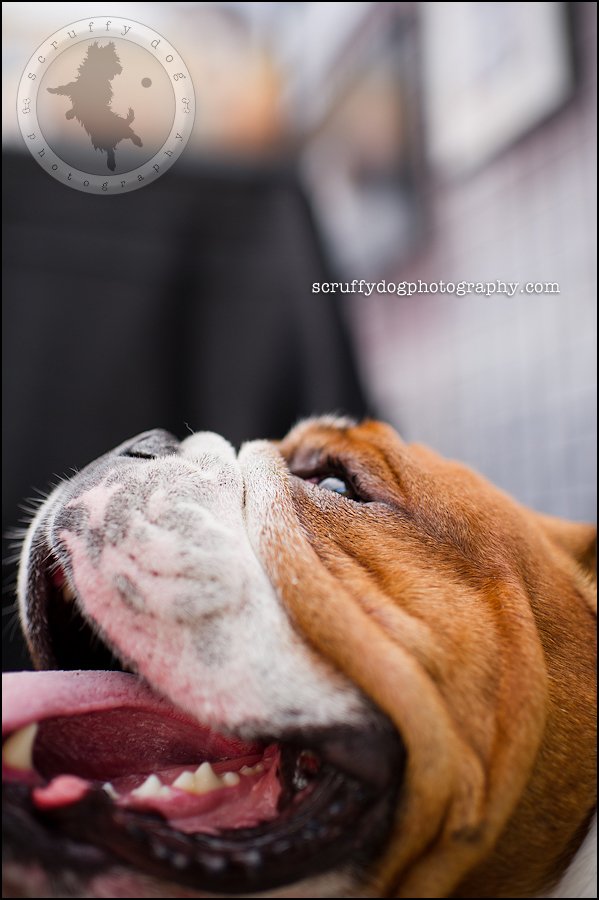 and from one extreme to the next … how about this little, wide-eyed iggy?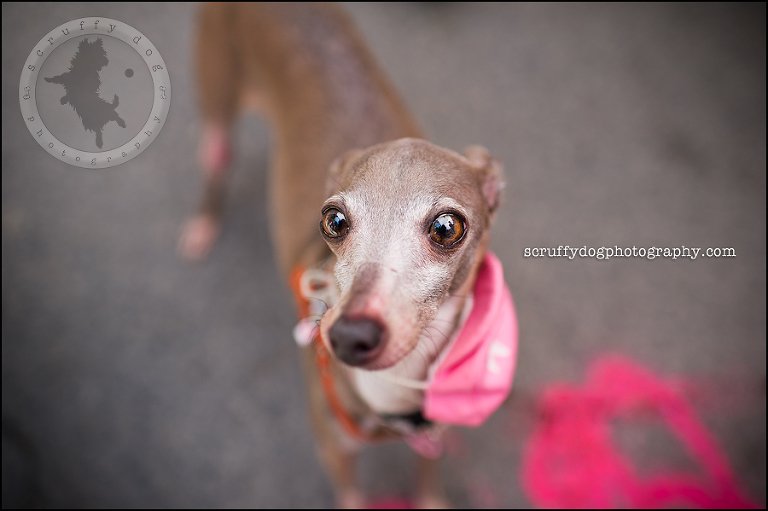 or this Ears McGee swinging by the booth late Sunday afternoon?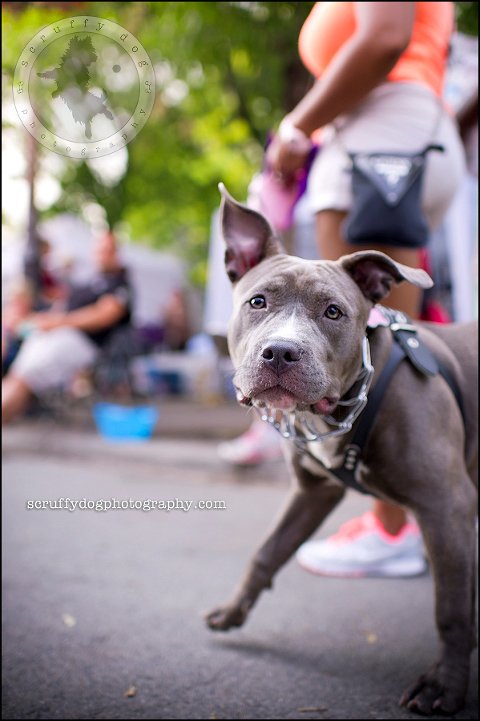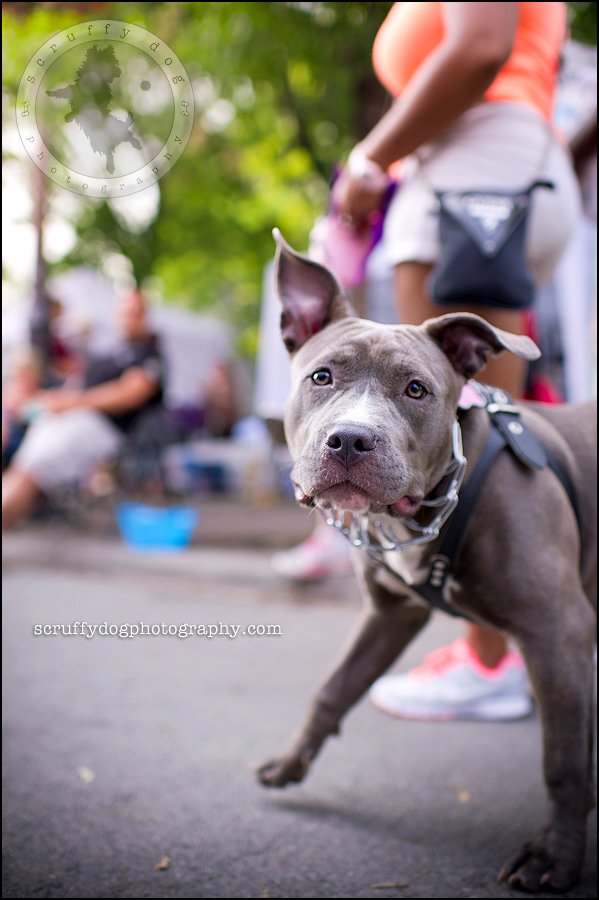 and then big boy Chino.  Chino and i actually go back a ways … i remember him from an earlier Woofstock … i'd slipped out of the SDP booth for a quick washroom break and spotted this great looking young dog and snapped a quick photo.  then last fall i spotted Chino in the crowd from the SDP booth up at Poochpalooza.  yup, i never forget a face my cameras have met.  so when Chino sauntered past the SDP booth late Sunday afternoon, i think his owners — the good peeps behind Leash and Paws Dog Walking Services in Toronto — were a little surprised to hear their big boy's name ringing out as i called after them.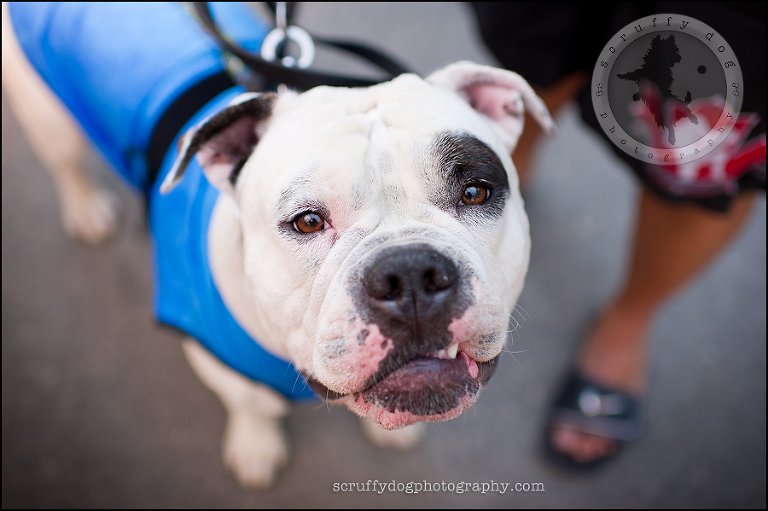 and what is the handsome Chino wearing on that sweltering Sunday afternoon?  a Must Luv Dogs cooling coat!  yeah, yeah,  yeah … i can hear all you skeptics out there groaning … i heard my share of it there at Woofstock too.  but get this, i'm the biggest skeptic out there, okay?  still, i've got a black, senior dog here who overheats all the time, who — in spite of being a sun-worshipper on some days — is desperate to find any patch of shade during our walks.  so … last year i purchased the Ruffwear SwampCooler … with extreme skepticism.  i had the opportunity to use it maybe a half dozen times.  but guess what?  it does work!  Matea would come back from a walk with the tongue half as long, and having not sought out shade even once.
BUT, in my books, the Canadian-made Must Luv Dogs cool coat beats Ruffwear's SwampCooler, paws down.  Chino was the first dog who came into the SDP booth who wasn't gasping, who wasn't desperate for shade, tongue lolling to the ground and nearly rabid for water.  slip your hand under that cool coat, and it was cool, bordering on "chill".  what's more, his parents hadn't wet it down for over an hour and had been walking around in the sun!   Matea's SwampCooler would have long since dried out and needed replenishing.  not to mention that the MLD Cool Coats are far more attractive, slimmer fitting, and … well, i sure wish i hadn't already blown the budget on the SwampCooler.  🙁   (product plug for the day done.)
i had a sweet little King Charles step into the booth on Sunday …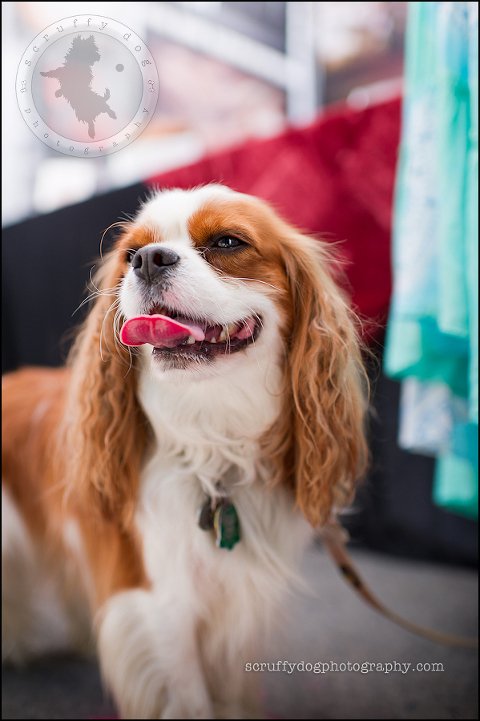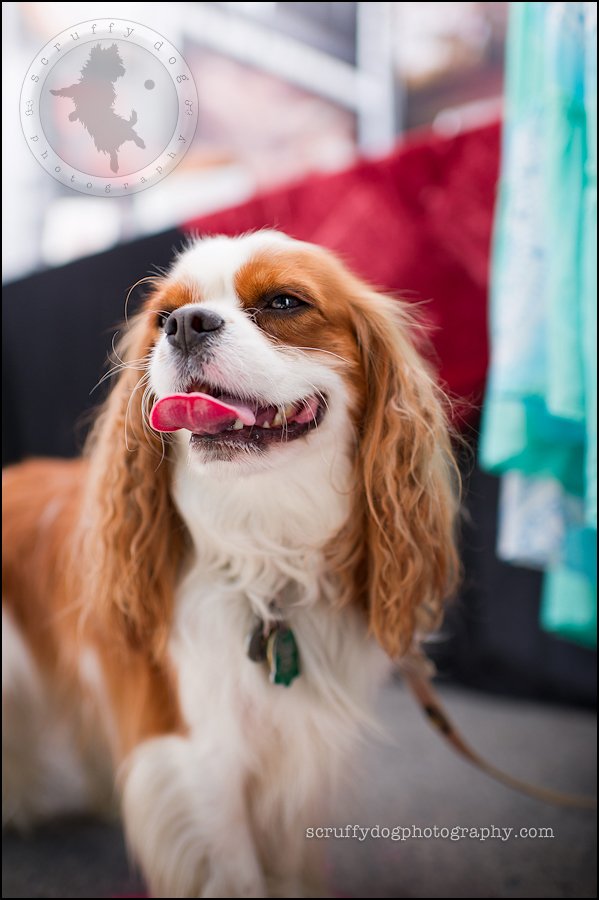 and then a face that some of you might recognize … anyone??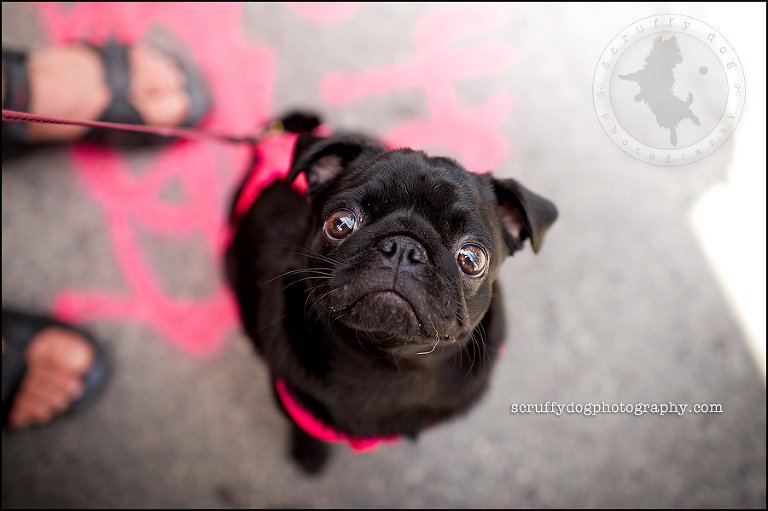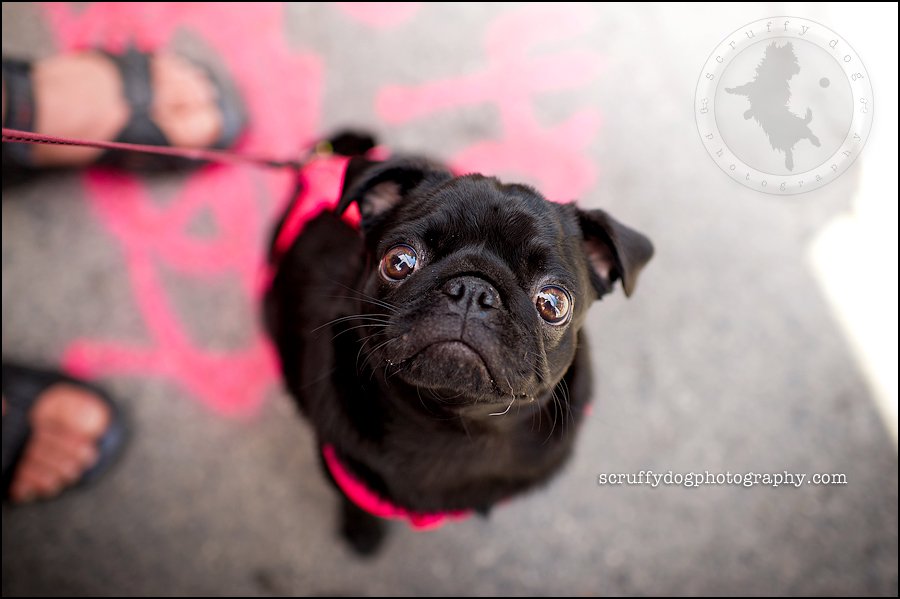 this little guy i passed by on my way over the hill for a quick visit to the rescue area …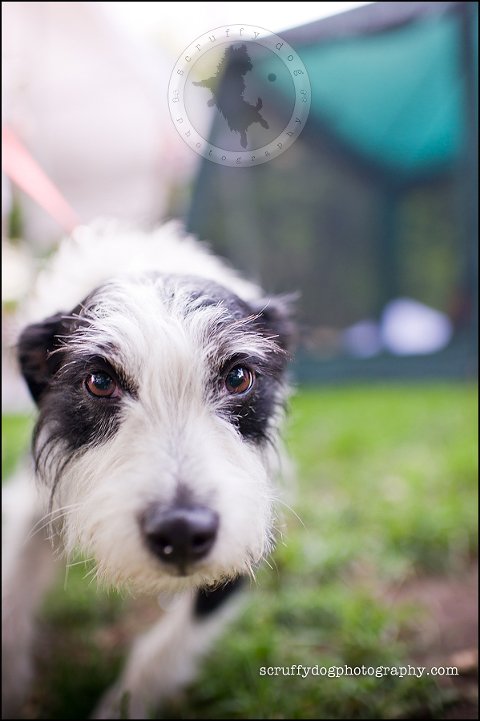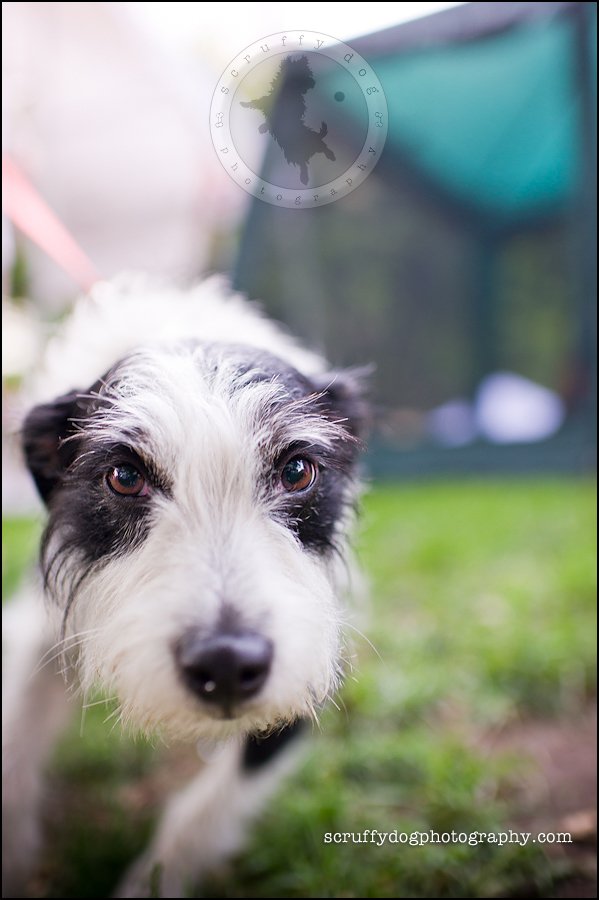 and how about this little scruffnut?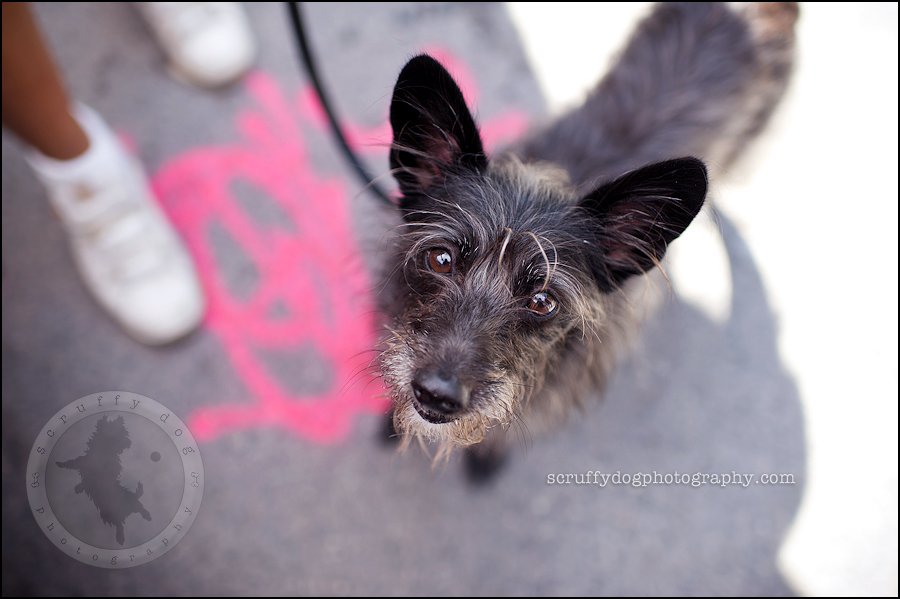 or this one … scoping for treats, no doubt.
and another little scruffy just hanging out at the SDP booth …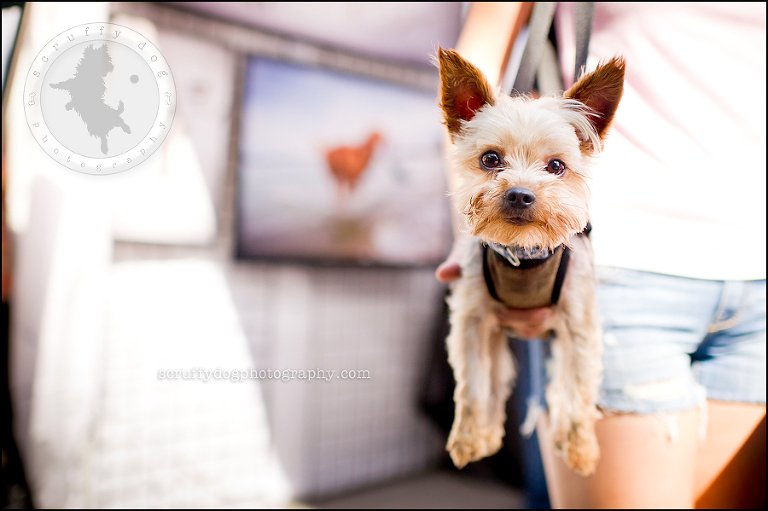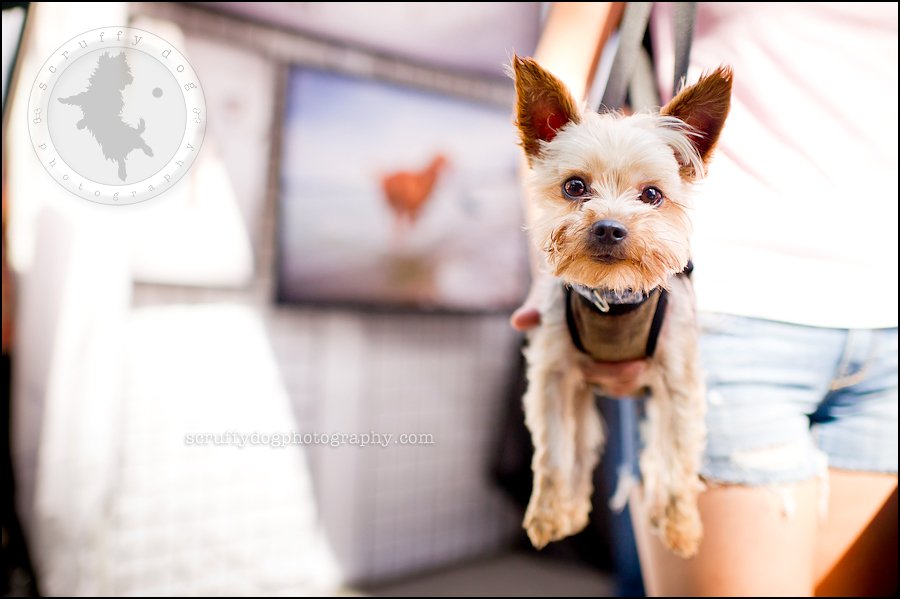 scruffies big and small …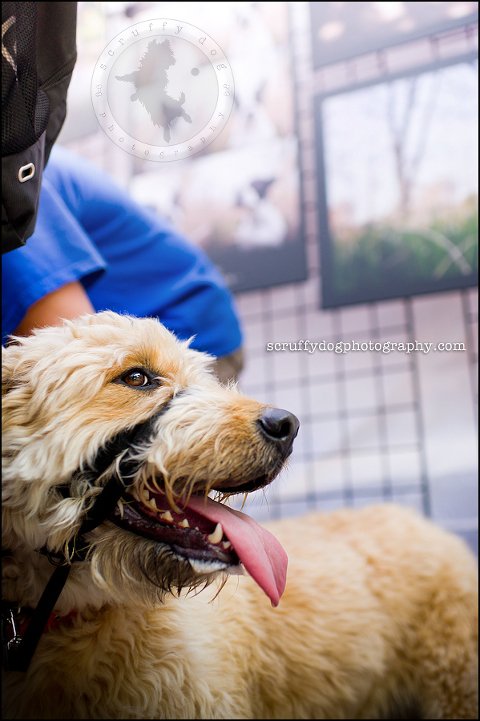 and finally, this is sweet Annie … she's being fostered by Tami Packham of Waterloo Dog as part of Boston Terrier Rescue.  i love Annie … she has the best energy ever, but she was having a bad week, with several more seizures.  such a sweet sweet girl.  i hope this week is a better one for my sweet girl Annie.
and some of you might recognize this little monkey …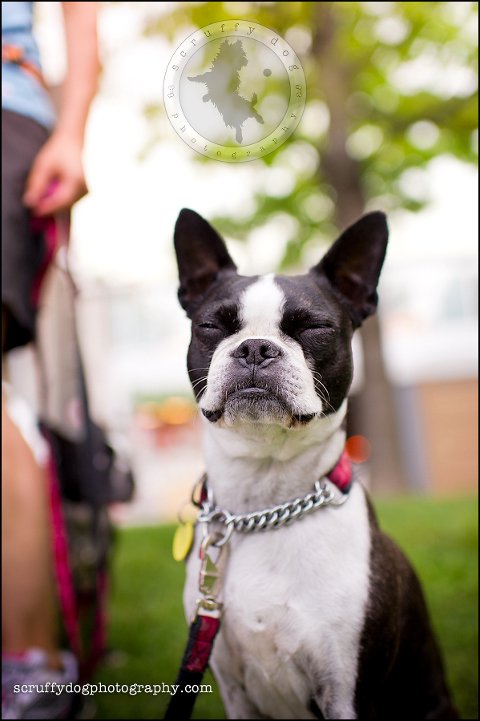 thank you again, everyone, for stopping by the SDP booth.  i would have loved to have captured every scruffy that graced our booth with their presence … and i would love to meet all of you with my cameras!
speaking of which, merrick goobernuts mcscruffy has selected the winner in this year's draw for a complimentary photo session, with a runner-up!  you'll have to stay tuned for the video!