CURRENTLY FULL
PORTFOLIO REVIEW

Let's face it: as a photographer, your on-line portfolio is the #1 most vital aspect to your website, and in today's world, your website is probably the main 'storefront' for your pet photography business.  If your on-line gallery isn't the first impression for potential clients, it's definitely the most pivotal impression when it comes to their decision in hiring you as their 4-legger's photographer.  As such, the images you choose for your gallery are vital to your business.
While choosing those images might seem simple enough, honing those choices so that they reflect who you are as an artist, as well as clearly displaying your abilities as a photographer, is no easy task!  And it is certainly not something we as artists always have the objectivity to achieve on our own.
This is where a "portfolio review" by a professional, seasoned photographer — working within your field — can be invaluable.  Constructive criticism, coupled with sound and experienced guidance, can do much more than compile a solid, flowing slideshow of strong photos.  When delivered from the right source, a portfolio review can also shed a whole new light on your photography, offering new ways to viewing your images with a new perspective, and even helping you look at your business with renewed optimism and a desire to truly stand out in this industry.  It is my hope to be that source, guide, and inspiration for you.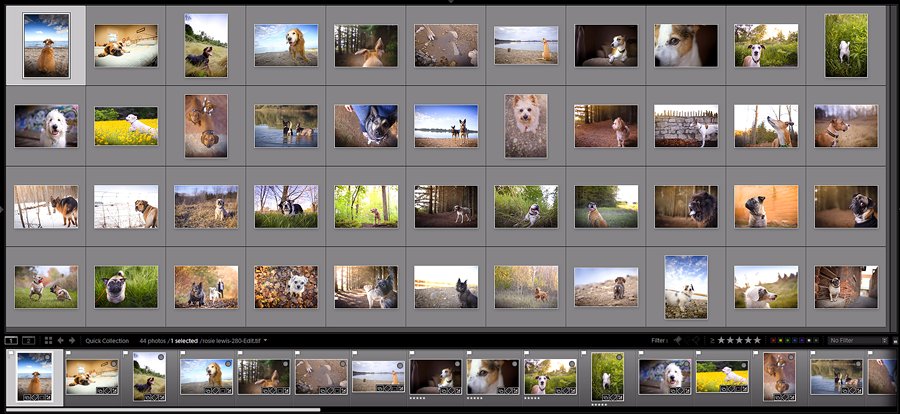 During my on-going mentoring of other professional pet photographers, analyzing mentees' portfolios and their overall work is just one aspect of the extremely intensive, all-inclusive SDP One-on-One mentoring.  In answer to overwhelming demand, I am thrilled to be able to now offer this one particular aspect of my mentoring at a distance.
The Portfolio Review involves an in-depth, preliminary examination of your provided images and note-taking on my part, followed by a one-hour phone consult.  The goal with your Portfolio Review is to bring the objectivity and expert eye that comes with my years of experience, a Fine Arts degree and a history of teaching, to your body of work and online portfolio.  The result: a final, polished, online gallery that clearly demonstrates your talent and abilities as a pet photographer, and offers a distinct representation of what clients should expect out of a session with you.
As with all scruffy dog mentoring, the Portfolio Review is highly positive and constructive, always focusing on your strengths, and covers a lot of ground:
analyzing your existing or intended portfolio as far as image choices;
examining your images individually, and discussing what works best for a strong on-line presence, including post-production suggestions for improvement with those individual images;
examining your portfolio as a whole, and how it exemplifies your breadth, your overall vision, and your promise to each and every client, as well as standing as a full representation of you as an artist.
Please understand that scruffy dog is an extremely busy studio.  Because of this, only a limited number of Portfolio Reviews can be fulfilled each year, with the bulk of those being conducted within the quieter winter months of January to March.
COST: $250  CDN   Price subject to change without notice.
If you would like to learn more about the Portfolio Review, please fill out the inquiry form at the bottom of the page.  The Goober would be happy to take care of you!
TECHNIQUE ANALYSIS

The Technique Analysis is a much more in-depth and inclusive examination of your images.  This unique mentoring option allows me to more thoroughly analyze your individual photos and you – as a shooter – by looking at your presented work as a whole.  This is where I am able to truly dissect your images for you … from the shooting level right through to post-production … and offer advice and recommendations in regards to your shooting technique, as well as editing.
As a seasoned professional who has studied images day-in and day-out for over a decade, and as someone who mentors others, I can tell a lot just by examining an image, and by analyzing its metadata.  Through careful deconstruction of all aspects of your image and its embedded data, I can offer personalized and in-depth feedback on:
shooting angles;
camera settings – ISO, shutter speed, aperture, shooting mode/priority, exposure compensation/bias;
lens and focal choices;
positioning of the animal to the natural light source (and often even tips on working with different energies of dogs within the scope of the scene you are showing me);
the best use of that available light;
utilization of surrounding landscape and environment;
post-production;
and much more.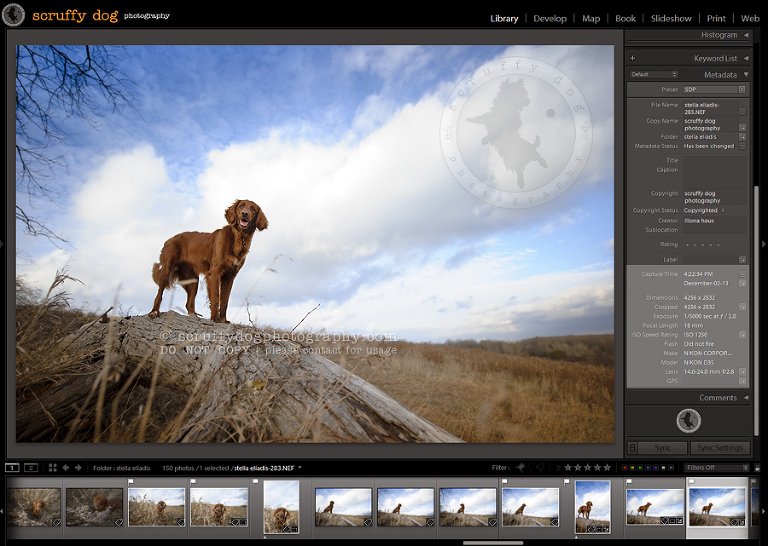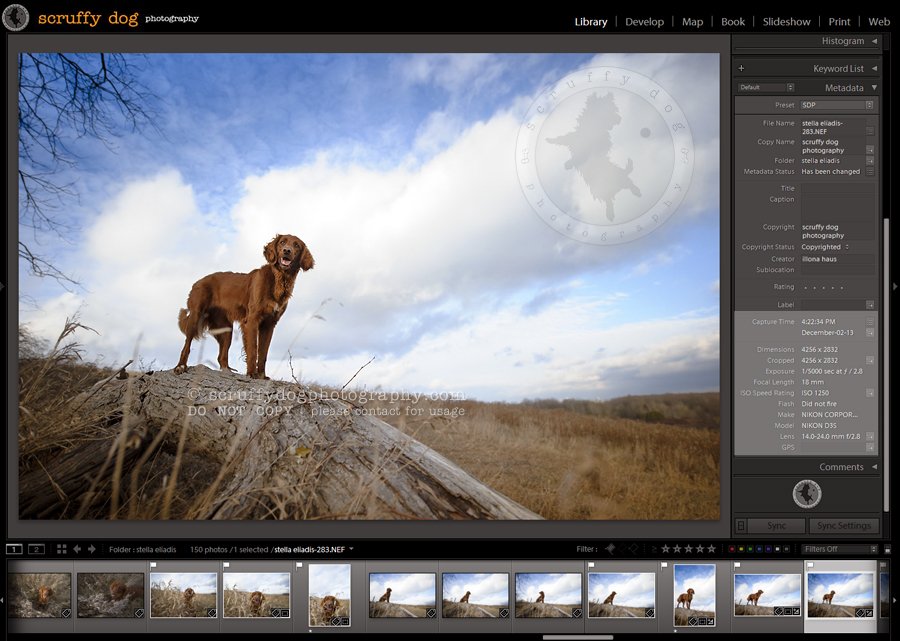 Besides discussing shooting elements, we will delve into some of the core elements of post-production in regards to what may have made particular images even stronger.  And through experienced examination of your individual images, along with the provided metadata, I will provide extremely seasoned and clear coaching in regards to all of your editing essentials as well as offer some new ways of looking at your post-production.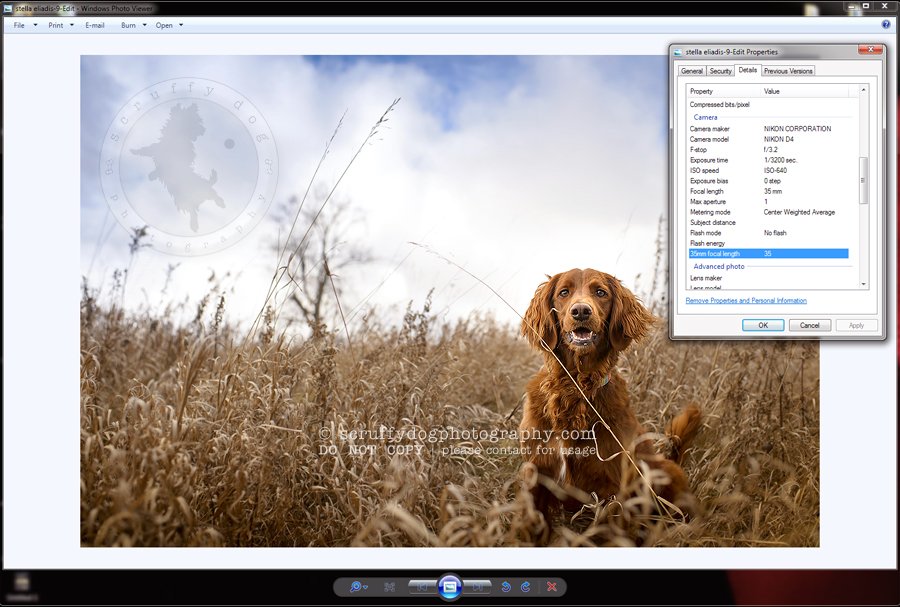 The structure of the Technique Analysis involves extensive examination of your shared images and metadata on my part, including notes, followed by a two-hour phone consult.  The goal with your Technique Analysis is to not necessarily change the path you are already on with your photography, but to give you a surge forward, with a new outlook, new tools, new vision and a new drive to really push yourself with your pet photography … and to acquire answers to questions you might have about technique, camera settings, post-production, dealing with dogs, light, etc.
As with the Portfolio Review — because of the heavy shooting schedule and other mentoring obligations — I can take on only a limited number of Technique Analysis mentees each year, and they will almost always be conducted within the quieter months of winter.
COST:  $475 CDN   Price subject to change without notice.
If you would like to learn more about the Technique Analysis, please fill out the inquiry form at the bottom of the page.
PORTFOLIO REVIEW  +  TECHNIQUE ANALYSIS

If you would like the benefit of both the Portfolio Review and the Technique Analysis, you can save $125 by doing both together.  The result is a highly-intensive examination of both your portfolio as an on-line presence, as well as an analysis of your provided images for a more extensive and in-depth dissection of your shooting and editing technique.  Your phone consult is three hours.
COST:  $600 CDN   Price subject to change without notice.
NOTE: Out of respect for our fellow Ontario pet photographers, all scruffy dog mentoring is open to non-Ontario residents only, with no exceptions.  Please understand that — due to the limited number of sessions available annually — priority is given to applicants who are working, established professionals within the industry.
—–
To inquire about these scruffy dog mentorships, eligibility & the application process, please use the SDP MENTORING INQUIRY FORM.
—–


All written content and photos copyright to Illona Haus, scruffy dog photography.
DO NOT COPY or use the content of this portfolio review + technique analysis page or website in any way.
Any form of copying or plagiarism will be thoroughly pursued by our attorneys.