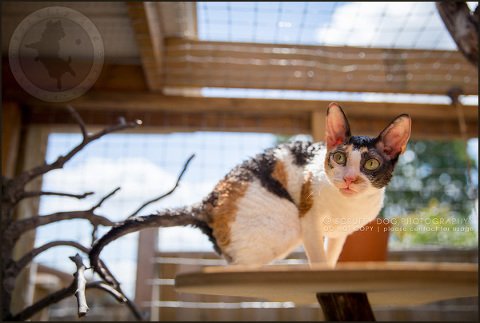 Meet the newest addition to the McScruffy family — Mirabelle Rufflebottoms McWhineypants.  Mirabelle is Cornish Rex, adopted at 5 yrs of age May 2015 from the amazing cat rescue Chatopia in Montreal.  I have longed for a Devon Rex or Cornish Rex for over thirty years, but as someone who has always rescued, especially with so many homeless cats, I never imagined I would ever have the pleasure of sharing my life with a Rex.
Mirabelle was one of forty cats (and sixty dogs) seized in a mass-breeding/ puppymill situation in Quebec.  Chatopia worked hand-in-hand with the Montreal SPCA to find homes for all of these poor animals.  I was fortunate enough to connect with Maggie at Chatopia just as the case was nearing its conclusion in the courts, so I was ready to drive up to Montreal as soon as the ruling came through, to go see little Mirabelle (originally named Agatha) and a couple of others.  Even though I was one of the first in line, a lot of these lovely Rexes were already spoken for by the time I got up to Montreal … but it hardly mattered.: Mirabelle knew I was hers.   As I stood in the middle of the large communal cat room with Rexes and other cats wandering around, Mirabelle lounged in her cleaned litterbox.  She'd been spayed only 24 hours earlier … but once she was up, she made it clear that I was hers.  And I've been her person ever since … even as I write this bio for her, she is curled up on my lap.
Mirabelle has proven to be one of the most adaptable animals I have ever met, adapting to life with the pack through careful and controlled introductions … I've even found her sleeping right on Merrick's belly in the middle of the night or on the couch.  The Rex breed is a highly active breed … known as the perpetual kitten … and definitely need entertainment and activities.  I play with Mirabelle with toys … I built her a cat tree in the scruffy dog studio (you can see photos of it here) … and most recently, built a large catio for her (in which she is pictured above), complete with trees and platforms and a constant stream of squirrels, chipmunks and birds.  She has taken to a harness and leash quite well, especially in the backyard.
Mirabelle even has her own chipmunk friend with whom she plays through the studio window each day.  I have no idea what goes through this chipmunk's head as he presses himself up against the glass, and hides and darts at her as much as she does.
While they are not hypoallergenic, Rex cats certainly don't shed very much.  A quick brushing once every week or two with a rubber brush sheds them of a very small amount of fine, downy hair, and that's about it.  The first three weeks of having Mirabelle in my home and studio had me almost dying with allergies — my sinuses and eyes were a wreck!   I started some Quercetin (which I am no longer on) and I was fine by week four!  …and perfect ever since!   However, I did come down with a horrible lung infection on week four that was very likely a mycoplasma picked up from Mirabelle, which landed me in the ER with the worst asthma attack in my adult life.   But today, I'm great with Mirabelle who can often be found on my lap or my shoulders.
This little girl didn't come without her health issues.  She had a lot of dental problems that needed to be addressed with the removal of more teeth than she has left in her tiny head, but she is now healthy and vigorous, sporting her four canines (or felines, as they should be called) and six pre-molars, and healthy gums for the first time in her life.   Mirabelle is fed a raw diet, and since being on raw, her coat has doubled in thickness.  It is luxuriously soft and just ripples!   She eats whole rabbits (which I grind up for her due to her limited choppers), pheasant, and whole bison from Carnivora.  I have fed raw for well over a decade to the dogs, and other cats.  You can read more about raw-feeding here.
Rex cats are not for everyone.  As mentioned, they are highly active, very curious, VERY clever (and as such, highly trainable!), very vocal (as her nickname implies) … and if their energy and curiosity is not met, they will be nothing but trouble.  But the positives in this breed are huge.  I train Mirabelle with a clicker and continue to build her repertoire of tricks/commands … although 'stay' will never be in this creature's vocabulary!


All written content and photos copyright to Illona Haus, scruffy dog photography.
DO NOT COPY or use the content of this website in any way.
Any form of copying or plagiarism will be thoroughly pursued by our attorneys.