Just a few kind words from a few of our many kind clients …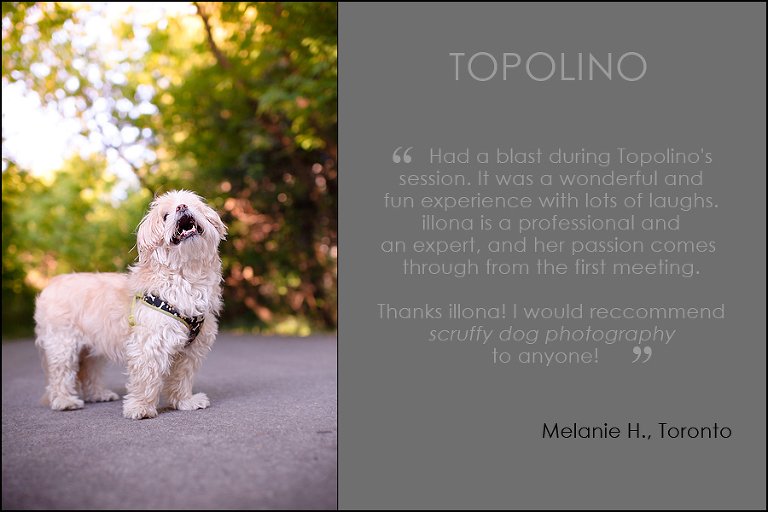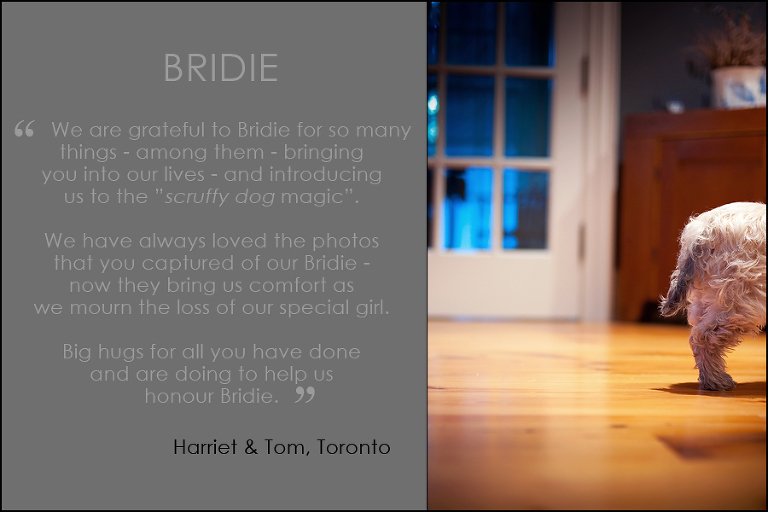 Words cannot express how much we appreciate your very moving blog entry to honor Bridie. The photos you selected capture her so well; we are deeply touched by your comments about our relationship with her. It is clear that you understand what we are going through in losing our beloved Bridie – and that helps so much.  ~ Harriet & Tom, Toronto, Bridie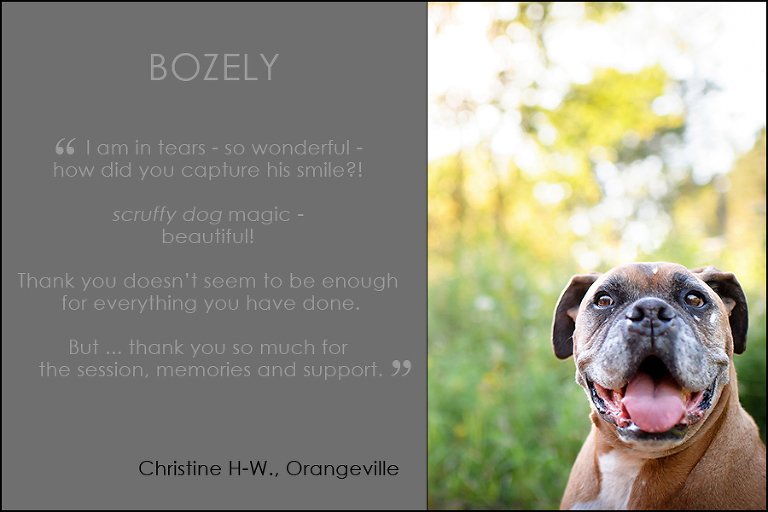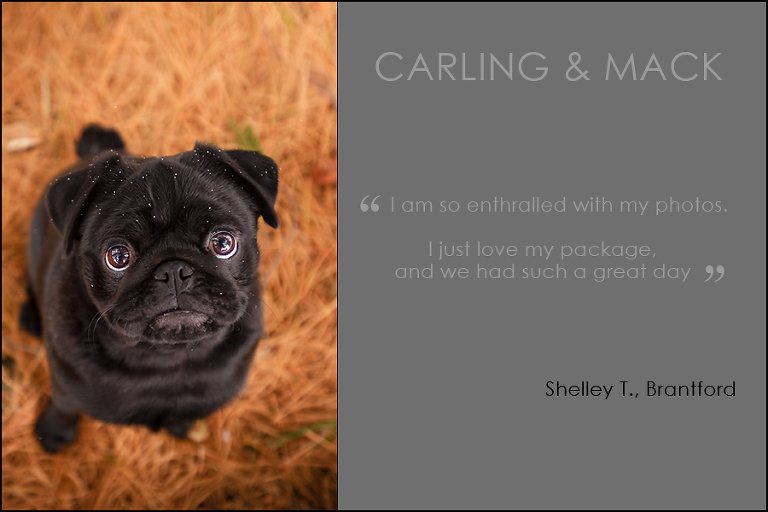 We lost our sweet Penny to cancer 2 weeks after our shoot.  Recently I unexpectedly came across Penny's picture in Illona's blog and my heart did a somersault, not in grief but in joy. The picture was pure Penny…the tilt of the head, the expression on her face, the texture of her fur, the colours and light…I felt like I could almost reach out and touch her. Illona had captured her exactly as she will always be in my heart. Thank you Illona, for your kindness and compassion and for making a painful experience bearable.
~ Caroline B., Burlington, Penny, Lucy, Pyper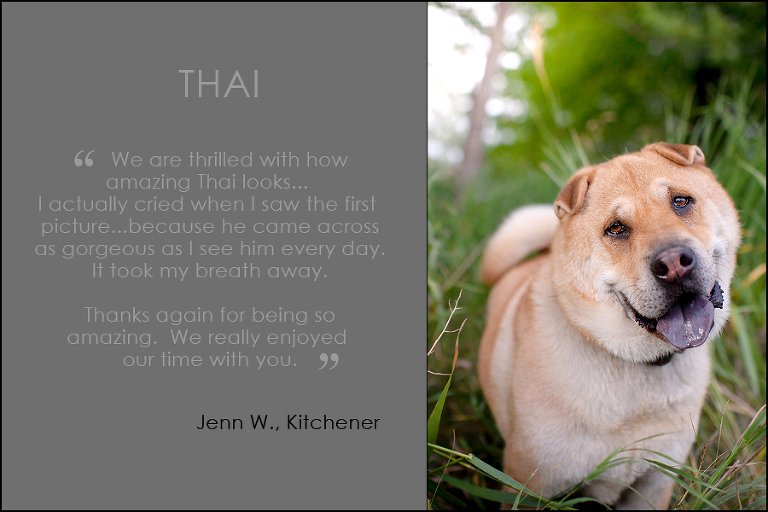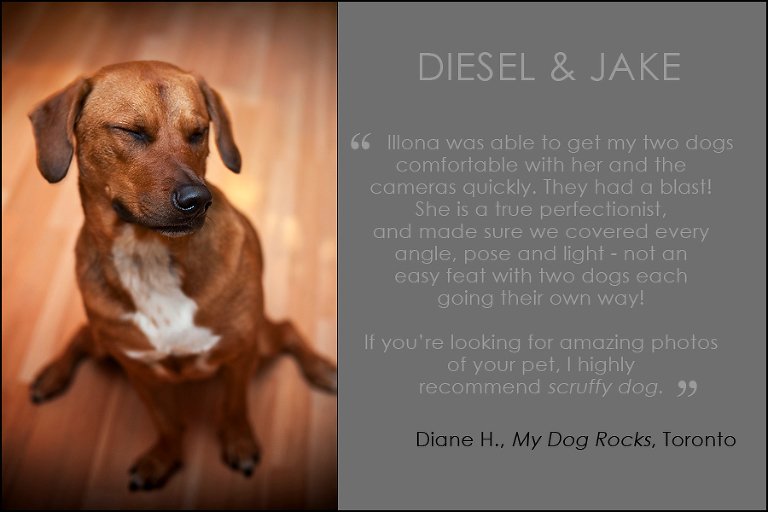 "After losing a dog and having only a few pictures of him, I wanted to have beautiful photos of my two dogs. I was looking for a photographer who can capture the true personality of a dog in a photo, and that's why I chose Illona. Having someone who specializes in photographing animals is important to me.
The photo shoot did not disappoint. Illona was able to get my two dogs comfortable with her and the camera quickly. They had a blast during the shoot, and didn't even realize they were being photographed. She is a true perfectionist, and made sure we covered every angle, pose and light during the shoot – not an easy feat with two dogs each going their own way!
When I got the photo gallery, wow, Illona made it very difficult to choose! As I went through the photos, each one was better than the next. So deciding which photos I wanted in my package was no easy task! They aren't just photos, they are art.
If you're looking for amazing photos of your pet, I highly recommend scruffy dog photography!"
~ Diane Holmes, Toronto, Diesel and Jake, My Dog Rocks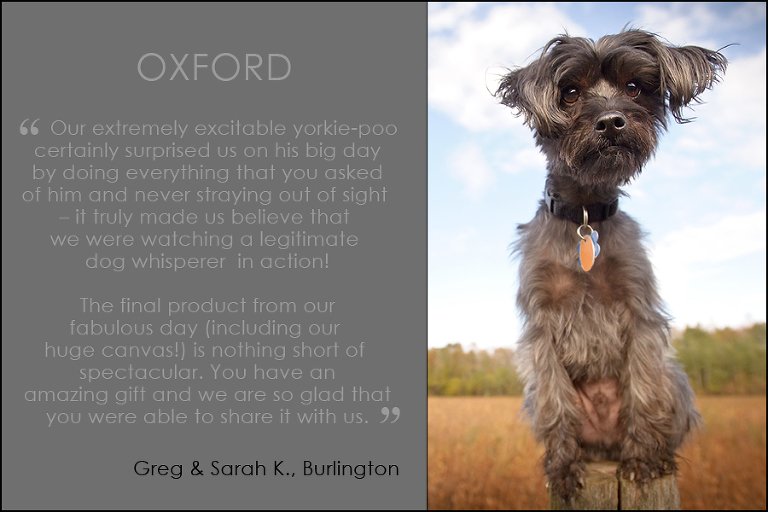 We have worked with several photographers over the past number of years, including to memorialize our engagement, wedding  and the birth of our daughter, all of whom were wonderful.  However, we can confidently say that no one impressed us more than you. Your work in photographing Oxford – from the time and attention you paid during the shoot to all of the post-shoot work – clearly demonstrated that you are the best we have ever worked with.
~ Greg & Sarah K., Burlington, Oxford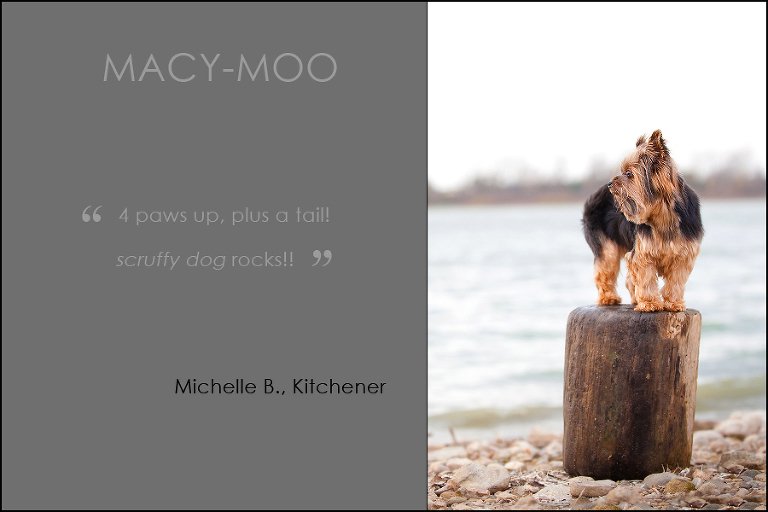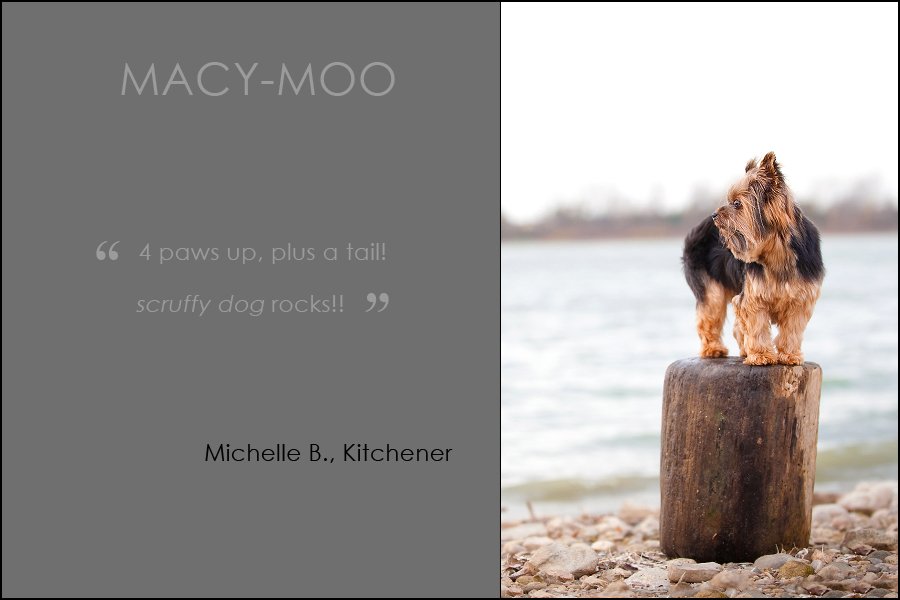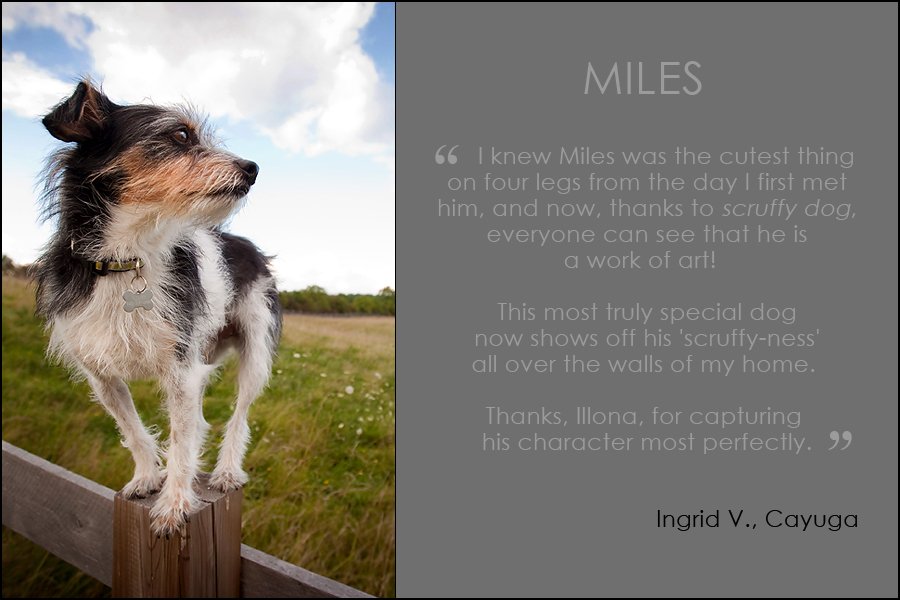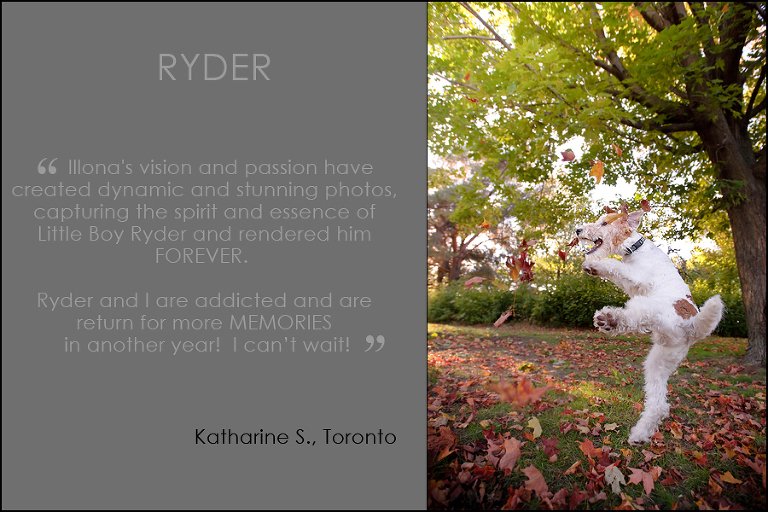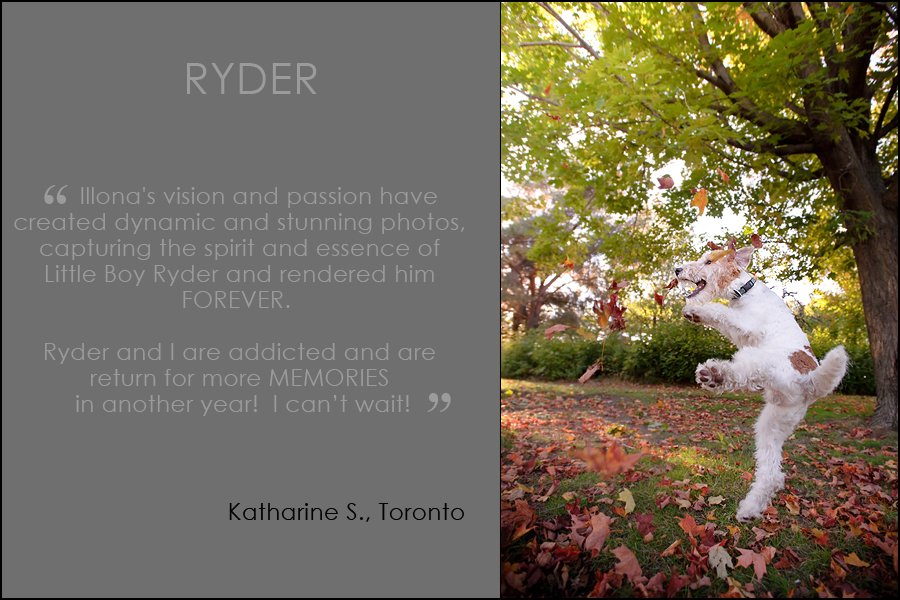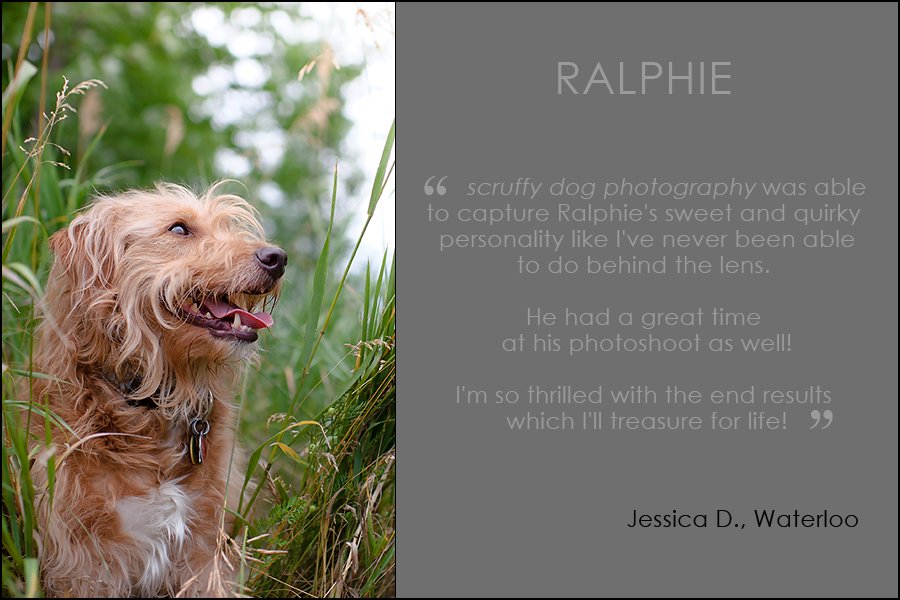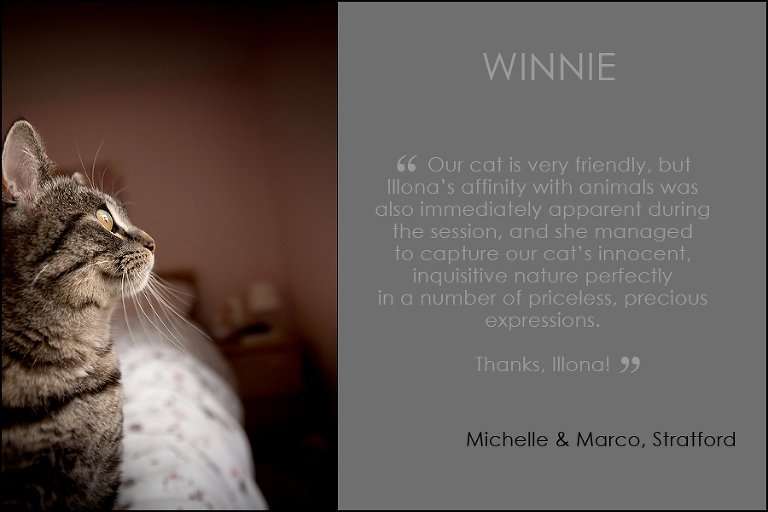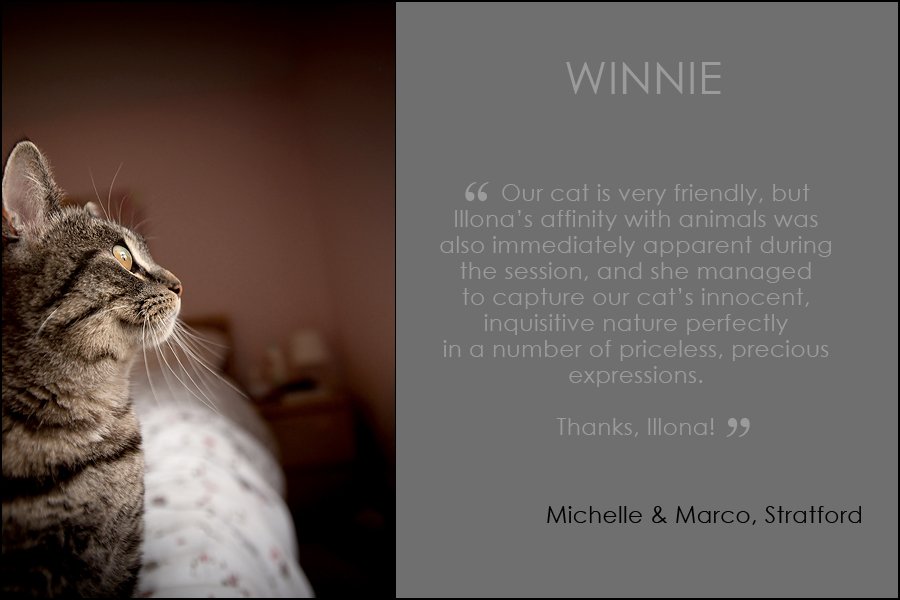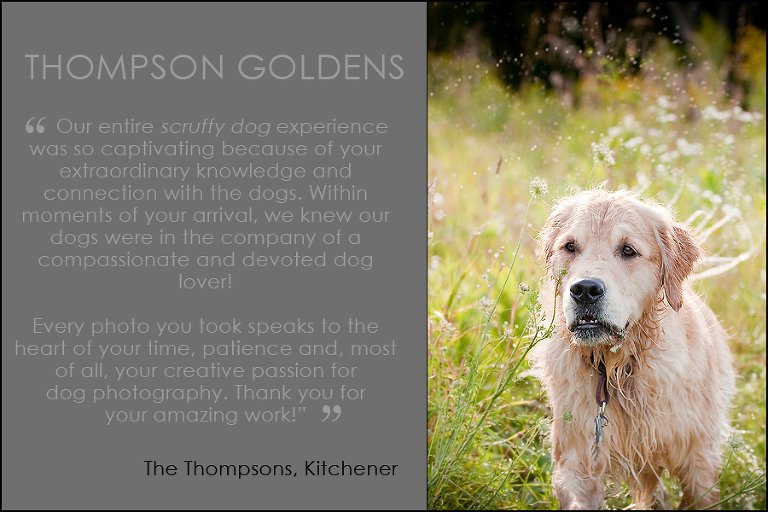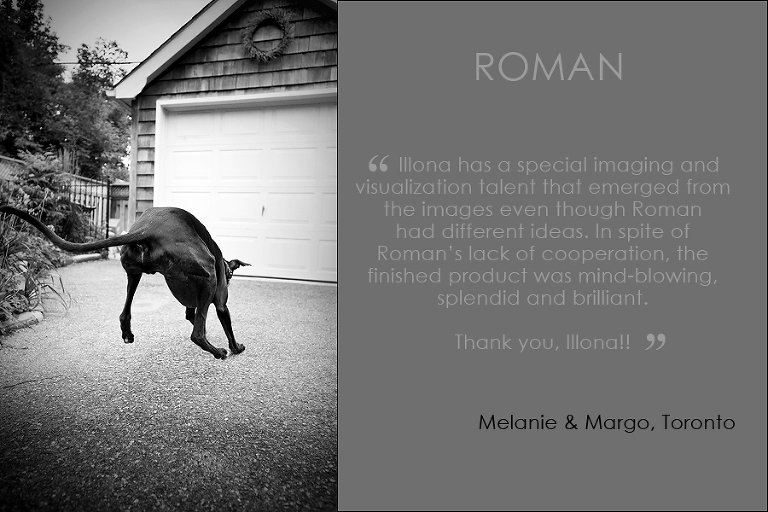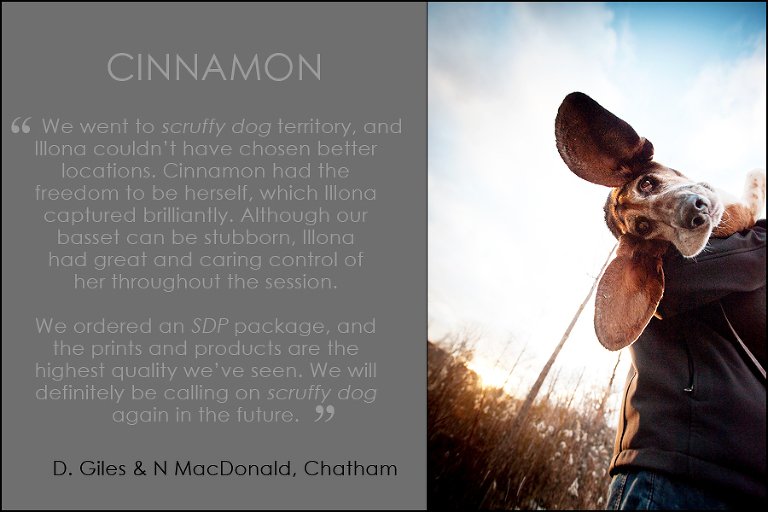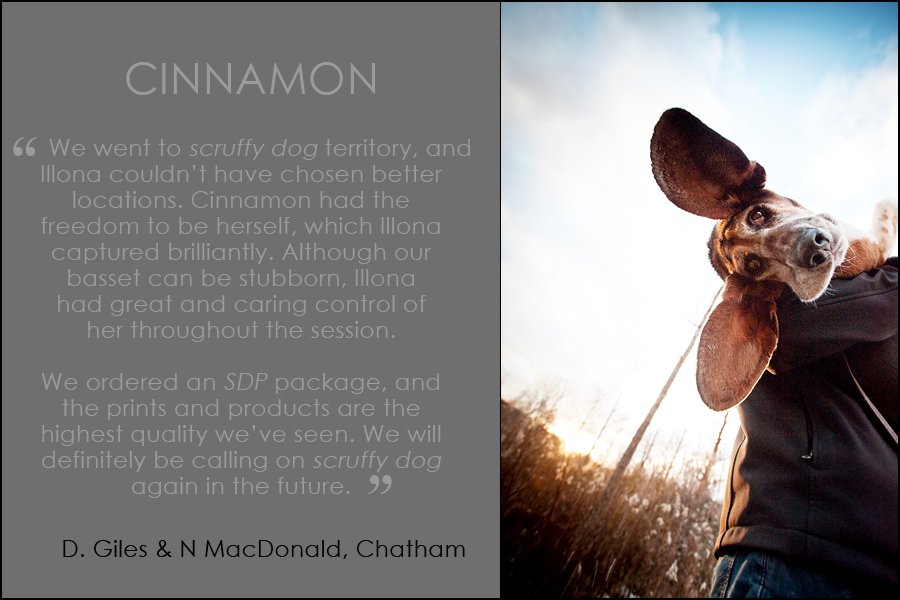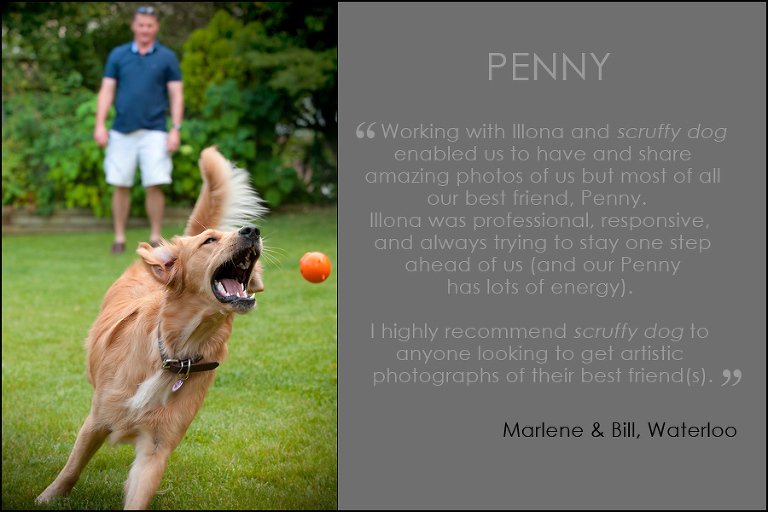 "When I first thought of doing photographs of Layla, I didn't think there would be any issues as she is a very friendly dog who can't get enough of people. However, we were quick to discover that Layla was terrified of the sound the shutter. My heart sank — not only was my sweet girl beside herself with fear, I was worried I would not get the shots I had so admired on Illona's website. What I didn't know at the time, but soon found out, is that not only is Illona an amazing photographer, but she knows a thing or two about animal behavior!
Illona did not give up on Layla when I'm sure many other photographers would have. She took a lot of time with my girl, and eventually Layla was acting like she had done this her whole life!
What I loved about our session is that I did not feel like we were on a time line. Illona was happy to spend as much as needed and because of that we got some breathtaking pictures of my girl!"
~ Layla's Mom, London
Illona definitely knows how to communicate and interact with animals, and it showed in the way she was patient, flexible, and engaging with Fluffy. Fluffy was being a complete diva the day of the shoot, running away from both of us all morning. Instead of becoming frustrated, Illona calmly followed Fluffy around the house and yard, taking photos. Fluffy was a very difficult pet that day, and I was worried the quality of her pictures would be compromised. However, when I was given access to Fluffy's gallery online, I was blown away by the range and quality of the images Illona was able to capture.  ~ Jerilyn F., Cambridge, Fluffy