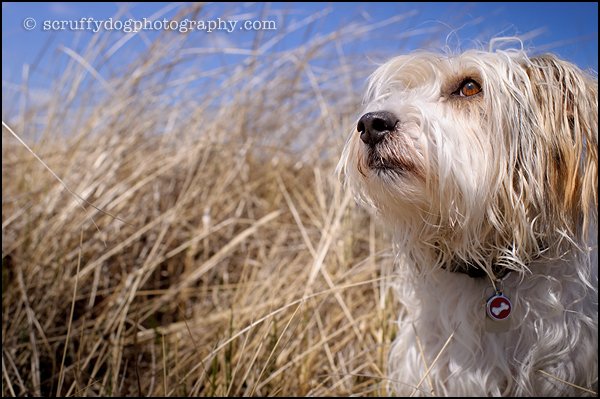 Meet the newest scruffy in the pack — Merrick. Unlike Matea and Morley who were shelter dogs, Merrick is a true "rescue" dog, like the original scruffy Murph was a rescue (saved by Homicide detectives from a drug house in Baltimore after being locked inside without food and water for 17 days … but that's another story).
Merrick's full story can be found here
… it's worth the read.
The short version of Merrick's story is: at the age of 6 years, he'd outgrown his usefulness as a stud dog for a small Mennonite puppymill/breeding outfit. Based on his behavior, this boy had seen some severe neglect and significant abuse. He suffered malnutrition growing up and has growth plate malformation, but that doesn't stop this goober from living a full and active life today. Also, based on the condition of his paws as attested by a vet, it's quite likely that Merrick spent some time in cages, although his love for the hose and water seem to counter this theory since most true, caged puppymill dogs are terrified of hoses as their cages are routinely hosed out while they are still in them. Regardless, it's certain this boy has been on a few farms. I can only imagine his story, what he's suffered and experienced in his first six years.
I'll admit that in spite of years of experience with dogs and working with literally hundreds of clients dogs, many of whom come with their own issues, I honestly worried that I was out of my depth with this little guy as I drove home with him and he vomited worms all over the back of the car. Could I really rehabilitate a dog this shut down?
Well, it took some doing, some learning on the fly, some adaptation and lots of truly reading this boy's energy, but he's become a completely different creature than the smelly little beast we brought home that miserable March afternoon over two years ago.
I had actually gotten Merrick for Morley. My old man had been diagnosed with a brain tumor, and although his physical health was managed, he just didn't seem as plugged into life as he used to be. Knowing how much Morley loved other dogs and knowing that this little goober really needed rescuing, I figured it was a sign. But even though Merrick was intended as Morley's dog, and Morley spent his last three weeks completely and utterly enamored, Merrick's true love has only ever been his girl Matea. I've never seen a dog more in love with another. Matea is his goddess, his guide, his sun, his moon … and although I am his pack leader, if he needs to be shown the way, Matea is always there to guide him. She has even saved his life recently, taking on a coyote head-on. These two are completely and utterly devoted to one another.
If you'd like to see more images of the goober, you can check out his re-birthday posting on the blog. and of course, you'll always catch Merrick-appearances on the blog and on the scruffy dog facebook page. Today he is an absolute camera-hog, but when he first came home, this boy was terrified of the cameras … so even that took work.
And for those who are curious (because I've been asked many times) — why do all your dogs' names start with M's? This is just something I've done in memory of my first scruffy Murph, who, like all the scruffies after him, will forever be in my heart.
I am also asked a lot what breed Merrick is … well, who knows?  Although based on his general conformation, his fat hunting-dog paw-pads, his amazing ability to track and use his nose, and his drive, he could very well be a Petite Basset Griffon Vandeen.  I've even had numerous people who have owned PGBVs stop me in the street and ask if he's a PBGV … but … based on his origin, he could be a beagle/poodle too!  Who knows?  More importantly, who cares!

All written content and photos copyright to Illona Haus, scruffy dog photography.
DO NOT COPY or use the content of this website in any way.
Any form of copying or plagiarism will be thoroughly pursued by our attorneys.