Matea is an amazing Wirehaired Pointer, adopted from the Barrie SPCA in 2002 at approximately 7 months of age. After being there six weeks and already having been trial adopted and returned, this dog was clearly too much dog for the average person.
When I met 'Maggie', the first thing she did was romp through a wide patch of poison ivy. Because shelter staff was too busy and I'd driven 2+ hours to see her, I bathed her so that I could spend more time with her. She was wild and disconnected … focused only on squirrels and pulling like a freight train. Kennel-staff called her a Picasso-dog due to her habit of painting her kennel with feces from her desperate leaps to get out. Filthy, frantic, tuned-out, high-drive … definitely not a dog any sane person would want to bring home.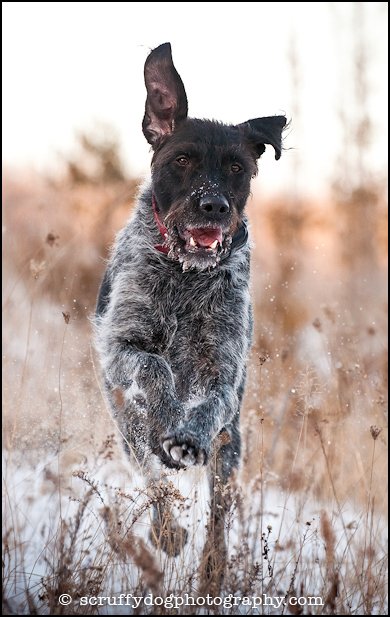 She was certainly far, FAR more dog than I ever bargained for. After two weeks, completely frustrated and in tears, we started a pros and cons list on whether we'd be able to keep this intense, high-energy wild beast. The cons list was lengthy, and – sadly – there wasn't a single entry on the pros side. Still, I've never given up on an animal.
It's hard to know where to begin to describe the amazing girl Matea has become through the proper guidance and leadership … and lots of training. What I have learned from this girl in the ten years we have shared has been truly life-altering. She's a superb companion and a brilliant teacher. She was my service dog when I was laid up for a year-long recovery for a shattered ankle, and she continues to be our right-hand around the house … sometimes being too helpful! But mostly, she's my best friend.
Wirehaired Pointers are NOT for the average dog owner. They require constant adaptation to their phenomenal drive, and creative thinking in answering their need for exercise – mental and physical.
If you want to enrich your life and really learn more about dog behavior, training, and drives, adopt a dog outside of your comfort zone and history. (I grew up with GSDs and knew nothing about hunting dogs and the Wirehaired Pointer's incredible 'sharpness' and drive.) BUT be prepared to adapt. Be prepared to throw out everything you thought you knew about training and switch gears to work with the new drive you've brought into your life. What works for one dog, one breed, one drive doesn't always work for the next.
In the end, the rewards far outweigh all the frustration and tears and confusion. Matea continues to be one of my proudest accomplishments and forever my greatest teacher.

All written content and photos copyright to Illona Haus, scruffy dog photography.
DO NOT COPY or use the content of this website in any way.
Any form of copying or plagiarism will be thoroughly pursued by our attorneys.