brace yourselves … this is a long one.
it's been a year.  one whole year since we made the long drive to a farm to salvage a filthy little dog that had been used for breeding for his first six years of misery.  clearly abused, malnourished, riddled with scabs and worms, merrick's had quite the journey this past year … and quite the transformation from the terrified, wretched shell of dog that he was.  to read the story of how he came to be with us, you can read his first blog entry here.
these were the images i originally saw of him which compelled me to make the drive …

and what follows is a dip through the archives of the past year with my boy merrick.  some of these photos you may have seen before, some are new to the blog.
merrick was terrified of the camera — and pretty much everything — when he first came here.  this was the very first photo i ever snapped of the boy …
he was always darting away from the camera, and i have to admit, in spite of dealing with a lot of dogs in my job, and all kinds of shy dogs and dogs with fear issues, i really had my work cut out for me with this boy.
he felt the safest at a distance, of course.  taken on day 3.  still very suspicious, and letting morley take the lead.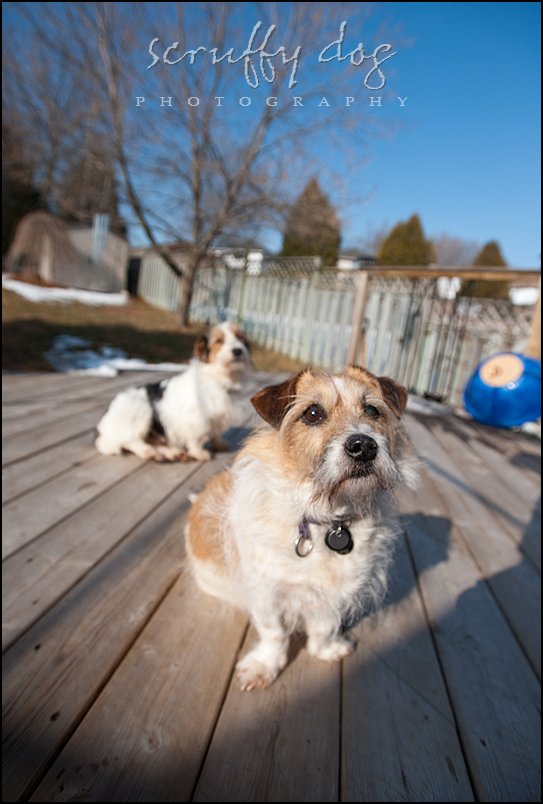 one of the biggest hurdles for merrick was peeing.  of course, he'd never lived in a house before, so house-training was paramount.  the problem with merrick, however, was that he'd shut down when on a leash, he'd cower at my ankles if i went out with him, and if i wasn't there in the yard with him, he'd sit at the very back and stare at the door.  he had no idea what to do, and he'd hold his pee for 16 hours or more.  it was easily the most frustrating part of bringing merrick into the real world.  so peeing was a big deal …
and today, merrick will pretty much pee on command.
in those early days, merrick felt the most confident in the midst of his pack … this taken on day 12.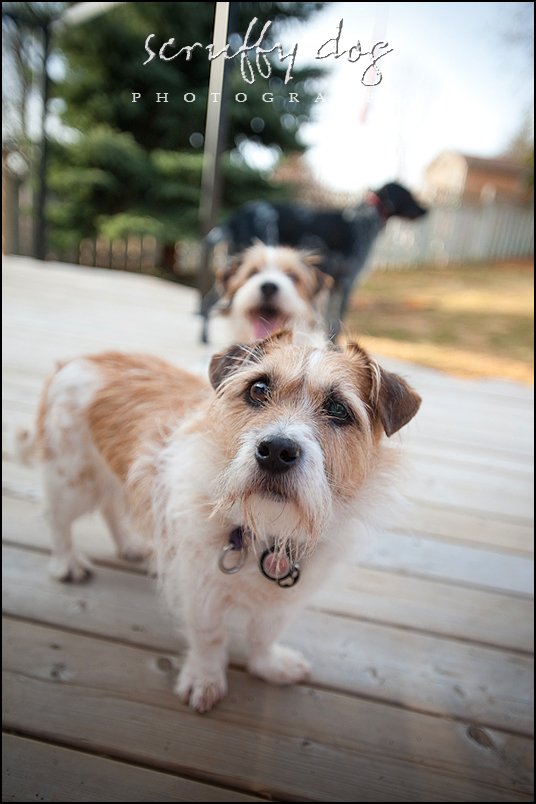 it was a tough time, though.  we were rapidly losing morley, and with his brain tumor, he actually made things a little more confusing for merrick.  i hate to say it, but after morley's passing — three weeks after merrick joined us — merrick really began his settling in.
the one thing i had going for me with merrick's rehabilitation was his love for balls.  i have no idea where it originated or how he could have come to love balls, but it was there.  i saw it first on that first day.  coming into our pack required a two-hour pack-walk.  upon arrival to our home, i took him and matea (who doesn't tolerate imbalanced dogs and who would have certainly taken merrick down if not for proper management and careful introductions over those initial weeks) for a long walk.  at the end of the two hours, 100′ from our front door, several kids were playing street-hockey.  merrick panicked at the slapping of the blades against the concrete, twirling at the end of his leash attempting to escape.  instead of walking away, i remained there until he would calm … but gradually, the calm became arousal as he focused on the tennis ball they slapped around.  it was his saving grace.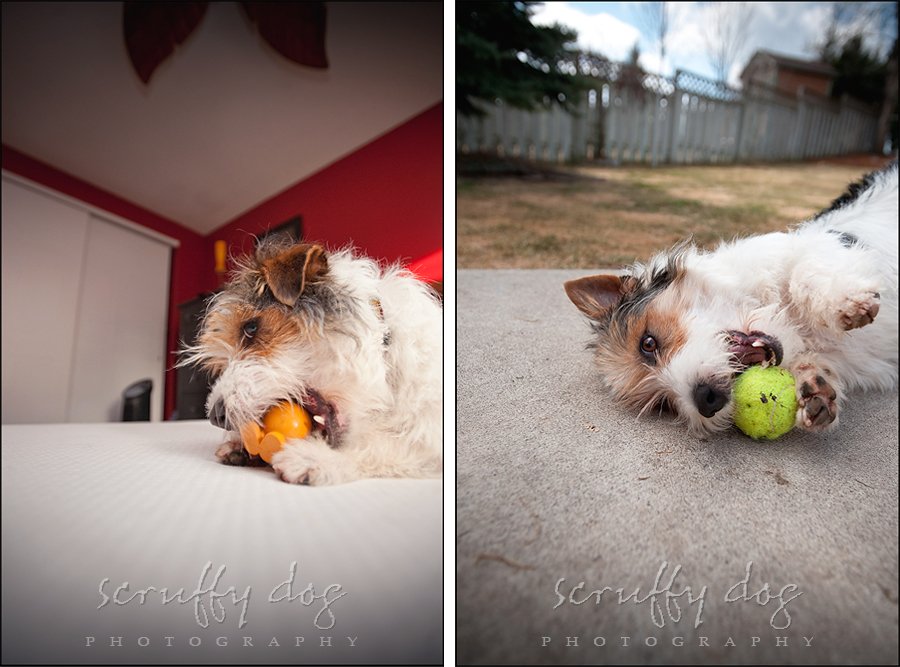 with balls, i had found merrick's doorway to the world …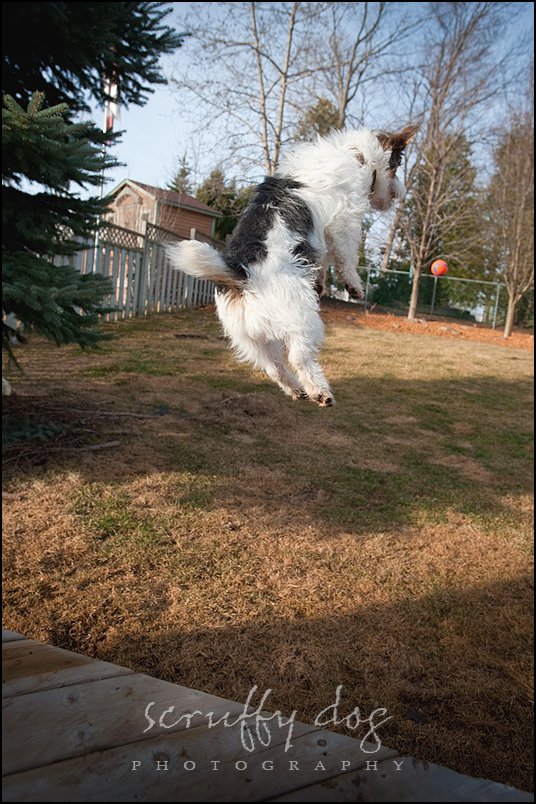 a way to boost  him up, to bring him around whenever he shut down, to show him boundaries, to train, and to show him the joy in life…
thank dog, for balls.  and i'm quite certain no dog has more balls than merrick has today.
i also taught merrick how to tug.  this was pivotal to building confidence.  the first attempt to play tug had this boy tucking tail and instantly giving the toy up.  today, he growls with ferocity and even shakes any toy on command.
also critical to merrick's rehabilitation was good diet.  as most of you know, i've fed a raw diet for 8 years now, and merrick took to it like a pro …
however, he didn't take to the car as readily.  his first ten minutes in the car resulted in worms being vomited everywhere.  but he almost never gets sick in the car now.  in fact, he's so excited to go for car rides today, i never need the leash from the front door down to the car … even if someone is walking a dog, merrick doesn't care.  he waits on the front stoop, whining and carrying on as i lock the door, and when released, he races to the back of the car, waiting for the hatch to be lifted.
in spite of being terrified at first, he's learned to like baths well enough … even jumps into the tub when asked …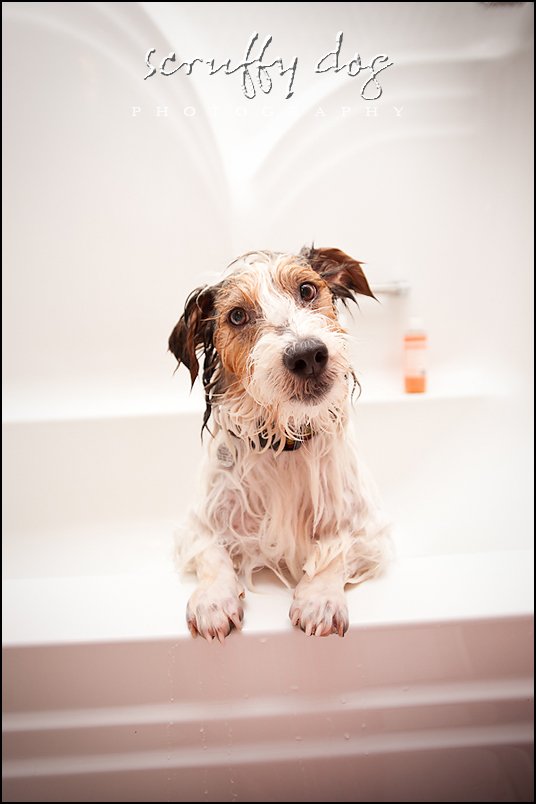 and there's only one 'person' he loves as much as he loves me … his matea.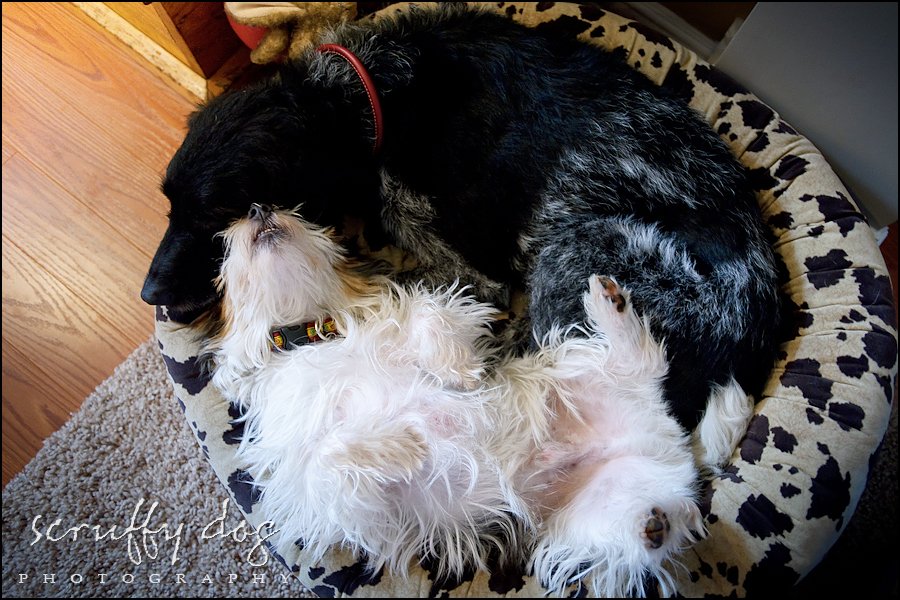 merrick also loves water and the hose.  although i had one vet suggest — based on his feet — that he spent some time in cages, i have to wonder whether he did.  most puppymill dogs kept in cages are terrified of water and hoses, since their cages are hosed clean while they are still in them.  merrick, however, does not fall into this category.  but again, his introduction to the hose was handled carefully, and today you can't keep him away from them.
he excelled in obedience classes, and today is enjoying agility …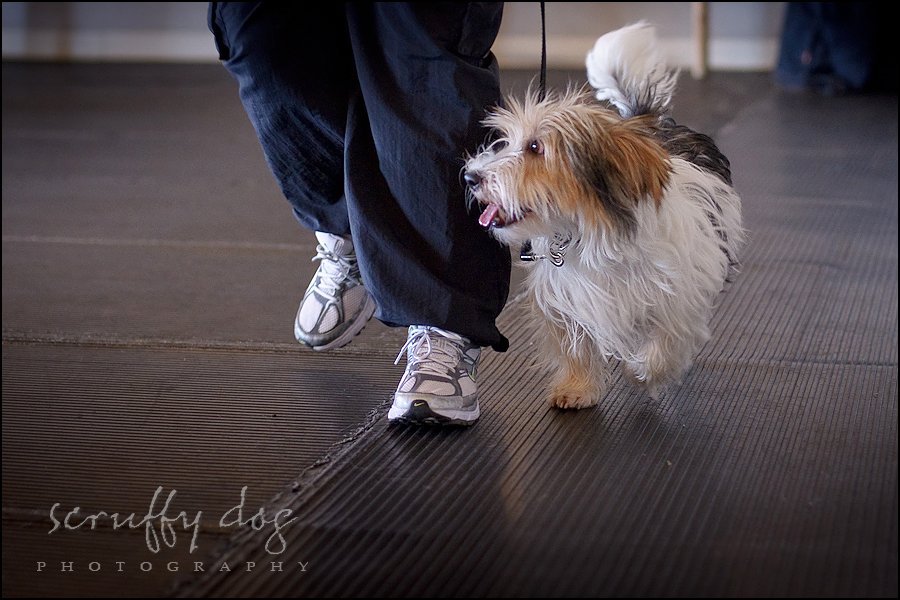 and i can't forget his very first photoshoot at the graffiti wall, sporting his own mohawk …
of course, the year was not without injury, however, it was a small cut — a piece of glass in the river.  matea did much worse in her first year.
in his first year, merrick also learned how to hike … and i mean really hike.
he also learned to swim … kinda the hard way.  he was hesitant to go into the chilled May waters of Georgian bay, but when his girl matea flew in after her training dummy, merrick followed.  i'm pretty sure he'd never swum before …
… but he learned very quickly, and after that first dive in, honestly, there is no keeping him out now.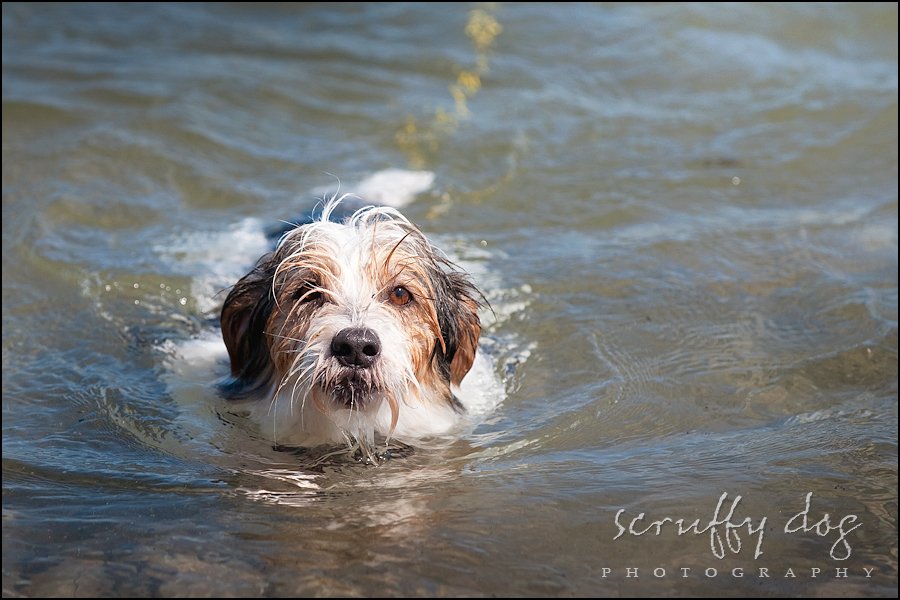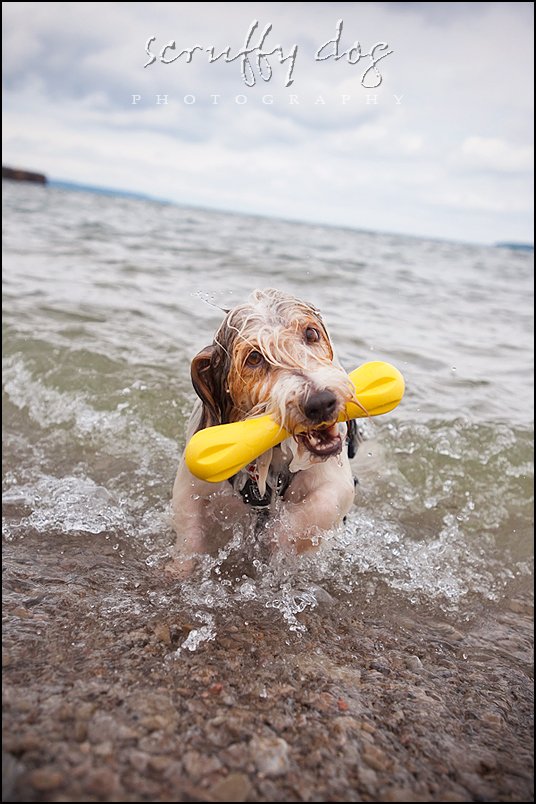 and if you stop throwing, he can be a downright demanding little shit …
but then, now that i've taught him to speak, merrick has a lot to say about a lot of things.
he's reliable off-leash now, however, he does have a hunt drive like his sister, and will require some proper field training, especially with all the coyotes in the area.  he already had one close call where his sister had to save his life by taking on a coyote.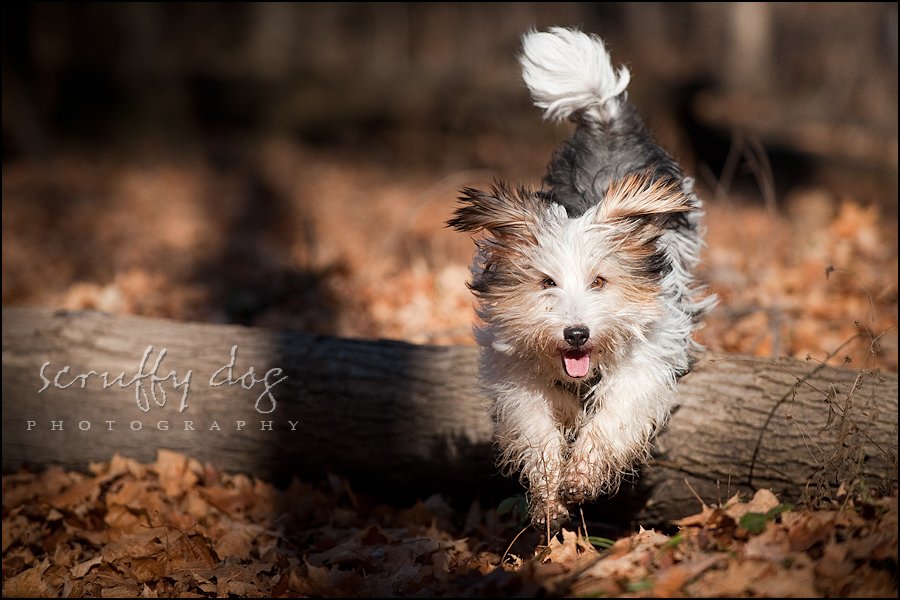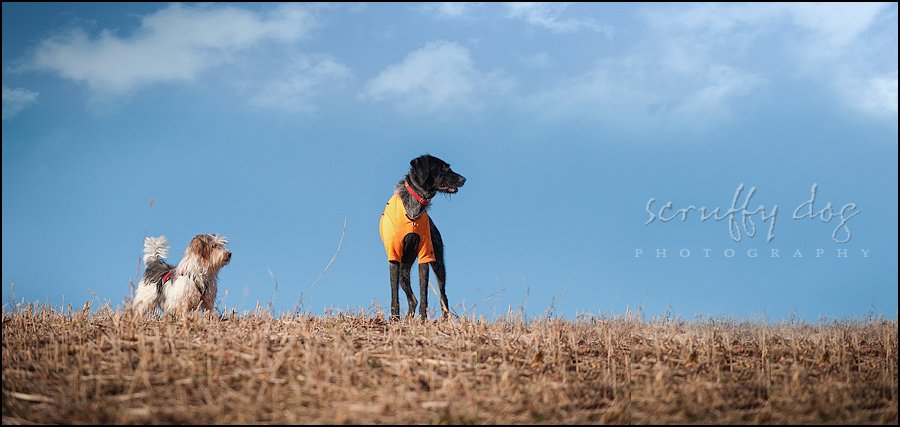 he can be left alone with matea, but we have yet to leave him home on his own.  he waits at the window when i'm gone …
he likes to be spun around … again, another confidence-building game i have built into him …
he's learned to 'fetch' … meaning to hold things in his mouth, and to pick items up and bring them to me …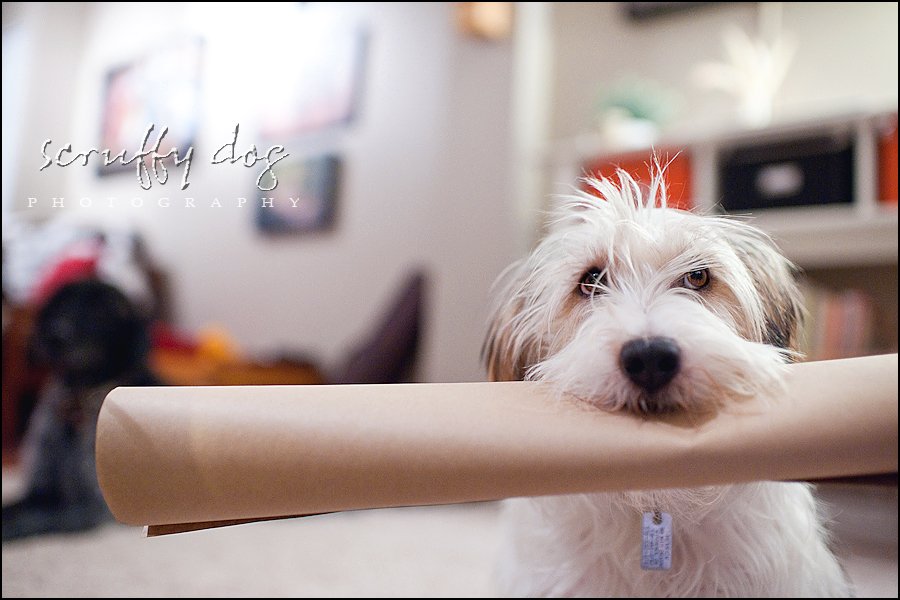 … even fetching his big sister …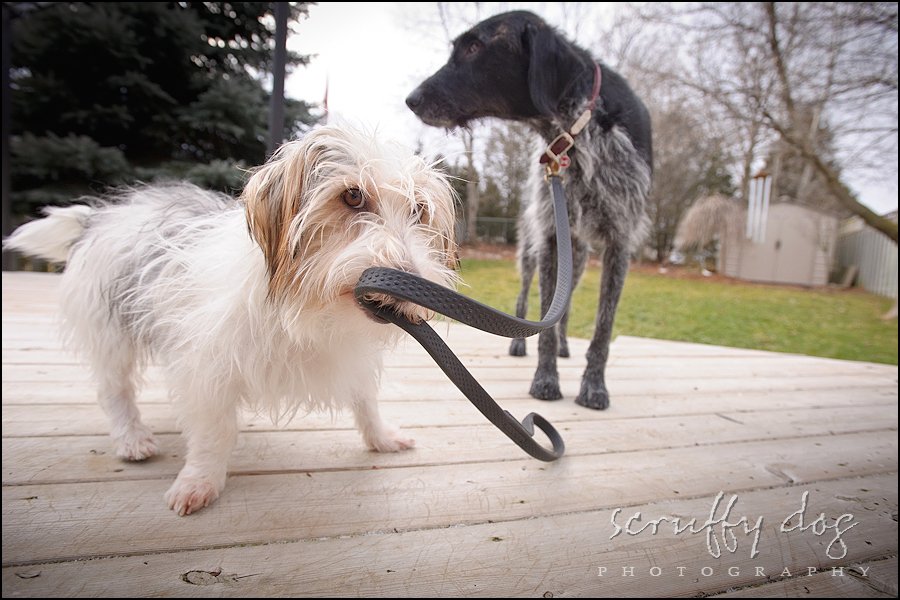 and he's become a real poser now with the camera …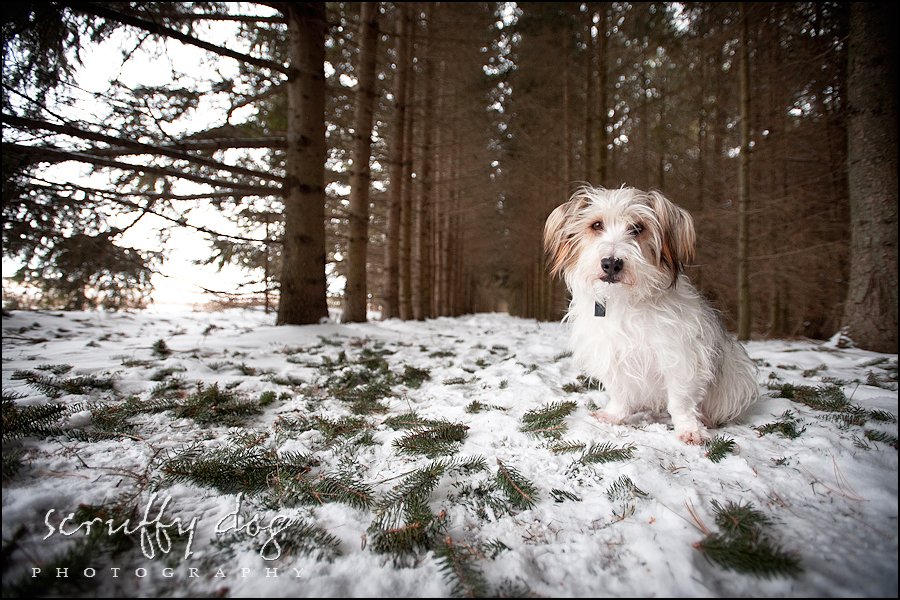 happy re-birthday, my boy.  i know you're already 7, but if you can't live forever then i need at least twenty years with you.  you are my laughter every day, my quiet little teacher, the joy in my heart, and the only dog that gets away with kissing as much as you do.  here's to many, many more years.