feeding a species-appropriate diet
Yes, the scruffies (and the not-so-scruffy Mirabelle Rufflebottoms) are real carnivores … and as such, they have been thriving on a natural diet for years.
As a raw feeder for 17+ years and someone who takes a much more natural approach to healing, I have been asked countless times — by people via email from all over the world who have read any of my entries on my flickr.com photostream to people in person who see my dogs' health firsthand — for advice on canine nutrition. And over the years I have done my best to guide them with lengthy emails or long phone calls, sometimes even supplying them with their dogs' food.
With a limited schedule these days and feeling as though I'm spinning my wheels by repeating myself with the same introductory information over and over again, I decided to some time out of my busy day to compile a list of links and books to get people started.
This is by no means a complete list, but it's a start. If you find an awesome raw-feeding site out there or have one of your own, send me the link or add a comment below, and I will likely add it to this list.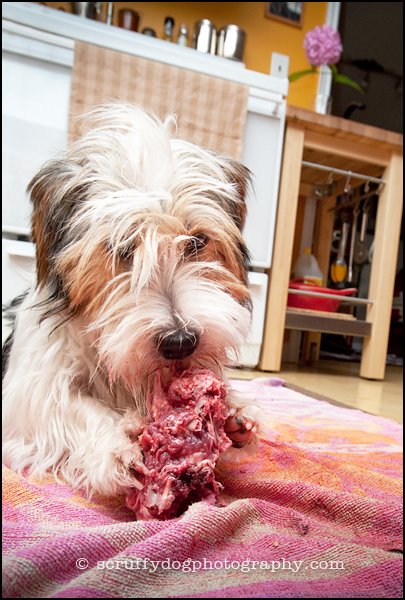 RAW feeding links
The following links will lead you to a lot of information about raw-feeding, and to even more links …
A Journey in Learning from NaturalRearing.com — an extensive site full of information compiled by Marina Zacharias in Oregon:
Species Appropriate Diets for Dogs & Cats, by Dr. Dee Blanco, DVM
Nutrition & Diet — The Whole Dog Journal … lots of articles by Dr. Jeannie Thomason ranging from "What's Really in Pet Foods?" to "Detoxing and Healing," "Species Appropriate Nutrition" and "Raw Feeding Myths"
About the Raw Diet (raw meats, bones) and Natural Rearing, by Roberta Jamieson of Lepus Sighthounds … a ton of useful links!
If you want to see photos and descriptions of the raw meals around the scruffy house, check out this set … but be warned, some images aren't for the faint of heart. This is real carnivora!
RAW feeding for cats
Cats are true carnivores … often referred to as 'obligate carnivores', meaning that their nutrition comes only from meat, and that a meat diet is not just a choice, but, in fact, a necessity.   Of course, trying to convince some cats — after a life on kibble, the equivalent of Froot Loops to kids — that a species-appropriate diet is best, can certainly be a battle.  Other cats make the switch with ease, as though they have been craving a wholesome diet with readily accessible nutrition all along.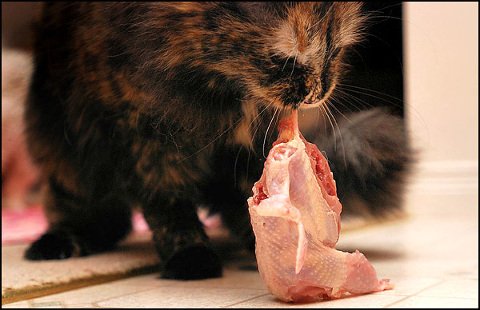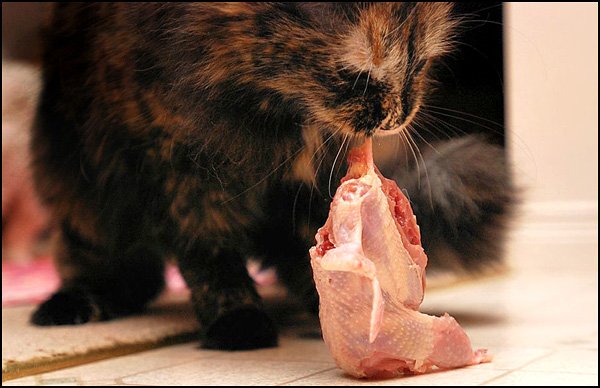 Having always had rescue cats right off the streets and a couple of shelter cats, I find that these cats switch quite readily.  Other times it might require mixing a little grainless/all-meat canned food in with the ground raw, gradually lowering the ratio of canned, until they are completely switched over … and then introducing proper morsels and 'prey' chunks to work on (like my former girl Mirren with her quail in the photo to the left).
Here are a couple of links to get you going with raw-feeding your cat!
Feline Nutrition Foundation – an extensive site on feline health.  Check out the Nutrition tab for plenty of articles to answer a lot of your questions about feeding your cat raw!
Raw Fed Cats – another great site with tons of information.
Grinding raw for cats isn't recommended unless your cat has dental issues.  My own little Cornish Rex girl, adopted from a Montreal rescue six weeks ago upon writing this, is headed into surgery tomorrow and will be losing all of her molars and pre-molars, and quite possibly the rest of her teeth.  Because of this, little Mirabelle is on a ground raw diet … a rotation of whole rabbits (with added chicken hearts for taurine), pheasant meat mixed with TC Feline supplement to make a complete meal, and some pre-made, store-bought (lamb, venison, or other red meat).
If you are in a situation where you have to grind and make your cats food, I recommend the above link for TC Feline — a great supplement mixed with meat to make a complete meal … and I also recommend this site:
Cat Nutrition – an extremely informative site with details on making your own meals.  Again, though feeding raw does not need to be complicated if you're thinking 'whole prey'.   I purchase rabbits in bulk and grind them up for little Mirabelle … and this little grinder whizzes through them with no issues.  I love my little Tasin grinder!
Tasin TS-108 – best little grinder around!  Whizzes through meat as well as bones … and very easy cleanup.   And the customer service at One Stop Jerky Shop is awesome.
And if you're still on the fence in regards to the benefits of feeding a natural diet, perhaps Rodney Habib's TED talk addressing the question of Why Don't Dogs Live Forever? will provide some convincing …
Books
Here are a few great books that focus on the whole dog, with good chapters about raw feeding … these particular books are from my own library and come highly recommended by other raw feeders:
Natural Nutrition for Dogs and Cats: The Ultimate Diet — Kymythy R. Schultze, C.C.N., A.H.I.
Dr. Pitcairn's Complete Guide to Natural Health for Dogs & Cats — Dr. Richard Pitcairn, DVM, PhD
Natural Dog Care: A Complete Guide to Holistic Health Care for Dogs — Celeste Yarnall, PhD … (It's been a long time since I've read Yarnall's book. It covers ALL the bases from "The Dangers of Conventional Care" to "Nutrition" and "Natural Remedies," and then leans towards the "out-there" — i.e. "Astromedicine for your Dog." I do remember it being quite an extensive book, even though I do NOT advocate feeding grains as Yarnall does … unless the dog truly requires it, and even then grains should be fed FAR away [in time] from raw.)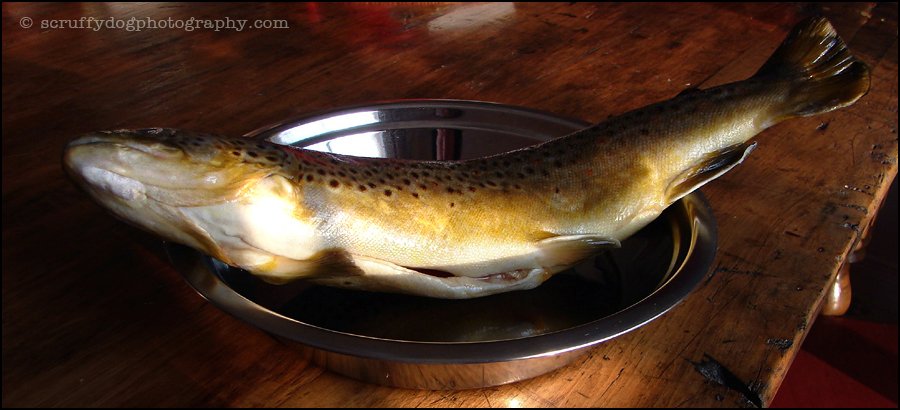 … happy feeding!


All written content and photos copyright to Illona Haus, scruffy dog photography.
DO NOT COPY or use the content of this health and nutrition page or website in any way.
Any form of copying or plagiarism will be thoroughly pursued by our attorneys.