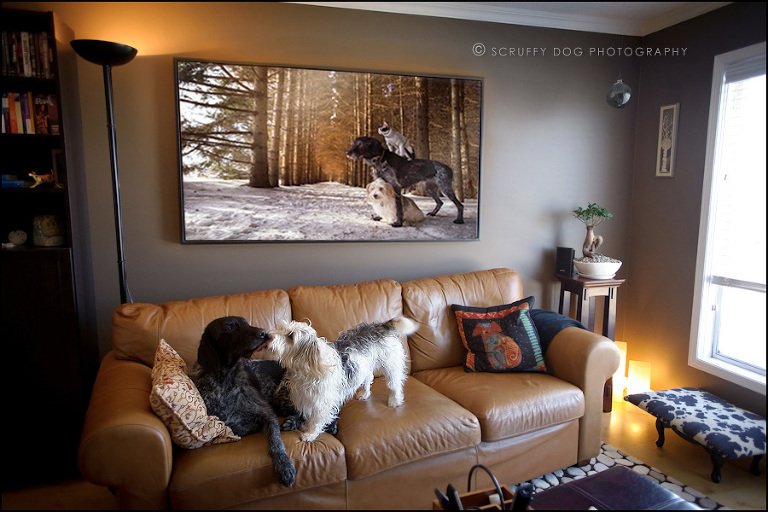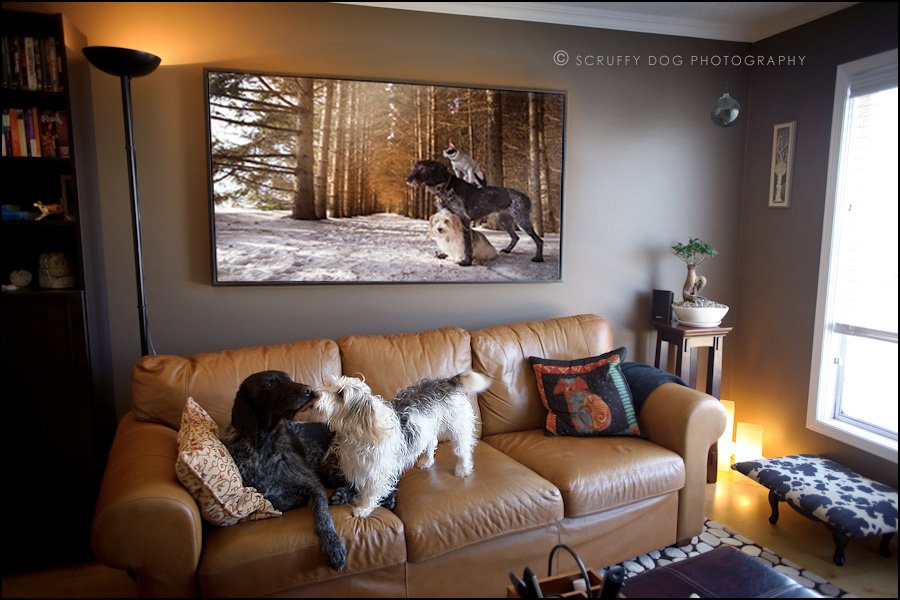 Your 4-legger is important to you, and your 4-legger's images are important to us!  We want them to look their best.  scruffy dog's product line-up is made up of the finest, premium, archival photography products on the market, and as we work with our partner lab to actually develop a lot of the products we offer our clients, our products are truly unique to scruffy dog.
At SDP we don't enforce a "minimum print order" fee, but rather, we let your images and your desires dictate your budget.  scruffy dog clients typically invest $500-3000+ in prints and product, almost always through one of SDP's value-packed, exclusive collections.
print & product collections
scruffy dog clients have always loved our collections, and we're thrilled to offer four exciting and generous artwork collections starting as low as $525 for PORTRAIT Session clients, $650 for ARTWORK clients, and $1200 for ALBUM clients.
Each collection offers a vast array of mounted fine-art prints and high-end products including our premium "Best in Show" albums, SDP's framed museum canvases, and the collection-exclusive "Shoot in a Box" which includes 25 to 50+ prints of your favorite gallery images, as well as home-media and social-medial digital images! … all at savings of 35 to 50%!
With a scruffy dog collection, you get most or all of your session images in print!
More details available upon booking.
a la carte
fine-art prints
All scruffy dog fine-art prints are highly edited, printed on archival paper, and finally professionally mounted to prevent buckling over the years … ready for framing.
Fine art prints start at $65.
… reprints 50%.
.
professional framing
Premium yet economical, custom-framing options are available through scruffy dog using double archival matting and a deep, black-satin finish, oak frame.  Just ask!
Starting at only $135
.
SDP's Signature framed museum canvas
Canvases are the hottest trend in wallmounts, but SDP has set the bar even higher, taking our canvases to the next level with our museum-quality frames. Your image is printed on 100% acid-free, HP fine-art canvas, liquid laminated to protect against fading, and finally framed with a solid oak, black satin-finish, sleek contemporary museum-quality frame. The SDP Signature canvas stands out from the common "gallery canvas wrap" … turning your dog's photo into pure art, ready to hang and start your own gallery show!
Wall-sized, archival canvases including museum-quality frame start at $550.
… and at scruffy dog, our clients aim for couch-sized pieces.  Big canvases is what scruffy dog is known for — big canvases, making big statements everywhere!
metals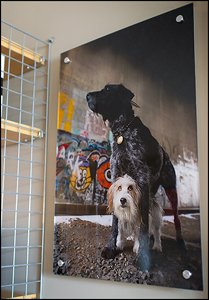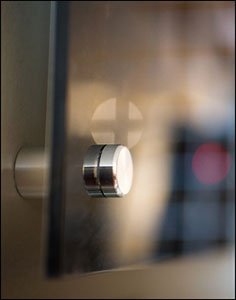 With the urban dog in mind, scruffy dog now offers metal prints – best suited for images shot in an urban landscape: graffiti, alleyways, etc.  Metal prints have the image printed directly onto aluminum and can be finished with 1″ stainless steel bolts for a truly contemporary look.
Prices start at $550.
floatmounts
A very popular and fun, light wall-mount that gives the appearance of floating on the wall. Your enlargement is mounted on masonite and laminated for years of protection and enjoyment.
.
Prices start at $375.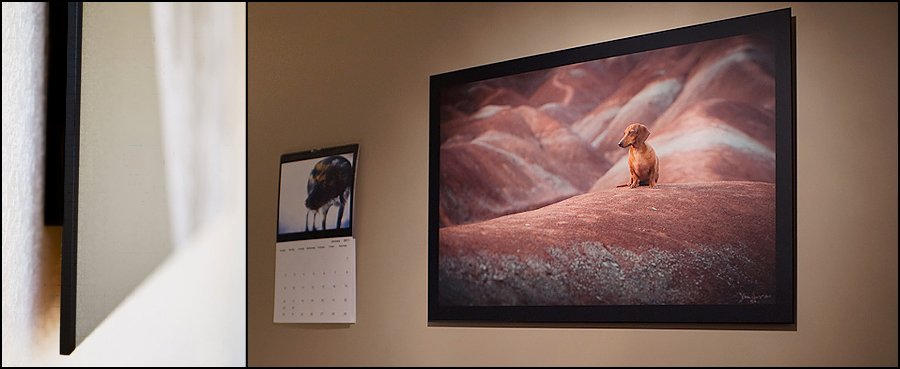 storyboards
SDP clients love their storyboards. Whether utilizing the medium of a floatmount, acrylic, metal or fine art print, we use your images to tell a story. There are endless design options as SDP does not restrict itself by using pre-made templates. Pricing is calculated by the individual piece and design, but are extremely reasonable, and definitely affordable when added onto the already value-packed SDP collections.

.
scruffy dog

Signature albums
No photoshoot is complete without a custom-designed premium album to show off your photographic memories. And scruffy dog offers three sizes of flushmount albums: pages open flat so that nothing is lost in the 'gutters', and printed on archival photographic paper — not press-printed — so your images simply shine, each hair bristles off the page and the sparkle in Rover's eyes is unmistakable. All albums are hardcover, printed and hand-bound with meticulous care, with photo- and leather-cover combination.
Sample albums will be viewed during your pre-session meeting.
Prices start at $1000, however albums are almost always purchased within the collections which offer up to 50% savings.
custom-designed greeting cards
Gorgeous press-printed greeting cards for any season or occasion allow you to share your images with everyone! Printed on Euro Art stock using several funky templates, custom design, or just photos, you can utilize all four sides for maximum impact. Printed in sets of 25, 50 or 100. Priced as low as 3.00/card.
* all print orders must be paid in full before the order can be placed.
** scruffy dog accepts cheque, cash, VISA, Mastercard, debit, e-transaction or PayPal.
All prices subject to change.


All written content and photos copyright to Illona Haus, scruffy dog photography.
DO NOT COPY or use the content of this website in any way.
Any form of copying or plagiarism will be thoroughly pursued by our attorneys.