This blog post is a long time coming … two years to be exact … as it's been that long since I lost both Matea and Merrick.   For those of you who have lost a beloved dog or cat, or if you know this time is coming, and especially for those of you who have lost too many times already, it's hard to know what to do to honor those who are now gone.  There are many options from burial to cremation, spreading of ashes to having some of their ashes incorporated into a piece of jewelry or art, even having carbon extracted from those cremated remains to make a diamond.  I guess, in a sense, the possibilities are endless.
For me, I'm not a diamond gal, nor do I wear excessive of jewellery … although there is one piece you will never find me without, and that is the silver nose print of Merrick.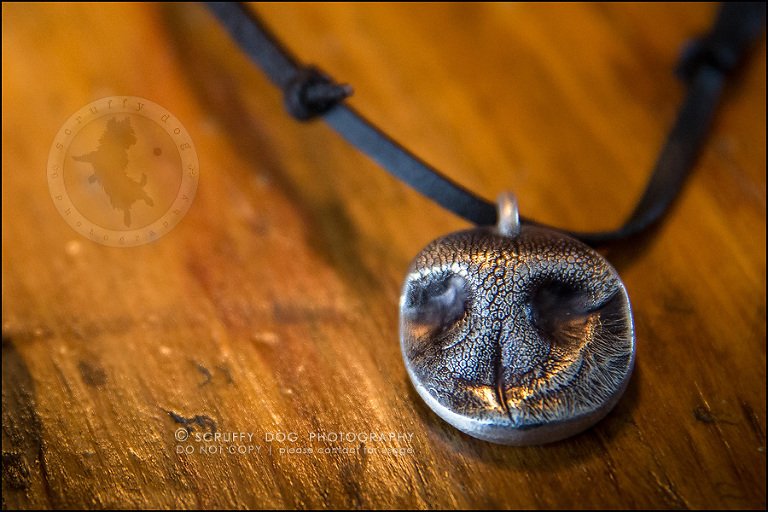 But besides these nose prints, over the years I have collected the ashes of those whom I've lost.  However, those satchels of remains were tucked away in crematory-issued spruce boxes with names engraved on the top and admittedly ugly ceramic urns, sitting on shelves around the house.  I wanted something better … something special … a place where the remains of ALL of my beloved scruffies could be kept.
So I turned to friend and potter-extraordinaire – my favorite clay person in the world – Steve Irvine.  Steve doesn't typically take commissions, so when he responded to my pleading email and description of what I was after and agreed to make a large 'group' urn for me, I was beyond thrilled.
I had given Steve my approximate size requirements (having already lost five animals), as well as a colour preference … "turquoise", I told Steve … partly because of the colours in my bedroom where I knew I'd want to keep this incredible piece, but also to represent the colours of Big Bay, the lake I grew up on … a lake – along with its colours – that Steve knows all too well.   "… and with several, short, peg-like protrusions," I wrote him, "on which to hang a couple of collars or tags…"  I had also requested some treatment that would suggest the rolling ridges of the old farm where I grew up next door to Steve and his family.
Of course, being an artist and having a background in clay myself, including a Fine Arts degree focused on clay sculpture, I knew I was going to be hard to please … and no doubt, knowing me, Steve understood the challenge at hand.  And yet, the finished piece could not have been more perfect.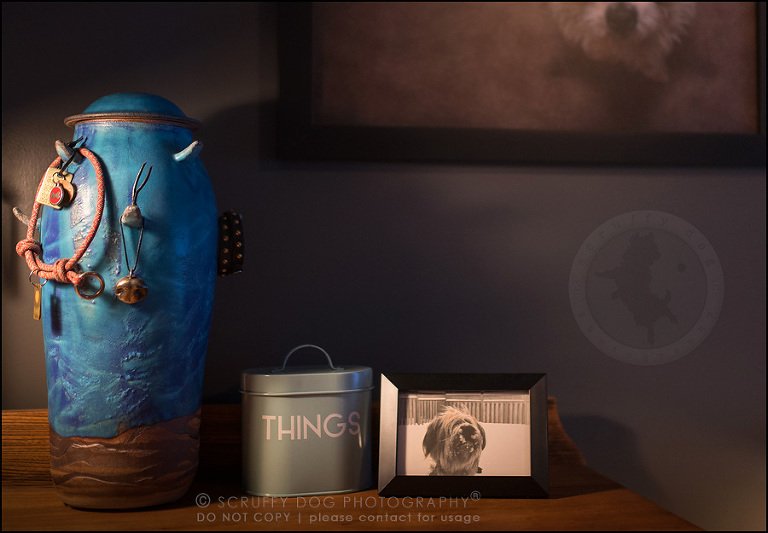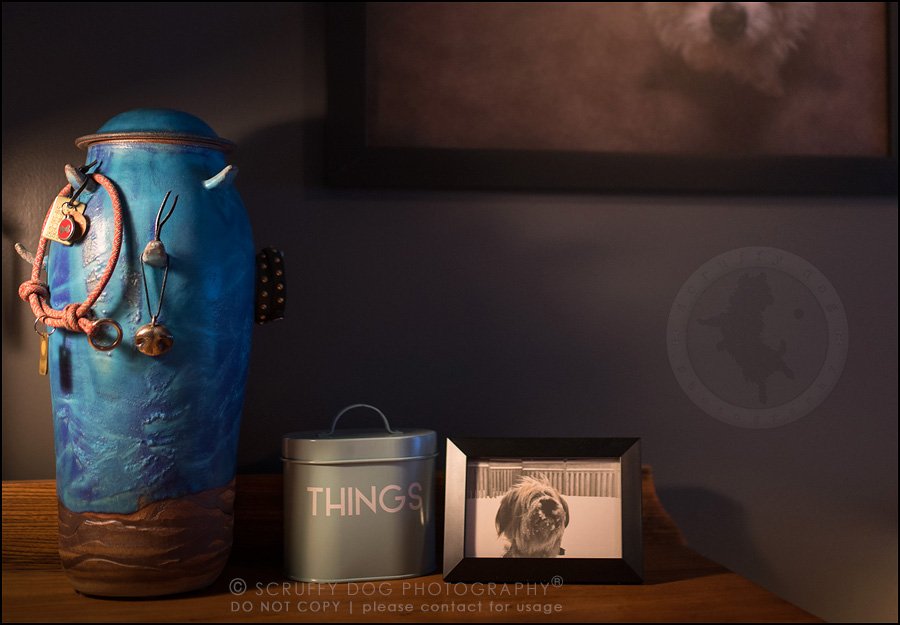 This group urn stands 17″ tall and almost 8″ at its widest … and sits on the top of my dresser next to my bed so that at night we can be all together … Murph, Mirren, Morley, Matea, Merrick, along with those living, Matlin, Mirabelle and Mowat.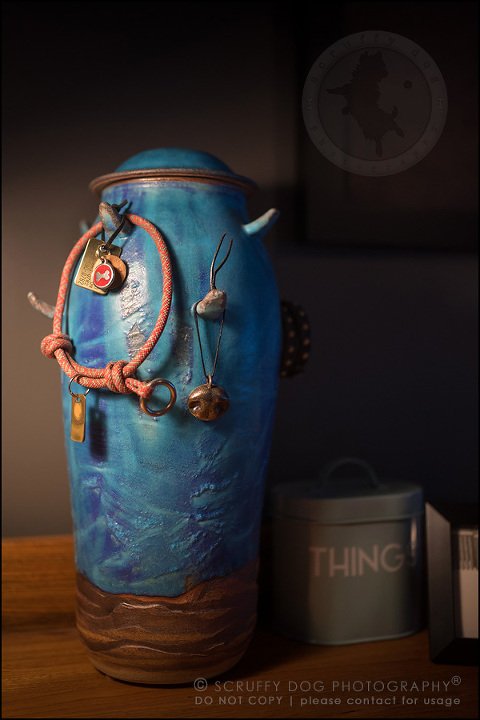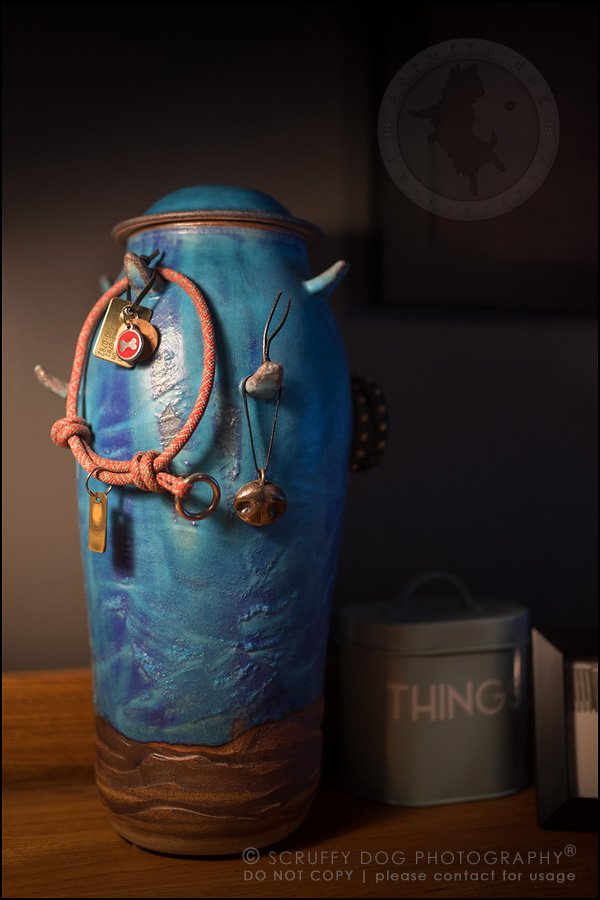 And here are some details of this fabulous piece … the lake colours and the rolling ridges that Murph loved so much.
… Matea's noseprint … Morley's collar …
And even though Murph – my first scruffy and the very reason behind scruffy dog photography – was buried on the family farm which had since been sold, he has finally joined my pack.  Two summers ago a dear friend and I made the trip up north, and along with some help from the new property owner at the time – Annie, a lovely and brilliant artist herself – the three of us toiled through a significant cairn of rocks and 15 years of washed-in soil to recover my sweet boy.  I am so grateful to Gateway Pet Memorial who had already agreed to handle the 15-year-old remains … and after many years, Murph had finally come home.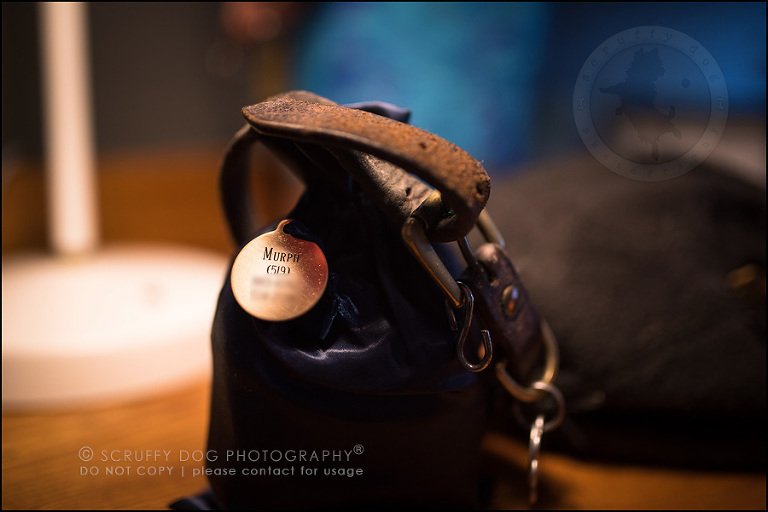 Of course, placing everyone in the urn was a deeply moving experience for me … especially Matea's remains.  Her ashes sit in the fleece 'snood' she'd often have to wear around the house to stop her from flapping her ears … and as such, I can still touch her hairs as they are woven into the fleece.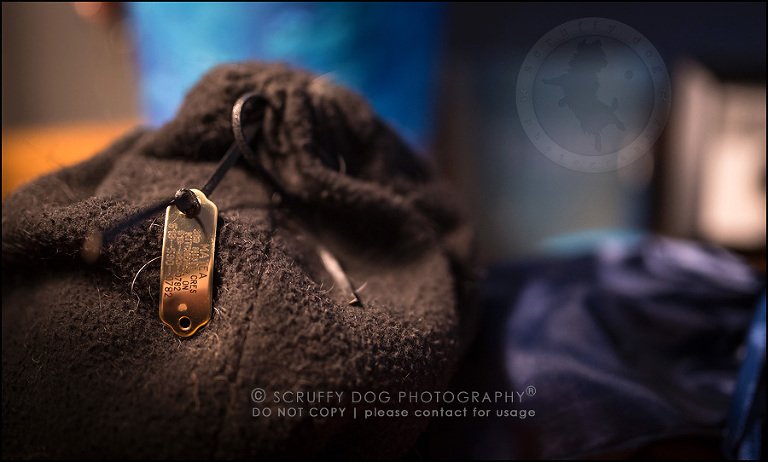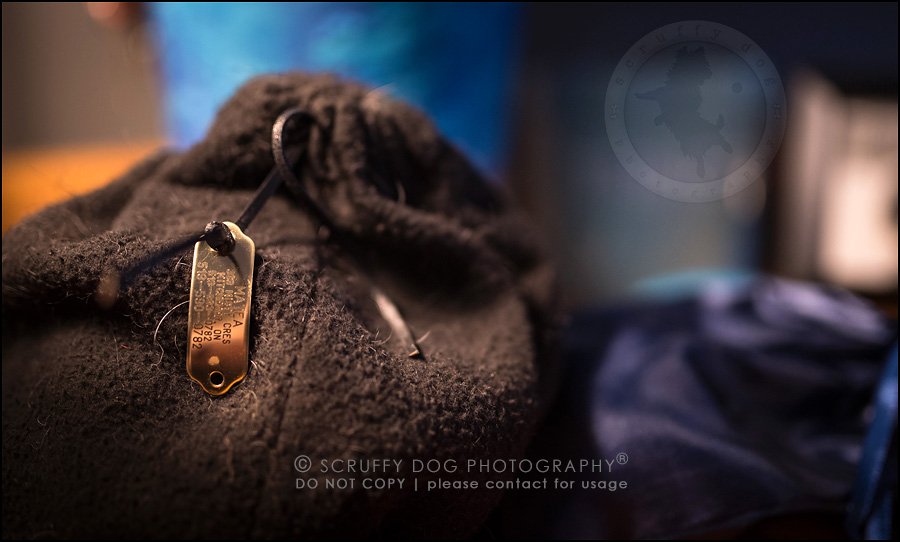 It is such a comfort to be able to have all of my passed animals together, and I am deeply, deeply grateful for Steve's incredible work and creativity on this group urn.  There isn't a single piece in my house that means more to me.
I hope I have inspired you to do something special when it comes time to honor those scruffies you've lost.  And for those of you who have already lost, please feel free to share in the comments what you've done to honor your lost 4-leggers.  In the meantime, hold them tight … the ones we love and who are still with us.