Most of my loyal blog and Facebook followers will already be very familiar with Matlin, the amazing scruffy who joined my pack back in the summer of 2016. She was adopted from Dogs Etc of Texas, involving a very long drive to Dallas and back, and I was fortunate to have her meet Matea and Merrick and be with them for the two short months before their passing.
You can read more about Matlin on her scruffy dog bio page, and even more about her in her first blog entry.
Not a week goes by when I'm not stopped at least a half dozen times by people asking: "What breed of dog is that?" … and online I am asked even more often than that! I sometimes respond with: "Disney Dropout", but typically my response is: "no idea!" and then I let them try to make some educated guesses while we stand around and talk dogs.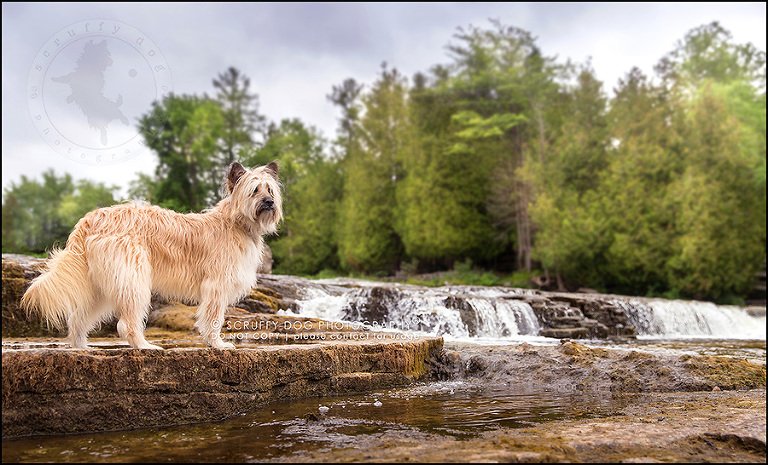 I'll admit, from the moment I had Matlin, during the long journey back to Canada from Dallas, I couldn't get over how stunning this dog's conformation is. When she stands at attention, she truly does look like she should be a purebred 'something' … her conformation is balanced and strong, with lean muscle and great proportions … so it doesn't surprise me that most people believe she's a purebred of some sort.
Of course, I'm the first to suggest Wheaten terrier, Skye terrier (I mean, those ears!), Berger Picard (the breed of my dreams) … but we could sit and guess all day long. So … in early 2017 I decided that it would be super fun to do a DNA test on this girl of mine. It could also be educational; I mean, to know some of her ancestry would help to better note her drives and characteristics, and, as a result, respond to them accordingly, no?
Don't get me wrong … I have never held much faith in these tests; with a background and knowledge of police procedures and forensics, I find the $100+ pricetag on such tests to be somewhat suspect. Having said that, I do know – through researching and writing my second last psychological thriller – that A&M University in Texas has the ability to genotype dog hairs to determine breed or at least breed-type …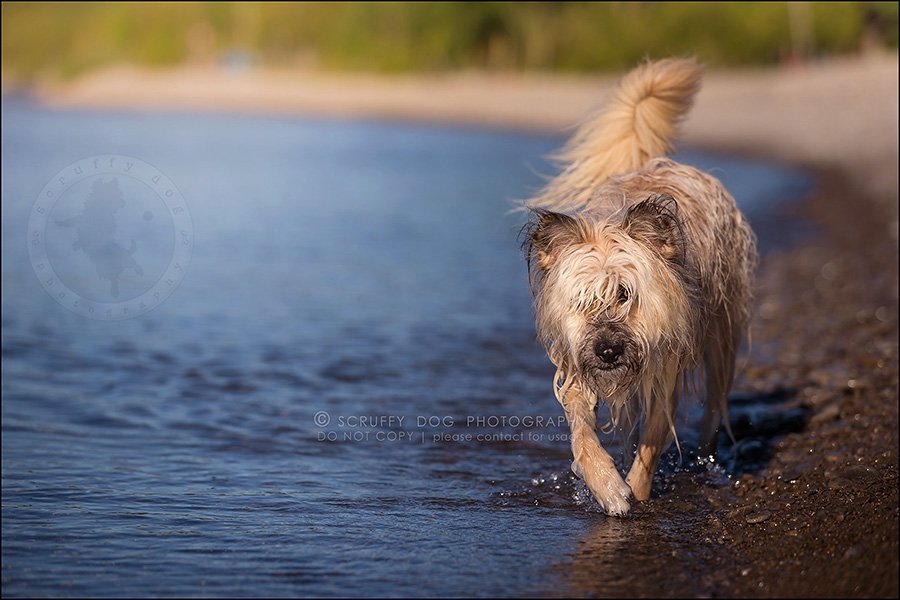 … so maybe I was being too skeptical on these DNA companies. And besides, my intention was to run a fun contest on the scruffy dog facebook page … awarding a prize of a session to the person who came the closest to guessing the breed. I mean, how hard could it be?
And yet, when the results started to roll in, I was flabbergasted. There was no WAY that anyone would ever come close to guessing the vast and ridiculous mix of breeds that this girl's saliva conjured up! Still, I figured it was high time to share the results from not just one, not two, but FOUR DNA-testing companies so that you can decide for yourself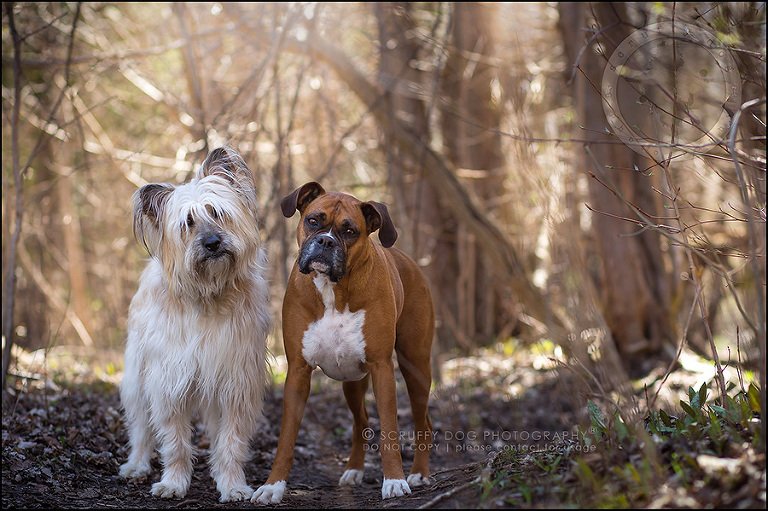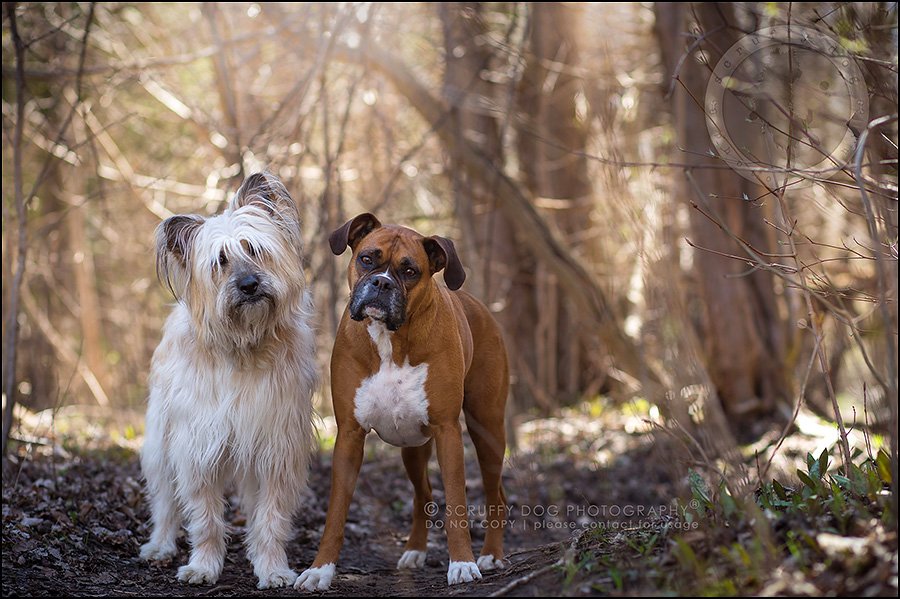 First off … just so we're clear … here are some general traits of Matlin McWhackyears that can't necessarily be seen from her photos:
she is a medium-boned, lean-muscled 40 lbs … 22″ at the shoulder … and is extremely tucked under all of that hair
everyone notes that she is SUPER fast
she has personality quirks that definitely suggest a herding breed, as well as terrier
the shorter-length tail which sits high would clearly suggest a Wheaten (if you've ever seen an uncropped Wheaten tail)
her coat doesn't grow, and she is a low-shedder … she also doesn't have the typical oils that a dog would have, which makes her hypo-allergenic for this dog-allergy sufferer  (yeah, yeah, yeah, a pet photographer allergic to animals … take a moment and laugh)
she has an underbite
she is lacking certain premolars which was suggested to me is a poodle thing
she is loving and trusting of people she knows, and there is no – and I mean NO – squashing her joy
she is smarter than any dog I've had in the past, and I've shared my life with some pretty smart dogs
she is extremely soft and gentle with other animals in the house and out
and those ears!!!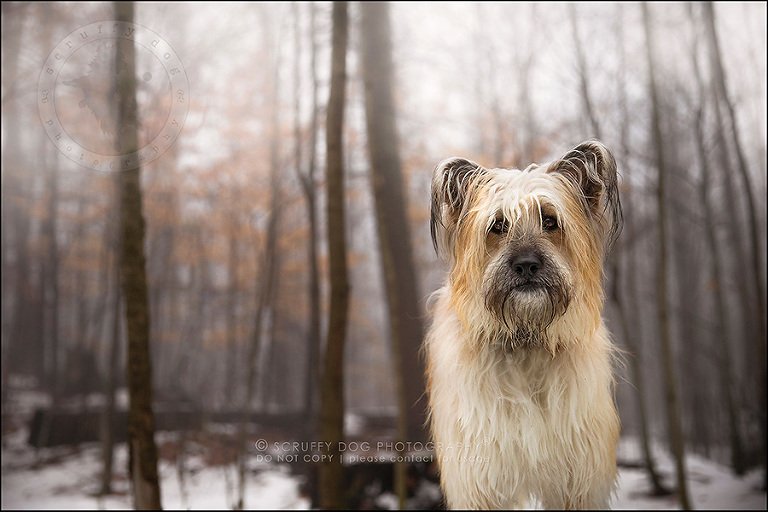 The companies I used were easily the top dog-DNA testing companies out there and came highly recommended by people across facebook and beyond.
So first off … Wisdom Panel. Well, these good folks are quite steadfast in their belief I share my life with a Chihowwug.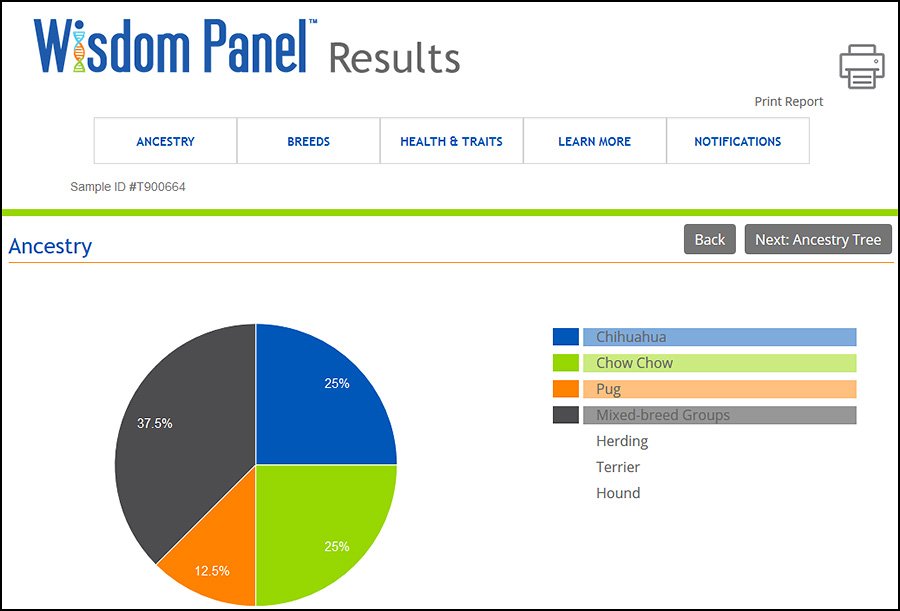 Yup, 25% Chow, 25% Chihuahua, 12.5% Pug, with 37.5% from mixed breeds of the herding, terrier and hound (?!) groups.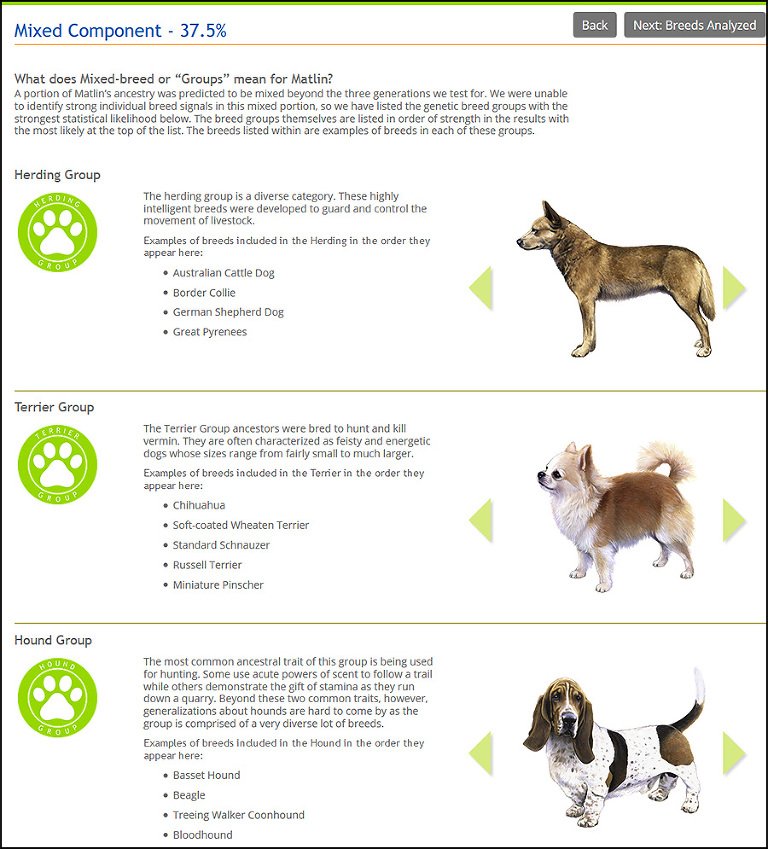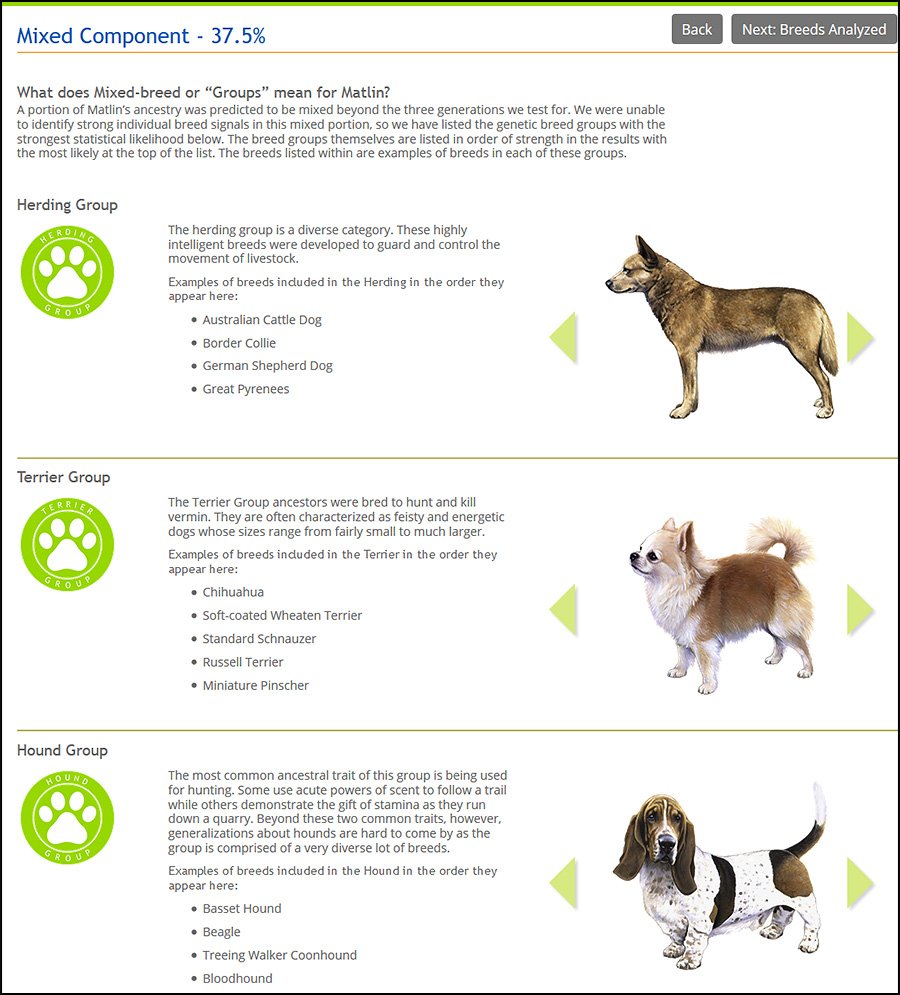 The next company I used was Viaguard – Accu-metrics. Wow, what a surprise … not a single Chow, Chihuahua or Pug in the mix!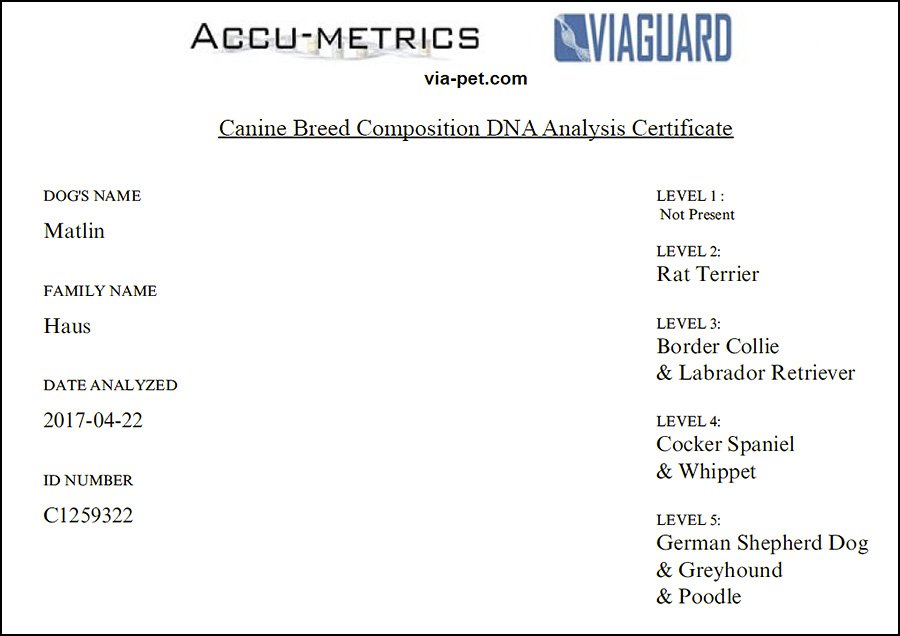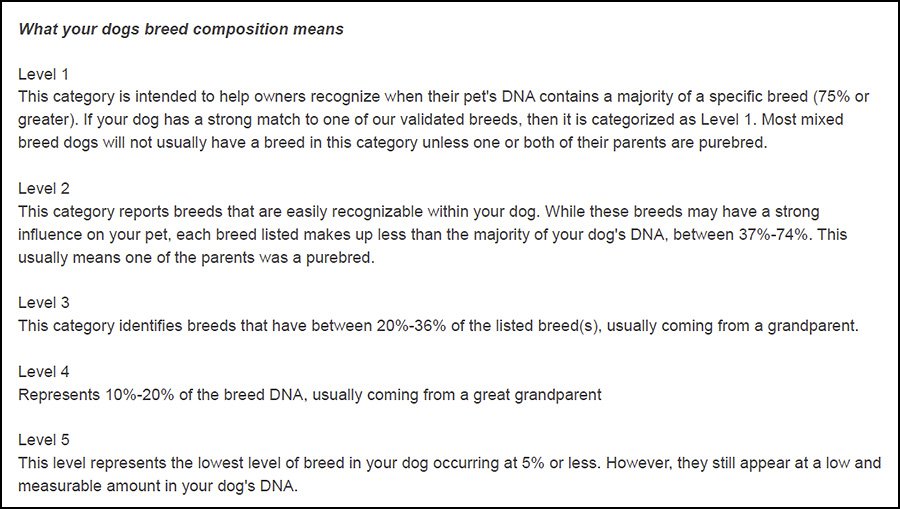 And yes, you're reading that correctly: 37-74% Rat Terrier.  According to ViaGuard, this percentage "usually means that one of the parents was a purebred." Okay? Next up is 20-36% Border Collie & Labrador Retriever … then 10-20% Cocker Spaniel & Whippet (well, she IS pretty fast) … and finally 5% or less, GSD, Greyhound and Poodle. Ah, my first non-shedding breed!
I obviously had to try Embark next since everyone seems to love their results SO much. Hmmm…
The thing that confuses me about Embark is that they put great emphasis on their ability to predict health issues based on genetic traits. And the health results are the first you receive.
Embark found that Matlin was at risk of 0 genetic diseases … yay! … however she came back as a carrier of one disease: Von Willebrand Disease Type II (not I or III). The funny thing is, on Embark's own site they state that Type II is found in German Shorthaired Pointers "and related breeders". With a little online digging I discovered that the only breeds affected by Type II of this disease is GSPs, Rough Collie, and – oh! – German Wirehaired pointer.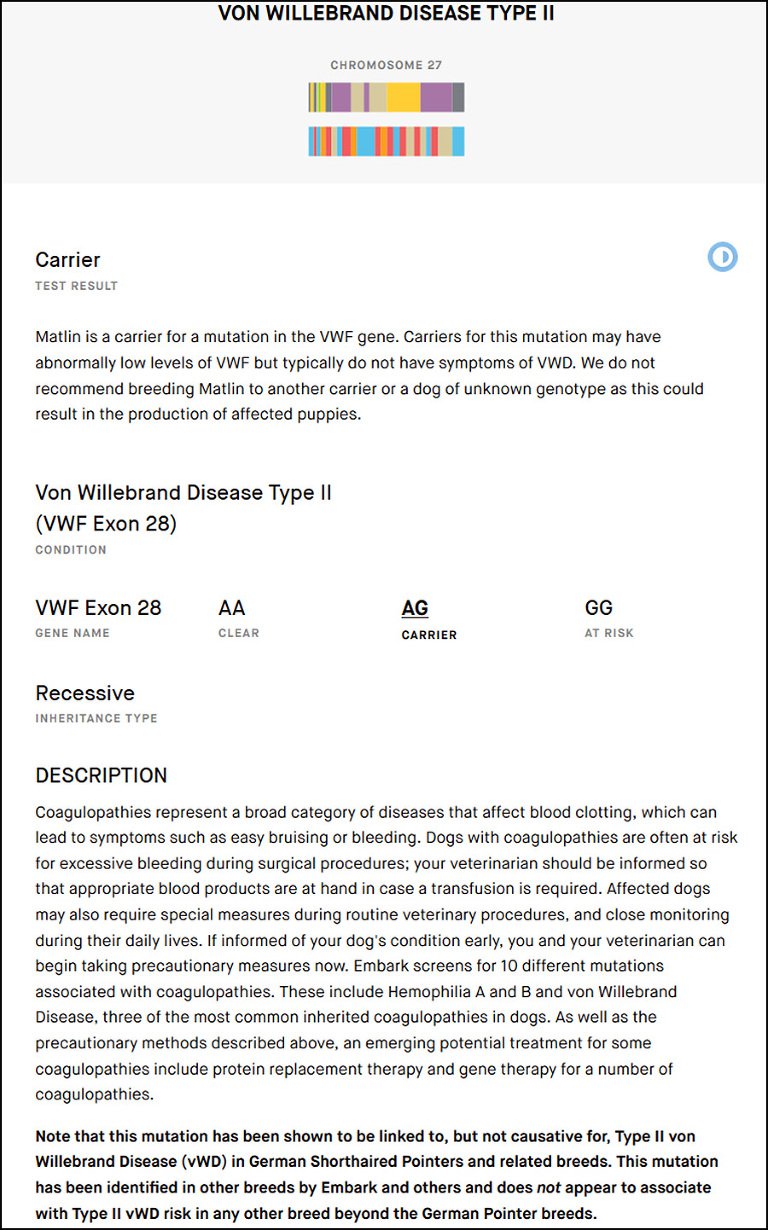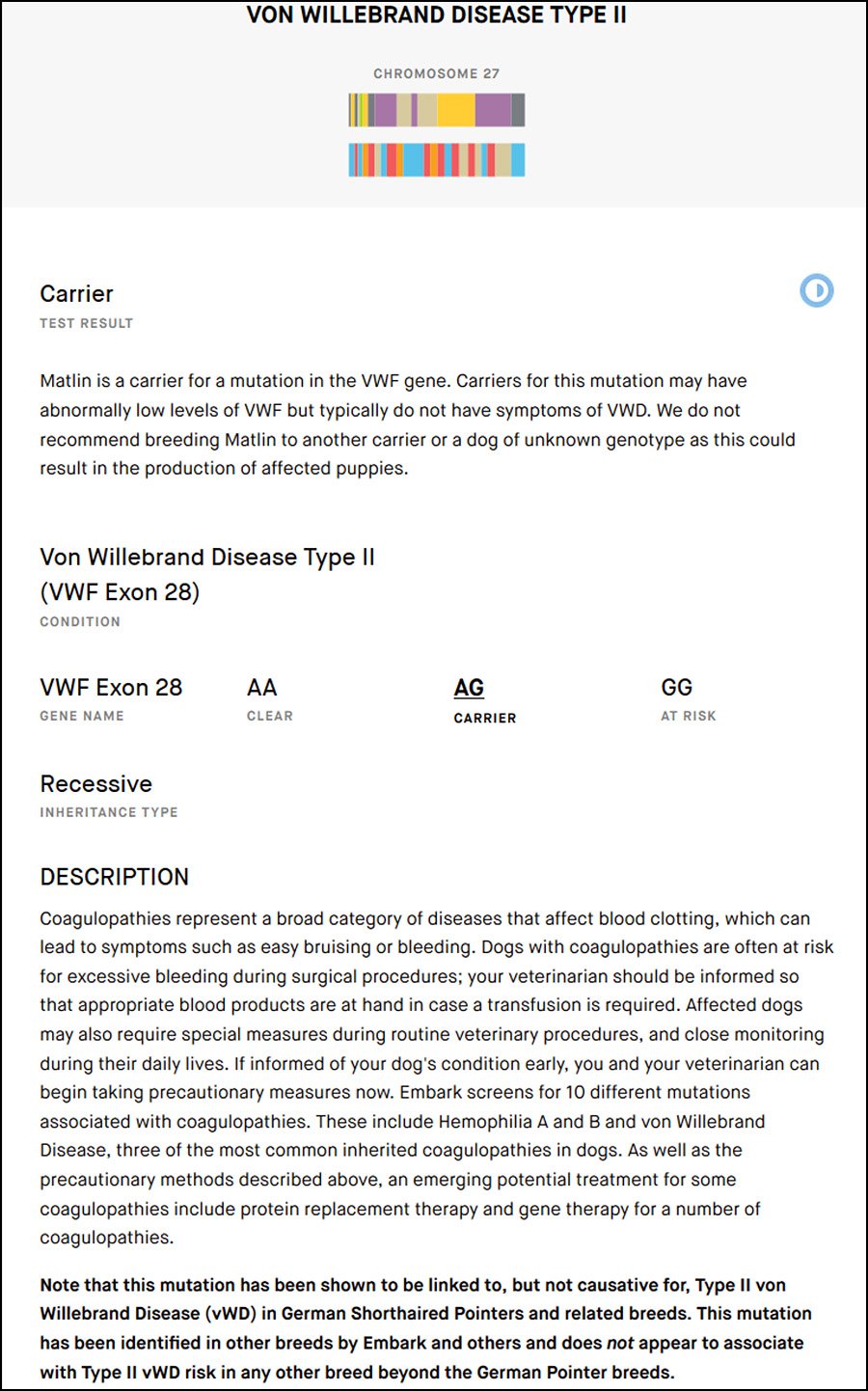 Still, I was excited. That beard of hers … it had to be GWP!  I mean, Embark goes on about how particular genomes will dictate coat color, coat type, and traits like uppy ears vs. down ears, and even 'facial furnishings' … the kind that Matlin has, but which none of the previous test breeds would have!
Alas, when the results came in, not a single beard in the bunch … what's more, even though Embark talks about VW Disease Type II being in GSPs, there wasn't GSP in the results … or any of the other breeds that medical sites suggest might carry the Type II gene.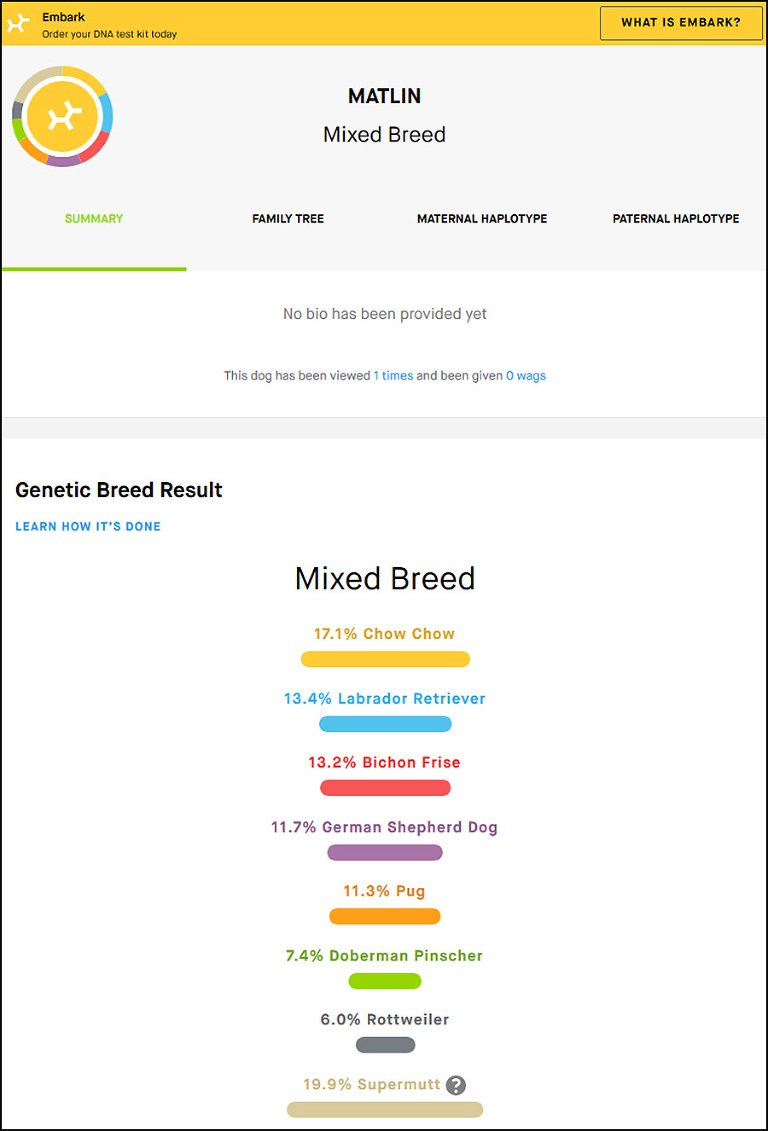 … but hey, at least we're seeing the Chow and Pug again that are SO Matlin!
Oh, and also according to Embark, Matin is VERY "wolfy" compared to the average dog. 2.3% Sigh … if you could only meet this blonde of mine!
And finally, the fourth purchased test was from DNA My Dog because so many SDP followers on Facebook were telling me it was the most accurate. Um … ?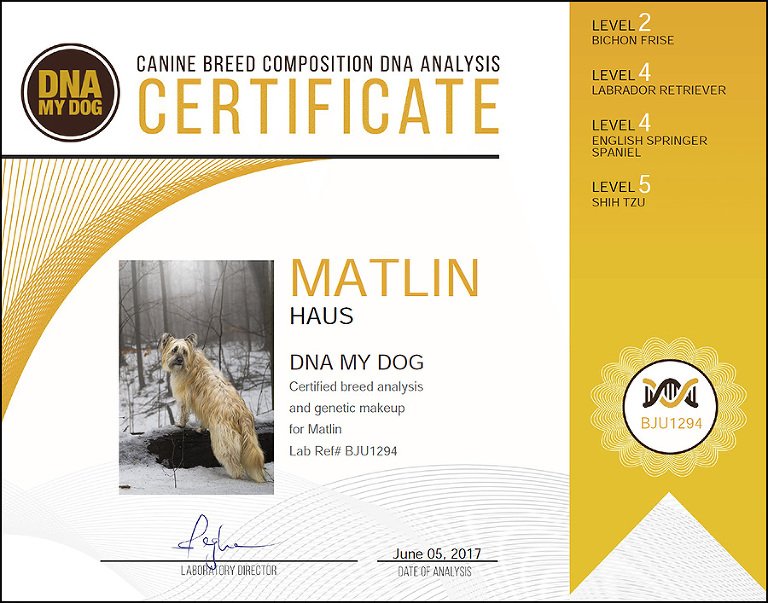 To be clear, with none of the previous tests did I submit a photo of Matlin, nor did I respond to the "suspected breed(s)" question that some of these companies ask for. However, with DNA My Dog – out of sheer frustration – I DID send a photo, and under suspected breeds I entered Wheaten and Berger Picard. Alas, my Bichon Fritriever Spaniel-Tzu doesn't have even a trace of those.
At this point, seriously? Should we believe any of this nonsense?  More to the point, does it matter?
So yes, while I've always been highly suspect of these tests and have heard ALL of the stories – the good to the downright ridiculous – I had considered this to be a fun venture, with perhaps some believable results which could used in the course of a contest. Alas, I'm quite certain that NO one would have guessed anything remotely close to these results. And my final takeaway is that the science is still VERY much out on actually determining the ancestry of the scruffies who share our lives. So let's just love our mutts and send any $s itching to go to DNA-testing to the amazing rescue organizations we got 'em from.