Meet Skye … another entry in the special Dogs We've Loved series.  This is a special photo series that pays tribute to those dogs whom we've loved in life and continue to love beyond, who live on in our memories, in our hearts, our souls, and through the very important photos we create of them. You can see other entries in the Dogs We've Loved series here.
Skye's Honor Session was booked by her mom, Anita, who – like most scruffy dog clients – chose to bring her girl here to the Land of Scruffy for an adventurous and fun afternoon … and evening, as the case was for Skye's session.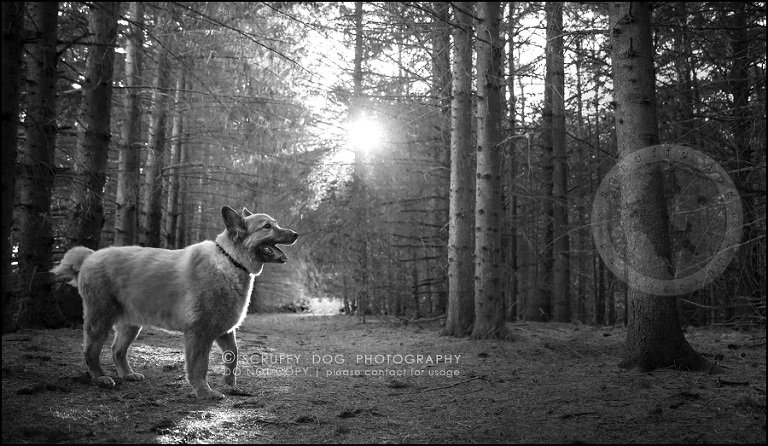 Like a surprising number of clients who book with me, Anita informed me that Skye could be a little camera shy.  But as I tell all clients who worry about this: "Nada problem!"  As you can see from the photos from our session, Skye and I ironed things out pretty quickly on that front!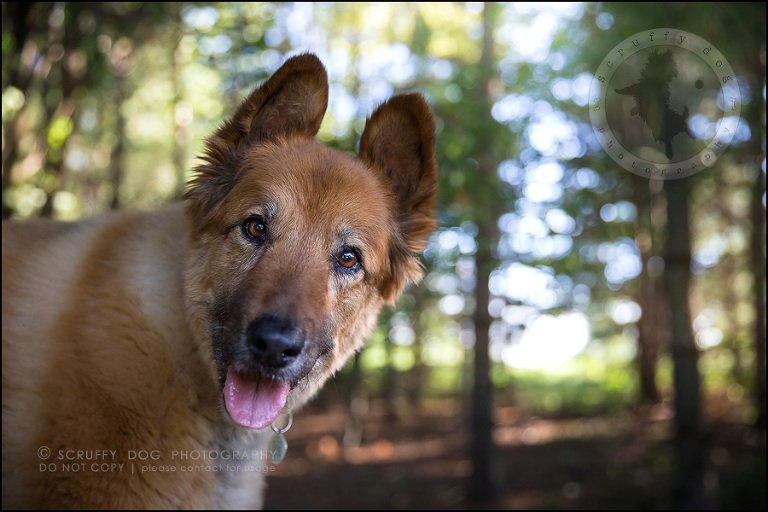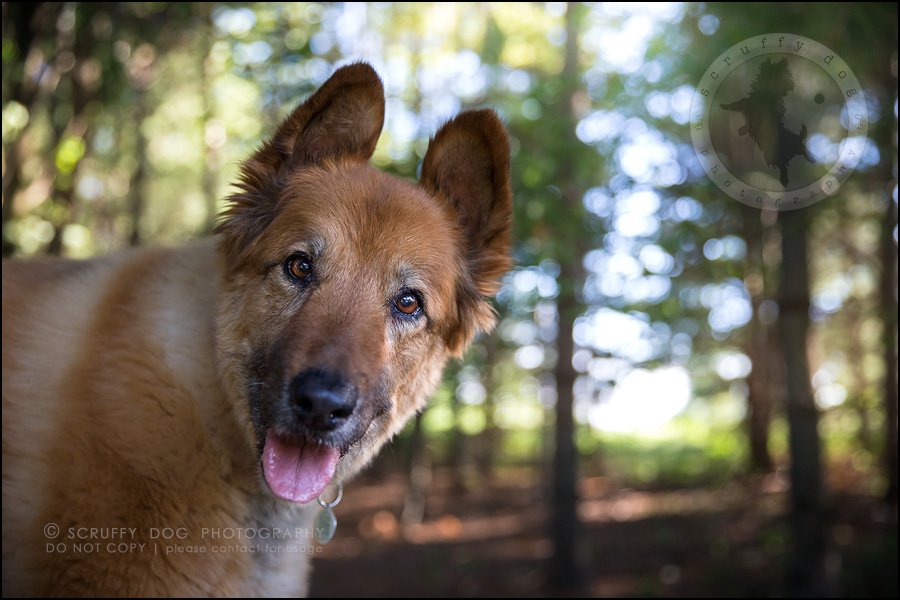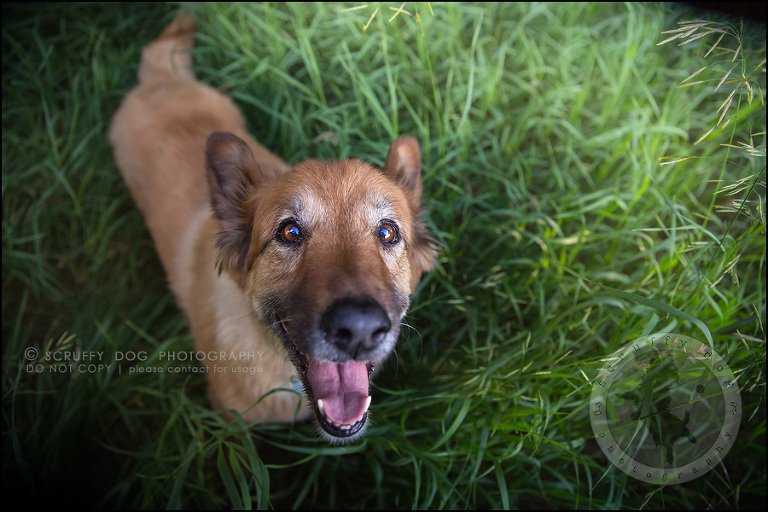 This girl was so happy, and the bond with her mom was undeniable.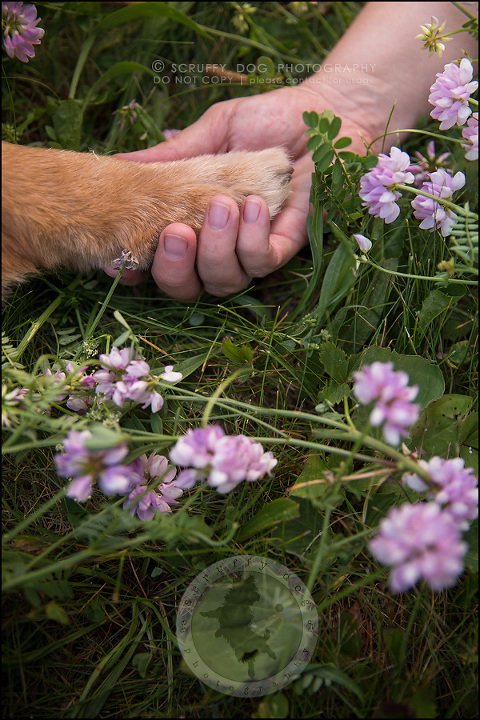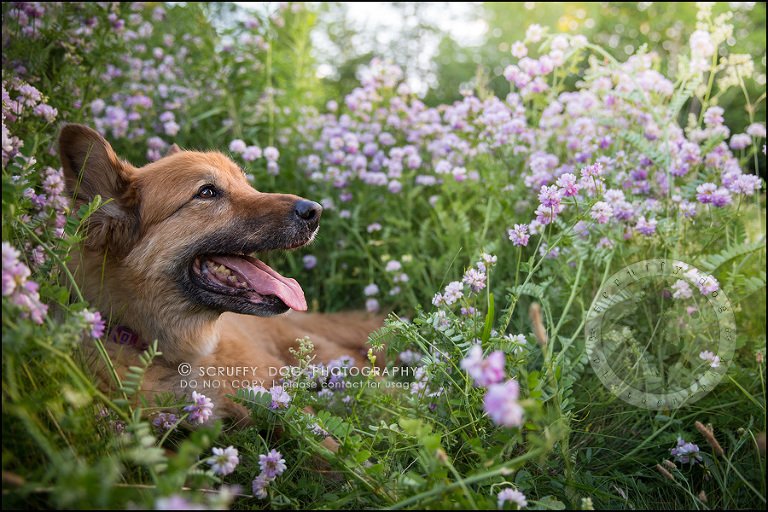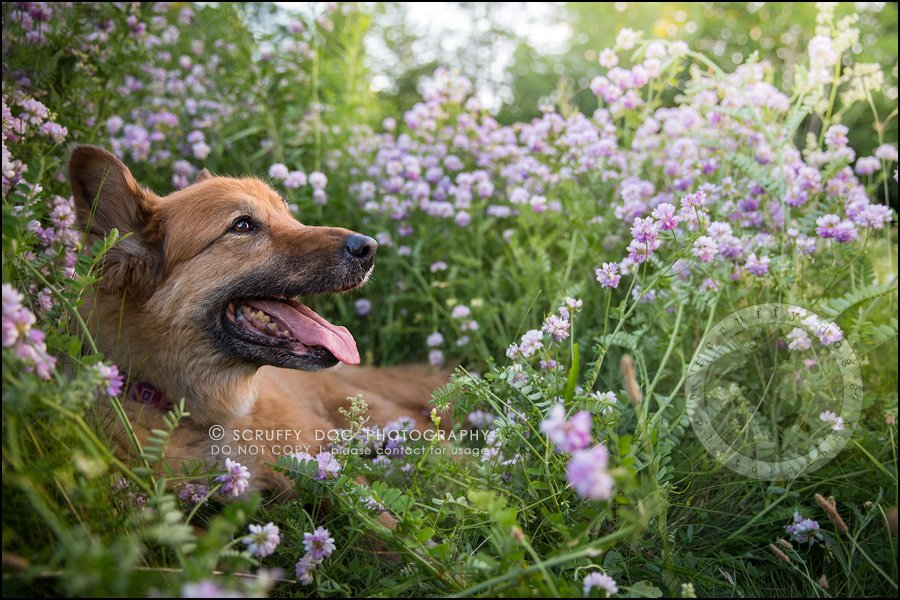 And like many clients of mine, Anita didn't want to be in the photos … yet, this photo of Skye in the crown vetch with Anita smiling in the background is probably one of my favorites from their session.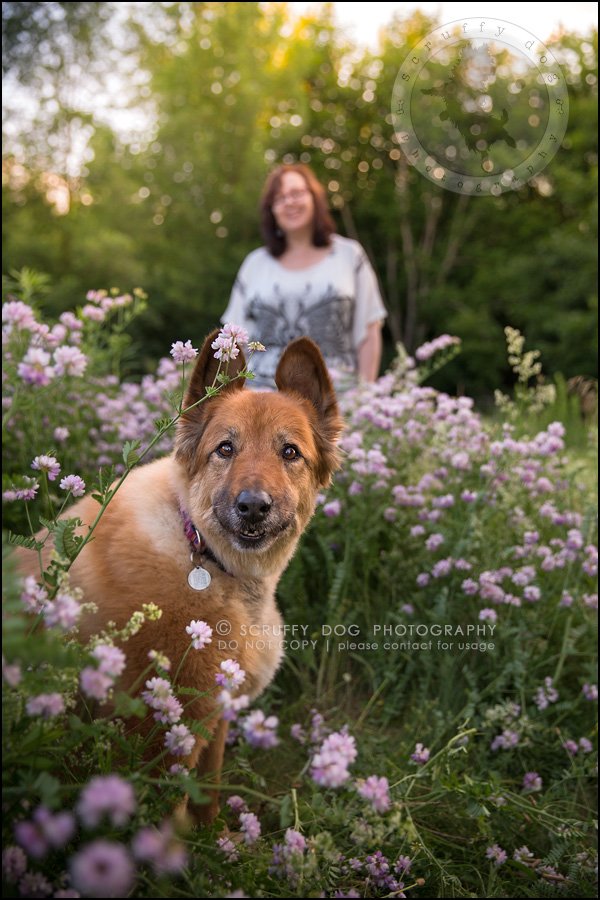 It shouldn't surprise you that I hear from Anita occasionally.  She misses her girl, and I am much too familiar with that loss.  Anita writes:
"I am missing Skye so much these days, I often hear her collar jingle in the house and I look up and turn my head and I swear I see her standing there and looking at me, smiling. This happens often.  And, I also sometimes doze off on the couch and automatically wake up about the time I would always take her for her last late night walk, I go as far as grabbing her leash, only to realize she's not here. It has been very difficult as I know you know all too well."
"Skye was 14 years old at the time of our session in June 2016. At that time, she was starting to show signs of slowing down with arthritis but still managed to have some pep in her step. Since I first saw your work, 4-5 years prior to the shoot, I decided right there and then that it was something I was going to do that with Skye. It had been what I had been searching for — a photographer that could capture the essence of my beloved dog's personality so that when the time came I would have her close with me always.  Although my intentions never changed in that time, for one reason or another, I just couldn't make it happen until last year."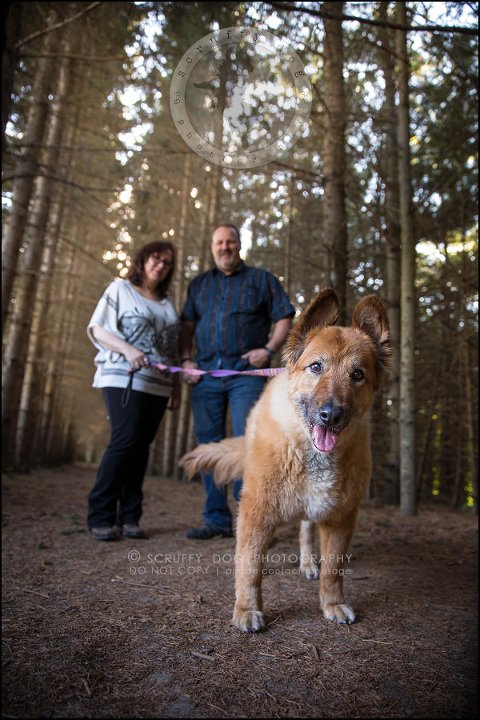 "I was grateful to finally have the session because only 8 months after her session and a couple of weeks after her 15th birthday on Valentine's Day, Skye was diagnosed with kidney disease. Not only that, her kidney values changed so drastically from her most recent test from last fall, that she was diagnosed with going into renal failure. I was told by two vets that she was not going to be with me much longer. The news hit me like a ton of bricks. I spent the next 5 weeks doing anything in my power to help her.  It was clear she was declining and when I knew I couldn't do anything more for my beautiful girl, on March 23rd, I said goodbye. It very easily was the most difficult goodbye in my life. She was my first dog and the stories, memories, and adventures we shared over those 13 years she was by my side (I adopted her at age 2, my first dog while I had a broken ankle), were endless and honestly, the best ones of my life."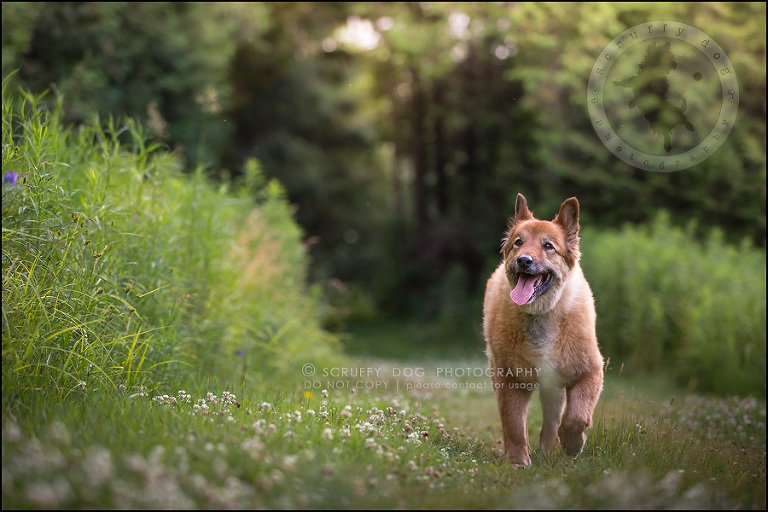 "The session was everything I hoped for and much more. That day was an experience that Peter and I will both always keep as a treasured memory.  In our session, I always believed Skye was camera-shy.  True or not, during the session, she quickly managed to get her nickname you gave her, Illona, McBobblehead, which I thought was very appropriate and I continued to use along with several other terms of endearment including Stinkypants, Hairytoes, Sunshine and of course Skye-girl. Waiting in the truck for dusk and the right lighting for that last shot on the hill was fun as we shared some stories and a few laughs. That time of day is my favourite and shot is still one of my favourites."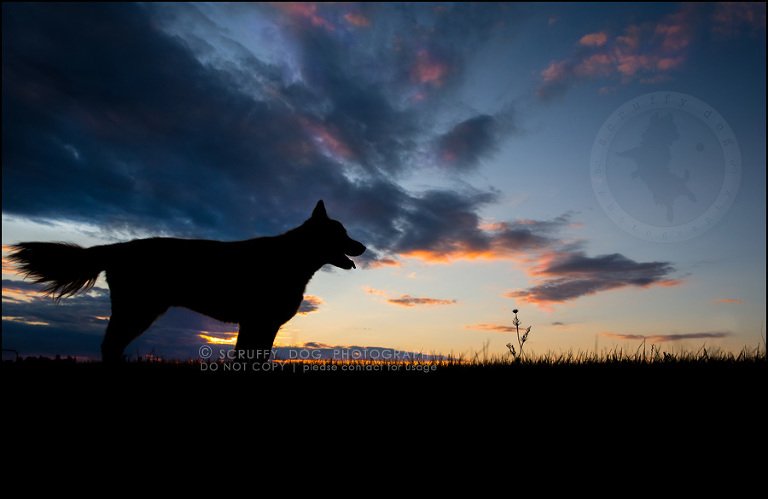 "Having my collection means that every single day, the visions and memories of my girl that are always in my head, come to life, with a glance to the wall or a reach over to my memory box where I can go through all the shots and re-live my endless memories of my Skye as often as I like. It makes me feel like she truly is still around me.  The photo shoot was the best thing I ever did, not only for myself to keep Skye's memory alive but to honour her, pay tribute to her, to know how much she meant to me and how much happiness, joy, comfort, love and companionship she brought to my life. She was a perfect friend and seeing the photos each day reminds me what an impact she made."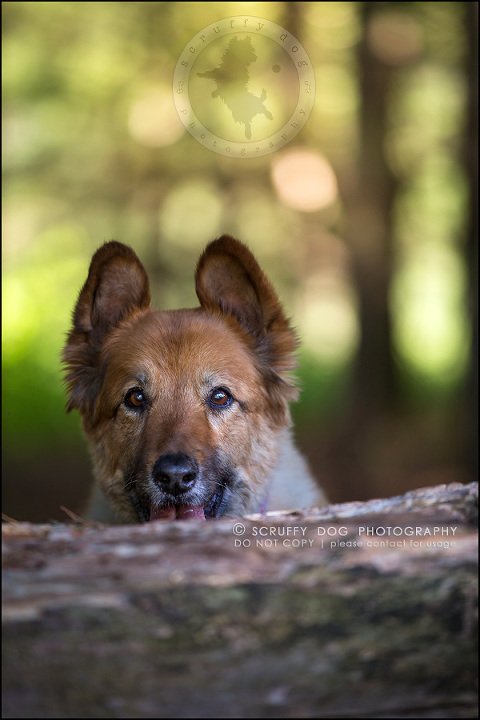 Thank you, Anita … thank you SO much for sharing your lovely Skye with me, for trusting me to do her proud, for opening up and connecting.  My greatest hope is that one day you find room in your heart to show your Skye-girl the greatest honour, and that is to give your heart to another in her memory.