much like when a family photographer takes their own kids out for a photoshoot, when a pet photographer takes her own animals out for a session, things don't always go as planned.  sometimes it can be a bit of a sh*t-show … or, as the case was last week for me and my scruffy pack, a pee-show.  allow me to explain…
if you follow scruffy dog over on Facebook you might have already seen the image i'm going to show as part of this blog entry, and you will have read the story behind it … but since the message (and the hilarity) behind it probably bears repeating, i figured i'd share it here on the blog.
for several months now i've wanted to get my little pack of three out on their own photo session.  running a busy pet-exclusive photography business now for almost a decade, i find that as each year goes by, i take fewer and fewer images of my own animals … and as my main girl Matea is now 14 years old, struggles with arthritis, withering muscles, and incontinence, i knew i really needed to get my incredible pack out for a session before it was too late.
the bond and relationships between these three is phenomenal, and i wanted an image that was more than just the three of them being lazy sacks on the couch … i wanted something i could one day print as one of my standard couch-sized framed canvases so that i could remember this phenomenal trio and their bond for decades to come.  i debated for months on the location, but given that the tunnel of trees is my most requested location (and i don't have a large canvas of my own of this location) it made sentimental sense to go here … not to mention that i knew it would offer some shelter from the cold.  with a busy fall season, and always working to meet my clients' demands for holiday orders, last week was the first time i could actually get out with my little pack.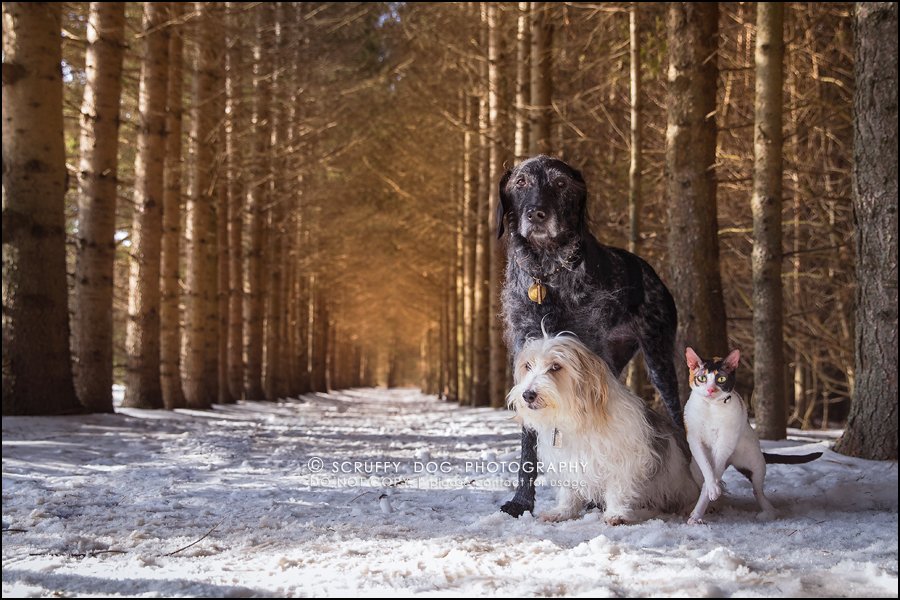 for those new to everything scruffy dog, allow me a quick introduction of this motley crew.  Matea is a now 14-yr-old wirehaired pointer, adopted at 7 mos of age after several failed adoptions with other people.  she has been my steadfast companion, best friend and partner for 13 1/2 years, and a supreme model.  you can read more about her on her bio page.
Merrick Goobernuts McScruffy – best guess a Petite Basset Griffon Vandeen mix – joined the pack 5 1/2 years ago after being rescued from a life as a breeding dog for a puppymill-type set up.  he was six years old when i was able to take him from that farm of misery, and he is my heartbeat, my angel, and my soulmate … and – except for last week when he somehow forgot what the word 'wait' meant – he has proven to be a consummate model, working for over five dozen professional photographers from around the world as i mentor other photographers.  you can read more about Merrick's story on his bio page.
and then there is Mirabelle Rufflebottoms McWhineypants.  oh my, what can i say about this most recent addition to the pack that makes my heart soar?  she is a little 6 lb Cornish Rex, adopted through Chatopia in Montreal.  Mirabelle was 5 yrs old upon adoption this past May; rescued from a hoarding/puppymill/mass-breeding situation along with 40 cats and 60 small-breed dogs.  i drove to Montreal and back on the same day just so i could bring this amazing creature home.  for 30 yrs i have longed for a Rex and, since i have always had adopted and rescued pets, i never believed i would ever have one.  i can't even begin to tell you how deeply in love i am with this cat  to see more photos of Mirabelle and read her story, you can find it here.
so, with introductions out of the way, let me lay out for you the madness that was our little family photo session …
of course, with her very short Rex coat, i knew Mirabelle would be cold.  she traveled in a covered carrier, complete with a heated 'disc' to keep her warm.  and i knew i had only a couple of minutes in which to capture my 'family photo' because i didn't want her to get too cold.  what i didn't anticipate was Mirabelle's reaction to the snow on her wee paws!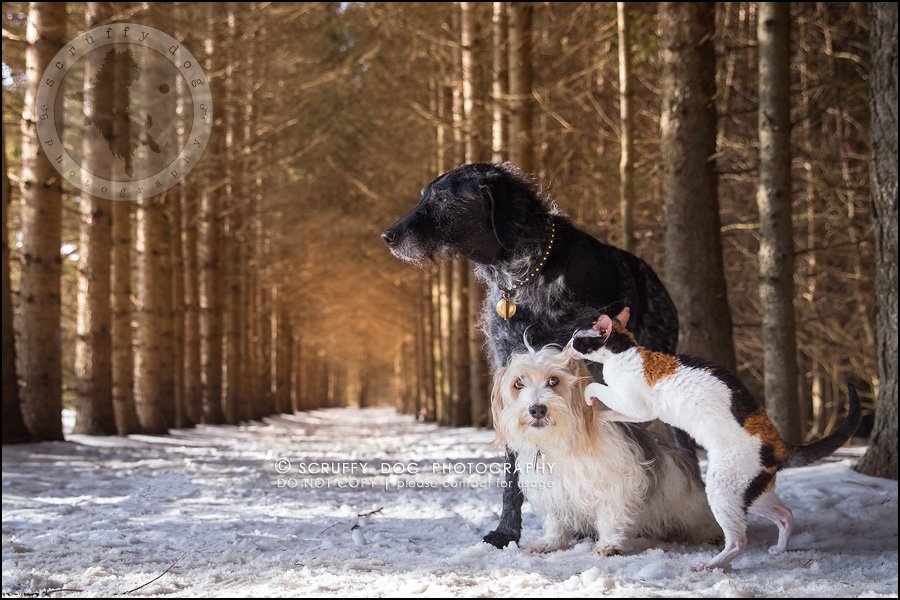 immediately this little fireball had springs for feet and was spastically grappling to reach higher ground …first, Merrick, and then jumping up on Matea's back.  my assistant Karin worked at keeping her off until I said: "Actually, if she wants up on Matea, let her up … just help her balance." so we worked with what Mirabelle seemed to want, but THEN, all of a sudden, she changed her mind and wanted down, and poor Karin was like: "What do I DO with this crazy yoyo cat?!"
and then, in an instant, we realized why Mirabelle had been so intent on seeking ground.  so, while Mirabelle squatted and let loose her bladder, poor old Maeta just stood there, oblivious of the pee rolling down her back … while Merrick simply stared at me, no doubt seeking assurance that he wasn't in the direct line of fire!
yes, that's pee.  unfortunately – or fortunately – i didn't even see the pee through the viewfinder as i was frantically snapping away.  it was only Karin's shouting and rushing in to scoop up the spewing Rex that i realized what was going on … and i had no idea i'd captured the 'accident' until later that night in the studio.
of course, with bladder empty, Mirabelle was able to get back to the task of modeling …
… and with the support and encouragement of her new pack, she did a bang-up job.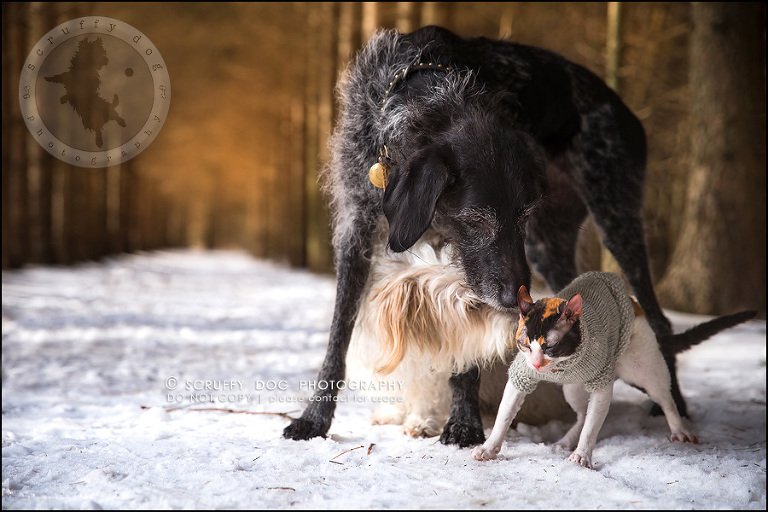 and this (below), ultimately, is the shot i was after.  for those with a good eye, you'll recognize that i used Matea and Merrick from the pee shot (as this is where their stances and expressions were best) and composited Mirabelle from another shot where she was perched on Matea's back … post-pee, of course.  this is the shot i will likely make into an 30×54″ framed canvas for over my couch one day … even though the pee-shot will always make me laugh.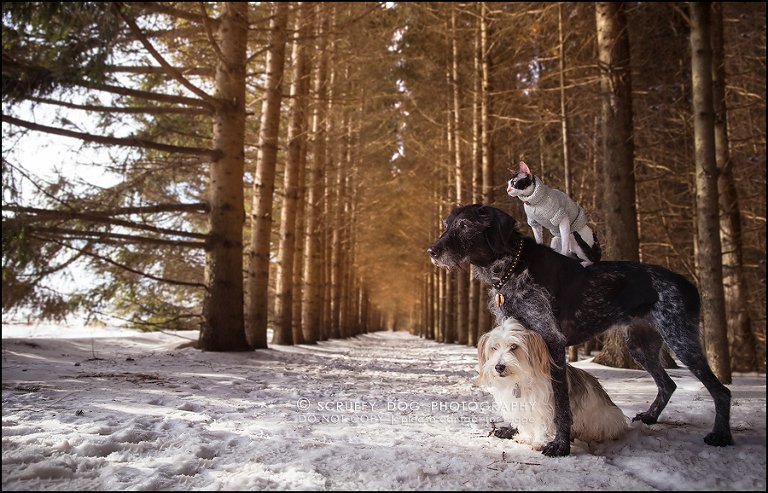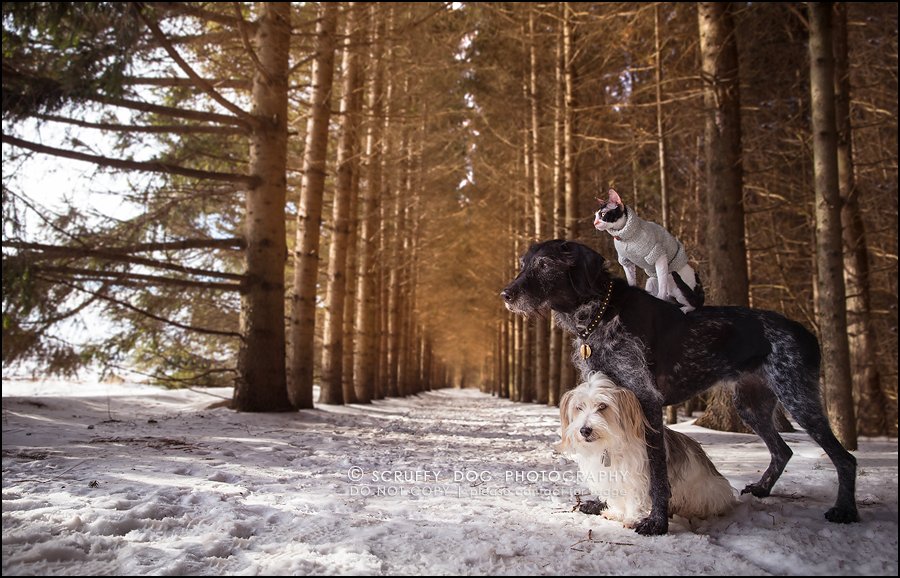 these photos of my three from this super short session mean the world to me, even though i wish the cold hadn't prevented me from spending more time and capturing a greater variety.  so … my message to you with this blog post?  whether you are a photographer or not, whether you need to hire a professional photographer or whether you shoot some images with your cell phone, do whatever you need to do to get those four-legged family photos while you can … and get them in print … they are worth the effort!  … even if it means getting peed on!