i thought i would take a few moments out of my day to share with you a little of the editing that can go on here at scruffy dog headquarters … a little glimpse behind the scenes.  granted, it should be understood that i don't have to do this kind of high-level of editing/photoshopping very often as i am usually able to get what i need out of my 4-legged models at the shoot.  however, last week i had a session with a pack of four amazing, wonderful dogs.  not amazing, wonderful models, but certainly amazing, wonderful dogs!
Lucy, Jethro, Logan and Henry were as awesome as awesome comes and i would have gladly taken any or all of them home … but super models they were not.  we captured a ton of hilarious, sweet, emotional, goofy, and stellar images of all four of these gorgeous dogs in the forest, the grasses, on logs, in flowers, running, being silly, and so many others.  however, when faced with the challenge of capturing even just one shot of all four together, in the tunnel of trees, well, i knew we had our work cut out for us.
this was a combination of dog handling and management.  i'd already spent some time working with this crew so i knew their energy.  Jethro (the larger fawn pug was easy going) and was the most likely to stand still for a few seconds; one-eyed black pug Henry was antsy, and would start moving almost immediately when asked to stand; Lucy has people issues, which weren't an issue for me and she worked wonderfully for me, bringing with her a very calm energy, however, i knew she would stand for only 2 or 3 seconds before lying down; and Logan, well, Logan is pure goofnut and high on life … and if he stood still for more than a tenth of second without superglue on his pads, we'd be truly blessed.
this was clearly a situation where tying was necessary, but still i knew we'd need the element of surprise since Lucy would lie down if she knew she was staying anywhere and Logan would be running circles and choking everyone out with his line no matter how short i tied him!  i knew we'd have one crack at this … and it would be 3 or 4 seconds at most!
so … the lines were set, the camera was set … guardians Chris and Sue were duly instructed … dogs were clipped and held … and on my count everyone jumped into their necessary roles.  and — true to my prediction — i had three and a half seconds, and the element of the surprise of being tied to a tree worked to our favor in those few glorious moments.  i was able to shoot a half dozen rounds and get what we needed before we regrouped and tried a second time (which i will share in a moment).
the result within that first three-second round …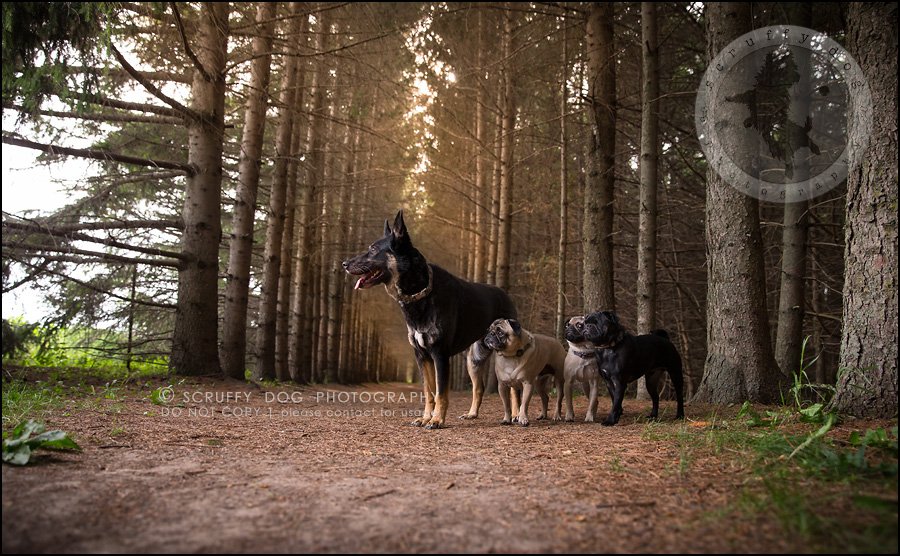 and here's a crop of their faces, just because they are so adorkable!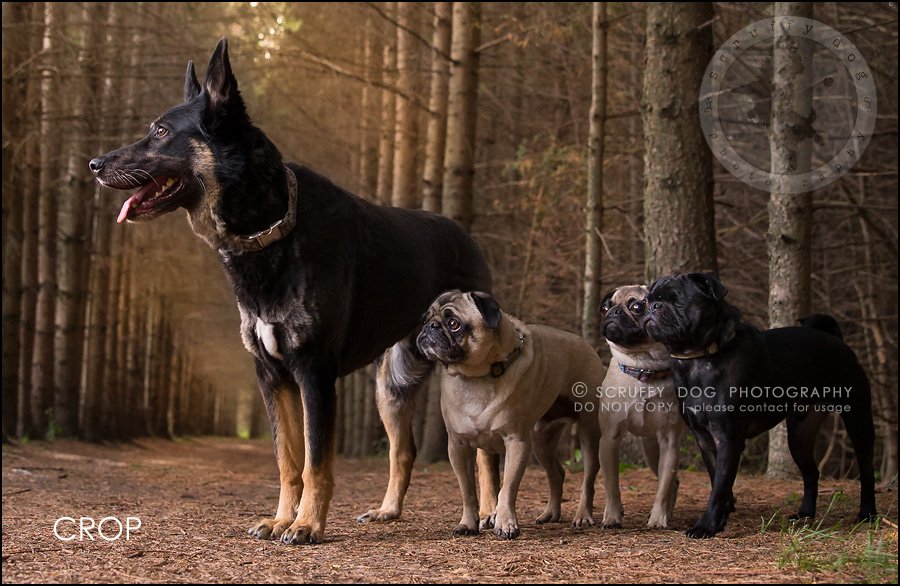 in the second round of shots (again, taken within a few seconds before mayhem ensued … thanks, Logan), we had a little more fun … but, as predicted, smartypants Lucy, after the first three-second round, knew we were going to be here for a while, and made herself comfortable, lying down.  having said that, who am i to say this doesn't become Sue and Chris's favorite?
what i liked most in this image, obviously, is Logan … a.k.a. the monkey on Jethro's back.   and this is where the editing becomes creative.  i wanted this grouping of three pugs above … but i wanted Lucy standing.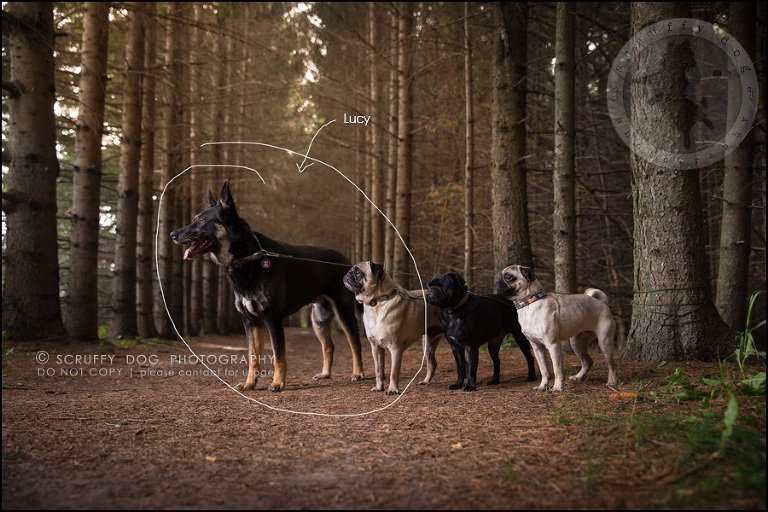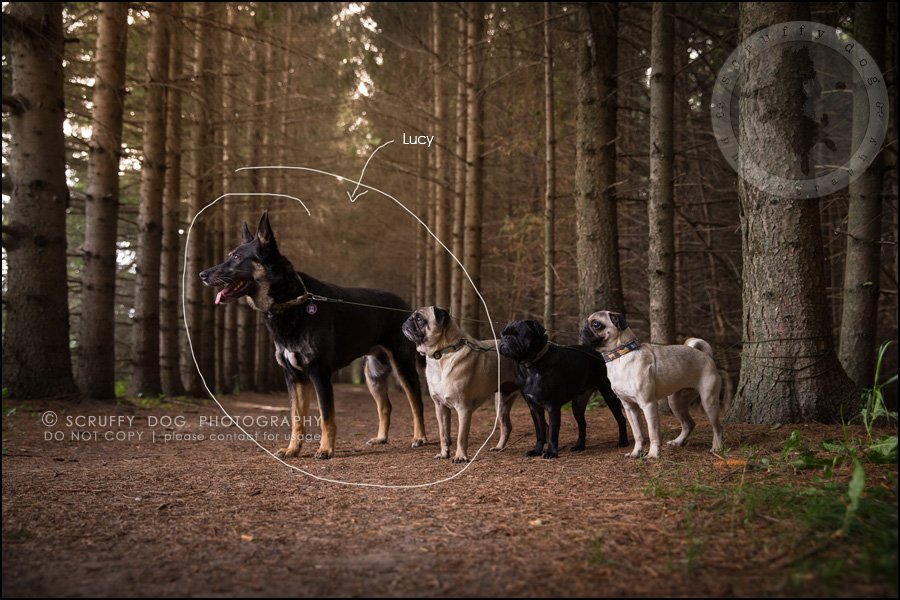 so i went back to the first grouping of images to get Lucy … and combined her with the grouping of the three pugs.   i also wanted to grab Henry's one good eye from another shot where the grouping of the three pugs wasn't as successful.
if you're a photographer, you'll see the amount of work that required attention here, especially when bringing Lucy in and having to remove her rear end from behind the two stacked pugs … paying attention to the details of shadow, etc.   I also needed to 'warp' Lucy's collar back into a more natural position in order to get rid of the 'pull' .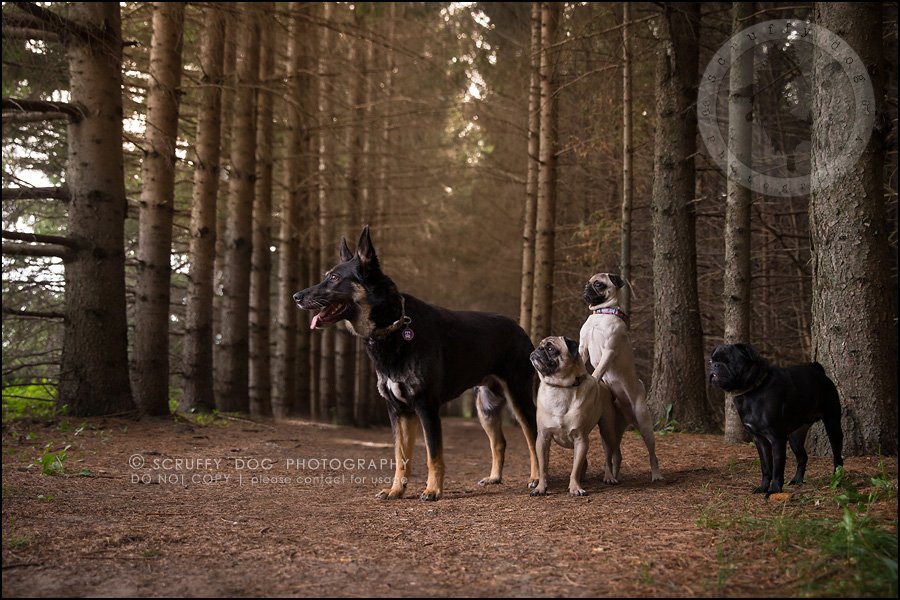 of course, i've also lost a few trees in the back tunnel on the right, which i can add later if my clients decide on this image for their walls … and normally i would never dive in and do this kind of work on an image before there was interest from the client, but in this case, well, it was as much about me wanting to see it.  and there is still so much more that could be done with this image … bring back the trees in the tunnel on the right, and even move Henry into the group a bit more.
so for those clients who think their dogs are too crazy, too wild, too nuts, too unruly for a photo session … well, you just need to meet Logan … and you need to know that the first and last image in this blog entry were captured in two sequences that were barely three seconds of calmness (a very relative term in this case).  i have many other cases of images where the dogs look completely calm and almost regal, yet the image was simply captured between a flurry of non-stop barks.  when you shoot only dogs (and maybe one or two horses and cats each year) it's impossible to meet a dog you can't photograph.  i certainly haven't met them yet!