the sometimes overlooked yet very powerful sliders controlling your images' colors lay nestled under the often collapsed HSL / Color / B&W tab.  although i often have this tab collapsed simply for the sake having other tools more readily available, i often go to my HSL / Color / B&W controls in many instances — a black dog being too blue, skies needing to be boosted a little, just not finding the happy place for that bright green spring grass.
but the Color sliders come in very useful for other more severe functions like changing the entire color of a wall or, in the case i'm about to show you, a settee.  of course, one thing to be aware of is that these sliders do affect the entire image.  there is no ability to mask areas you would prefer to not have affected by your changes using these sliders.  so, for instance, having a vizsla standing in front of an orange wall, and trying to change that orange wall to red will only end up making your vizsla look like he was born on Mars, since the dog's coat has the same tones of your wall and will, therefore, be equally affected.
in the instance below, i'm safe to play with the color of the turquoise settee — which i quite love, but the clients are wanting to see other options — because there are very few traces of turquoise (aqua) anywhere else in the image (which i will address later).
here is the original image — after initial editing within LR.  even here, you can see that i tweaked the Color sliders just a little … boosting the saturation on the aqua and a little on the blue so that i get a little more punch to this lovely turquoise settee.
not a fan of turquoise? no problem.  maybe purple is more your style.  here, obviously, we have to take greater liberties with the sliders in order to achieve more drastic changes … and since these are raw files, there is no degradation to the actual file.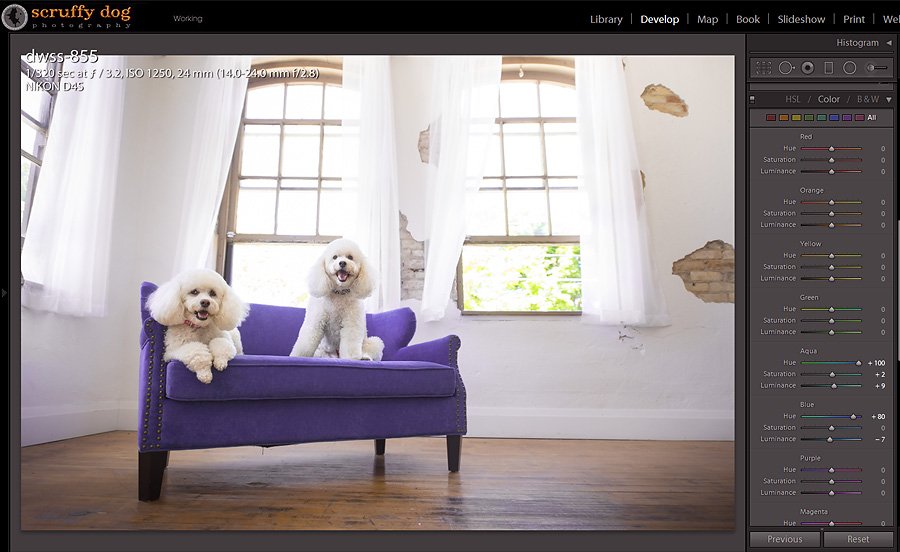 but then i re-read my client's email and realized he'd requested blue and royal blue … i'd read 'royal' and simply thought purple.  no problem.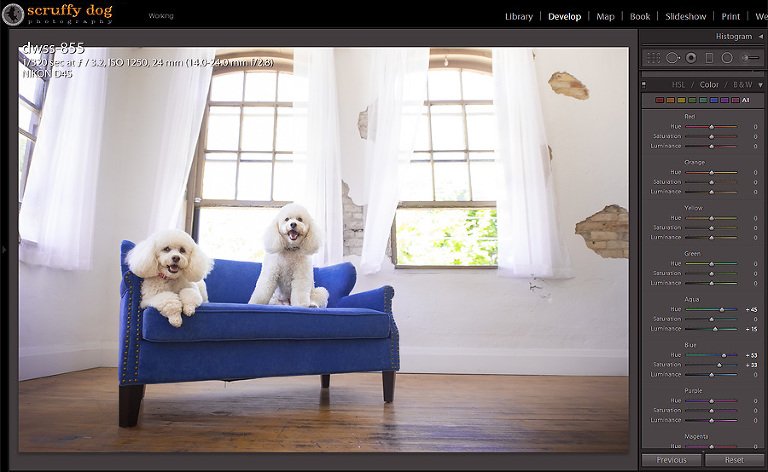 and a deeper, more royal blue …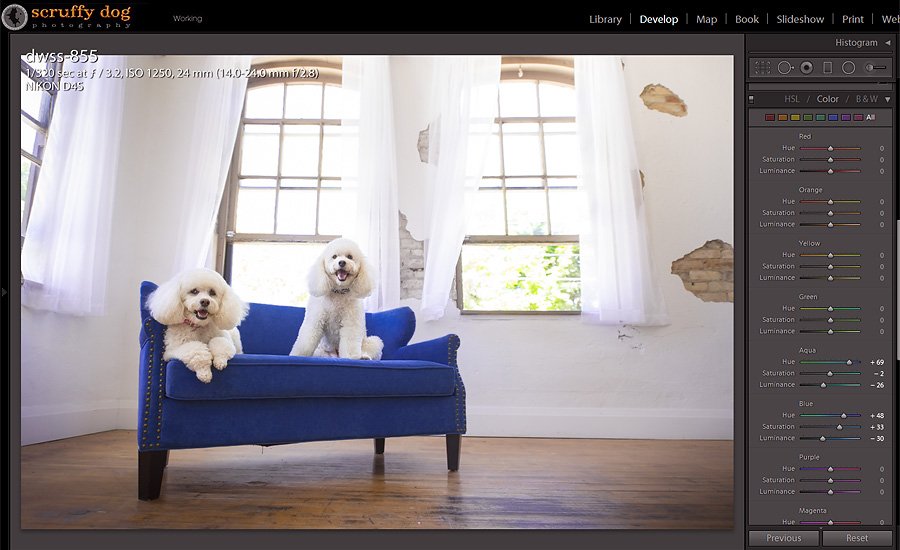 and a little bright teal, for good measure.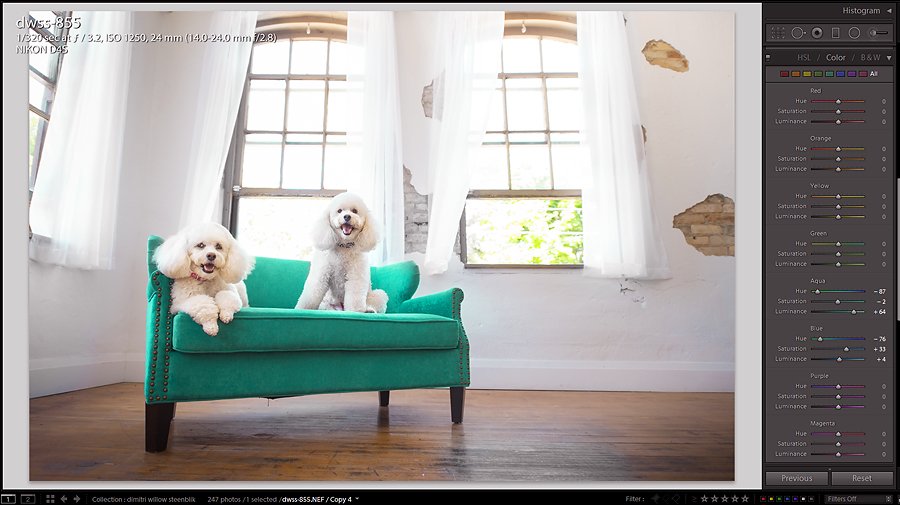 of course, it should be noted that — for the sake of workflow — the easiest way to manage these different color versions while the client is still deciding, is to utilize Lightroom's "Create Virtual Copy" feature … generating a fresh copy for each new color version you are going to create, making it much easier to handle the workflow, without having to create large files of each version.
also, if you look back at the original image with the turquoise settee, you will notice that there are traces of aqua and blue in the window frame at the top left of the image and in the plaster wall under that window, and also in the settee's reflection on the floor.  what you can't see, but what was immediately apparent upon these more drastic color alterations, was the fact that there were subtle traces of aqua in almost all of the white sheers as well.  so when making these big color changes, it was important to note the unwanted changes to these other elements as well, and address them.  they were easily remedied with the Adjustment Brush.
so … don't be afraid of those sliders!  and have fun with Lightroom!