well, they've finally arrived!  yes, our groovy, fun, conversation-sparking, scruffy dog caps are here!  matea mcscruffy's already got hers … she chose the red cap and is prancing around SDP headquarters looking like a rapper.  and now it's your chance to grab your own piece of scruffy dog by getting a cap of your very own!
we've got five four exciting colors which should satisfy most tastes.  as pictured below they come in: chocolate, red, scruffy dog gold, and brown. (sorry, we have run out of the scruffy dog charcoal and then it was discontinued.) 
these high-quality caps are made of garment-washed, 100% cotton chino twill, and are an unstructured, low-profile, relaxed fit that is an adult, one-size-fits-all.  let me tell you, these caps are not only super comfy, but they are highly durable.  in fact, they are the same brand and style cap as one i've worn for over six years, without a single loose stitch.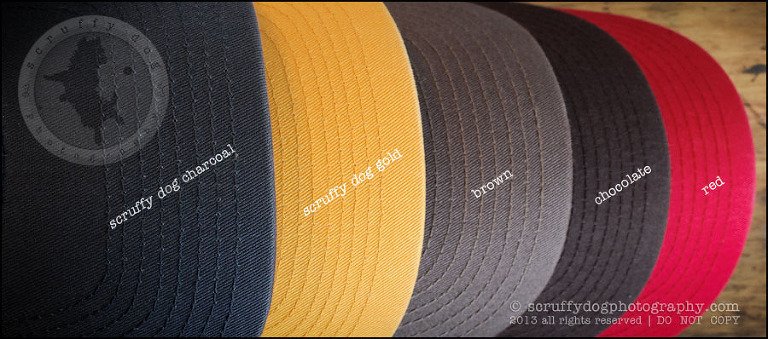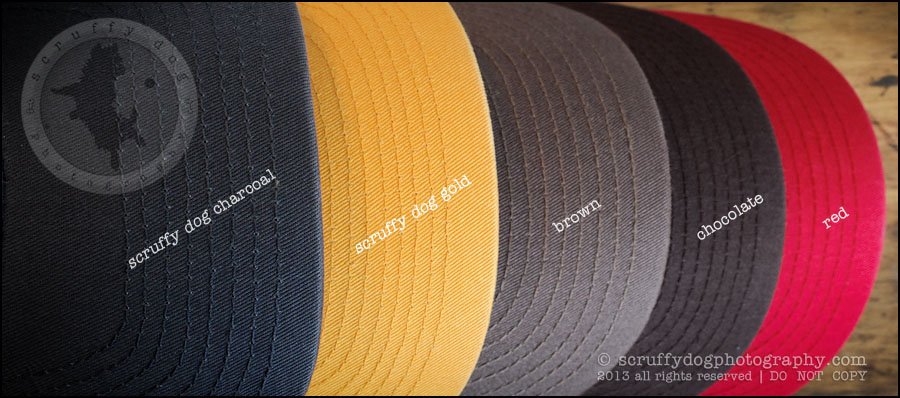 of course, all caps carry the embroidered SDP logo based on the goober jumping for his ball.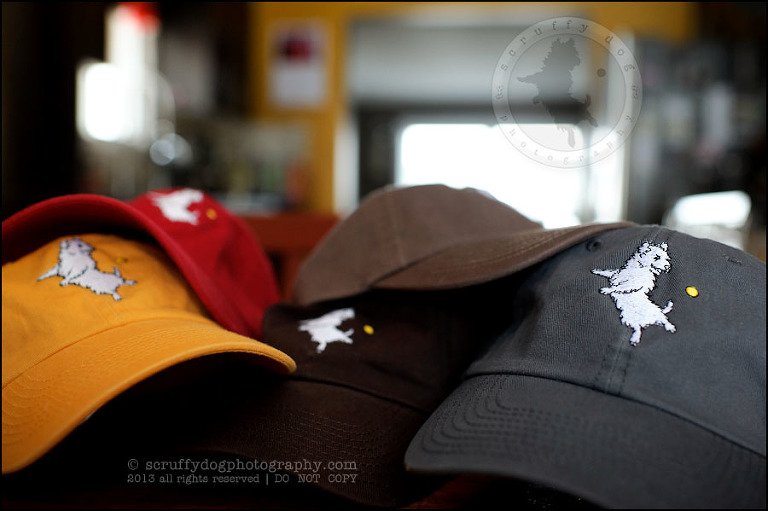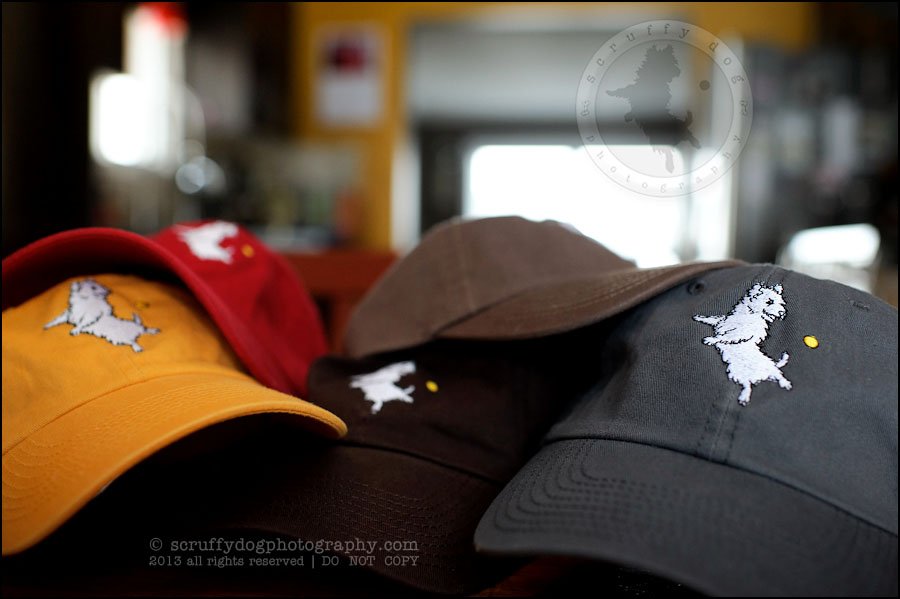 … as well as the scruffy dog photography name, in smaller font on the back.
but best of all … to create a little fun conversation while wearing your SDP cap out and about … our trademarked tag line!!  merrick goobernuts mcscruffy wears it best …
NOTE: some have asked (based on the above photo of the goober wearing my personal scruffy dog gold cap) whether these caps are a deeper fit or a "classic" fit.  let me assure you, they are a classic, low-profile fit.  not super shallow like some women's caps, but not super deep.  the inside measurement from center button to the outer edge of the band is 6 1/4″, if that helps.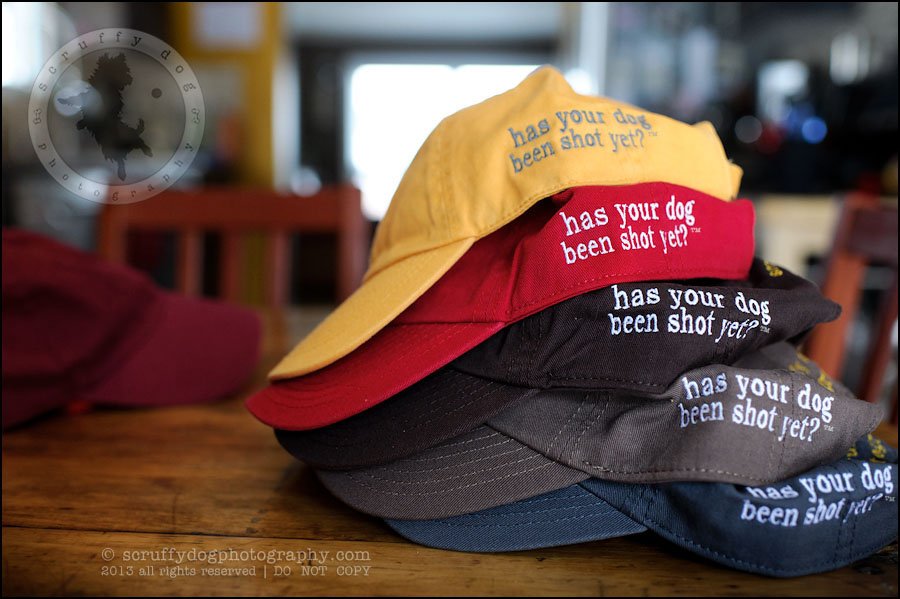 let me tell you, a lot went into finding the right style of cap for our scruffy dog clients, followers and supporters.  in spite of the heavy but soft cotton, these caps have a relaxed fit with a cloth back-strap that sports a silver snap button and silver grommet.  this makes them easy to adjust and close, but more important, this is the only answer for those of us with ponytails!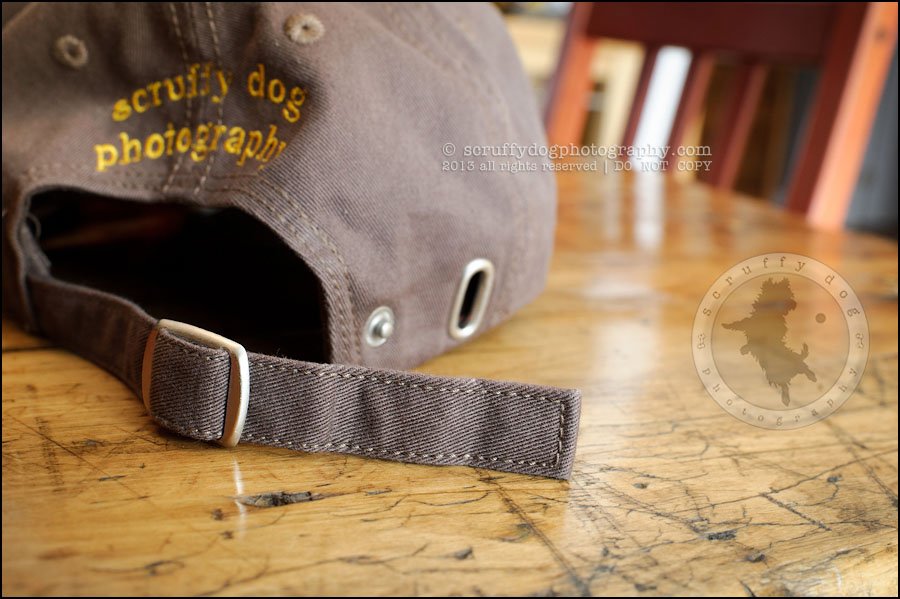 and the cost of these super fun, high-quality caps?  we're keeping them at a very low $20 (tax included).
but now the bad news … shipping costs.  we've investigated a number of different options, but trust me, shipping is just super expensive these days.  the following are the absolute lowest shipping rates we can get in order to ship these caps in a small box, with tracking … and we can honor these prices for up to three hats in one box:
within Ontario:

$11 

(includes tracking)
elsewhere in Canada:

$15

  (includes tracking)
US – USPS –

$11

  (no tracking –

NOT

recommended as we cannot insure or guarantee delivery)
US – USPS –

$17

  (includes tracking – RECOMMENDED)
and of course PICK UP at the studio –

$0

– (although a small fee in scruffy scritches may apply)
**(for shipments more than three hats, please add $3/hat)
to order your cap(s), simply follow this link to the cap order form.
since there are only a limited number of each of the four colors available, please be sure to get your order in soon in order to guarantee the color you want most.
and once you've received your SDP cap(s), we'd love you to share a photo on the SDP facebook page of you wearing it!  … or maybe of your scruffy wearing it!