thought i'd quickly share a few images of the latest two canvases before i have to head out to help a friend/client with some training with their pooch this morning.
what can i say?  i love the big canvases … and i love clients who love the biggies too.
it's a fact: scruffy dog is quickly becoming known for these big ones.  when i pick up at the lab and run into other photographers, they already know me because of the big doggie canvases that frequent the place.  and more and more, clients are booking with big canvases in mind … whether repeat clients or first timers.
because there's a little work involved with hanging these pieces and shooting them, i don't have the opportunity to share every canvas that comes through scruffy dog, but the other day i took some time out to document the latest two.
first up, Miles in the train tunnel …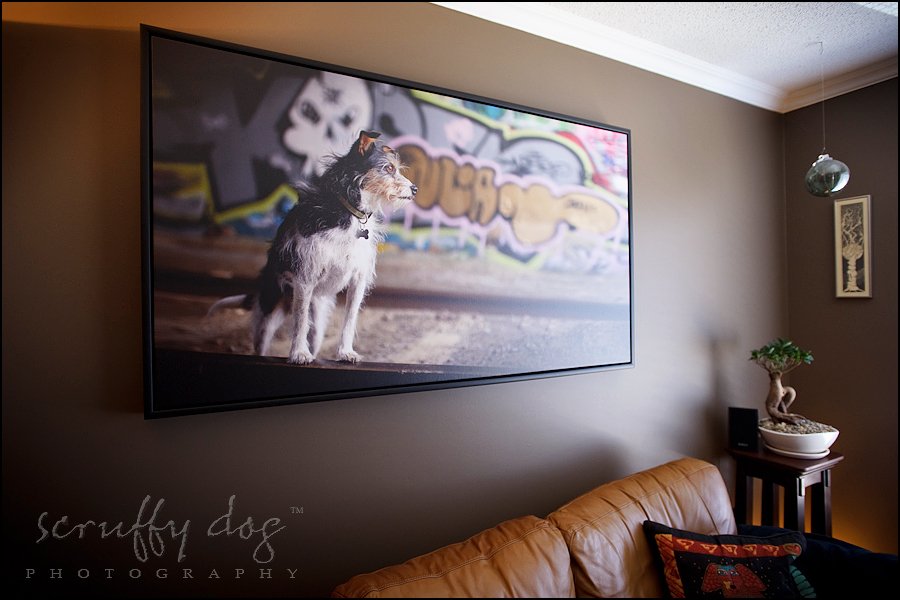 this canvas is 30×54, and finished with our gorgeous satin-finished, black, oak float-frame.   i always recommend for couch pieces or over-the-bed pieces, that 52″ is a minimum, with 60″ being a great length, especially over queen-sized beds.
as you'll see from this closeup, the detail and sharpness that is maintained even on a piece this large and on the subtle texture of the canvas, is still stunning.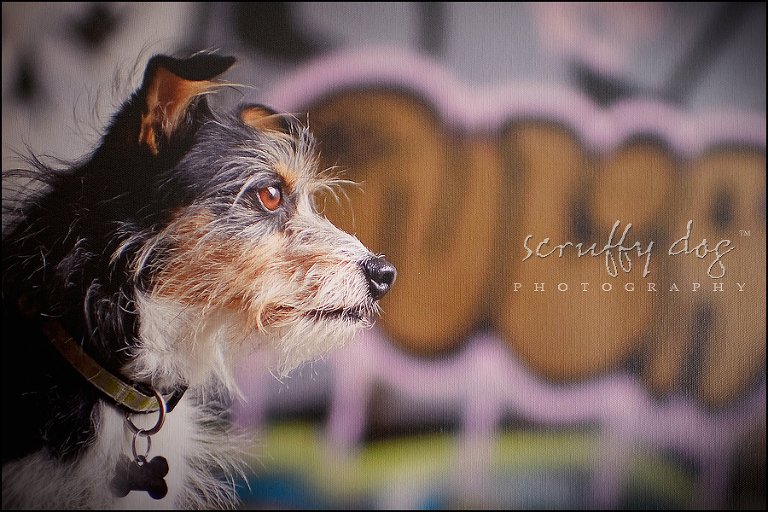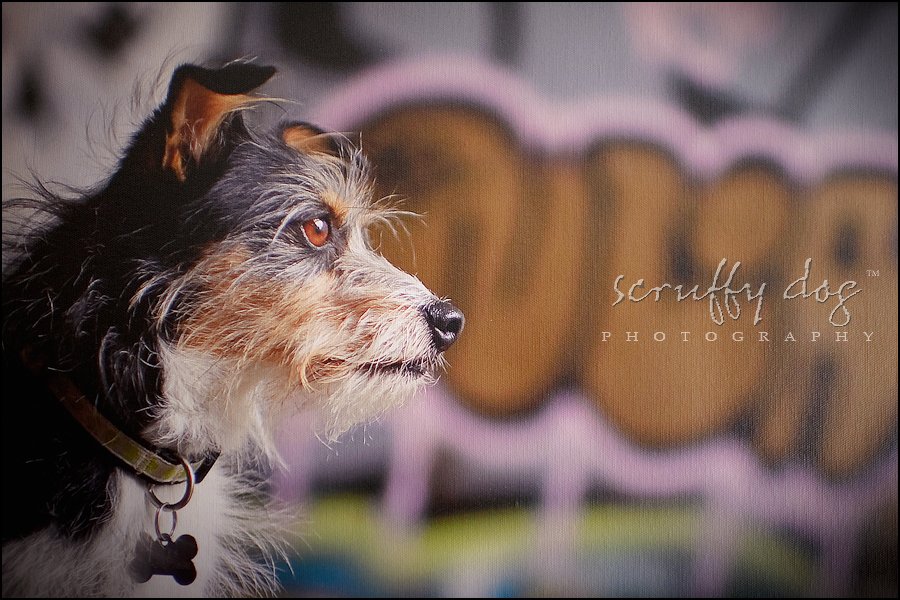 this is achieved first, by using only a superior image and second, by taking the time and care that is required to upsize.
Miles is a repeat client whose mom — upon seeing the shoots we've been doing in the train tunnel — booked a second shoot for her gorgeous boy with this exact canvas in mind.  Miles is a rescue from Tennessee, picked up as a stray, and Ingrid has always imagined him surviving on his own, on the streets, and perhaps in train tunnels such as this.  so this canvas means a lot to her.  you can see more images from this second session with Miles in his blog entry.
i should note that if i were hanging this piece permanently, i would have hung it a little lower, but i'm trying to minimize the holes in my own walls!
next up is egghead Memphis … and of course, i use "egghead" as an endearment, since i deeply adore both of these wonderful models.  Memphis's blog entry is here, if you want to see more images from his session and read about how dad Don was instrumental to the shoot by providing his own graffiti!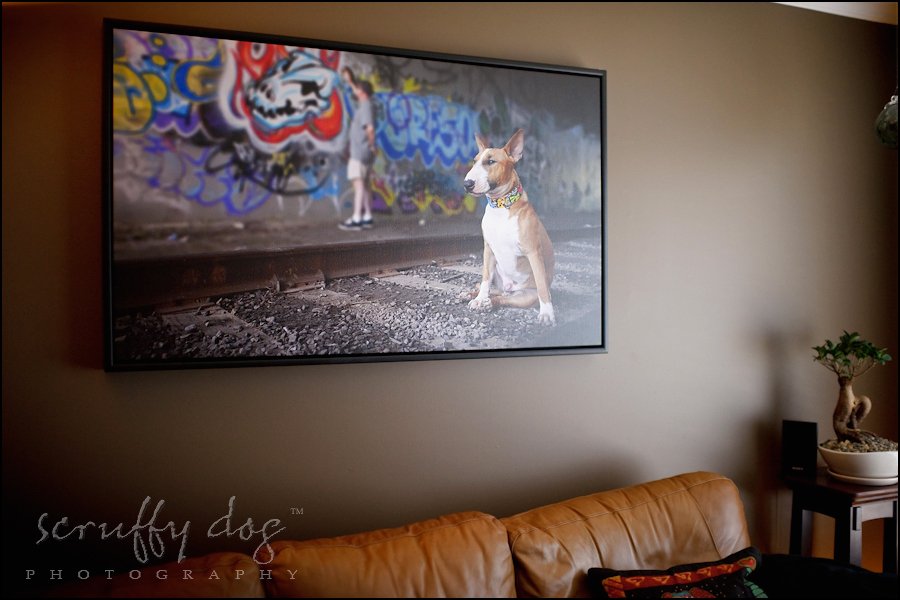 i'm looking forward to Memphis's fuller shoot this fall where we intend to take the Badlands by storm.  i can't wait!
of course, Merrick — who knows Memphis from our monthly walks with Waterloo Dog (ah, Memphis was just a wee little spud back then!) — thinks this is all a little ho-hum.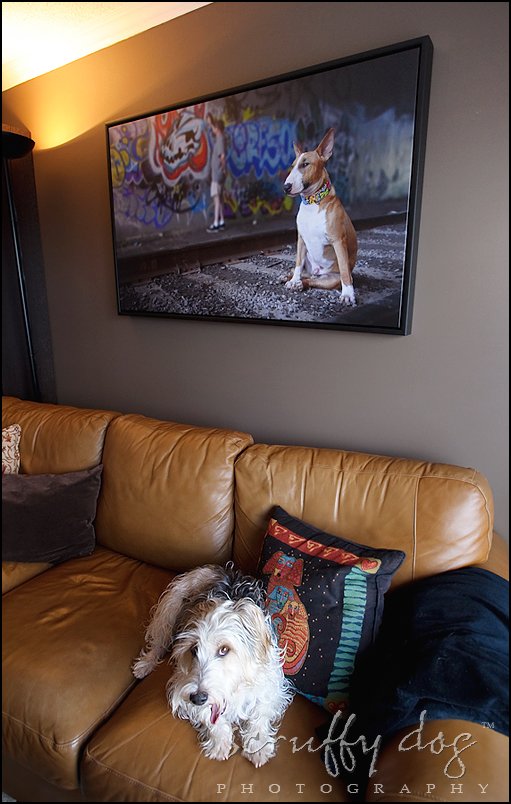 Memphis's canvas is 28×48″, not including the float frame.  i just thank dog i drive a Matrix where i can flip down the seats, including the passenger seat, if need be, and transport a full 8′ spread or more (should anyone decide to go that big!)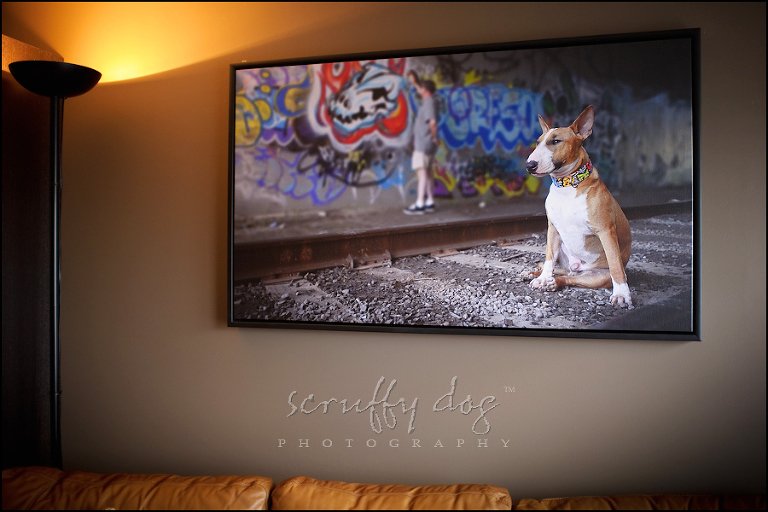 (again, if were hanging this permanently, I'd hang it a bit lower … and that bracket you see peeking out at the top left of the frame is the bracket that normally holds my girl Matea's canvas in place.  of course, Matea wasn't overly impressed with the artwork switch, however brief.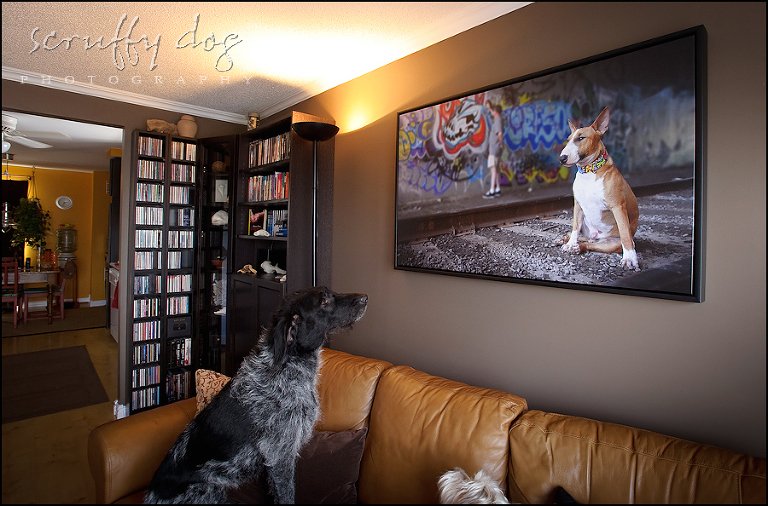 have a great Friday, everyone.  i have a TON of wiener dog images to share with you and was going to bring you the first installment today, but have no time.  perhaps tomorrow.   stay cool!