for those of you who follow scruffy dog photography on Facebook, you'll have already met Memphis.  and for those of you who don't follow SDP on Facebook … um … why not?  it's where you'll catch all the latest!
so this is Memphis …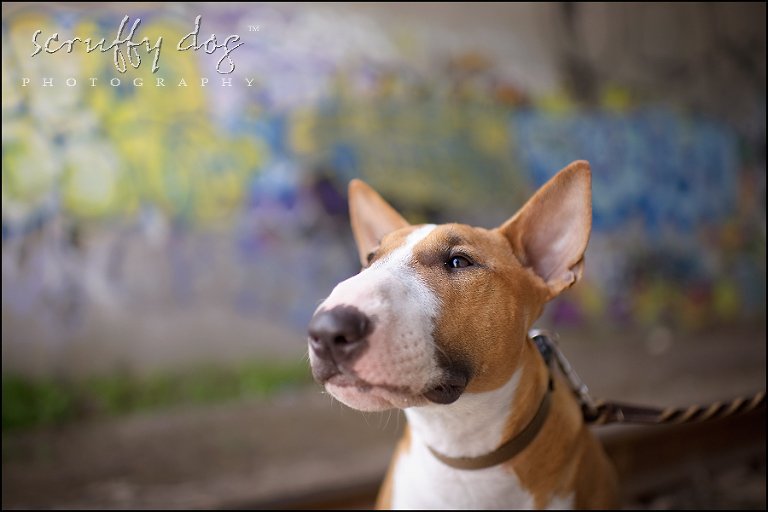 these first few shots were taken during a pre-shoot session.  "a what?" yup, a pre-shoot shoot …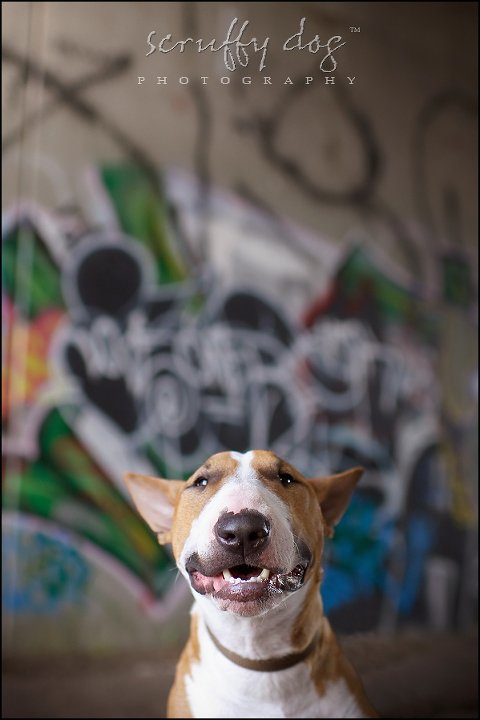 and why the need for a pre-shoot session?  well, here's the thing … we use this train tunnel from time to time, and — not unlike a few other scruffy dog clients — the graffiti in the tunnel was something that Memphis' owners definitely wanted for their boy.  and, hoping to capitalize on the awesome skull that they'd seen in our recent shoots there, they decided to book a Starter session now, before their fuller Standard session later this fall.
however, after a quick trip down to the tunnel, Memphis's dad, Don, discovered that the graffitied skull had been covered up.  yes, it's quite a busy tunnel!
so, being a bit of an artist in his own right — decades building and painting NHL goalie masks, and now painting NASCAR driver helmets — Don decided to paint his own graffiti for his boy … and in order to establish the best spot for his artwork, we arranged a pre-shoot.  and that section right above Memphis' head was the decided-upon canvas.
after some arranging, a busy morning, and a surreptitious rendezvous, we were set.  Don had a busy morning, i was on call, and Memphis was in waiting.  and when we brought Memphis into the tunnel that second time, with Don's work fresh on the concrete wall, i kid you not, one of the first things Memphis did was check out his dad's work!
… perhaps a little intimidated by the bull terrier skull looming behind him?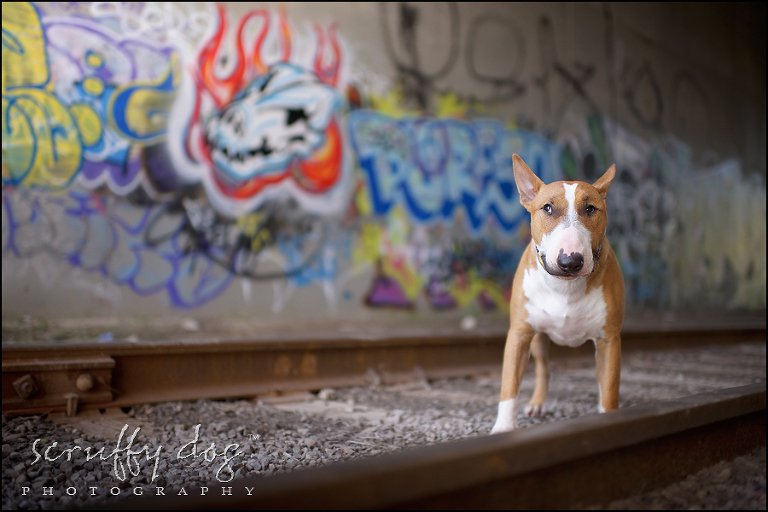 " … maybe if i don't look at it."
but overall, i think the big boy approved, as quite soon he was relaxed and posing …
even a little action-jackson …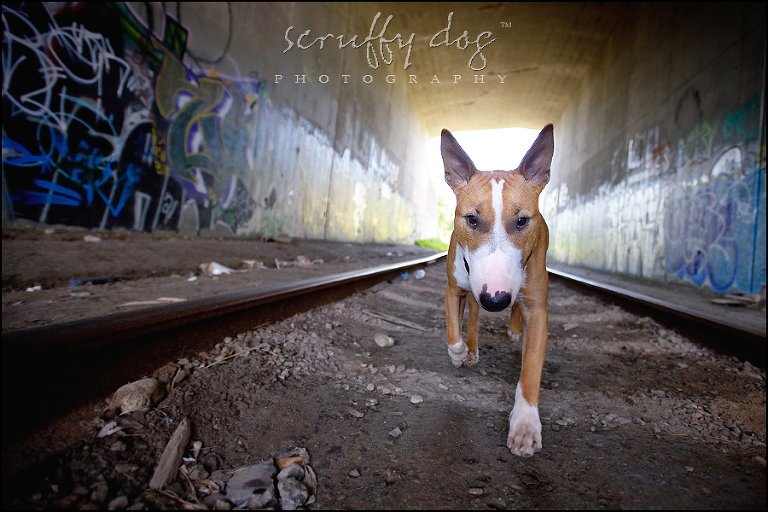 just look at this gorgeous boy!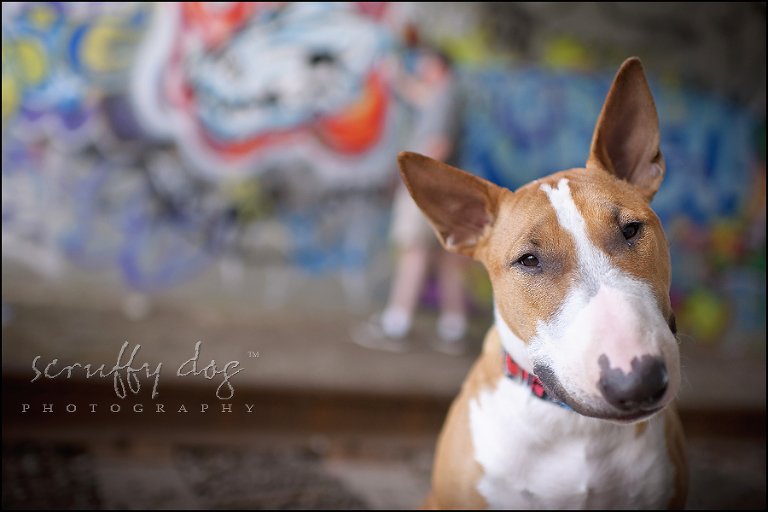 "hey, lady, put that camera away and give me some more treats already!"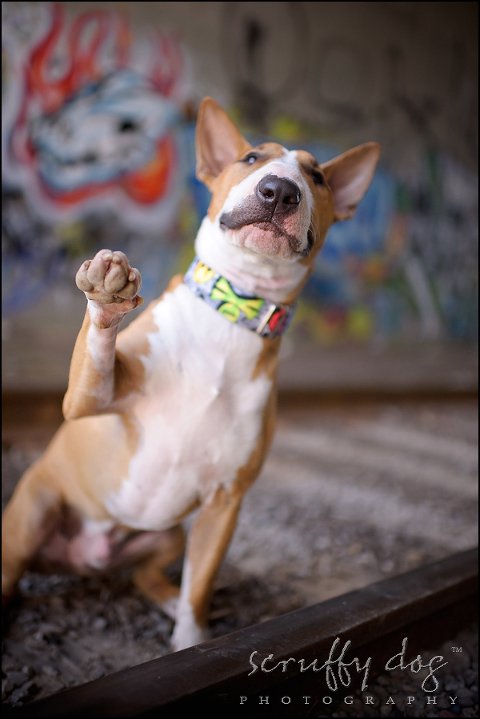 "snarl!"
"hey, dad? you finished? we gettin' outta here any time soon?"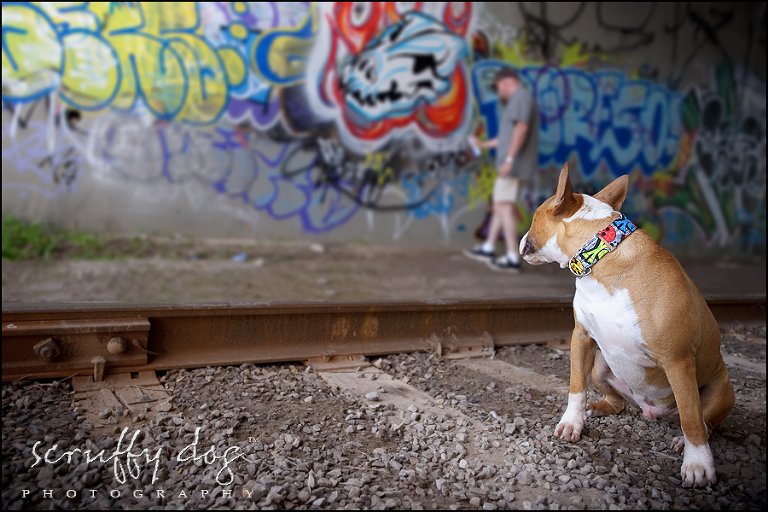 thanks for a fun afternoon, Don and Memphis.  can't wait to pick up your canvas for you guys!  and i'm really looking forward to our fall session.