at long last i've set some time aside to take photos of the new scruffy dog Signature albums.  why do we call them "Signature" albums?  because these gorgeous, exclusive albums have been developed with our partner lab — with great love, devotion, and a lot of hard work — for scruffy dog and our awesome clients.  these albums are the result of years of  experience, years of designing and delivering countless books to scruffy dog clients, and knowing what makes the scruffy dog images look their most vibrant and superior.
yes, we've exhaustively sampled the top 'presses' and book-making companies in Canada and the US over the years, and have ventured into the world of press-printed (magazine style) printing, but frankly, press-printed simply can't compare to having your images presented on real, archival photographic paper.
scruffy dog is extremely proud to present three stunning, custom-designed albums in which to present the photographic memories of your best friend.  hand-bound, hardcover, flushmount albums, printed on real photographic paper, allowing for every hair to bristle off the page and the eyes to sparkle bright, and always the truest of colours to shine through.
so first up, the Best in Show album … let's start with the deluxe box this comes in …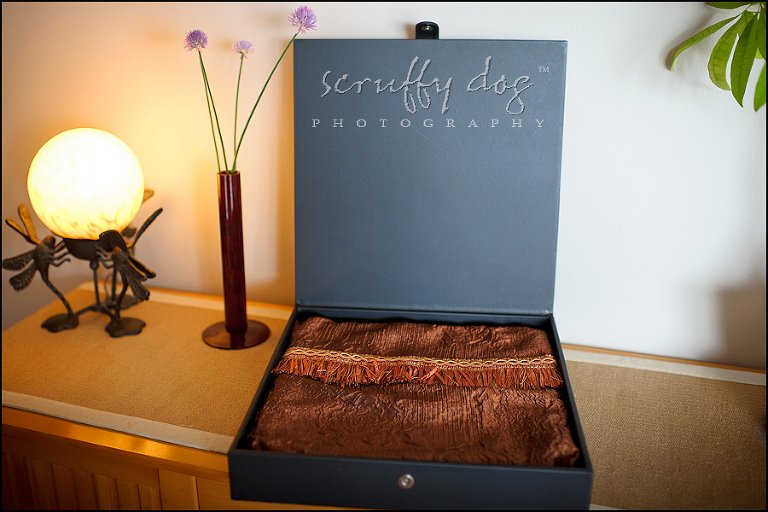 and the custom-designed keepsake bag … and when we say "custom-designed", yes, we mean our own design, working with a local seamstress.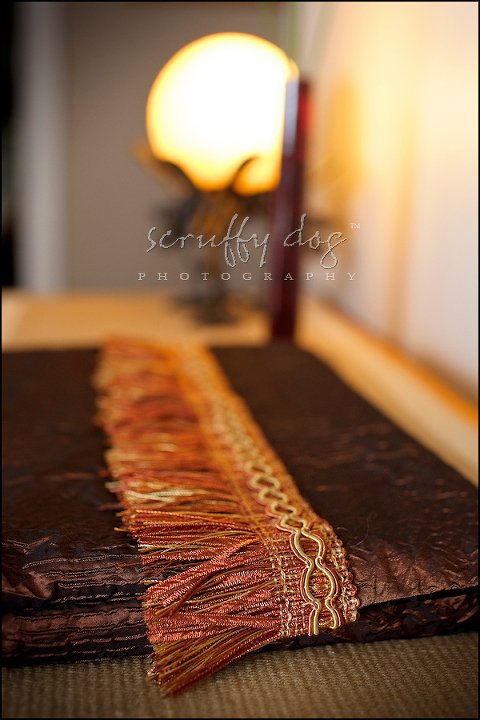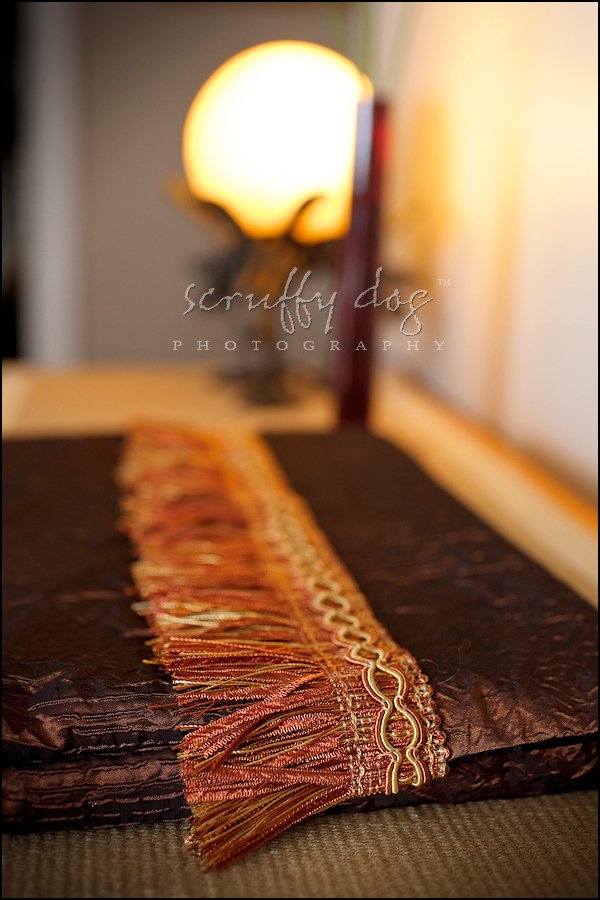 the spine and back is genuine leather, with many colours to choose from, and there is the option for either full leather cover with name embossed, or as you see here, with the partial photo cover (my preference) …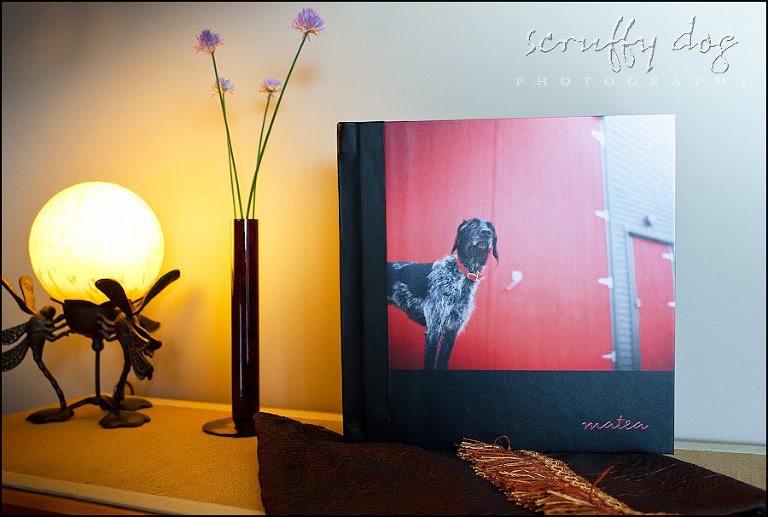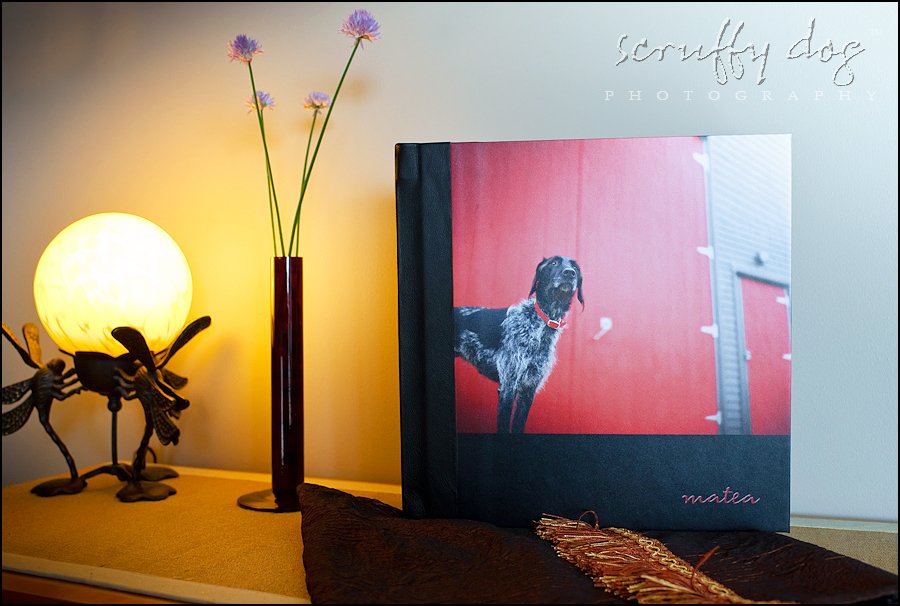 beautiful, flushmount binding …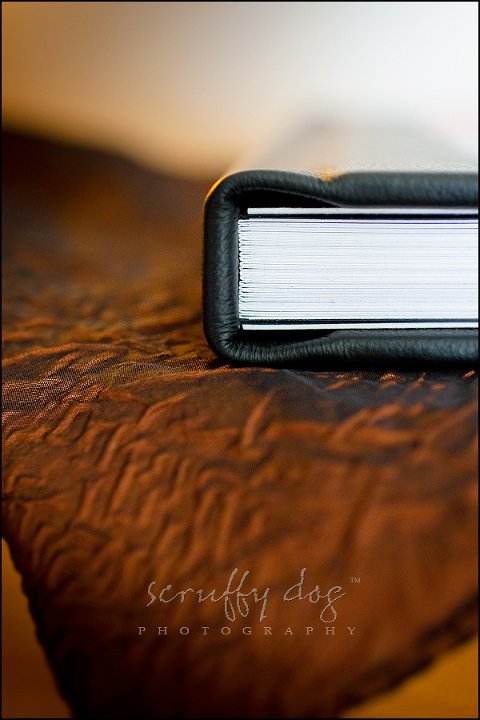 studio imprinting kept subtle …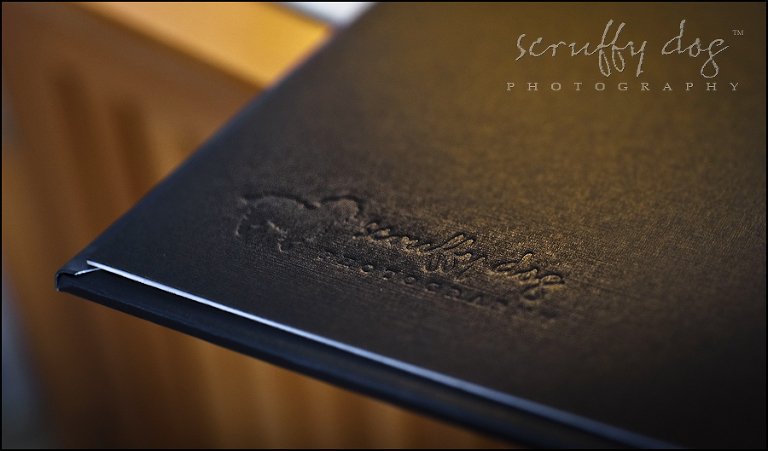 and true, lay-flat pages that come with flushmount albums.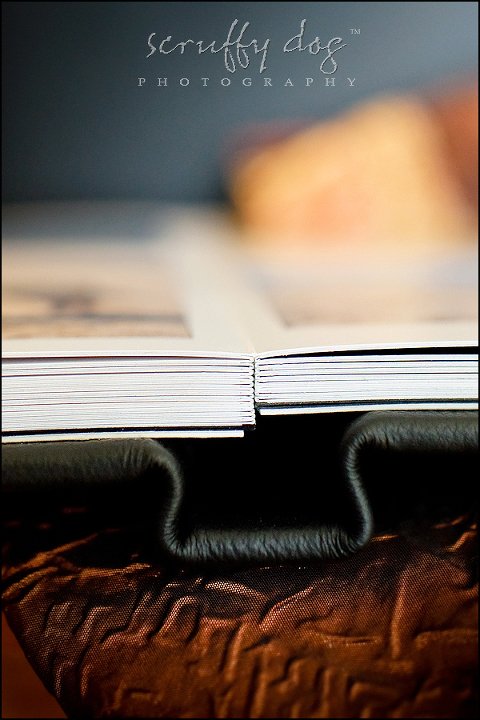 yes, these are the same luxury albums that wedding photographers offer their clients, and frankly, there's no reason our pets don't deserve this kind of luxury and grand format too, right?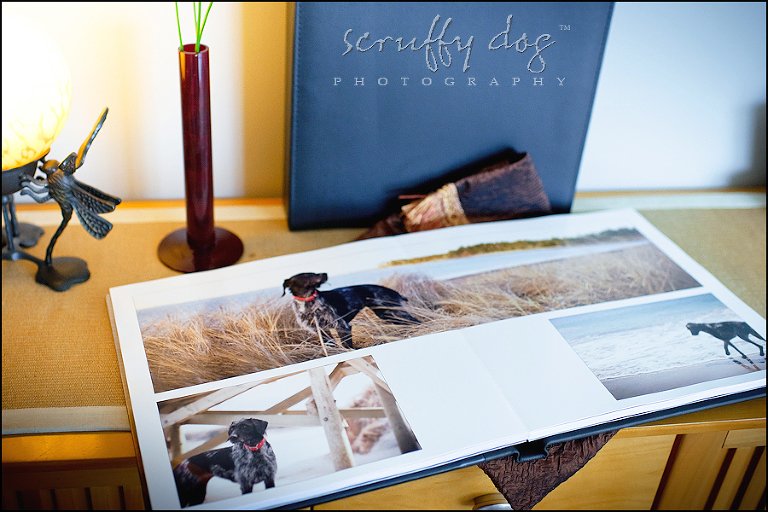 the Best in Show album is 12×12 … that's why it's called "Best in Show"!   so with the turn of each lamination-protected page, you're presented with a full 12×24″ print …
but for other spreads, there's ample room to have fun with design and multiple photos, of course.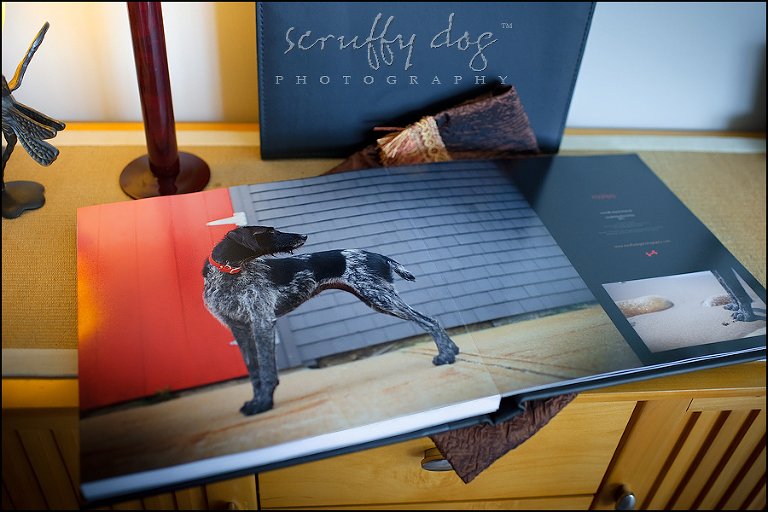 so why all the hullabaloo about albums anyway?  well, face it, unlike a photo shoot of yourself or your family, Rover simply doesn't have a bad side … even if his nose can be a little long.  and scruffy dog photo sessions are big on variety.  so once presented with their proofing galleries full of variety, more than eighty percent of scruffy dog clients decide that an album is the best way to have the photographic memories of their pet presented.  albums are almost always purchased within one of the scruffy dog packages which also include prints and wall mounts, but over the years, we've found that it's the albums that most clients love and cherish the most … and that's why we've put our own heart into them.
but some clients find that the Best in Show album is a little big … so for them, we have two smaller sizes.  first, the 8×8 scruffy dog Signature album …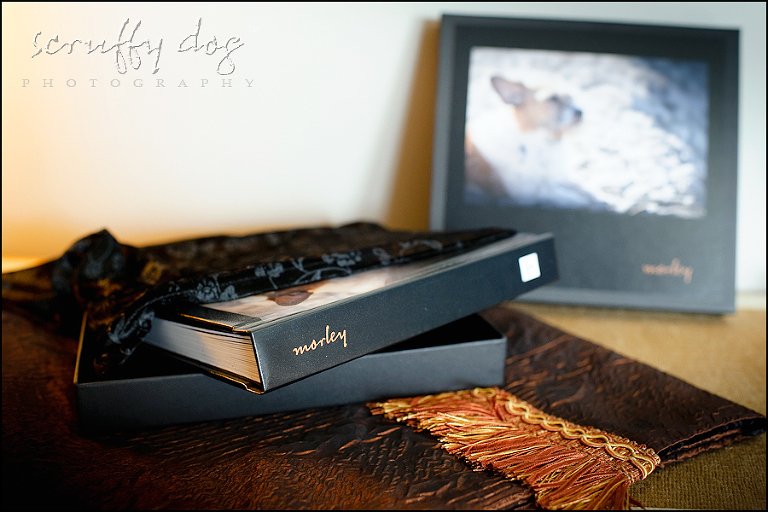 a solid, compact, hardcover album presented in a protective box …
beautifully and meticulously hand-bound …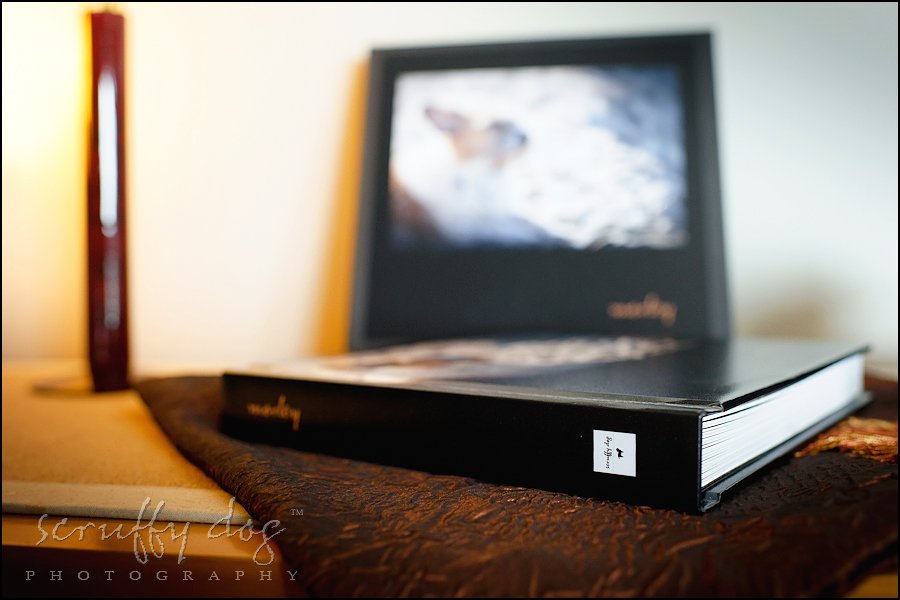 printed on archival, photographic paper, the pages are a heavy stock, not flimsy press-printed paper.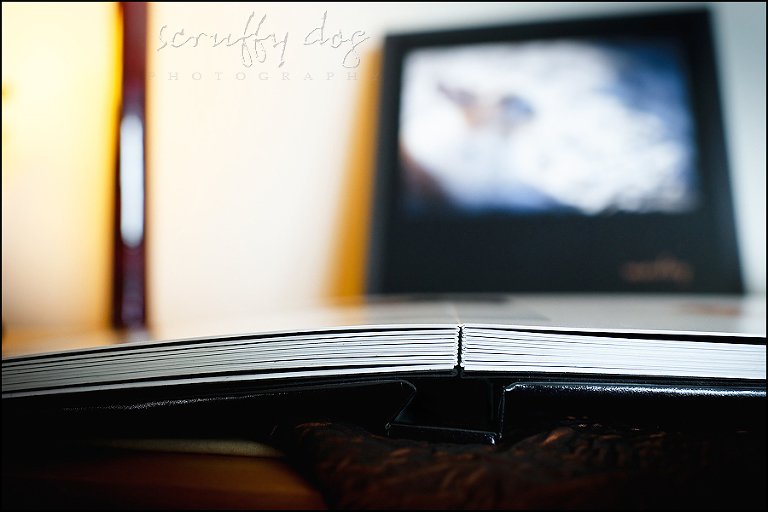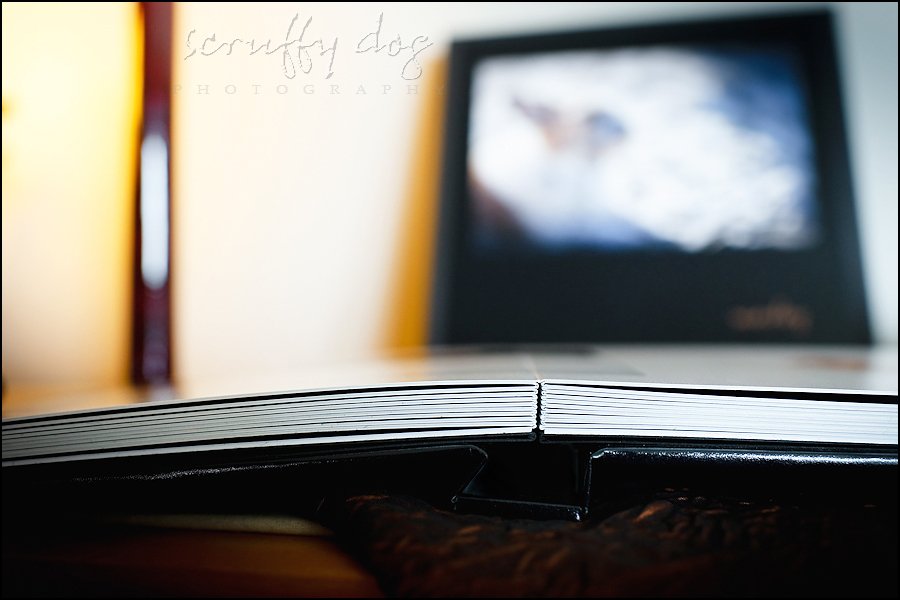 and like the Best in Show, the Signature albums are flushmount as well, which allows your pages to lie flat and your images to be unhindered by the gutters normally found in press-printed books.
and in spite of its smaller size, there are still great design options …
however, having spent several years designing these books, we keep the scruffy dog books clean and simple … uncluttered from extra design flourishes … so that the images can stand out.  and yes, text can be included.  as i put this blog entry together now though, i realize i failed to photograph any of the spreads which incorporated text … so here is one typical spread with text …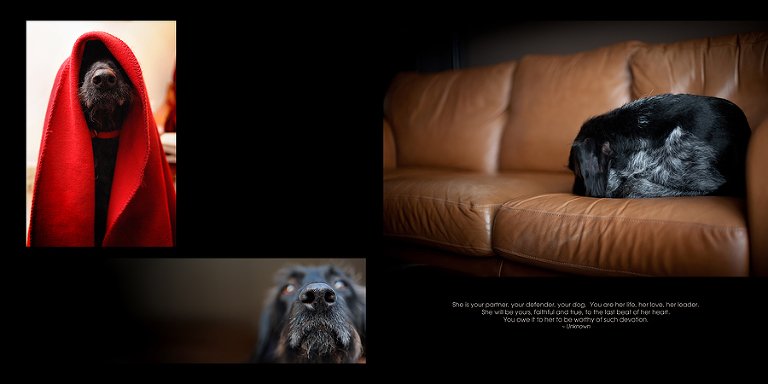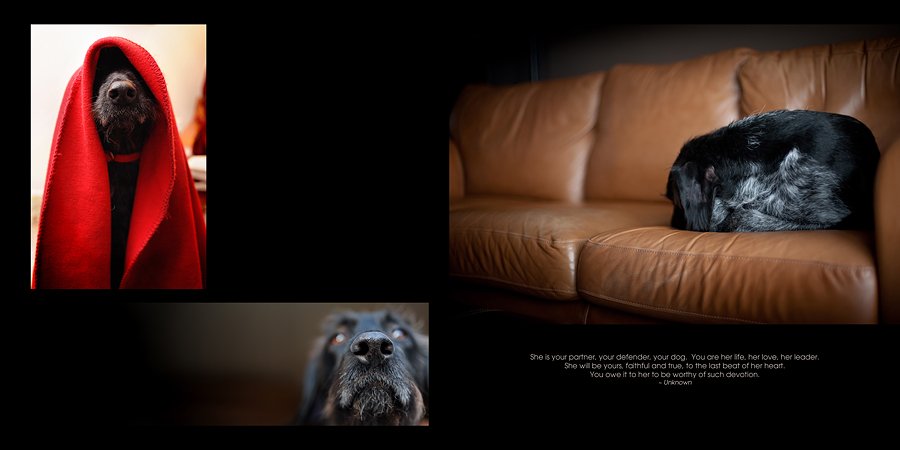 "She is your partner, your defender, your dog.  You are her life, her love, her leader.  She will be yours, faithful and true, to the last beat of her heart.  You owe it to her to be worthy of such devotion."  ~ Unknown
but back to the 8×8 Signature album …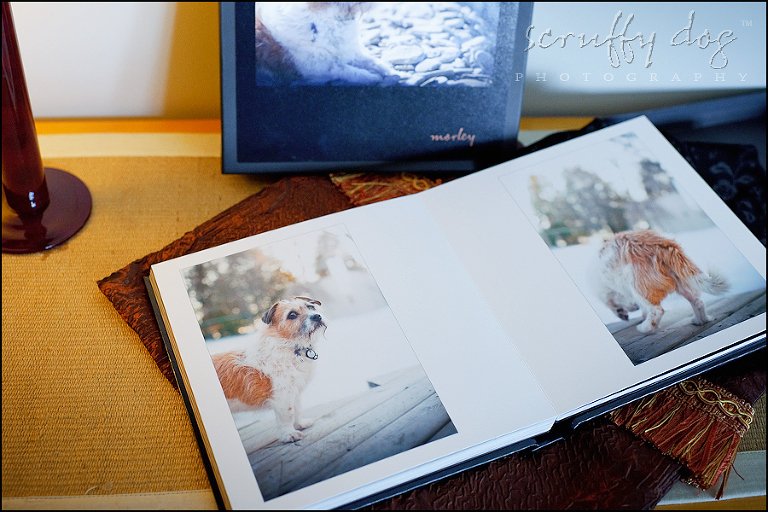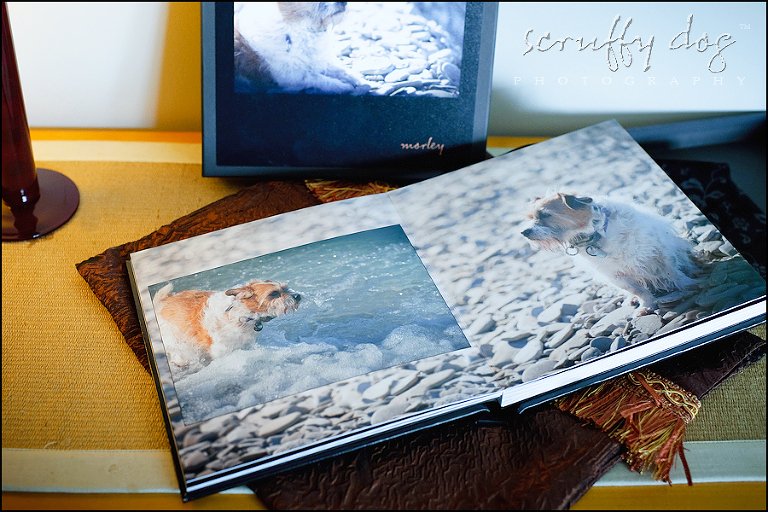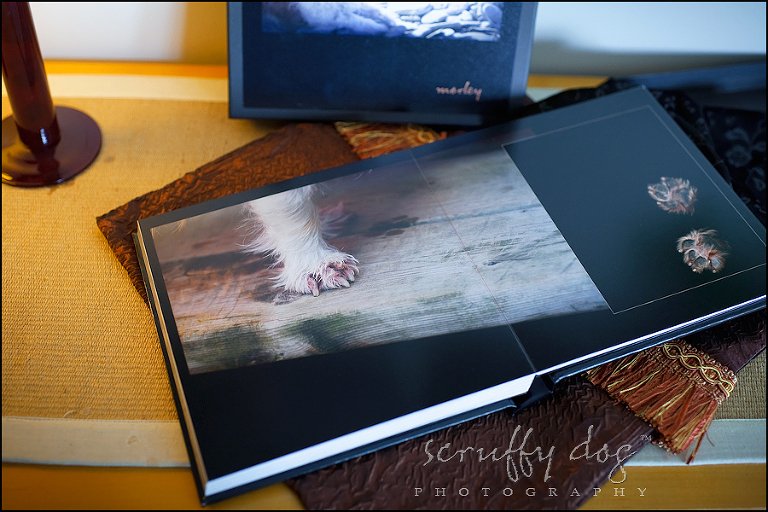 and then there is the 10×10 Signature album …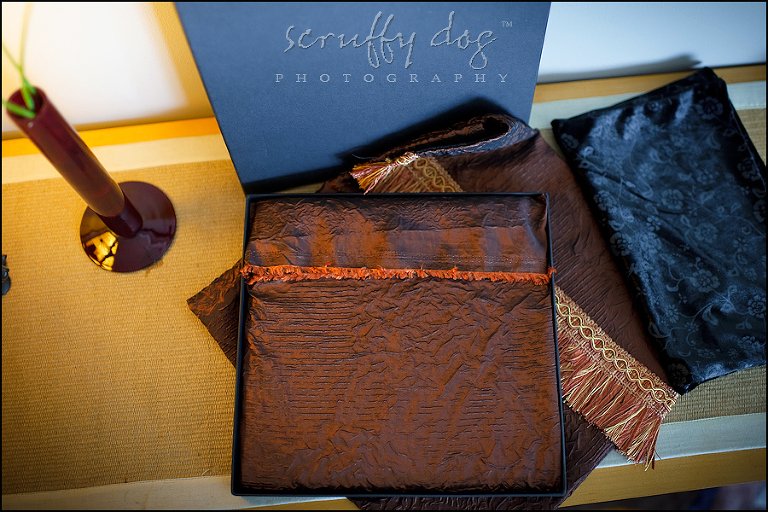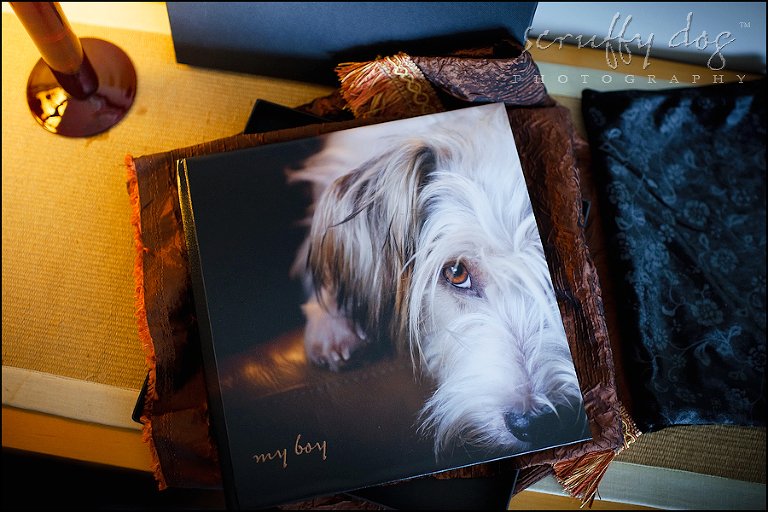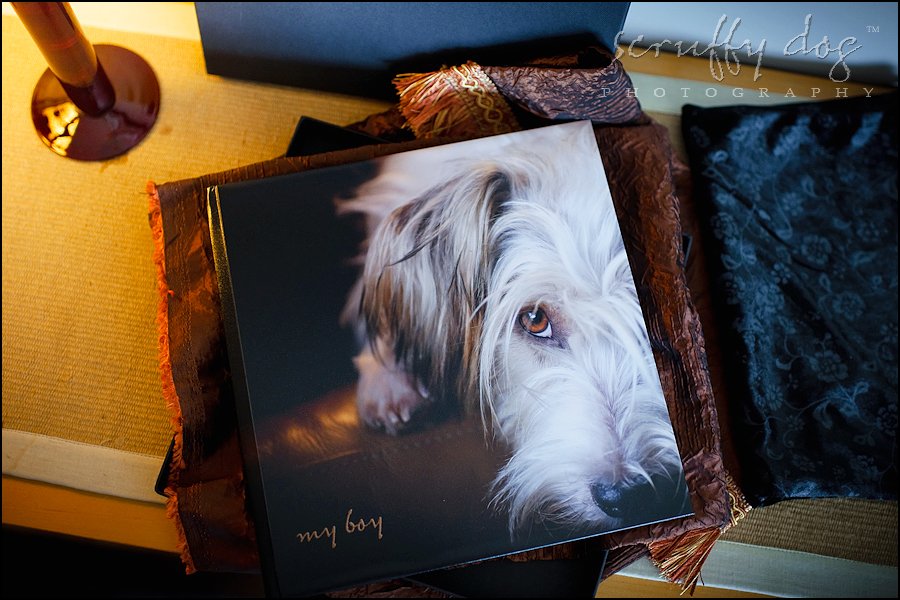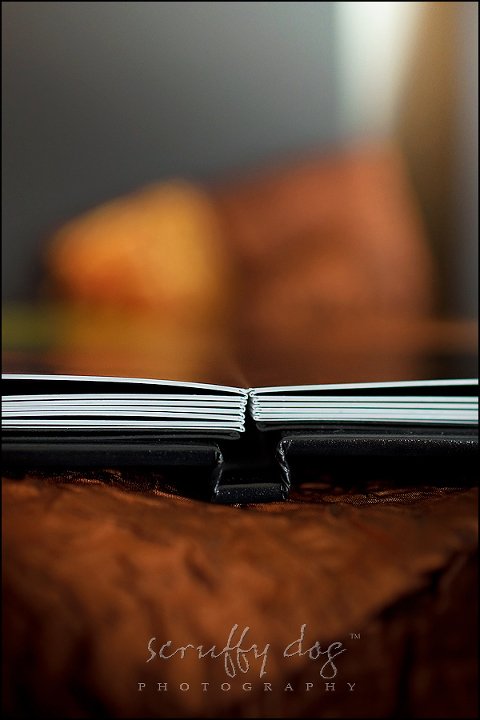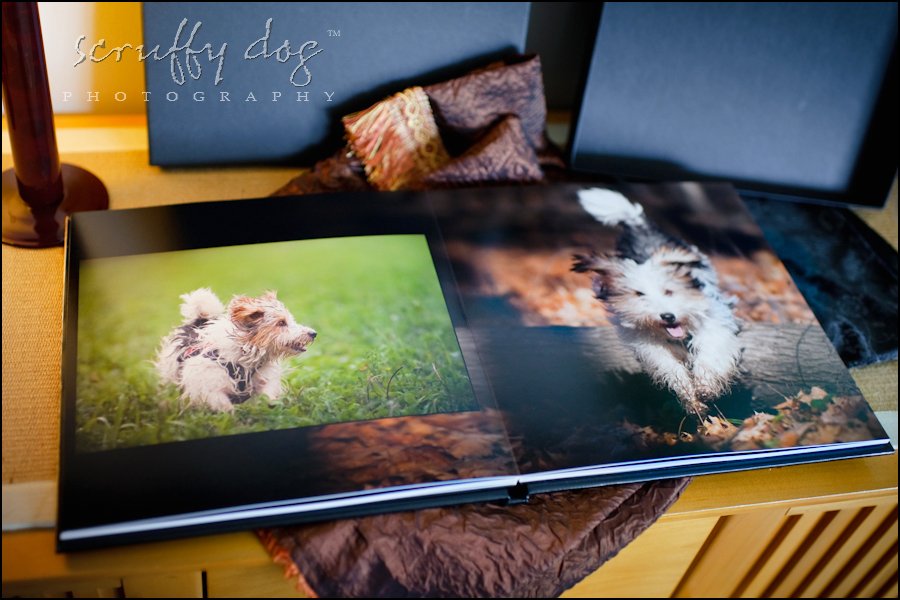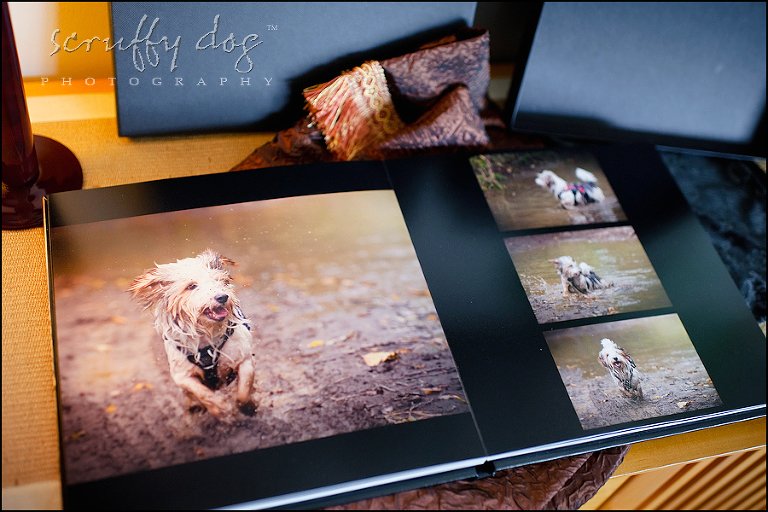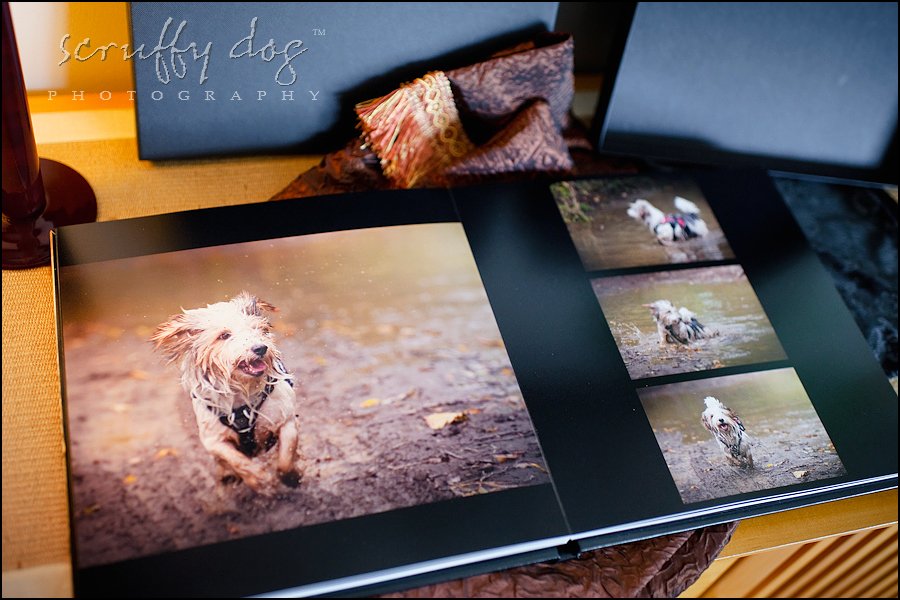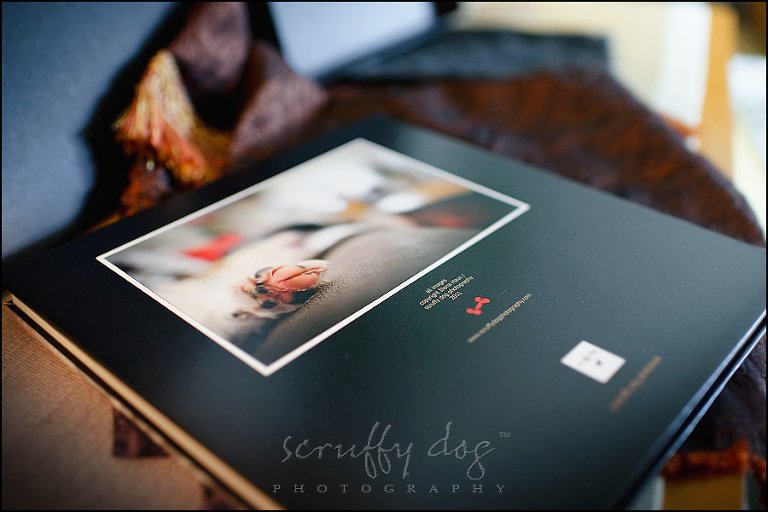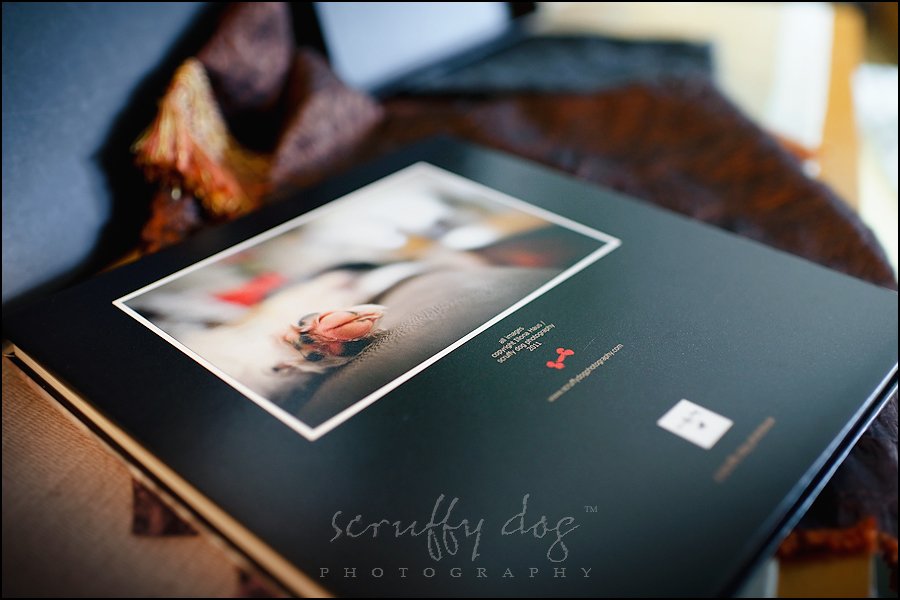 but as with any product, touchy-feely is always the best, and you'll always get to see these in-person at the time of your shoot.
i hope you've enjoyed this peek at the scruffy dog albums.  NOTE:  for those photographers inquiring about product, etc., please understand that we don't have time to respond to all inquiries, especially as we are currently in our busy season.