among the many issues that merrick deals with as fallout from the abuse and neglect suffered during his six years as a puppymill stud-dog, fear of loud noises — especially thunderstorms — is just one.  he shakes and scrambles, and is desperate to get onto my lap or as close as possible to me … and if the thunderstorm is at night, that means climbing all over my face.  if he can't do that, he frantically crawls under the bed, then back up to my face.
my old man morley wasn't quite as bad, but also suffered through thunderstorms and fireworks.  i never coddle dogs through their fears, but have always worked to build their confidence.  still, at 2 a.m., it's not always convenience to play a game of fetch.
over the years, i've tried homeopathics, herbs, flower essences, Rescue Remedy, all kinds of remedies … you name, it's probably still rattling around in the fridge or the bottom of the dogs' drawer.  all useless for both morley and, now, merrick as well.
so when i received the most recent newsletter from Chris of Creature Comfort Pet Emporium in St. Jacobs announcing that they were carrying the Thundershirt and that there was a 30-day money-back guarantee, i thought: "what the heck?"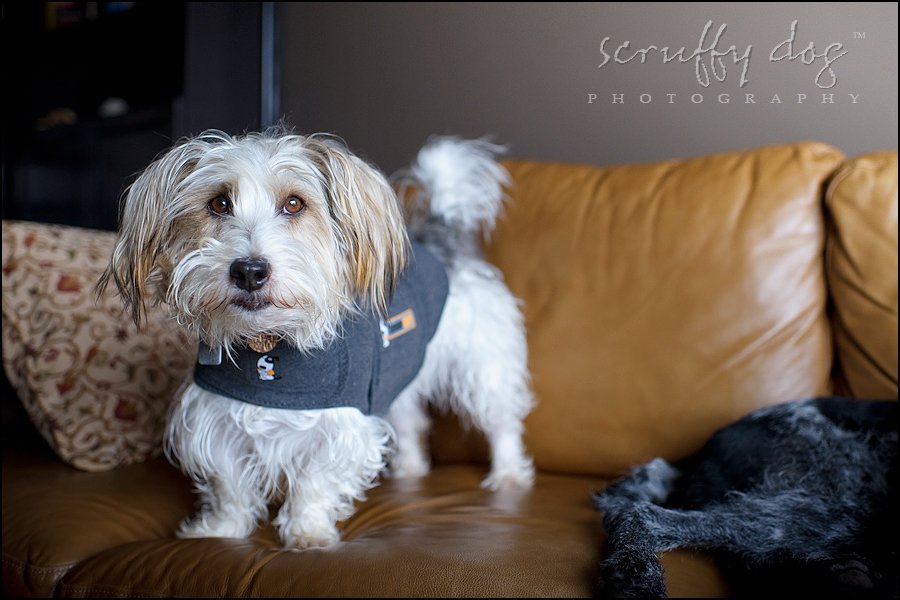 it certainly wasn't the first time i'd heard of the Thundershirt.  it's been around for a while, and based on reviews and what i've read about it, i've recommended it to many dog owners who have written me in the past.  why haven't i tried it myself?  well, because i guess i needed to hear that "money-back guarantee".  it's not like i've got money to throw away, not after i've already thrown away so much on all the other so-called proven remedies that never worked.
when i spoke to Chris on the phone, she said out of all the Thundershirts they've sold in the past six months that they've been carrying them, they've had only one return.  so, off we went.
the premise behind the Thundershirt is that with the constant, hugging pressure of the shirt's velcro-system, the dog's nervous system calms.  from the Thundshirt's website:
"As for WHY Thundershirt's gentle pressure works to calm a dog, experts such as Dr. Temple Grandin believe that pressure has a calming effect on the nervous system. Using pressure to relieve anxiety has been a common practice for years."
now, i'll admit … in the store, when we put this on merrick to test for size, he stood stock still, and within seconds found a shelf on which to rest his chin, then remained there, unmoving.  hmm …  calm?  perhaps.  don't get me wrong, i'm not disputing it works, just how it works.  because you see, once it's on, it's like my boy can't move … or simply refuses to move.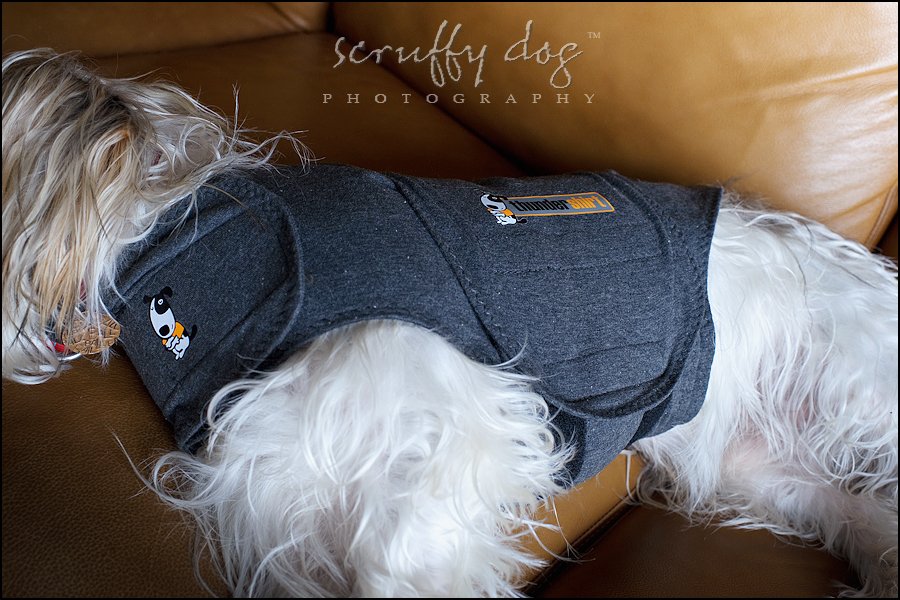 the first time i put it on him at home when some fireworks were going off, he literally flopped over, all four in the air, and remained like that for a good hour.  when i called him, he flailed and thrashed like a turtle, unable to right himself.
i'm not saying that's a bad thing … just a point to be noted.  and last night, when we finally had a big thunderstorm that sent him scrambling up to my pillow — of course, just when i had found sleep — i put the Thundershirt on him, and it lessened his anxiety by a good 70%.  with each boom, he came farther up towards head of the bed, but only by a foot or two, not all the way to my face.  because the shirt calmed him? or because the shirt restricted his movements?
at this point, i don't care.  as long as it keeps him still and not responding in his old ways, it's working, because it's retraining his body — his mind and his muscles — as to how to respond to such noises.  part way through the night though, i had to take it off of him as i do worry about it being on him too long.
along with the Thundershirt — for those of you in the Waterloo area able to make your purchase through Creature Comfort Pet Emporium — Chris includes a homeopathic remedy …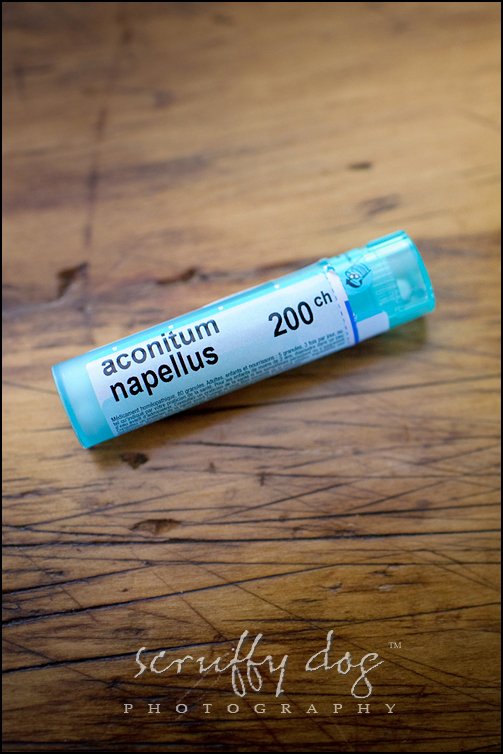 again, i'm not a big believer in homeopathics as they've never worked for me, and after years of using them on the dogs, have never seen results.  however, last night was very interesting.  in the throes of his panic over the thunder, i gave merrick his two pellets, and he immediately gagged them out.  i've never had a dog do this, but he actually sniffed out the pellets on the duvet cover and took them himself.  truly fascinating.  as though he knew it was what he needed?
so … the Thundershirt is a keeper in this house … maybe it will work for your thunder-fearful dog as well.  it might be worth a try.