I am routinely inundated with questions about the business … easily a dozen every week.   In fact, if I took the time to respond to all inquiries via facebook, email, flickr and the blog, I seriously would never have the opportunity to pick up a camera again.  Questions range from equipment to starting a pet photography business, website design to marketing, working with pets at a shoot to mentoring, you name it.  It's pretty endless the range of questions, many of which I could and would happily answer if I didn't have a photography business to run.  And, obviously, I didn't start this business to become a consultant.  I do this for the love of dogs (and yes, cats too!), a love of capturing their spirit through images, and turning that into what I hope is viewed as artwork.
Lately, the resounding question seems to be about lenses.  "What is your favorite lens for dog photography?" "What is the best lens for shooting dogs?"
When faced with these questions, my best suggestion to the inquirer is that they get out and shoot more … a lot more … not just their own dog, but many other dogs, cats too, if they truly want to become a pet photographer.   Because the question shouldn't be: "Which lens is the best for shooting dogs?", but rather: Which lens works best for you … for your method of shooting, your style of images, and your energy as you work with your 4-legged subjects.  Because what works for me isn't necessarily what will work for you, your style, and the energy that you bring to a session.
Also be aware that whether or not you're shooting a full-frame body will make a big difference in how different lenses work and the resulting appearance of those images.
It should go without saying that there is no one lens that is "best for dog photography", or any type of photography for that matter.  Often what is required is a small arsenal of lenses.  Each lens offers its own abilities (speed, low light, zoom, wide angle, etc.) and its own 'flavor' and feel in the captured image.  I will choose a particular lens based on the type of shooting I'm doing — action vs. portrait vs. macro — and I will also choose different lenses based on light … not just wider aperture for low light, but how a particular lens will work in a particular setting and react with the available light, and how quickly it is capable of focusing.  I swap out lenses during a shoot based on focal length, since I do shoot with some prime lenses, and because each lens does result in a different 'feel' to the image and different compression.  My goal with every client is to offer them a gallery filled with variety … and one way to achieve this is through lenses.
Since I don't want to field questions later, as mentioned, the gear you see pictured above is the following:
For my Canon gear I am working with two Canon 1DX's, and lenses include:
zooms:
primes:
Current Nikon gear – Nikon D750 and:
AF-S Nikkor 70-200mm f/2.8G ED VRII
For Nikon gear – before I retired it – I was shooting a Nikon D4S, Nikon D4 and D3S and the following lenses:
zooms:
Nikkor 17-35mm f/2.8D IF-ED  ~ replaced with the 14-24mm f/2.8
Nikkor 70-200mm f/2.8 ED VR  ~ replaced with the 70-200mm f/2.8 VRII
Nikkor 24-70mm f/2.8 ED – an occasional lens
primes:
Nikkor Micro 105mm f/2.8G IF-ED VR
But in no way do I believe one should rush out and buy this laundry list of lenses!  This is the collection that works for me.  It has taken years to figure out the best combination of lenses for what i do — which is pets, and only pets.  Please take the time to figure out what works for you, for your style, your shooting, your typical client, and your energy (if you're working with dogs).
And be warned: I firmly believe that it's better to be a master of a few lenses than carry a whole truckload and spend too much of your shoot with your back to your subject madly swapping out lenses.  I don't carry all of these lenses to every shoot; and I'm generally utilizing 3 lenses.  I've also been known to shoot an entire session with just one lens, if it is a dog requiring me to stay close in order to affect and control his energy and there is no running involved (i.e. our Honor Sessions™).
Of course, it should go without saying that if you're shooting professionally, you should be shooting with professional equipment — you owe that to your clients who are paying you for professional images.   Also, for my purposes, it does help to be working with two bodies, since you will then be swapping out lenses only half as often.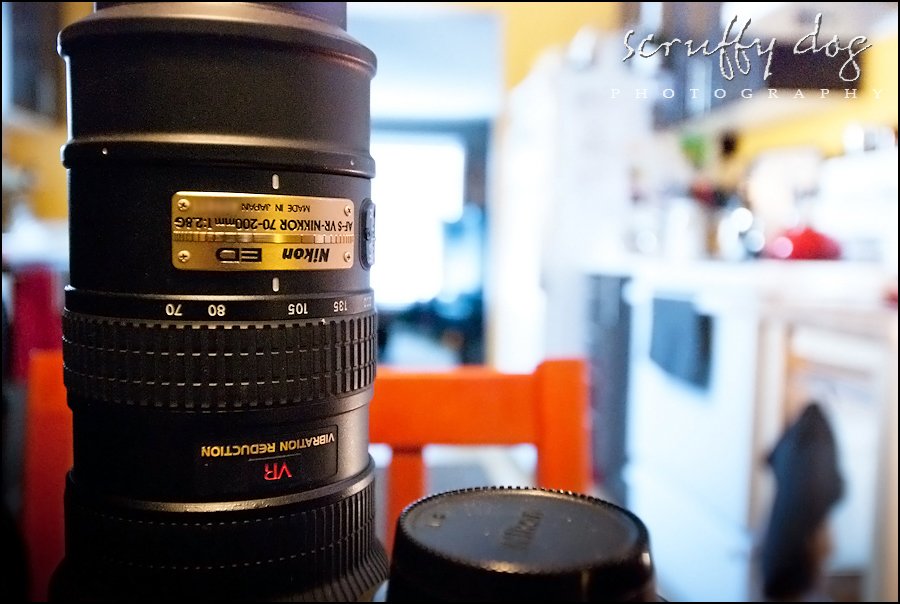 Never be afraid to invest in lenses … in "good glass" as some want to call it.   A quality lens holds its value and can be resold if you find, down the road, that you aren't using it as much as you had anticipated.  Also, in a lot of cases you can rent certain lenses for a short period to try out before forking out the big dollars to invest.  And before any of that, do your research.  Read reviews online: Digital Photography Review is a great source.  Plug the lens into a Google search and see what you find.  Whatever you do, don't email a bunch of photographers to ask whether they like their blankety-blank lens, because what works for them might not work for you.  Cruise around on flickr and see what kinds of images the lens you're interested in is producing by doing a quick search.
Be aware of your collection and invest wisely.  Invest in what works for you.  Invest in variety.
Here's an example of what goes into choosing a lens…  Several years ago, I had a difficult choice between Nikon's newest prime lenses, since I've never been fond of the 50mm for my shooting style,:
and the AF-S Nikkor 24mm f/1.4G ED.
The 85mm is a glorious portrait lens and can be wonderful for any kind of photography, but for my purposes, the focal length isn't right.  It puts me too far away from the dog.
A lot of pet photographers may have gone for the 50mm (G or D) … the 50mm has been and still is a mainstay in a lot of photographer's bags.  But given that I've already worked extensively with a 50mm f/1.4 and felt even this was too much distance in most instances, I wanted something closer still.
So it was between the 35mm and the 24mm.  those who follow scruffy dog on facebook know the somewhat extensive shooting I went through with the 24mm and the 35mm, testing out both lenses, and those who know me and my work well, know the struggle this was for me since the 24mm really is "my" lens … or should be.  But, I wasn't buying a lens for me.  I was purchasing a lens for scruffy dog photography, not personal use, and needed to bear in mind the existing scruffy dog collection.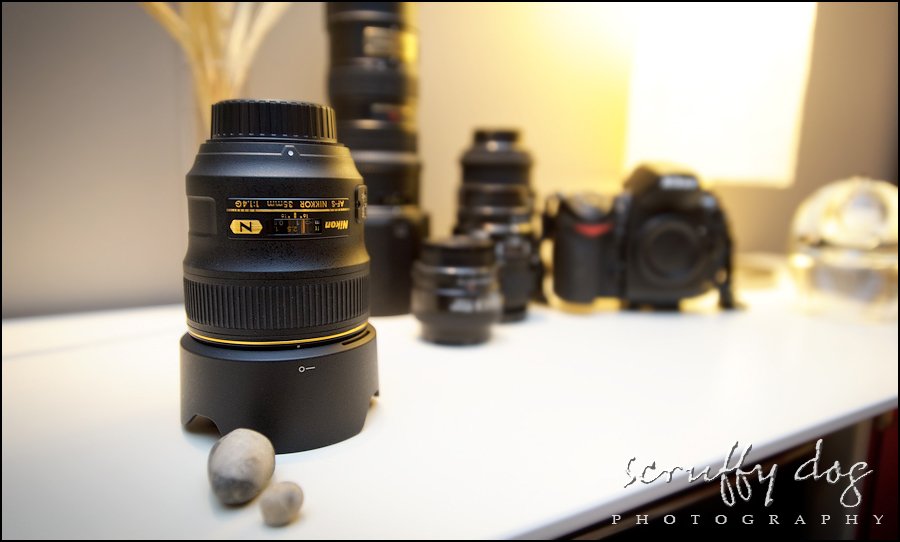 And this is where energy comes into play, and how what works for me may not work for you.  With the larger percentage of client dogs I shoot (cats are a different story), I find I have to work close to them.  There are, of course, some dogs who need distance.  But for a lot of them, it's my energy that keeps them either in place or animated or focused.  And often that energy needs to be close to them.  For that, then, the 24mm seems the obvious choice since it allows me to be the closest of those lenses.  However, on full-frame bodies, the 24mm is pretty darn wide angle, and I have to bear in mind that some clients don't care for the distortion that can sometimes occur with the wide angle when not handled properly.  Also, of equal importance, I already had a wide-angle lens.  The AF-S Nikkor 17-35mm f/2.8  is very wide on the full-frames (later replaced with the 14-24mm), and since I already tend to shoot predominantly at the 17-22mm end, I really did have that wide end covered.  It truly would have been repetitive to go with a 24mm prime, even though its wider apertures would make the images even dreamier and smoother than the 17-35mm's 2.8.
In the end, I settled on the 35mm in order to capture a focal length that — to me — seems the most natural of all of them, very film-like, while still allowing me the closeness I need.  But again, this decision answered my needs, based on my current collection, my shooting style, my energy working with dogs, my years of experience shooting hundreds upon hundreds of different dogs.
When it comes to lenses and equipment, it's as much about your main subject as it is your shooting style, and in the case of pets, the energy you bring to a shoot.
I hope this blog entry has made you think and consider more when it comes to lens choices.  It should never be: "What lens did you use to capture that?" since I will work differently than others … but rather: "What lens do I need to capture the images I want, based on the typical client I shoot?"
Happy shooting!