a scruffy dog photo shoot is about more than capturing memorable photos of your 4-legger.  it's more than action shots, lazy home shots and those expressive moments that have your loved one jumping out of the image at you.  a scruffy dog photo shoot is truly is an investment in artwork of your loved one.
of course, although the SDP collections include a full range of prints, digital images, proofs and luxurious coffeetable photobooks, it's the "wallmounts" that make the biggest statement in your home.  canvas is the Cadillac … put a floatframe on it, and you've got yourself a Maserati.  of course, if canvas isn't your cup of tea, there are other options like floatmounts and standouts which also give you significant wall coverage … and the sky is the limit as far as variety of size. whatever the "mount", i always advise clients to go for the look they prefer, since each does have their own unique appeal.
still, canvas is the overall, paws-down favorite.  and in the case of canvas and art, more often than not, well, big is truly better.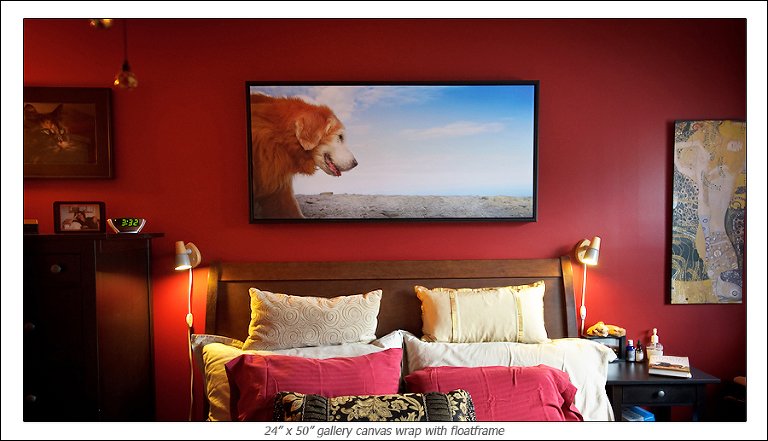 i should mention that the above bed is a queen-sized, which makes client, sweet old Cassy pretty much life-size.
the workmanship, as with all SDP products, is top-notch …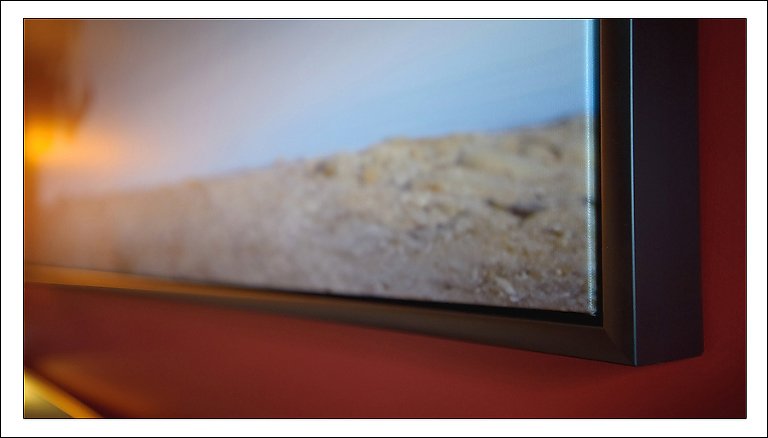 although  a lot of clients love the look of a 'naked' gallery canvas wrap …
… where you can see the image wrap around the edge …
… i do encourage clients to consider the float frame.  it not only finishes the piece, but with the frame acting as a border, it allows the piece to be hung on almost any coloured wall, anchoring the image without fear of it fading into its surroundings because of similar colours to your paint choices.  this way, throughout the years, you can hang your artwork no matter how often you redecorate.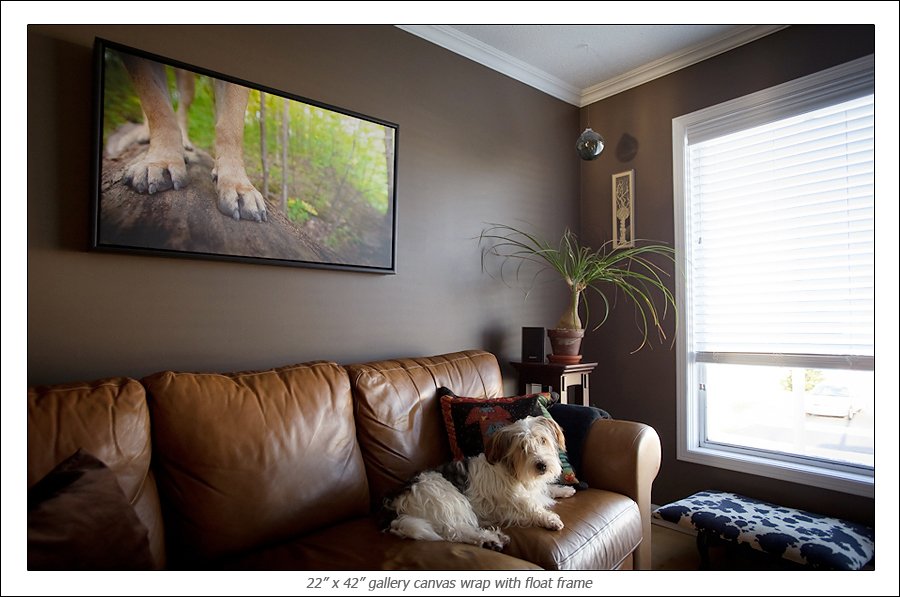 whatever product you choose, going big truly makes a statement, and it turns your images into artwork as opposed to just "a photo of your 4-legger on the wall".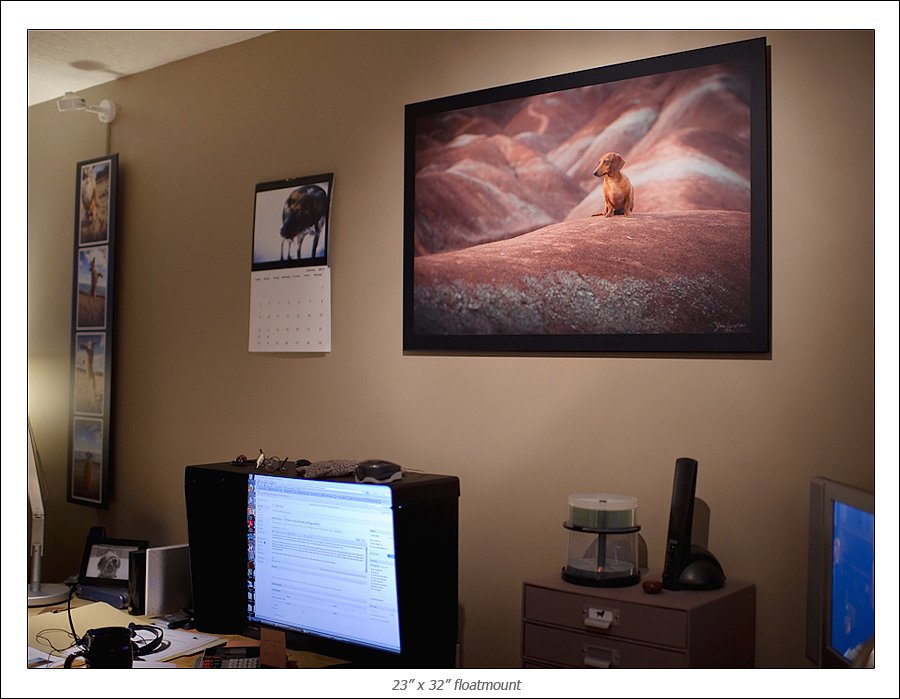 this is why, when ordering one of the SDP collections, clients receive their collection-discount on any upgrade and upsizing of wallmounts.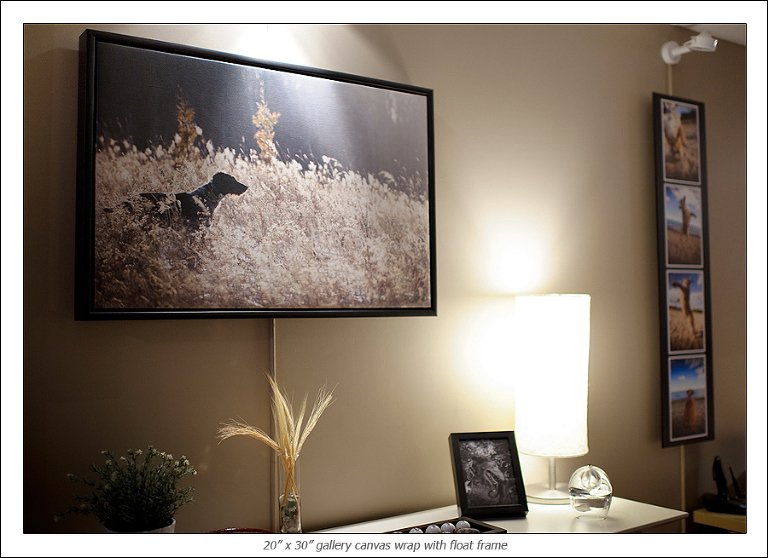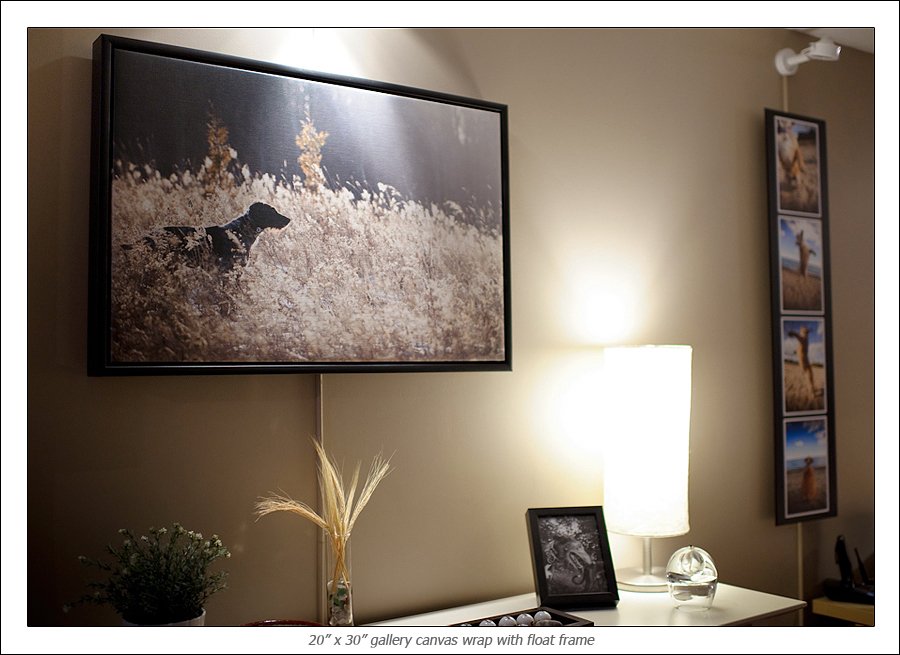 …  big truly is better.  and i'm so grateful that my clients recognize and embrace this sentiment as well.  2010 saw some absolutely stunning wall pieces leaving the SDP studio … it was difficult parting with them!  and currently there are more 4′-plus canvases sitting at the lab waiting for pick-up.  if i get a chance, i'll share those with you as well.  but in the meantime, if you're planning your order (now or in the future) think big.  measure your walls and calculate the dimensions you'll need.
trust me, the only regret you'll have is going too small.