… to bring you a scruffy interlude.  it's not often these days that i have the time to shoot my own scruffies, much less have the opportunity to share them with you here on the blog, but i thought it was high time to share some Merrick-le cuteness.
so this past week we headed up north … to the shores of Georgian Bay where i grew up.  just a quick day visit, but no trip would be complete for these two water dogs without a trip to the beach.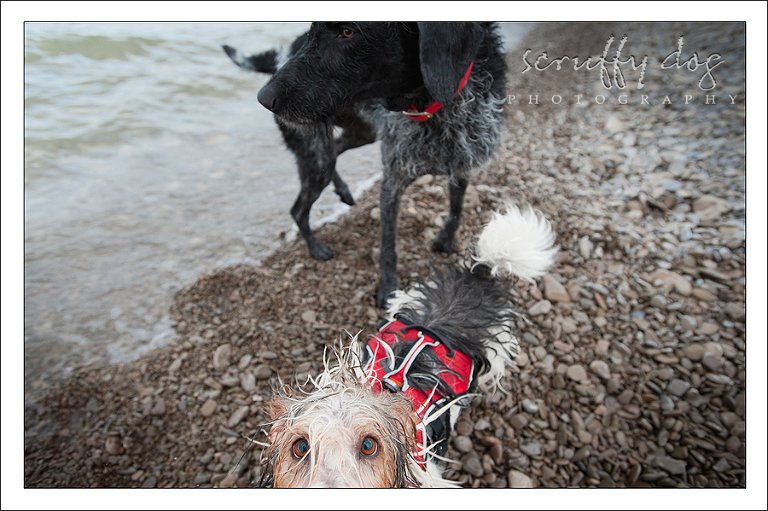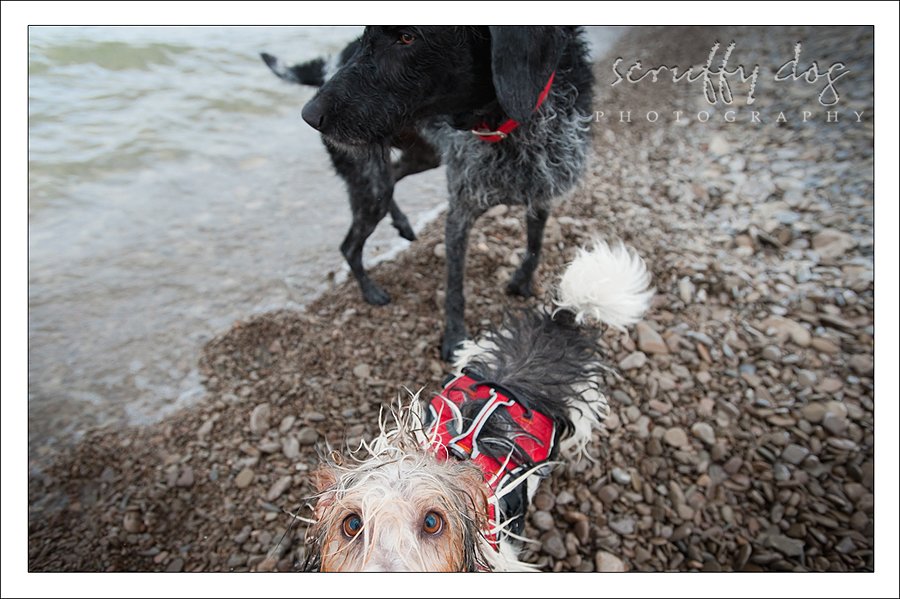 this was Merrick's second trip to the "big water" … the first was back in May, and those who know Georgian Bay know it's damn cold in May.  well, it's a different story in September … the water is soft and warm, and i think Merrick believed he'd died and gone to heaven.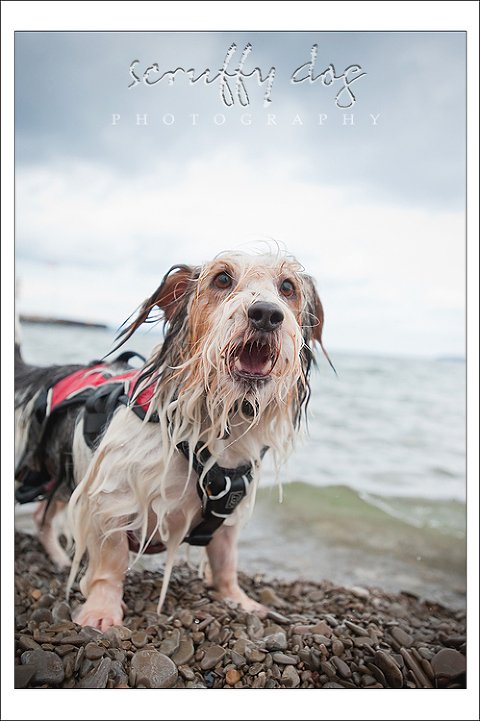 Matea, too, was pretty thrilled to be dipping her achy spine into the warmer waves.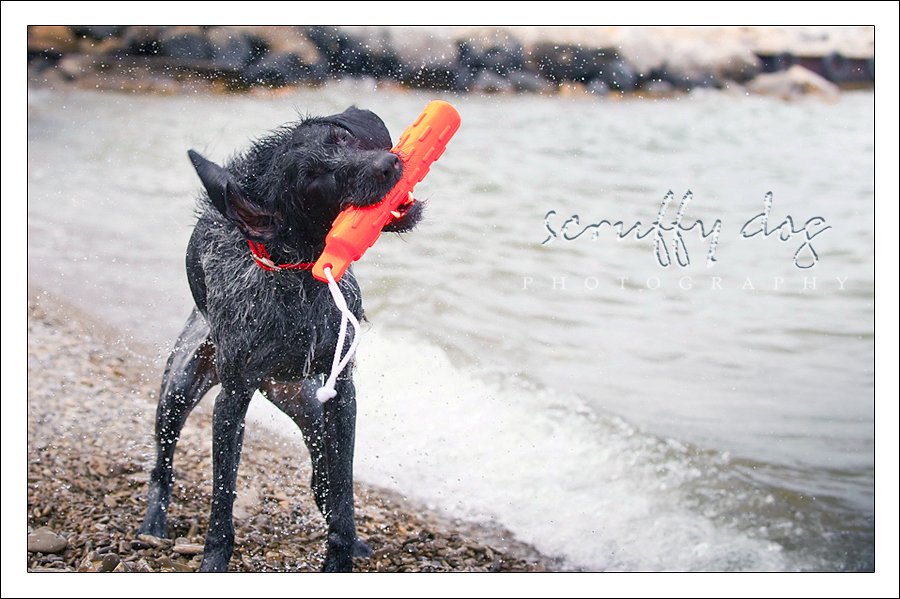 but i'm getting ahead of myself.   before the lake, there's always a hike first … and this time of year, it's a muddy one.  and with a little white fluffy dog, flying through puddles on 3″ legs, his fine, flowing hair attracting burrs and seeds like flypaper does flies in a horse-stable, well, we wondered if the lake would even take care of this mess!
of course, it's no wonder he hits every puddle he sees … this former puppymill stud dog learns about the world through his big sister Matea … and no dog does mud like Matea.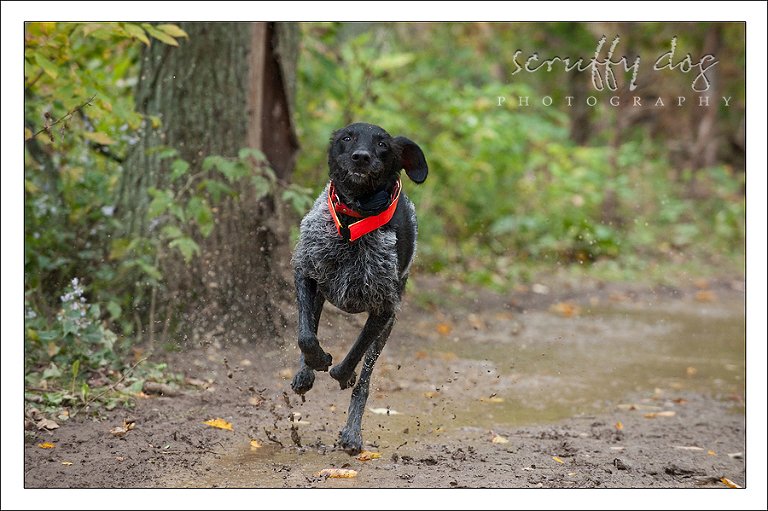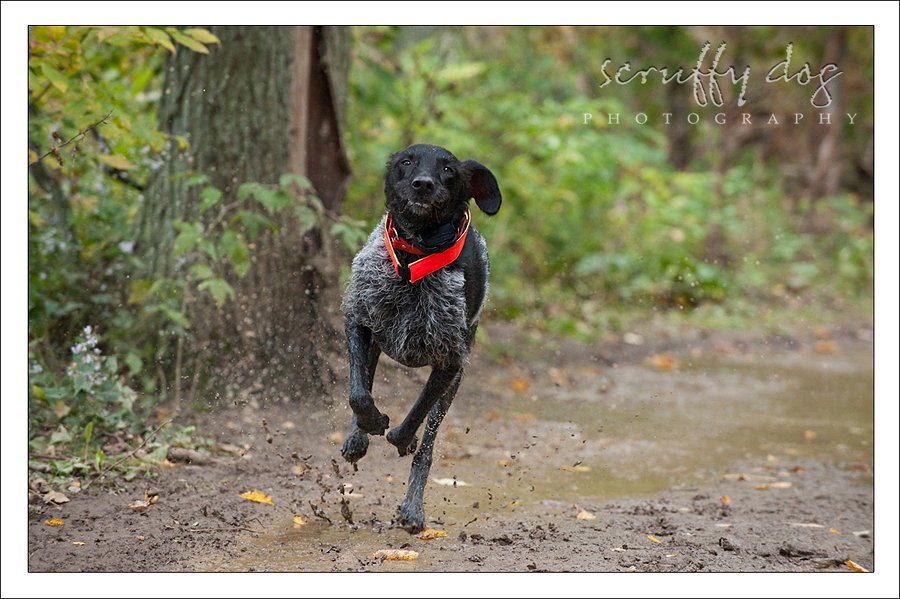 so …
can you believe this is the same little goobernuts that sleeps in our bed with us?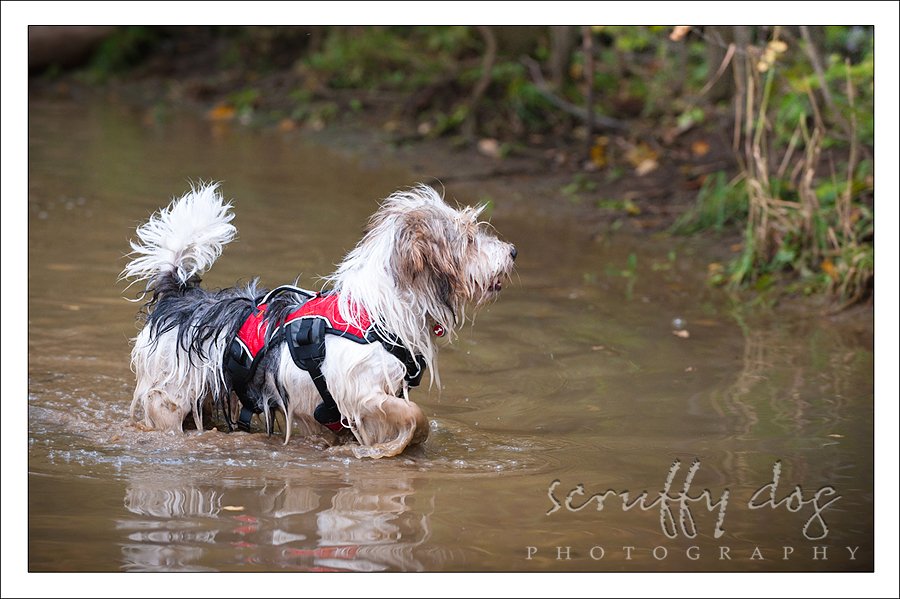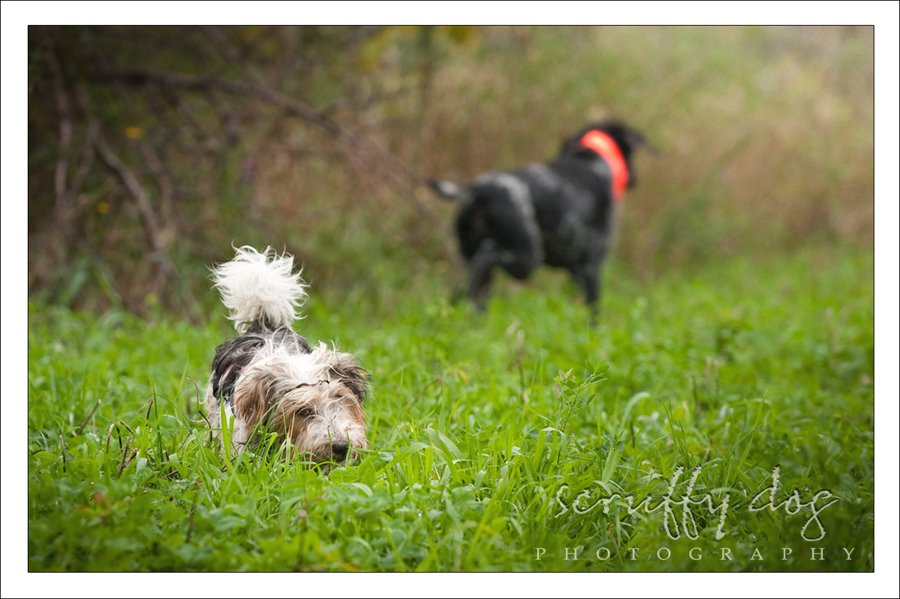 the big orange band Matea is sporting is just a slip-on collar i keep in the car for such occasions.  i couldn't remember if hunting season had started for turkey or anything else, so better safe than sorry.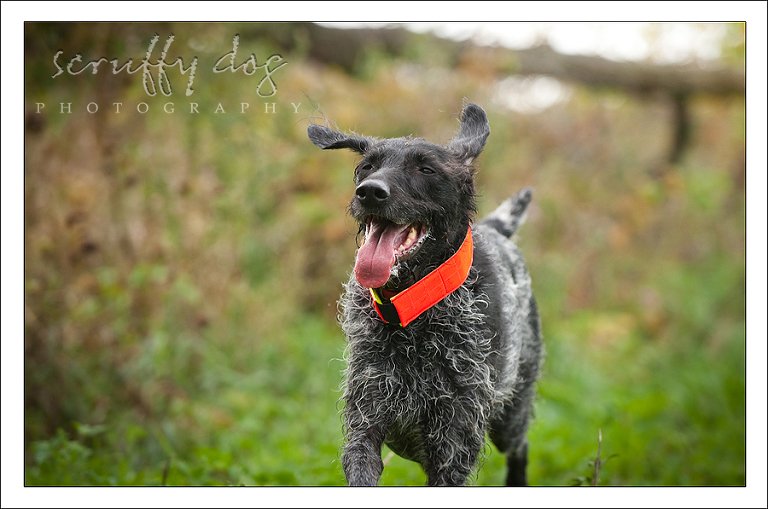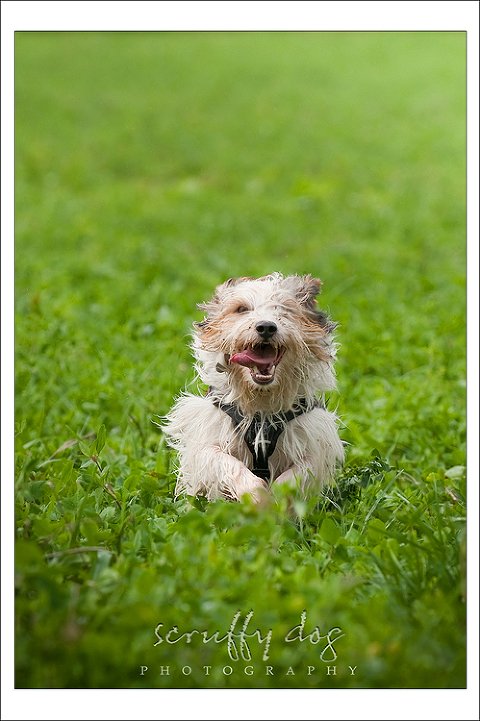 then, off to the lake to get clean … and to fetch, of course.  throw it! throw it! throwitthrowitthrowit!!!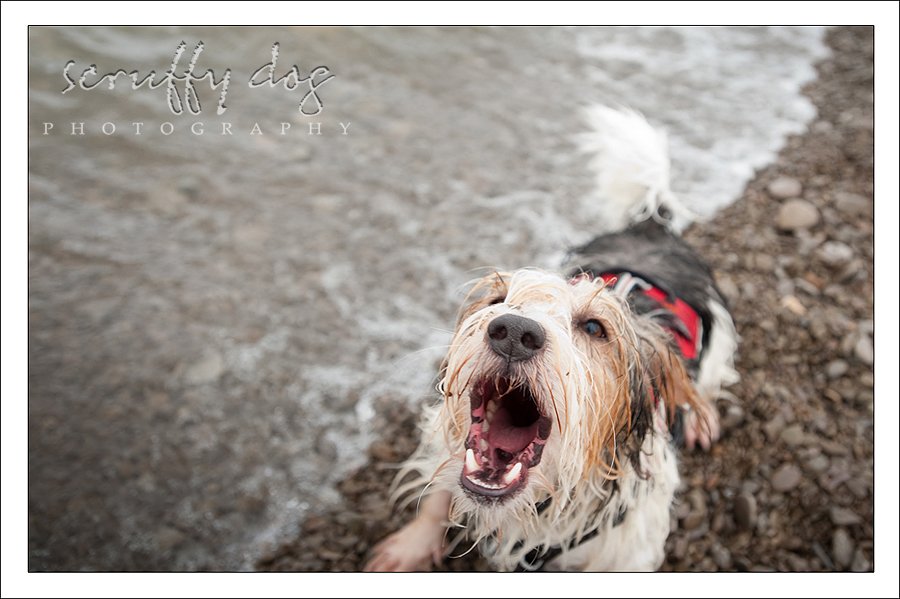 we used Merrick's new fetching toy … the West Paw Design Hurley.  unfortunately, you won't be seeing a blog entry of this toy in the "things we love" series.  yes, Merrick loves this toy, but it's not very suited for what it was recommended to us for — a water retrieving toy.  the thing is so heavy that it sinks quite deep with each throw, and is excruciatingly slow to come to the surface … meanwhile, my dog is circling and dunking and circling and dunking.  and if i dare to use this in even a slow moving river, Merrick can't find it in time  … the Hurley is headed downstream and i'm having to send Matea in after it.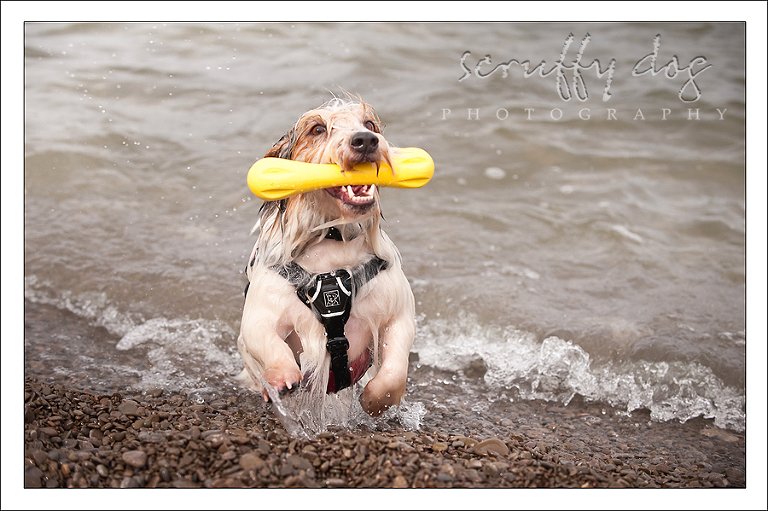 now i see online that West Paw recommends it as a "chew toy".  well, my dogs chew on venison necks or other big hunks of dinner, treats in a kong maybe … but not just some hunk of "zogoflex" rubber.  so, although Merrick might give the Hurley two paws up, sadly, it's two thumbs down for us.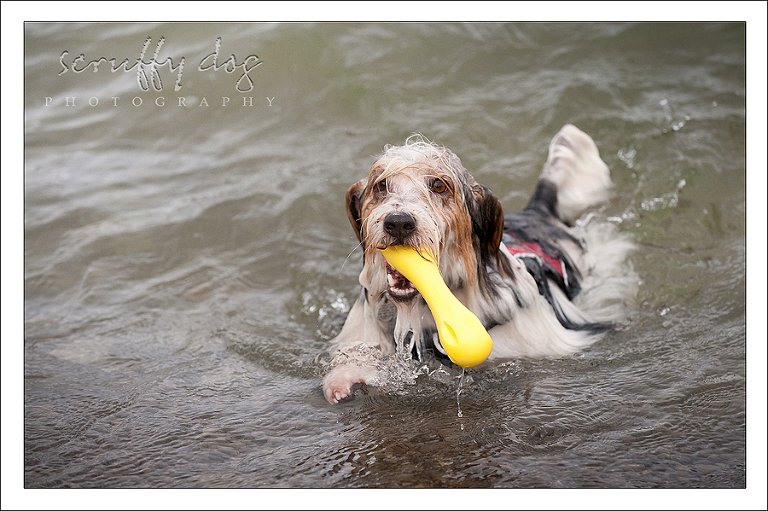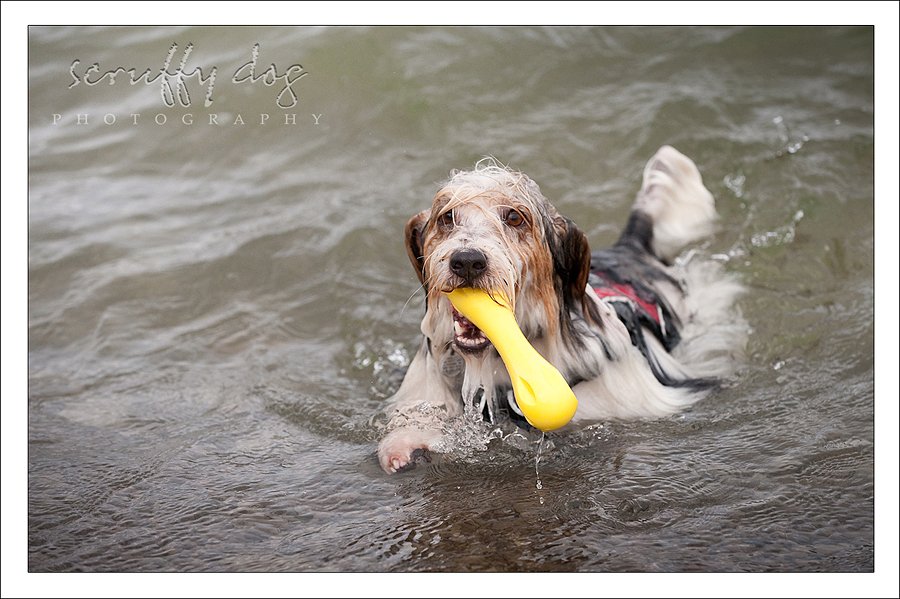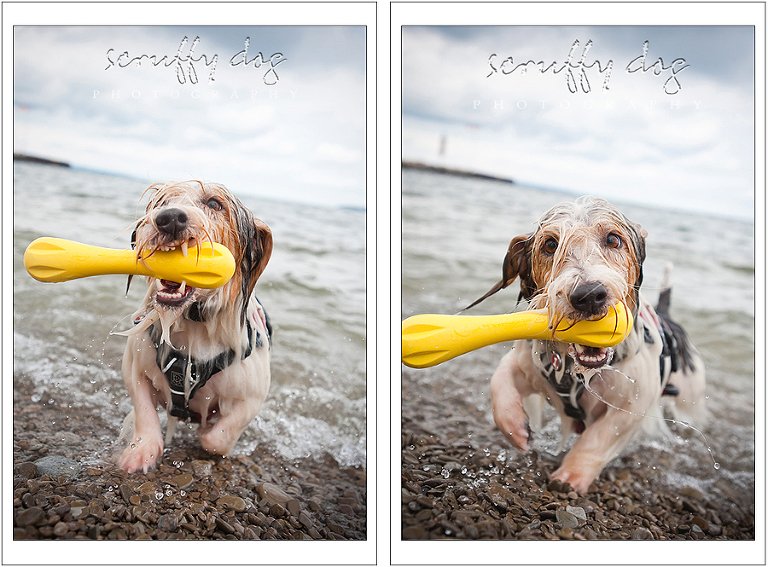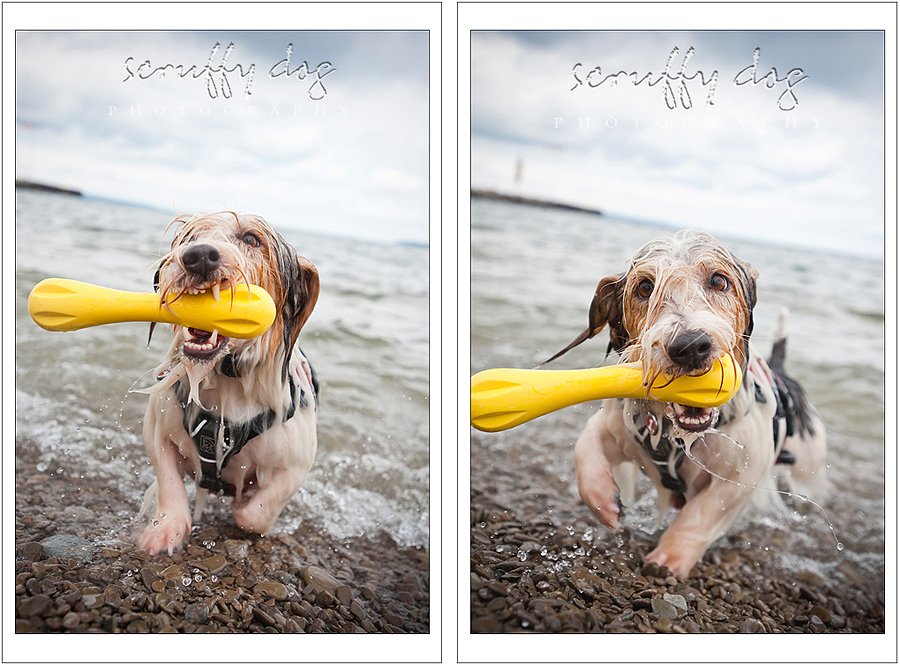 and the more Merrick has to dunk for the ever-sinking Hurley, the more his hair ends up in his eyes.  it's a wonder he can even find the shore sometimes!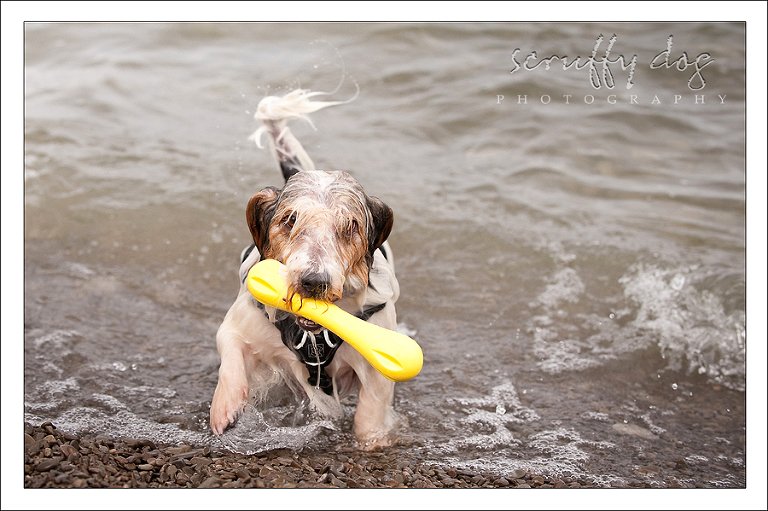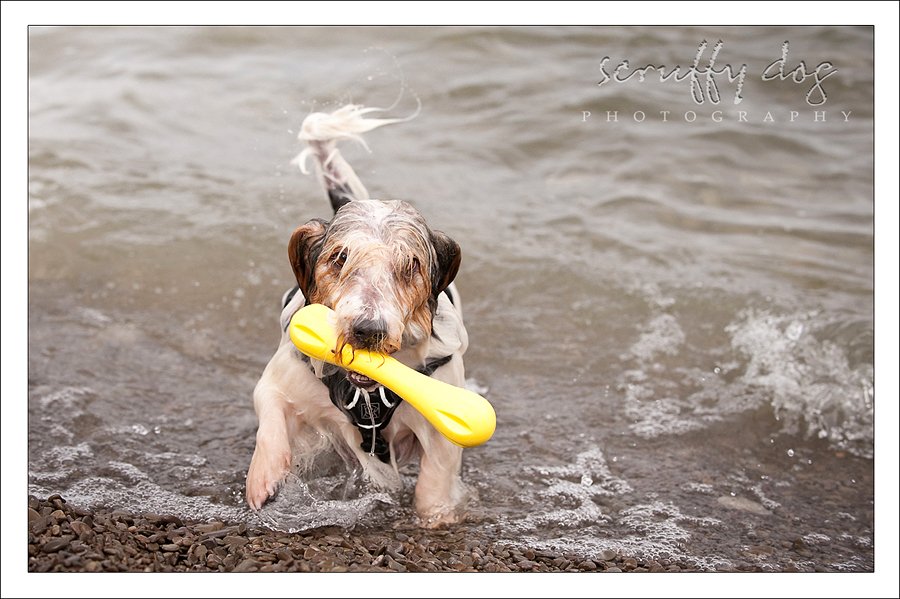 of course, he'd have no clue what to do with all of this water or a tossed toy without his main girl, Matea.  she taught him everything he knows.
and man, does this boy need a trim.  his hair just keeps growing and growing.  i actually took the thinning shears to him today, but i need some better ones.  his coat is difficult to maintain if he's to be a trail dog … and i can't even imagine how winter will treat him with snow balls sticking to his fine hair.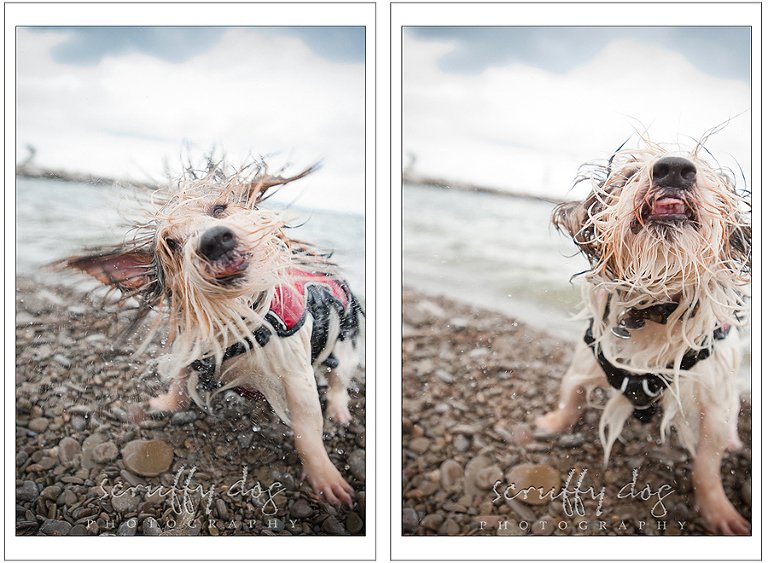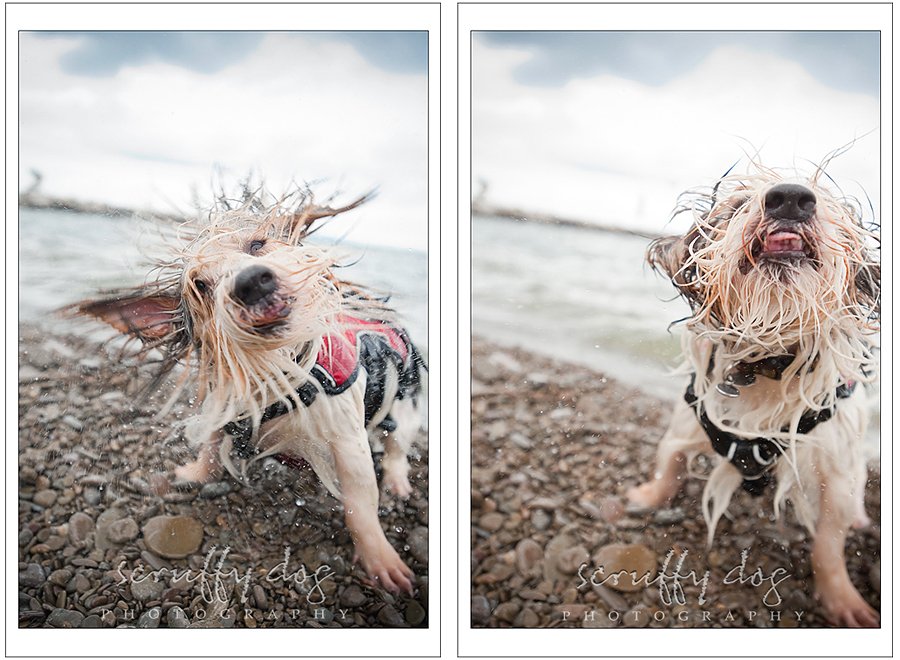 i hope you enjoyed this scruffy interlude.  i'd also like to take this opportunity to thank all of my awesome clients who have spent a little time with this gooberhead during their studio consults.  every little bit has helped this boy come out his shell and become the dog he is today in the short six months he's been with us … learning to trust the world, to be a dog, and to love people.  thanks, everyone!