… AND at unbeatable prices.  many of you have probably seen those biothane collars at your local pet-supply stores … those soft, rubbery-plastic collars that come in a myriad of colours, are extremely durable, easily cleaned by simply wiping off, and don't hold odors.  the ones you get at your local pet-supply store are great, but they can be pricey.
so how about going to the original source of these kinds of collars.  although they seem new to your local pet store, these collars have actually been around for a long time in the hunting dog world, and they don't cost a fortune.  what's more, Steve Snell of gun dog supply sells all of his collars with an awesome FREE brass plate ID tag.  these are definitely one of my favorite dog things and matea — my crazy, muddy, puddle-loving wirehaired pointer — has always worn one of these collars.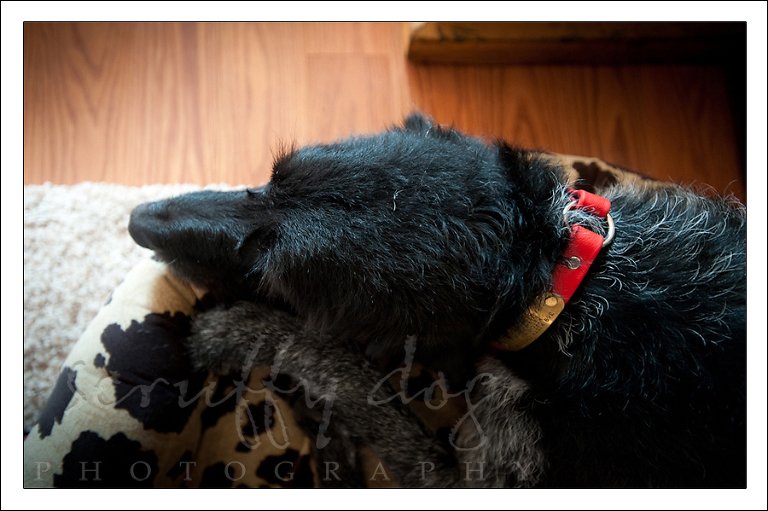 of course, she doesn't normally wear it in the house.  this is her 'field' collar.  these TufFlex collars resist mildew and bacteria, and, as such, are odor-free.  they're soft and flexible, even in our canadian winters; and even after years of abuse, this collar shows no sign of wear.  i have always preferred the "centre-ring" style, pictured above.  i never understood why this style of collar isn't more popular.  (A) the centre-ring collar is a "rollover design" that aids in your dog's safety in case it gets snagged on something in the field, and (B) when it comes to clipping on the leash quickly, bam! the ring is right there.  no struggling to find the ring under your Rover's chin.
i prefer the 3/4″ collar but it also comes in a 1″ size.  note: you want to be sure to buy the right length (sometimes a little small) so that the centre ring stays at the centre of the neck.
AND, you can get a leash to match …
… luxuriously soft, won't burn your hands, and far more 'grippy' than any other leash (other than my super dooper rubber leash which i'll share with you in another "things we love" entry).
and as i said, the tag is FREE if you order from gun dog supply.
and these plate tags are awesome.  no dangling, dingling, clinking, clanging … and no lost ID!
now, admittedly, gun dog supply is a US-based site, so you'll end up paying shipping, but you won't get hit with duty if your order is under $20 or so … and these collars are UNDER $10!!
of course, the only thing matea cares about when it comes to a leash and collar, is whether she gets out for a walk.