continuing with the "things we love" series, i'd like to present you with a fellow artist i discovered a couple of weeks ago while on a desperate venture for birthday gifts in Elora. fortunately it was my own birthday only a week earlier, so when i fell in love with these steel sculptures by Uxbridge artist Jean Pierre Schoss of Dog Bite Steel, my partner caved and bought me the one most resembling merrick.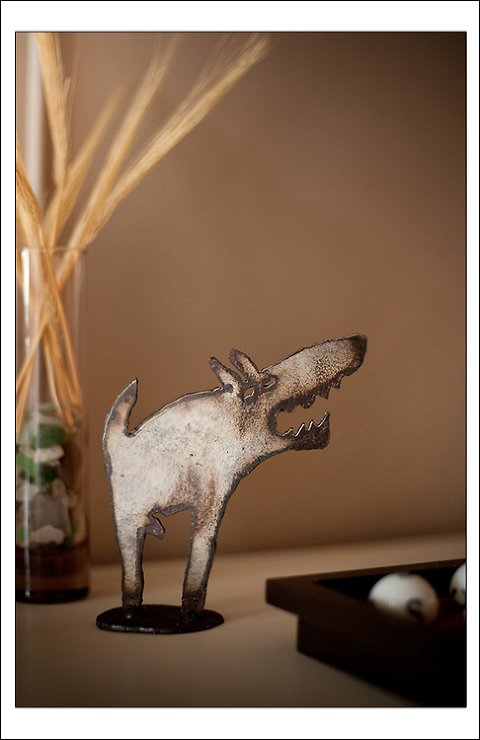 this little guy stands only 5 1/2″ tall, but Schoss's pieces range up from there to, well, mammoth-sized.  Schoss works with recycled steel — oil tanks, farm implements, propane tanks, etc.  — and the multi-coloured results have a primitive, comical and whimsical feel to them.  it truly is hard to choose just one.
here's what Schoss says of his medium:
"The material has a lot of character and always tells a life story.  I sometimes drag things out of the ditches, and then the earth feels better! People often bring me all sorts of things — old tools, farm implements, pieces that have layers of paint from past lives.  I never see just a steel object.  I see the new life waiting to come out of it."
do check out Schoss's Dog Bite Steel website to see more of his fabulous work.  and if you're in Elora, you absolutely MUST stop by Styll Gallery down at 5 Mill Street East to see his work in person (and to see all the other fabulous and affordable art they carry as well).  in fact, after a fruitless shopping excursion through St. Jacobs and the rest of Elora, i managed to find ALL of my needed birthday presents at Styll.  it's my new one-stop, one-of-a-kind shop!
(the "things we love" series covers all kinds of dog-related items from leashes, beds, treats, toys, outerwear, art, services, etc.  with decades of living with hardcore dogs and putting countless dog products through the wringer, there have definitely been some items which have risen to the top (and many sinkers).  i plan to share these stellar finds with you, so stay tuned for much more!)