since even before the inception of this blog almost two years ago i've wanted to take time out to share the occasional find …  dog and pet products that truly stand out, that have been scruffy-tested and scruffy-approved … and in turn, maybe steer a couple new people onto some great products.
i've started a list of things i intend to share with you, so stay tuned for many more!  and if you have a dog-related business or a dog product and would like it scruffy-tested, let me know!  we're always thrilled to see and sample new doggie goods!  of course, it should be known that i do not, nor will not, receive any compensation for these plugs.  i do so purely because i believe — truly and deeply — in the products i write about.  and it should be known that the scruffies and i are extremely discriminating.
first up … dog tags.  now sure, some of you might have a quiet couch potato or two, rarely getting past second gear out on the trails … but for those of us with high-energy dogs who run like it's their last day on the planet, you know first-hand how worthless those cheap tags are that you get made-on-the-spot in those big pet stores.  the letters are illegible by the sixth or eighth month, and that's only IF the tag is still hanging on the collar!  often the hole in the substandard aluminum or metal-alloy has worn all the way through and the tag has been left somewhere in the bush!
so …  i have two brands of top-grade tags i'd like to alert you to.  first, my favorite dog tags in the world: Red Dingo dog tags …
these are funky, eye-catching tags made of heavy-duty stainless steel and coloured enamel.  they come in three sizes, and over thirty different designs.  above, matea is sporting a three-year-old tag in the older "bone" design … it's just a "small", and bears only her name on the back … no address or phone number.  for her, the Red Dingo tag is bling.  you'll see her real ID tag later in this entry.
and here is merrick's Red Dingo tag … the newer "bone" design.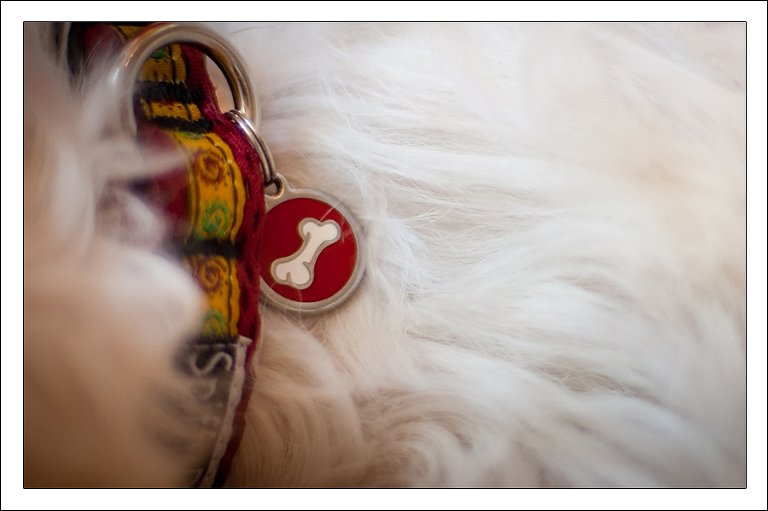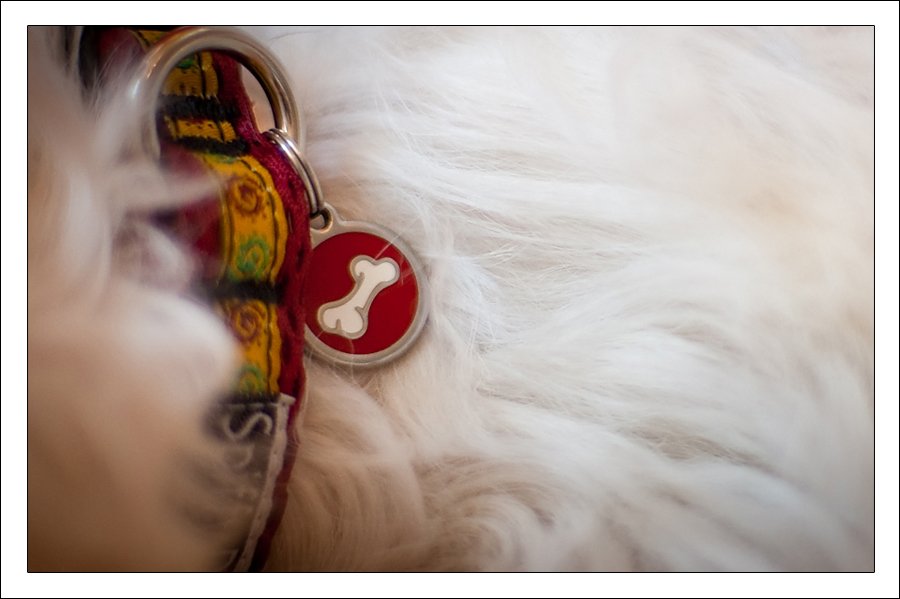 Red Dingo's engraving is deep and, so far, shows no signs of wearing.  my only complaint is that although the small-size is best for a dog merrick's size (20 lbs), it allows for only 3 lines of text.  who doesn't add a cell-phone number to their dog's tag these days?  and i know there is debate about whether to have your dog's address on the tag, but frankly, i'd rather have their address than their name.  what good does it do a rescuer to have the dog's name vs. the address?  i've found my share of lost dogs, and those with addresses i have safely returned home without having to involve the Humane Society.
and now for the best tags … made by Lucky Pet.  okay, granted, their website could use some work, and their enamel tags aren't quite as slick as Red Dingo's, but Lucky Pet's metal tags are hands down THE best tags around.  i've used them for years and can attest to their durability.  and you'll not find any tag with deeper, more permanent engraving. here is morley's 5-year old tag …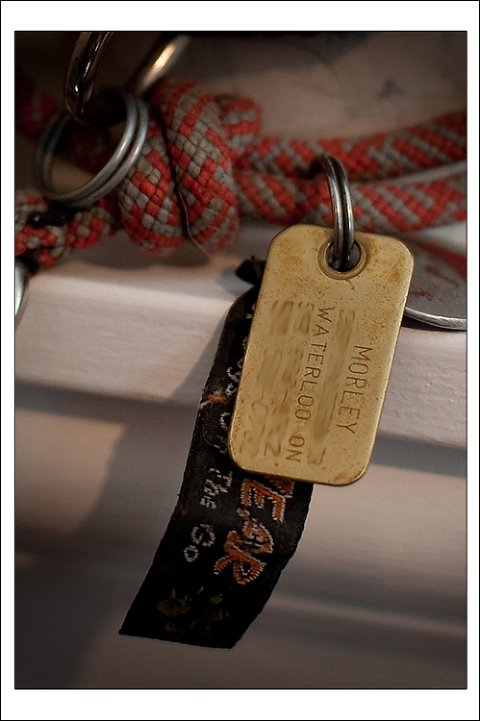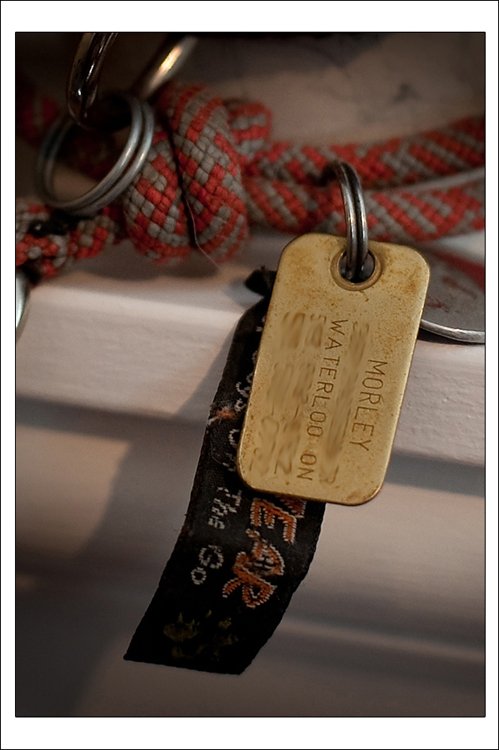 sorry for the blurred out address and numbers … but as you can see for the other text — even after five years of being battered around with other tags and clips — the engraving is more than legible, and the ring-hole isn't even close to wearing through.
for matea, i use a rivet/plate tag … and i love it.
they also have a great one for the cat in your life …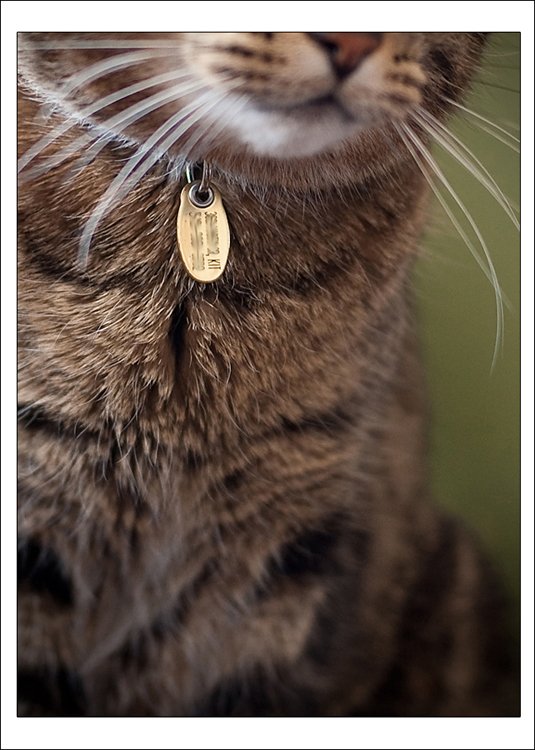 so, that's my spiel on tags.  and if you don't have tags on your pets — danglies or collar-plates — please reconsider!!!  even if you have your pet microchipped (which you should!), tags can save you and your pet a lot of grief.
and to end this entry, i can't resist sharing with you this one outtake from the dog-tag shoot this morning.  this is what's going on while i'm trying to shoot their tags …
no question that merrick LOVES matea.