as most of you know, we had to say goodbye to sweet, old man morley last week.  as he struggled with a brain tumor, i'd noticed several weeks ago that he wasn't wagging his tail as much.  it had nothing to do with pain, but more from confusion, and perhaps a lack of interest in life.  so … knowing that nothing on this earth made morley happier than another terrier (or any dog for that matter), i made a move which couldn't have been more perfect.
meet merrick …
you met him first here, but i wanted to be sure about this little goober before i made any formal introductions.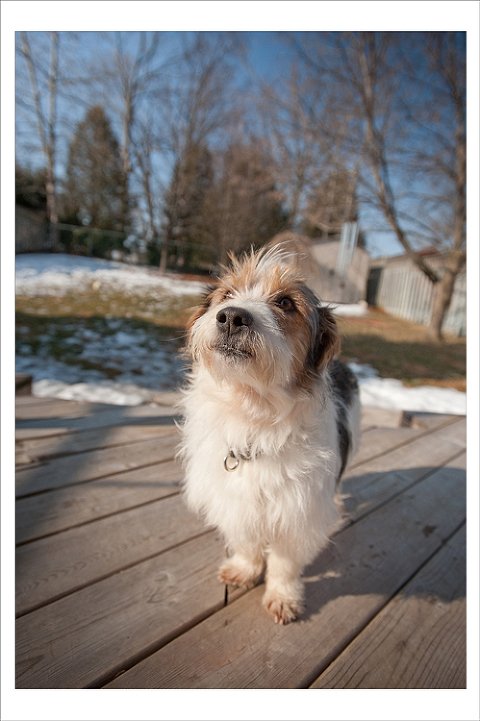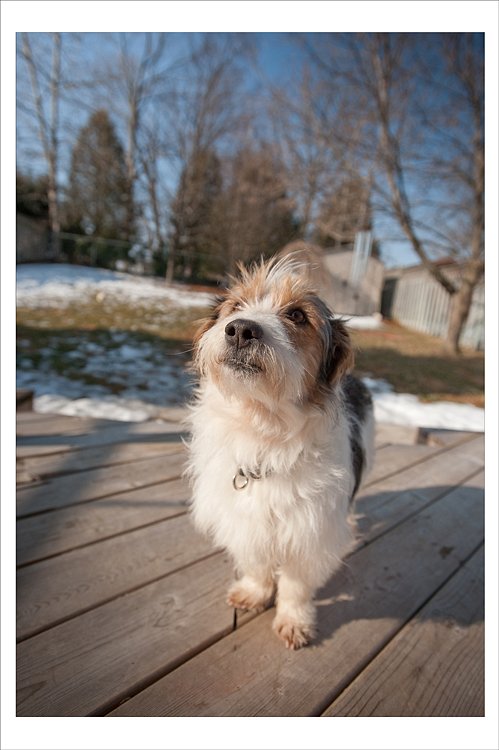 here's a little about his story …
some weeks ago, back in february, someone sent me a Kijiji ad for something … while there i plugged in "wirehaired" and came up with an ad for this little guy.   as most of you know, all of my dogs have been rescues or from shelters.   i do NOT condone buying your dog off of Kijiji or Craig's List, and certainly not from a pet store.   but after a little digging on the poster's other ads i could tell that this boy was being used as a stud dog for what i can hope is only a small puppymill or barnyard breeder.
i'd initially sent the ad to another friend who had talked about getting a family dog but was told they'd changed their mind … and i just let it go.  i had one dog (Matea) with a back injury, and the other (Morley) with seizures … i couldn't handle another special case. but as a few weeks passed and morley stopped wagging, i found myself thinking about this little, 6 yr old guy again.
these are the Kijiji photos …



after a forty-five minute drive, we arrived at the farm with morley in tow.   the wife and their 8 yr old daughter brought the dog out while the farmer talked a bit to us.  the dog's belly never left the ground and his head was hung low.   at the feet of the daughter, his eyes darted wildly from the ground to the girl, to the parents, to the ground again … utterly terrified.  if anyone shifted on that freezing, slushy laneway, he ducked even further and skittered to the side, clearly expecting a firm boot.
from the moment i laid eyes on him i knew he was the worst fear case i have personally seen … and i knew we had to get him out of there.   with his belly still dragging on the ground and his tail tucked so tightly i wasn't sure he even had a tail, we walked him down the drive through icy slush and water … only with morley did he perk up a little … but just a little. i handled his ears, his mouth, played with his paws just to see how he was … i've never encountered more fear-based submission before.   in fact, when i first went to pet him, i truly believed he was going to bite me.  as it turned out, i even got a kiss when i picked him up for the second time.
we walked him down the long drive several times … partly so that my partner and i could talk, but mostly to get the hell away from his abusers and get some kind of an idea what he was like.
i didn't try to negotiate a better price … i was too sick to my stomach.   i paid $125 to get him out of there.   now, i do realize this is a slippery slope … giving my hard-earned money to these people to get this dog out of that situation, but i KNEW — given his incredible fear — that no one else was going to do it.   he was going to end up dead or — at best — sold to another breeder … and this little guy deserved a lot more than that.
during the drive home, i was literally shaking and working hard not to throw up … i was so upset.  partly from fear of not knowing what we had just gotten ourselves into, but mostly because the thought of me contributing to a sale-for-profit for a dog is utterly sickening to me.
once home, we took him and matea on an hour-long pack-walk. this set the tone, and after a few weeks of careful and highly-choreographed interactions, these two are well on their way to forging an incredible relationship as he slathers her with kisses on a routine basis.
besides having to neuter merrick, he came with a full load of roundworms, and a raging urinary tract infection that has required two rounds of antibiotics so far.  he's also on natural remedies for crystals and the infection — hydrangea and colloidal silver — as well as other much needed supplements along with his raw diet.  the scabs across his body have healed, and because i was able to secure his last vaccination records we weren't forced to  bombard his system with those as well.
and today — four weeks later — he's pretty healthy … although his ribs and spine are still a little too prominent.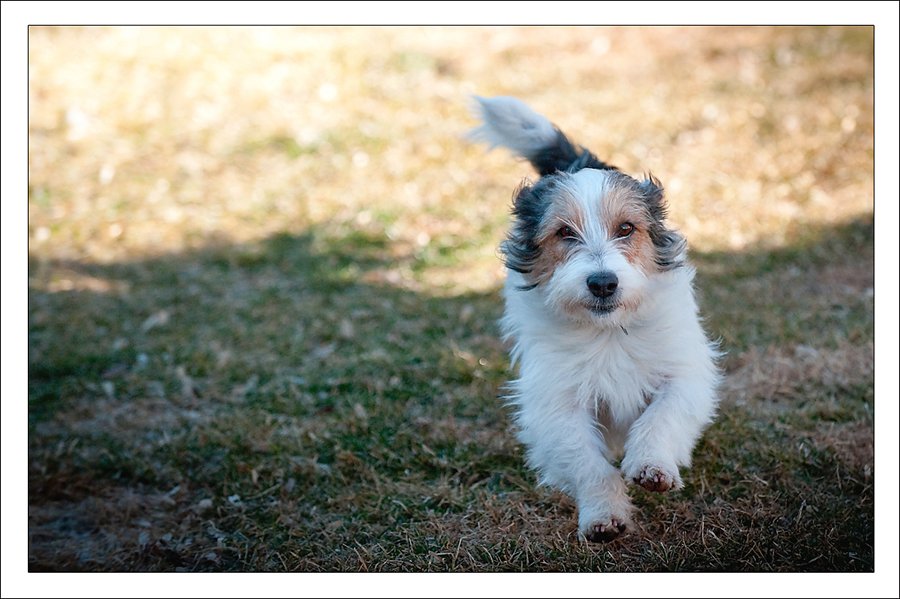 he's absolutely the worst fear case i have personally encountered.   they always say that you get the dog you need, not necessarily the one you want.  merrick is totally that case.  i will learn much from this incredible boy as i work to build his confidence in the world and with people.  honestly, once this boy is rehabbed i'll have personally dealt with just about every dog issue out there except for severe people-aggression.  so, we both have much to learn, even though i can't imagine a better place for him.
i have also discovered that balls are this boy's doorway …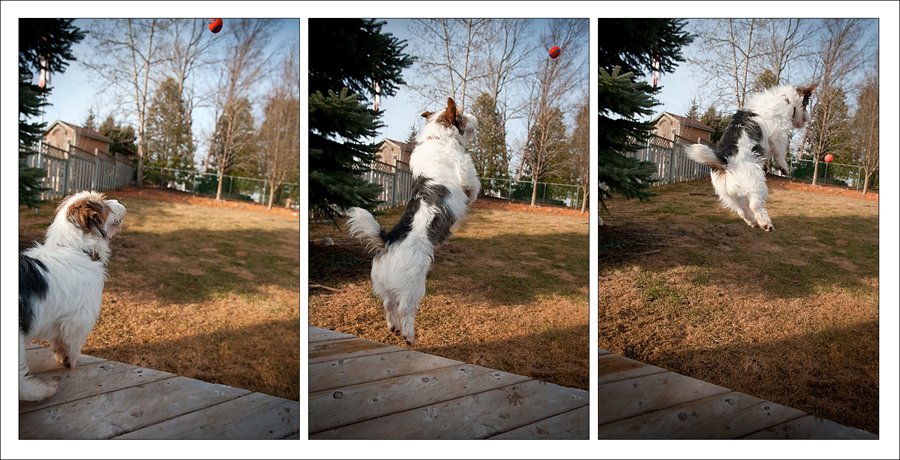 if you have a ball, you have his attention, no matter what's going on in the scary world around him.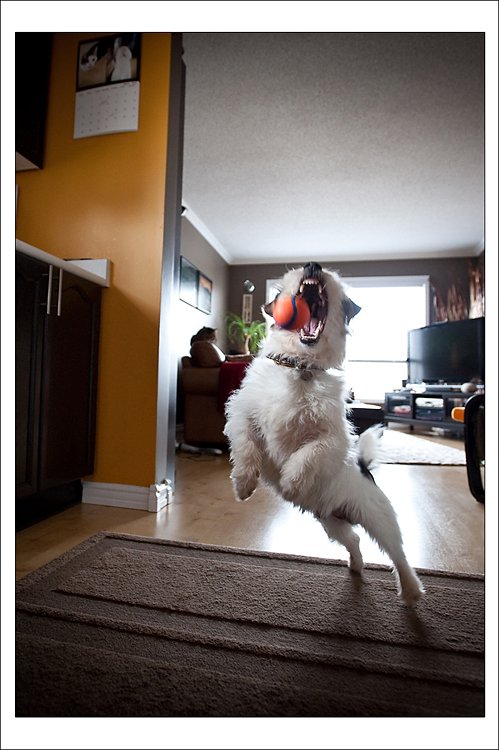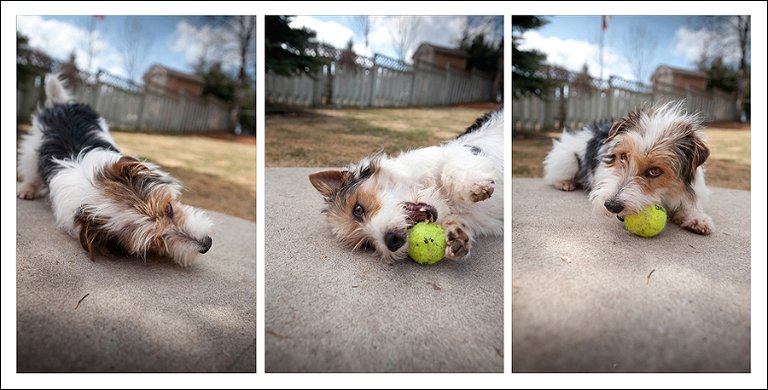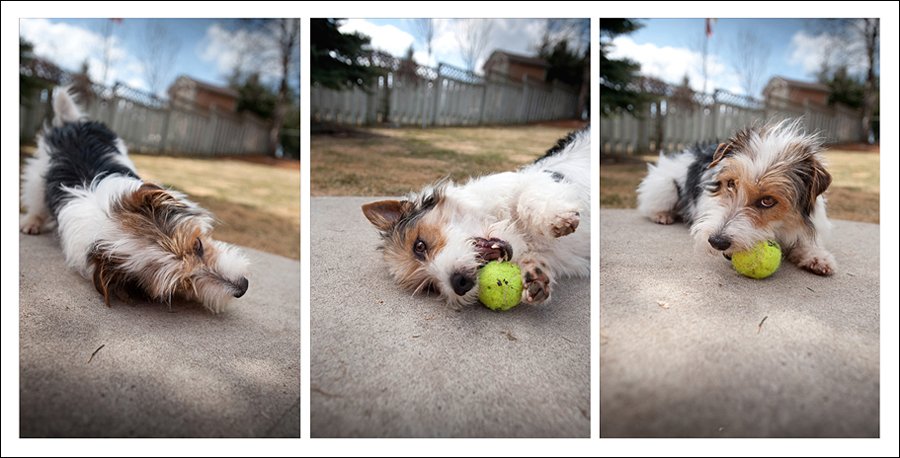 in fact, most of my photos of merrick in these early days do, and will, involve a ball.  even to get him to pose for the camera, a ball is required to overcome his fear of the shutter … because he really is pretty camera shy.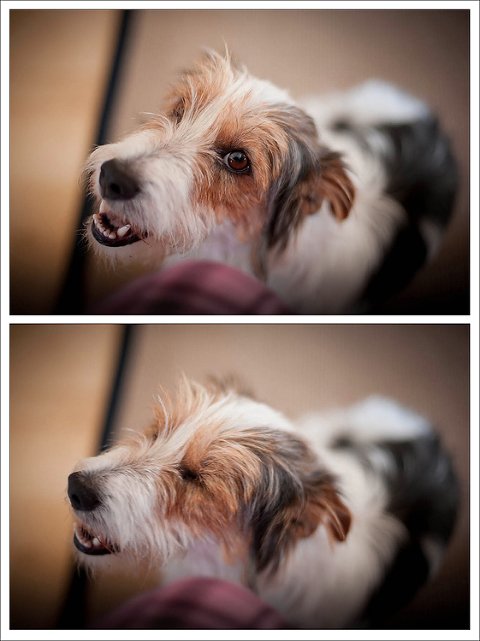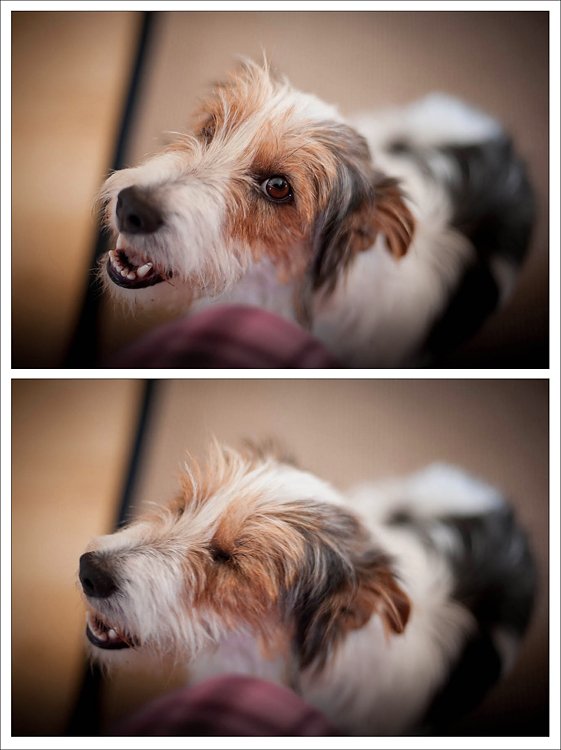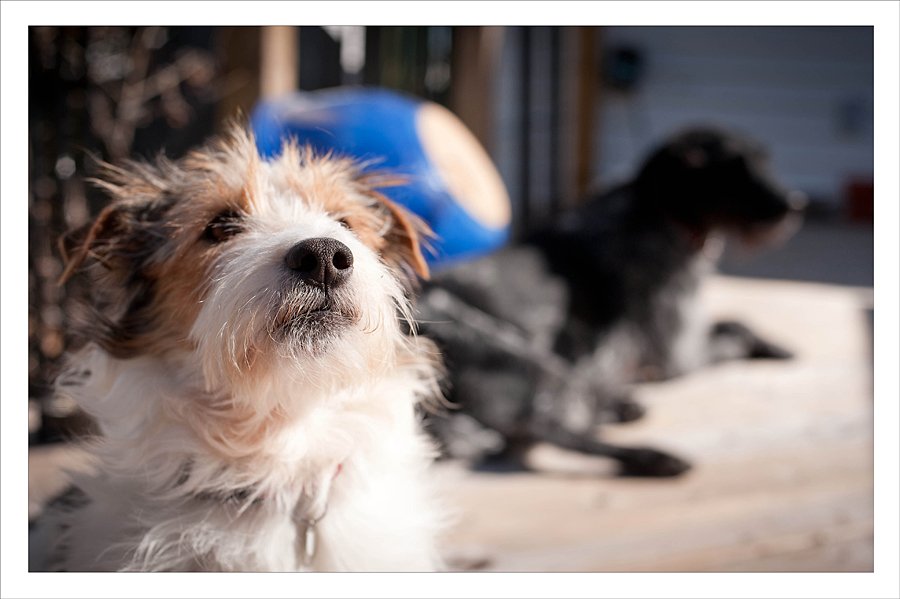 he's also got the most wicked underbite ever, which often gives the impression he's smiling …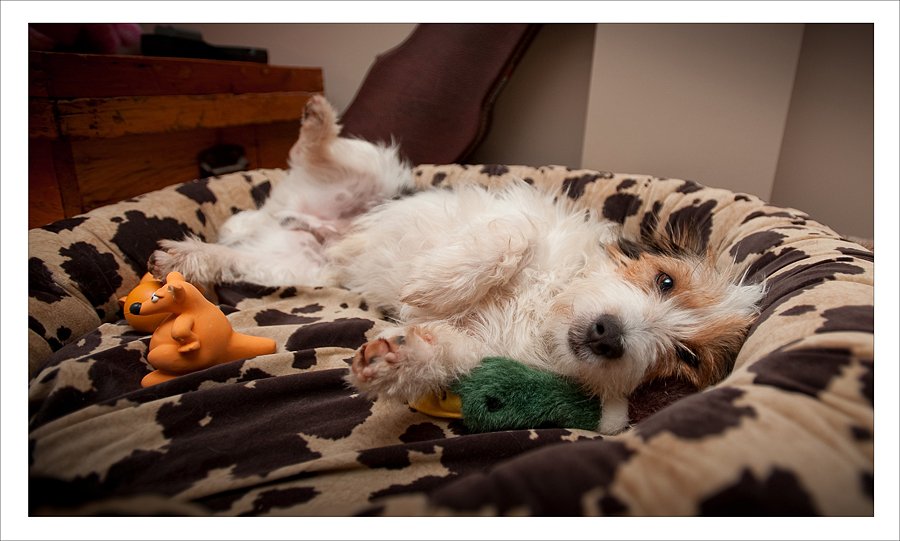 but i know this little guy is definitely smiling when he deals with matea … he adores her and acts like her long-lost puppy.  i wasn't able to capture his tongue in the shot below … it's too fast … but he definitely loves giving kisses.
so, that's merrick.  you'll be seeing more of him as the weeks and months unfold, and he becomes braver in this bright new world … a world full of balls.
and just a final note on buying your puppy from a farm … please know that just because it's a farm in the country does NOT necessarily mean that your pup has enjoyed it's country life.  and i can assure that its parents certainly aren't!   in most cases, these "farm" pups are the product of puppymills … bred purely for profit with zero regard for health, genetics and socialization … and definitely no regard for animal welfare.  dogs are nothing more than agriculture … cheap livestock that can turn a quick profit for the farmer.  please, please, PLEASE don't be fooled.  and please do your research.
for more information, check out these links (just a few of many):
http://www.kismutt.com/canadapup/faq.html … of note is #1 on this list, which applies to the farm where merrick came from.
http://www.nopuppymillscanada.ca/
http://www.hsicanada.ca/pdfs/puppy-mills-factsheet.pdf
http://www.thepetitionsite.com/takeaction/266934779