as my clients – and their dogs – well know, i never arrive at a photoshoot empty handed … well, besides 60 lbs of camera equipment hiked over one shoulder and a fistful of crumpled up mapquest directions.
no, i come prepared.  and i'm not just referring to the extra poop bags in my pockets, for those whoops moments when owners have run out.  we're talking yummy treats that have never failed to turn around even the shyest of clients …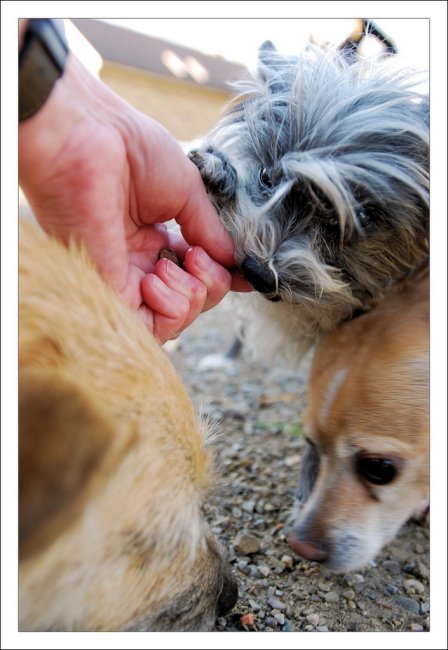 well, okay, there was that one shiba inu that wasn't going to be won over with anything short of a belly-dancing chihuahua slathered in cheez whiz.  but generally, even the most shutter-shy pooch can be brought around with Natural Balance's rolls cut up into small pieces and doled out with good timing.
and then there are the Cuz balls … the complimentary toys which i bring to every shoot … guaranteed to rouse any dog's attention and drive any owner insane.  whoever invented these nightmares, I LOVE YOU, because even if a pampered pooch has their own collection of Cuz'es, the prospect of a new Cuz — each with their own, distinctive, high-pitched squeal — is bound to send any dog to a new high, regardless of the extent of their own collection. 
and of course, all Cuz balls that leave scruffy dog headquarters are thorougly inspected, tested, approved, and endorsed by morley.